The 2012 supercross season is officially in full swing.

The 2012 supercross season is officially in full swing.By Paul Quesnel
Photos by: THE James Lissimore
January has come and gone, the first four rounds have been all wrapped up, and we have what looks to be a great title chase on our hands. Traveling from one southwest ballpark to another, the series has provided exciting action while steadily gaining momentum at each round. On its way we have seen multiple winners, surprising challengers, foreign obstacles, and heart-breaking injuries. This short period of time is known for determining the course of the season and this year is no different. The players have been established, the tone has been set and the series is shaping up to be as epic as last. As the tour continues to move on into February, let's pause for a moment and reflect on the results from the big four title contenders and the beginning of their year.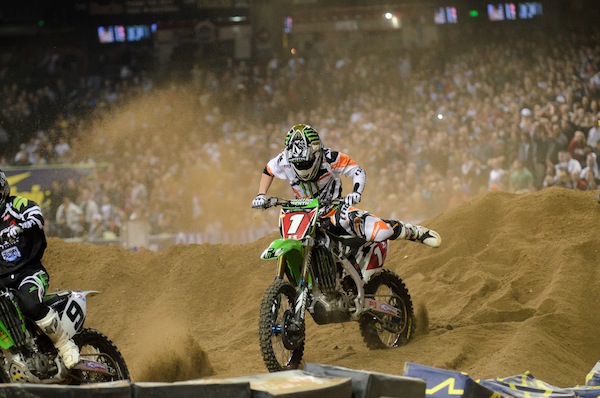 Ryan Villopoto is lucky to only be two points behind the leaders at this point in the series. After coming out swinging in Anaheim and absolutely crushing the field, Villopoto has suffered from small mistakes that are threatening his chances for a successful title defense. Although he probably saved his season with his come from behind performances at Phoenix and LA, he still has to be frustrated with his results. His saving grace so far this year has been his unmatched speed and aggressiveness. If it had been Dungey or Reed stuck in 18th place on the end of the first lap at round two, you have to think that they would have had a much tougher time coming through the pack then RV. Sometimes everything goes your way and sometimes everything goes against you seems to be the case for Ryan right now. Although he has made a few mistakes on his own, a couple of his issues this year can be attributed to just being at the wrong place at the wrong time. In LA you could see him pretty much sprinting away with the win after passing Dungey for the lead on the first lap but then the race gets red flagged and he goes off the track during the restart. At Phoenix he was running inside the top five on the first lap before running into Millsaps' grounded bike, forcing him to the back of the pack. In regards to Oakland, he caught James and Chad and while trying to get around them he got tight, had some sketchy moments, and decided to settle for third. It was probably a smart idea for him but for everyone else, the series just got blown wide open. Here everyone was thinking RV was going to dominate as long as he could get a decent start and for James and Chad to pick up the pace and leave him like that was surprising to many. In actuality though, you could tell the track was getting pretty rutted and RV most likely just wanted to get out of there healthy and without any issues. Either way, Villopoto seems to have more raw speed then he did last year. So far this season he's been lighting up the qualifying sessions as well as logging the fastest lap in every main event. Besides his undeniable speed, RV has the ability to not over think things. In his mind he thinks he should always be up front and to him it doesn't matter how bad he got beat the weekend before. He should take comfort in the fact that he has the ability to turn a dead last start into a podium and although he results do look consistent on paper, he needs to make sure he stays out of trouble before one of those small mistakes takes him out of the series.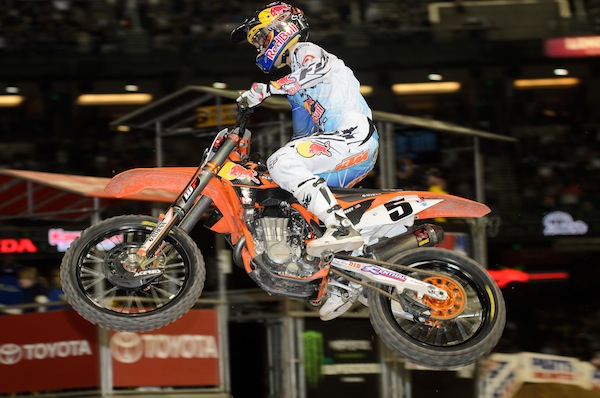 It's safe to say that Ryan Dungey and KTM have surpassed everyone's expectations so far this season. Coming into the year, most people wouldn't accept the thought that Dungey was going to be as fast on the KTM as he was on his Suzuki but to his credit, he looks almost exactly the same. He doesn't seem to have lost any speed but at the same time he doesn't really seem to have gained any speed. It's almost like he just never switched bikes. He's just the same old consistent Dungey so far this year and that's why he's leading the points. He might not be quite as fast as Stewart or Villopoto, but he does have the ability to get starts and sprint away like no one's business. As the series continues to progress, constant good finishes are going to become more and more important and that's why Dungey is always a great pick to win the title. On the other hand though, if he really wants to seal the deal and continue to gain points on everyone he's going to have to get out of his comfort zone and hang it out a little more. Dungey is always fast, but if he would just take a few more chances you have to think that there's a good possibility he would be the fastest man on the track. Everyone always assumes that one or two of the title contenders will have a horrible finish at some point during the series and consistency will eventually prevail but it's not safe to say that this year. Dungey, Reed and Villopoto all seem so focused right now that if any of them didn't finish outside the top five all year it really wouldn't be that surprising. The point trying to be made here is that Dungey has to go for wins. Although he does have one win just like the other top guys, his whole image has always been about being consistent and being on the podium. As the series continues he will undoubtedly pick up more speed as he gets more comfortable with the bike and you always know when he shows up for the weekend, he's ready to race. He's in his third year in the class and by now is accustomed to the long supercross schedule so look for him to be really strong towards the end of the series. The fact that Dungey is as competitive on the new KTM as he was on the Suzuki is a huge accomplishment in itself. The bike really speaks volumes about KTM's drive to succeed in America and if Dungey ends up winning the title this year it will be a massive achievement for the entire program.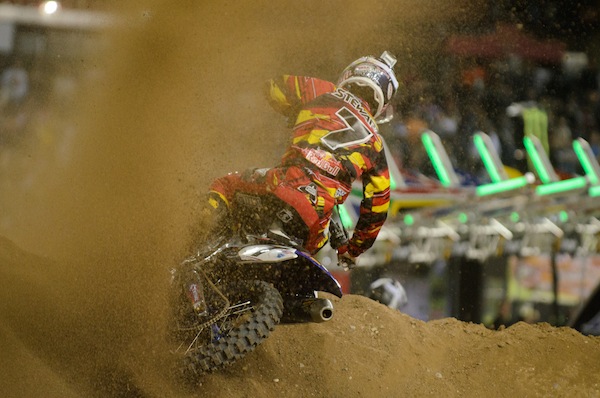 It was surprising to see James Stewart come into Anaheim and struggle like he did this year. Although he does has a slight reputation for coming into the first round with the bike being a little bit off, it's always a shock to see him get straight up caught and passed like that. Up until this last weekend in Oakland, there were a lot of people writing James off by saying that he was out of shape or he just didn't have it in him anymore. Then he goes out, puts on an excellent performance and wins the race convincingly. Bubba is always going to have the ability to be the fastest man on the track at any given time. But still, you have to think that his competition is glad that he's staying on a Yamaha for the next three years. Every season it seems like he just has more and more issues with that bike and you have to wonder what this series would look like if he took the Suzuki ride instead of going to JGR. The combination of him on that bike just seems to generate inconsistency. Sometimes he's the fastest man on the track, sometimes he's getting passed by someone he shouldn't be getting passed by, and sometimes he crashes where he shouldn't have to worry about crashing. When he's on, he the greatest talent on the track. When he's not, bad stuff just tends to happen. He could either win the next three rounds in a row or crash out of the next three rounds in a row and it probably wouldn't came as a huge shock to anyone. What does come as a shock though is James getting straight up beat, which never (ever) used to happen. Even though he won this past weekend, it just seems that right now some of that magic that makes Bubba so special is missing. Once the season rolls out to the east coast there's a good chance that he'll gain some of that speed back but then again, he was supposed to be on par and ready to win by Anaheim and that didn't really work out so who really knows. Everyone expects James to always come out and do good no matter what. He has put a lot of pressure on himself to win races and titles for JGR and it seems more and more like this will be the last team he ever rides for, unless something goes sideways. If they stick together and keep working towards a common goal, the bike should get better eventually and if it does, there is a strong possibility he will become the unstoppable force he used to be. In order to win the supercross title, he needs to concentrate on just getting decent points in these west coast rounds and then start knocking off win after win once he gets back to the east where he is more comfortable.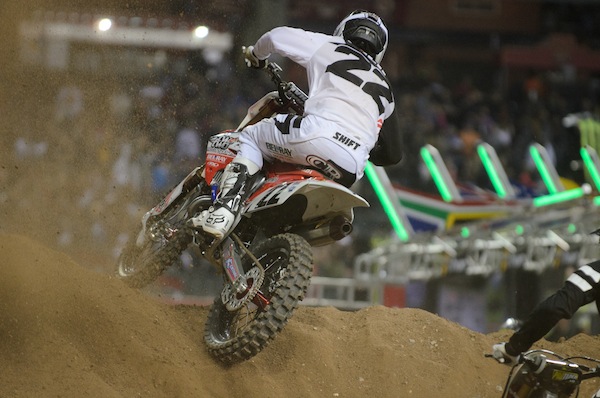 Chad Reed is the ultimate definition of the word "racer". More than anyone else in the class he is able figure out how to get the job done when the time calls for it. At Anaheim, he put in a solid second place ride and held off the hard charging Ryan Dungey and James Stewart. After slightly struggling in Phoenix and picking up a disappointing fifth, he came back at LA and passed James and a slew of other riders to take his first win of the season. Even though he got passed by Bubba at the next round in Oakland, he was still able to hold off Villopoto (a small feat in itself) for second to move into the points lead. During the qualifying sessions this year, Chad has not been the one to set the world on fire and you usually hear people talking about how Chad is a little bit off today but somehow he just always finds a way. He has the uncanny ability to get caught out on the track, be on the verge of getting passed, and then just drop his lap times out of nowhere and start pulling away. Chad is a very serious threat for the title this year. He's about the closest thing to the perfect combination of speed and consistency. It's almost like he's a mix of RV's pace, Dungey's steadiness, and James' veteran race experience. Like Villopoto, Chad also has the ability to get straight up beat one weekend then show up at the next race and act like it never happened. Still though, Chad's greatest attribute has to be his willpower. He thoroughly believes he can win every race he enters in and that kind of confidence eventually leads into wins. Coming into the season, there was a little talk about him behind in his testing due to a few nagging injuries but it seems that he has put all that kind of hearsay to rest and right now he's in a perfect spot to start running away with this championship. With Trey Canards unfortunate injury, Chad is most likely Factory Honda's main focus at the moment and you have to think that he is getting a little more support then he would otherwise. Right now everything seems to be going great for Chad and when we start getting into some more technical tracks he will results are bound to get even better. If he keeps doing what he's doing and stays away from the nights like he had in Phoenix, he will be in a great spot to win the title when the rounds start dwindling down.