A whoop-section that made even the '90's era honks smile.
A whoop-section that made even the '90's era honks smile.
Photos by: THE James Lissimore
The A2 track was a great use of space for track design. The track was spread over the floor space of the baseball field to pretty much every corner. The layout was very cool but even better than the layout itself was to see a whoop section with some substance to it. They weren't monster-killer whoops like we saw at Dallas last year but they were certainly respectable and the length of the section made even the '90's era honks smile.
SX1
Speaking of whoops, I think it's safe to say no rider looks more consistently in control through a lengthy set of whoops than Chad Reed. He just lines them up, assumes position and twists the gas through them. Last year when Matthes and I went to Reed's, Bomber was there and dozed up a truly "90's era" set of whoops while we watched. Chad tested them out at moderate speed twice and on the third pass was murdering them. Lars drove alongside the section in a mule with me filming and the speed we had to go to keep pace with him was scary to be blunt. There was a little dip we had to drive over and when we hit it we just about ejected. I'm not saying Reedy is always the fastest but he looks more comfortably in control in a long set than anyone, in my opinion of course. No wonder he always wants "real" whoops.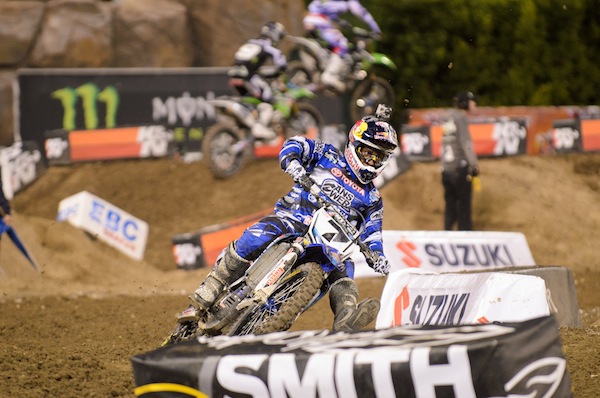 Stew has tuff-block karma when it comes time to eject .
Very awkward heat race crash by Stewart, it wasn't all that different from his spectacular Daytona crash last season. The method James enlisted for that section at A2 was definitely more technical than that of the Daytona crash and as technicality increases, smaller miscues mean greater consequences. It was an interesting crash while leading but what is most interesting to me is how consistently a JS7 ejection lands him on a tuff-block. Just speaking recently, Houston 2011 jumped into JT, tuff-block; Dallas 2011, buck-wild through the whoops into Reed, tuff-block; and now A2 2012 a fractional miscue spits him into another tuff-block. All three of those tuff-block impacts saved him from what looked to be serious injury. That's either incredible luck or divine intervention. Whichever it is, I wish more racers had that kind of crash-trajectory.
How happy must RV have been to get back to A1 a track with dirt which compliments his aggressive rear-steering style and allows him to ride at the pinnacle of his comfort zone. A perfect example of his comfort was lap one of the main when he snuck up the inside of Reed, pulled the triple and held inside to make the pass. That was impressive. For the first half of the race it was interesting to see the margins between the top three stay pretty much the same, especially considering how quickly RV made his move to the front. The formula used thus far in the season of balls-out from gate drop to checkered flag seemed to take a backseat to more of a GP mindset of pace yourself in the beginning, feel out the dirt and tires, test lines, then elevate to the finish.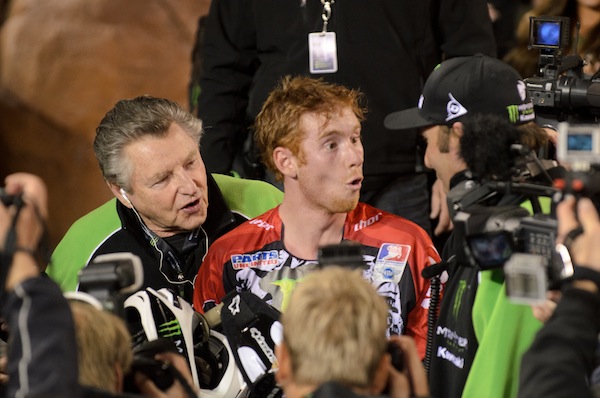 "Sorry Mikey, gotta put the red plates back on".
It looked to me like the under-the-weather Reed kind of dictated that approach in the main event. RV passed Reedy quickly without retaliation, he established a gap and maintained it without really pushing his pace. RV not being pressured by Reed, allowed James to use those laps to find a comfortable flow following that gnarly heat crash. Knowing he wasn't going to lose the leaders while still having more in the tank must have been encouraging to James and on lap 9 he made his move on Reed for 2nd. Unfortunately for James, RV also made his move around that time and his level of increase was more than JS7 was capable of which surely had at least a little to do with the effects from that crash.
I was bummed to see Hanny have bike issues right off the start. He's been the model of consistency for the H&H team and it's little things like this, which are out of his hands, that can be the kindling for meltdown with riders like Josh. He's already got it in his head that he's an underdog and people are rooting against him, to actually have adversity strike him usually turns into an excuse to rely on, not adversity to avenge. Next week will be a paramount moment for 2012 and Josh. Will he just forget all about A2 and get back to his consistency or will it be the snowball rolling downhill in an avalanche? I really hope to see him best that 7th from a few weeks back. That is the type of rebound that breaks-down mental walls and public perception.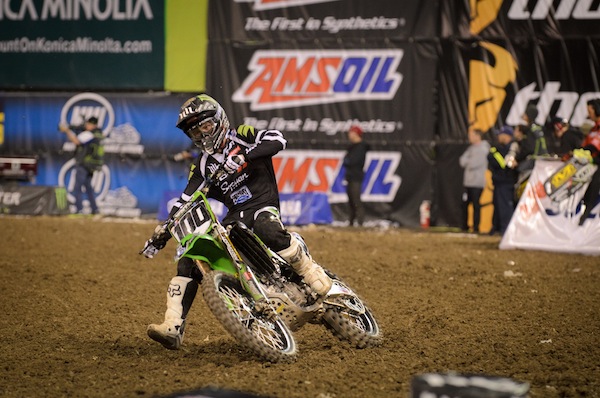 WIll Hanny's A2 bike trouble mark the beginning of the end, or a new beginning?
SX2
I'm not sure if it was the bold white shoulders on Eli Tomac's jersey or truly his physique but he looked like a man amongst boys at A2. He was man-handling that CRF over every rhythm and in every corner on his way to both the heat and main event wins. It would appear that those leftover #17 plate backgrounds have transferred some of that Barcia aggression with them to Tomac's bike in 2012. Am I the only one who see's a drastically different physicality on the bike from the 2011 Eli Tomac? It's commendable, a scary proposition because it could very easily be considered a failure and mistake if the results don't back up the change but now 5 races in, we know, Eli is the man to beat in the west series. I can't help but notice that this year's Eli bears a closer resemblance to the riding style of one Ryan Hughes, who yes is part of Eli's training regimen. Is it a just a result of sophomore experience(3rd year yes but 2nd yr SX guy), or is this "unlocking the hips" deal really all that Ryno cracks it up to be? Ryno certainly catches a lot of shit for his insistence on the importance of this technique so it's got to be some sort of validation, not that Ryno needs any stinkin' validation, that Eli has absorbed his teachings and is just dominating this series.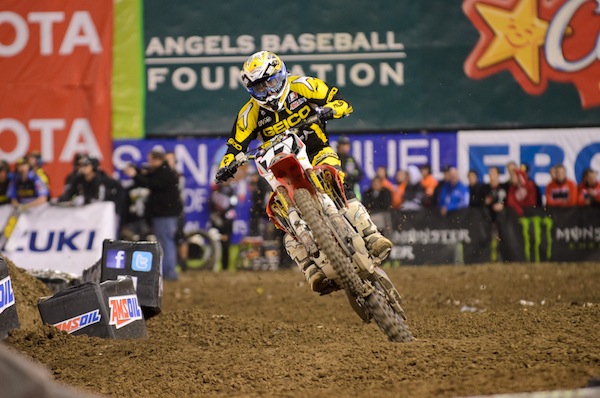 I may have 14yrs on Eli but even I will call him Mr.Tomac.
Cole Seely looked to have a great shot at pulling down his second win of the series but again a crash shattered his hopes. Still, a second place is a little bit of redemption for Cole who is much like last year dealing with inconsistency.
The always happy Marvin Musquin grabs his second podium in a row and follows suit with that distinguished list of prior French imports for just being a solid Supercross rider right out of the box. The Martian is going to be the guy next season.
Poor Dean Wilson. Coming into the season I think it's safe to say that no one wanted or expected to win this title more than Dean(sure Eli came within a few controversial laps of winning the title in his rookie season, so you could make an argument for him being that guy). Last year Dean battled through a heated East coast series with rival Justin Barcia, then showed an unbelievable level of consistency, only missing the podium twice, on his way to the outdoor title. It's safe to say, Dean's confidence from the outdoor title and determination to avenge the lost title to Barcia put him atop many lists to control this series. Maybe due to those expectations or simply persistent miscues, Dean has struggled to find consistency at the top in this series and that confidence has been replaced with frustration.
Great job by Nico Izzi. Nico has been counted out more times than I can recall and he showed in Anaheim that when he applies himself he really can overcome his pitfalls of the past. Whether those pitfalls are injuries, lack of training, or mental; he's proven he still has the tools so it's just a matter of preparation and building blocks one race at a time. A fifth is a great place to start.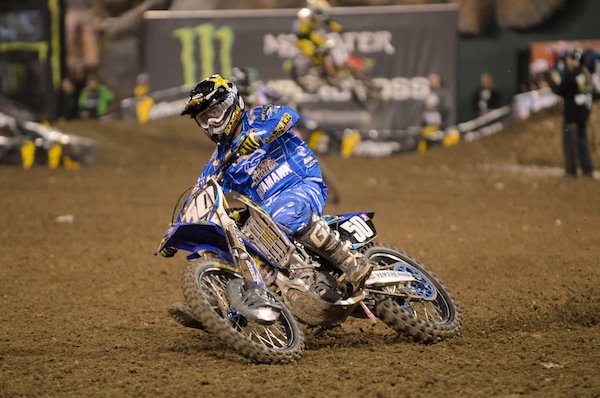 Is Nico on his way back up?
Aside from Zach Osborne not showing up at A2 while sitting third in points, the biggest shock of A2 for me is Michael Leib. Michael is back from a few years of struggles in the GP's and aside from an abysmal A1 and rough Oakland race, Leib has pulled down a 7th, 11th and now 6th. Michael looks great out there in heats and is struggling to find consistency in the race that counts. I bet he settles in right around that 6-7 range from here on out. He definitely has SX skills and I bet he gets a better ride for next season.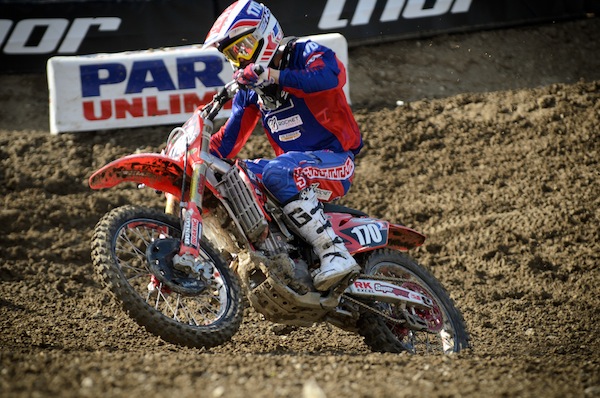 Michael Leib is looking better each week.
Ryan Sipes probably can't wait to get to the SX1 class. His struggles in the SX2 class have become so consistent, he's got to be beaten before the gate even drops. More often than not, Ryan's problems are a result of wrong place/wrong time but as they say, it is what it is and for Ryan, it is perplexing. It's gotten to a point where even wiht a main event holeshot, Ryan's first thought is probably, "ok, now let's see what ruins this tonight?". It's just one of many riders through history that has insane speed but whether due to injury, crashes, fate or what-have-you, will be thought of as someone who never achieved what they were capable of. This sport is littered with those careers, sad but true.
End
Here we are.
Five rounds, signed sealed, delivered and I would say A2 was the first instance of a standard track we've seen with a surface which held up good, interesting obstacles with rhythm options and multiple-lines for passing opportunities. Although the battles for the lead were lacking, it wasn't due to the track not being accommodating. There was plenty of close racing going on elsewhere in the field and hopefully moving forward the tracks will be similar in durability and opportunity.
Thanks for reading.