Jumping through the whoops is always fodder for fast guys to make fun of and last night, the skimmers had lots of targets for those snipes.

Jumping through the whoops is always fodder for fast guys to make fun of and last night, the skimmers had lots of targets for those snipes.
Photos by James Lissimore
Track
Honestly, the birds eye view of the track looked a little boring as far as layout goes but with the incredible whoop section and rhythm assortments, that track made for the best we've seen this year.
The SD whoops were the first track obstacle to make a 450 look like a 125 since the wall jumps everyone hates. Bookmark that fact and build off it Feld. The answer to tight and exciting racing wasn't a quad or other insane airtime obstacle, it was a lengthy, retrofitted whoop section. The 450(and most 250's) of today makes child's play of any rhythm or big-air obstacle, the challenge to riders these days need to come with obstacles that are less about horse power and more about technical proficiency.
When we were racing two strokes the tracks were harder because they required technical proficiency with a lack of power. Now power is at a surplus, so building obstacles to challenge rider-technical-capability needs to be a priority if we want to see more exciting, less predictable racing. Increasing technicality typically reduces speed so hopefully it would run triple-duty and result in less high speed impact injuries and longer mains.
A 46 second lap time is a little silly. Without this weeks whoop section, lap times would probably have hit 44 seconds. Insert Matthes joke about this being the perfect track for Jeff Alessi right now since the main was 1/4 shorter in time than the average SX. Too bad he didn't qualify.
It's painfully apparent that many of todays racers aren't accustomed to the whoop section of yesteryear. It made them look human, if you didn't power out of the corner, squared up perfectly, you were bound to get out of shape, drop the nose or if you're lucky, just exit the section at a snail's pace without going down.
Jumping through the whoops is always fodder for fast guys to make fun of and last night, the skimmers had lots of targets for those snipes.
SX1
Man, what a race by RV and Reed. That was edge-of-your-seat racing from gate drop to checkers. While RV was scrubbing and destroying the corners to edge away from Reed, Reed would re-establish the gap in the whoops lap after lap. Don't get me wrong, Chad wasn't getting handled outside of the whoops, obviously, he was in position to make the kill move on the last two laps but the whoops were his obvious upper-hand. Like-wise, RV wasn't getting devoured in the whoops either, he was only marginally slower than Reed there and looked great as well.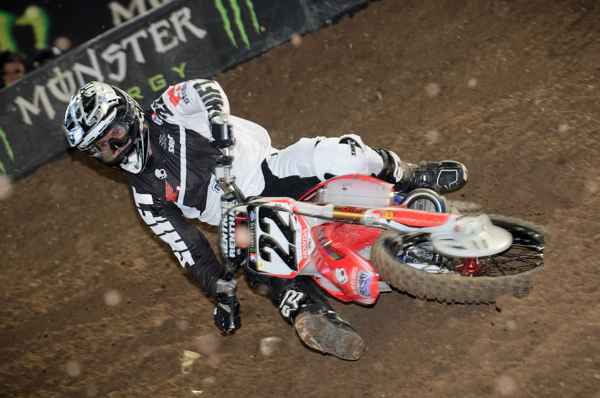 Reed threw a nac-nac in his heat and was feeling it.
Chad made me look really smart with my comment last week on being the most proficient whoop rider there is. Never out of shape, business as usual, just head and elbows-up, ass-out, square 'em up and pin-it to the end.
As the leaders crested the white flag, I said to myself here it comes, Reed has jokingly referenced "putting RV in row F" on a few occasions and I was ready for it. As was RV no doubt. I'm betting Reed's reluctance to make the contact move was at least a little based off RV's gentlemanly racing prior to those last two laps. RV also had a few opportunities to make a definitive contact pass and while he kept it tight, he was totally clean. It's no secret that RV and Chad are fierce competitors and while they respect one another greatly, there's no love lost between them. For the time being, respect is winning out over establishing the alpha-male role. That will change as the races tick off and the urgency of this title builds.
In the end, RV actually pulled a bit of a gap on the last lap when Reed clipped a rhythm and the opportunity was snuffed out for Reed. It sets a great stage for the coming rounds though with Reed hinting to physical racing on the horizon.
I can't help but remember RV voicing his opinion that Chad's 2011 Atlanta move on Stewart was dirty yet that very same kind of move could be exactly what the winner of this series may rely on when all the cards are on the table. In fact, RV postured in-air off the triple on lap 19 just like Chad did in Atlanta when he made the move on Stew, yet RV didn't cut across as much as Reed did. It was the ultimate parallel in setup and contrast in execution. Really cool to think of that way. I still say on lap 19 when the points-leaders are neck in neck, whoever is out front is a fool to not expect anything less than the kitchen sink.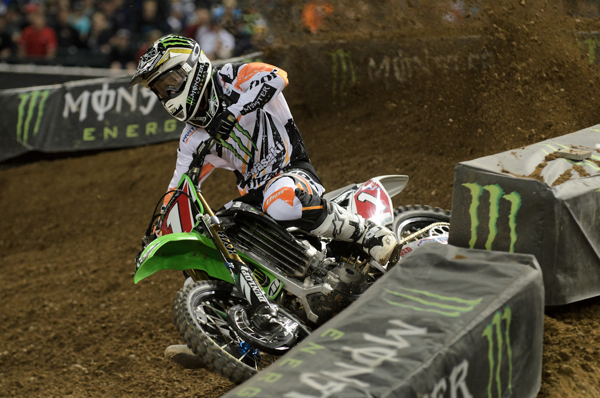 Back to back W's. Statement.
Where was the Alessi from Daytona last year who gave Stewy a country mile to get by when he thought he was a lap down? In San Diego Alessi was riding wider than a whales vagina(yes, tired Anchorman joke) when the leaders came around to lap him. Mike Alessi is becoming the Ryan Clark of today.
If there was an antithesis to Reeds domination in the whoops, it was Dungey. He looked terrible in them. There were times when I was flashing back and thinking that KTM was Mike Alessi on a 350. It was very surprising as Dungey isn't someone I would say typically struggles in whoops. Is that KTM link design lacking, was it all shock setup or is Dungey's ability in long whoops to blame? For sure, after the race, Roger had himself a look at the remaining tracks to see how many implemented a lengthy whoop section. Not that that matters since so often we've seen the tracks modded from the existing track maps. They definitely have work to do in the whoops, whether its on the bike or Dungey is their calculation.
In the end Dungey finished 22(!) seconds behind Reed in the main. On a 45 second lap-time track, that's half the track! We haven't seen the leaders separate like that since 2009 when Reed and Stew had won almost every race before the gate dropped.
I'm not one of the typical critics of Dungey's speed but that's just not going to cut it. He was substantially slower last night and were it not for Stewie getting caught in that crab fishing net, Dungey would have been a distant 4th.
What the hell was that all about? Stew gets out of shape, spit-off the outside and is oddly snared by a cable which keeps him immobilized for 40 seconds! Really? Even knowing what happened it doesn't make sense. They had to cut him out of the "crab net" before he could remount and salvage what he could of the race. Just bizarre.
As if you didn't already know, Justin Brayton is a tough mofo. Comes back from a wicked crash where they actually question whether he broke his leg, to finish 6th!? Brayton has all the makings of a guy who anyone should want on their team. Never gives up, works his ass off, never complains; just applies himself at 100%(zing!-If he wasn't sponsored by 100%, that would have been 110%, or the often utilized 200%).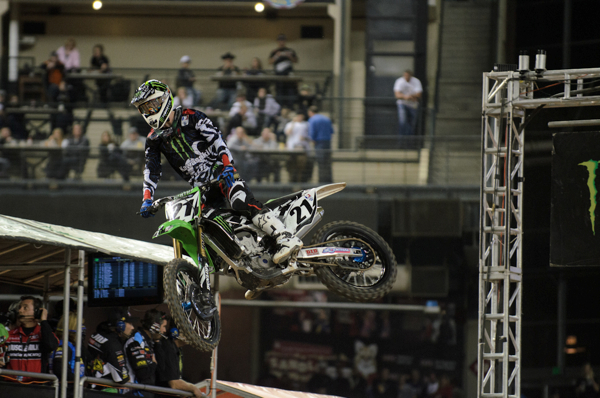 Jake is installing a new operating system for Dallas.
Weimer had a rough night in Saann Dieaago. From hitting the dirt thrice to being accused of a dirty move, Jake was not happy. Weird how Weimer's move on Pooh was pretty much a carbon copy of what Stew did to Weimer a few weeks back. I still don't see a problem with either of them. Nor do I see anything wrong with Dungey's move on Weimer, which Weimer believed was a take-out. Nope, that wasn't a take-out, it was a contact-pass but by no means did Dungey leave Jake no alternative. Jake's issue in those types of situations appears to be his balance bias. Maybe he races with earplugs and can't hear a rapidly approaching bike but part of this game is knowing when to make a move and when you are being set up for a move. Jake is jacking himself in these situations by A)not expecting contact and B)not keeping a more neutral weight bias which allows him to stand it up a little when his opponents are standing him up.
Jake knows this, as evidenced by his comments after he pulled it in following another crash. Coming back with a "new attitude" could mean no more Mr.Niceguy but I hope he thinks it through a little deeper and realizes he doesn't need to become Vince Frieze to rectify this issue. He just needs to anticipate and respond to these moves with more savvy. Maybe Jake felt better after he put Goerke into the tuff-block?
I'm a little confused on the Weimer pull-off too. Probably just chocking it up to a terrible night and pull it in before something physically bad happens. But if Stew comes back after being caught in the net for a full minute, everyone should; unless injured or bike failure. What's worse, Jeff Alessi qualifying and racing only 5 laps, or Jake letting frustration get the best of him after 10?
Interesting to see Weimer back to running the Alpinestars neck brace again.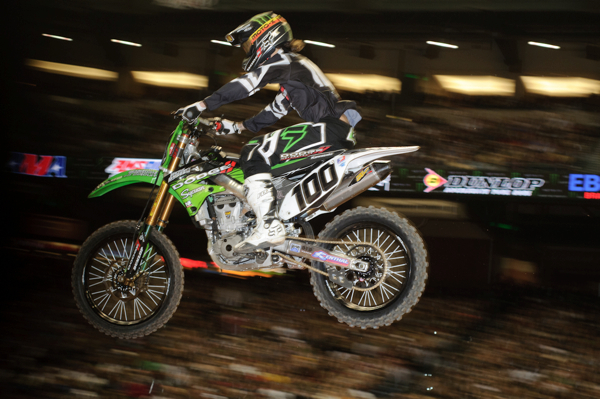 Josh just took a monumental step.
I am so pumped to see Josh Hansen answer my question from last week with an emphatic REBOUND! I said it then and I say it now, last night Josh broke-down a mental wall. He actually worked on breaking it down all week but as we know, scoreboard is what validates whether the prep is success or failure. Josh bounced back from disappointment in A2 with his best ride yet. Great job. Josh is garnering fans in droves with his commitment to hard work and tenacity this year; a stark contrast to the Josh of old who seemed to cower when challenged.
Super-bummed for Andrew. He gets the rock-hard ride-hard award thus far for sure. Shorty enters the series still working on getting his arms back to 100% and has hit the ground HARD at half of the races. The first-turn is no friend of Andrews lately, maybe it's mad cause Shorty made first turns his bitch for so long with many hole-shots? Andrew will remain undeterred, the harder he hits, the harder he tries. It's just how the Smiley-Faced-Assassin works people.
Andrew's rough night was further compounded because his number-one psycho fan, Moser, was in attendance and had to deal with his own emotional roller-coaster. The stadium ran out of beer before the main event. Andrew's crash was the point of impact, the beer was the nail in the coffin. Sorry Moz but tomorrow night is your redemption.
SX2
How quickly the series changes with Tomacs massive digger. He looked so aggressive and solid in the whoops until that one moment he didn't and it bit him in a series altering way. All the talk of Tomac looking like a man amongst boys(yup that was me) and that split second opened the window of doubt. The title that appeared to be on its way, signed, sealed and delivered was just lost in the mail. If there is a time to take a digger like that, it's the last race before a long break. Heal up Eli.
And with Dean's San Diego trumping of the field and subsequent points lead, JT$ makes himself look like a savant and Weege, Matthes and Ping looks like kooks. Amazing how much this series just changed with that falter by Tomac and interception by Wilson. Game on.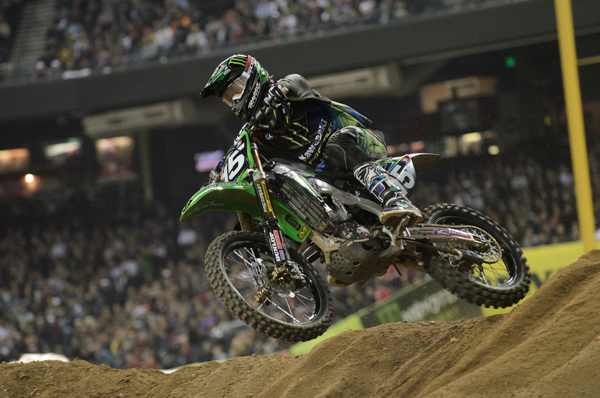 This guy just made JT$ look like Nostradomus.
How bout the absence of Zach Osborne now? It is entirely possible that Zach could be the point leader of the series right now had he stuck around. Instead, he's racing a 2-stroke in the woods and preparing for his final year abroad. I still think he made the right choice.
Maybe Seely could be the first rider in history to enlist hypnosis therapy to convince him that he struggles every week? Cole is having issues backing up wins with those podium rides that are necessary to bring home the title. If he always believed he was the underdog, perhaps that issue would go away. Of course, he'd never be able to enjoy his victories or feel like the rock star these guys always strive for; but that shit can come later when the ink in the record books is dry and he is a champion. Strong ride for Cole, keep it going.
I have to check the record books but I'm pretty sure Laninovich is only rider in history to not take down Friese when given the opportunity. I gotta admit, when he didn't punt Friese, I was a little disappointed… as I'm sure everyone else in both classes was.
Matt Moss with a great ride and podium shocker.
End
This was far and away Speed's best broadcast yet. They interviewed the top 6, stuck with the headset/booth interviews following the heats and being live, the action was caught well without being rushed.
WELL DONE SPEED
One thing though…
Everyone owes a huge thanks to Matthes for taking the steps to getting the post-race interviews. That is where we get comprehensive thoughts that could be at least summarized on the podium but the current podium interview setup HAS to go. Please, Speed. Experiment with a sponsor scroll during podium interviews so that the podium speak is intriguing.
I'm not one of those guys who gets worked up over RV's standard podium sponsor listing but last night it was like unplugging the amp's on your favorite bands best show ever. That race was incredible and for RV to feel obligated to drone out the sponsor listing instead of reflecting on the amazing race left all fans with a sense of "blue balls".
The sport would benefit greatly by a sponsor scroll during podium questioning so all riders can focus on interesting thoughts instead of mindless droning. Yeah yeah yeah, the sponsors want the shout-out's but honestly, no one is listening to that. We're all thinking the same thing, what a waste of time. Put a scroll up, we'll see the names and actually listen to thoughtful commentary on what we just saw.
It needs to happen.
One last thing…
Did anyone else think that the reason RC wasn't in the booth last night had something to do with the plan to interview the guy who now has his Monster sponsorship? I like to think RC was like, "yeah, I can't promise you that I won't tell him to go eff himself on the air". The one-liner possibilities are endless.
Thanks for reading