Everyone loves a good rivalry, and there are certainly some great ones in professional sports. Racer X's Aaron Hansel explains.
Everyone loves a good rivalry, and there are certainly some great ones in professional sports. Racer X's Aaron Hansel explains.
By Aaron Hansel
Everyone loves a good rivalry, and there are certainly some great ones in professional sports. Whether it's the Giants vs. the Dodgers, the 49ers against the Raiders, or even Weege facing off against Dano in a fierce, no-holds-barred dance battle, rivalries always make everything more interesting. This is especially true in motocross, where the drama of intense rivalries like Jeremy McGrath vs. Jeff Emig, or Chad Reed vs. James Stewart played/play out almost every single weekend. Of course, most heated rivalries don't even occur at the professional level, and if you've ever raced, you've probably found yourself engaged in some sort of rivalry, be it friendly or bitter.
I myself have had a few racing rivalries, but my biggest one existed years ago with a rider named Kenny Link, and it took place on the berms and jumps of Sacramento Raceway in Northern California. It seemed like every time I would be in a position to win my first race, or get a few points closer to that wonderful, plastic, championship trophy that had the dude doing a wheelie on a vintage bike on top, I would either crash or get block-passed by Link during the closing stages of the race. Oh how I grew to hate the sight and sound of that clapped out, faded pink '93 CR250 ripping by me! The fact that we were racing in the beginner class did not lessen the intensity of the rivalry.
The ass-whippings Link was regularly laying on me served as a huge motivator, and I would practice for hours and hours. So much so that Maxima probably set a record for Super M two-stroke oil sales that year. I practiced starts, I went around corners over and over, and made sure to practice my celebratory whips for the day when I would cross the finish line in first, ahead of my nemesis. Unfortunately, he must have been practicing too, because every time I thought I made a breakthrough in my riding, he'd show up at the races faster than ever. It would have been bearable if we were trading wins, but he was always just a tiny bit faster than I was, and our skills were progressing at roughly the same rate, meaning that I got to see plenty of his rear fender slowly fading into the distance ahead of me. It was maddening, and the fact that we were competing for a series trophy in the beginner class did not lessen the intensity of the rivalry.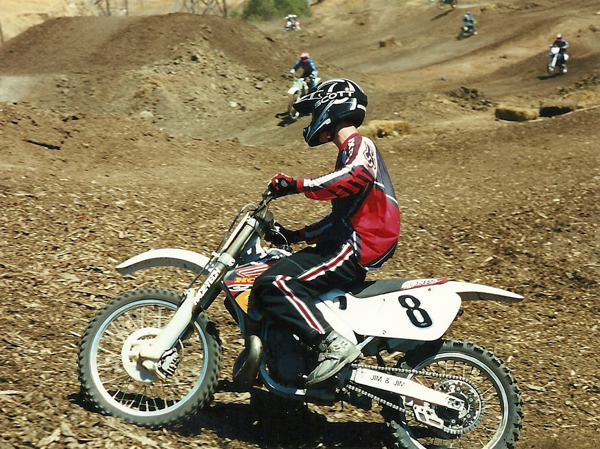 Hard at work at Club Moto. By the looks of things, I should have used the money I spent on go-fast gadgets to buy fresh tires and real gear!
When good ol' hard work failed to get the job done, I started dumping money into making my bike faster. I had Race Tech dial in the suspension, and Pro-Action's motor department transformed my engine into a fire breathing beast, something every beginner definitely needs. When none of that worked, I decided the time for dirty riding had come, and I lay awake in bed analyzing the track and coming up with places I could send Link sailing. In my defense, I never ended up blatantly T-boning the guy or anything, but whenever I was close to him on the track, I did my best to create a situation that carried a high probability of him ending up in the dirt.
Sacramento Raceway had a first-come-first-served gate pick method, and I would always make sure to arrive several motos early just to make sure I could line up on the inside of Link. If he didn't get the jump on me, I would always push him wide and deep into turn one, often times at my detriment. If there was a rider on the other side of him, I would do my best to sandwich him, forcing him to throttle back or go down. I even tried to memorize the location of the hay bales lining the track so I could nudge him into one of them if the opportunity arose. Not even attempting to coax him into a tank-slapper by nudging his handlebars with my elbow was out of bounds. Of course, I never, ever, came flying into a corner and cleaned him out, that would have been unethical.
For Link's part, he never once returned the favor and rode dirty with me. Maybe he wasn't that kind of racer, maybe he simply had no idea the rivalry existed, or maybe he knew that he was fast enough to beat me without having to resort to that kind of thing. Perhaps the fact that we were racing in the beginner class lessened the intensity of the rivalry for him. It certainly didn't for me, that's for sure.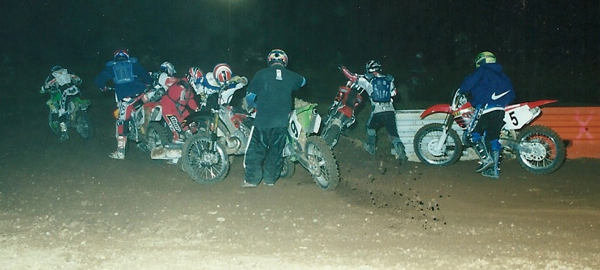 If I did my job right that night, Kenny Link is somewhere in this pile.
I refused to give up, and then, on a magnificent, fateful night, I finally beat Link and took my first win in the process. We had raced the final points race two weeks earlier, and the championship had already been decided. I had finished second in points behind Link, and the intense pressure of a beginner class championship had been lifted from my shoulders. I was feeling great, and when the 30-second board went up, I glanced around to see if anyone was watching before backing up from the gate a good four feet. When the board went sideways, I waited a split second and dropped the hammer. I was going to rip that holeshot, or break the gate trying. Luckily I timed it perfectly and rocketed out of the gate, and came into the first turn at least three bike lengths ahead of everyone. How do I know how far ahead I was? I looked back to check as I was exiting the turn. When you get your first holeshot, you do that kind of thing!
I ended up leading every single lap of the moto, and my 3-1 finishes were good enough for my first ever win. It was possibly one of the greatest feelings of my life, and to make things even sweeter, my buddy had brought his girlfriend to the race, who brought several of her fine, female friends with her. Of course, I did not reveal to them that my beautiful trophy was a product of the beginner class.
Link got bumped up to a higher class after that race, and I don't ever remember racing against him again. Beating my arch nemesis in our final race was awesome, but not as memorable as what happened right after that final moto. As Link rode by me through the pits, he tapped me on the shoulder and gave me a thumbs up. The guy I had been trying to Bob Hannah for the past six months had just Trey Canard'd me! The fact that it was a beginner class race did not make me feel any less guilty.
Aaron Hansel currently works as an Editor-at-Large for Racer X Illustrated, and can be reached at aaron@racerxonline.com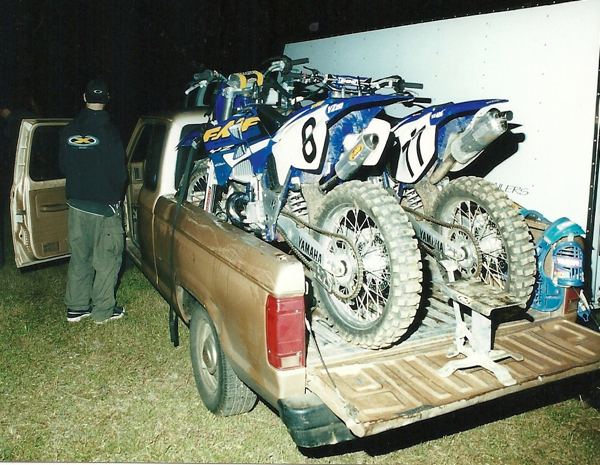 Loaded up and getting ready to leave Sacramento Raceway.