Lots of anger in Dallas and it all started with a member of the TV crew getting RV his headset…
Lots of anger in Dallas and it all started with a member of the TV crew getting RV his headset…
Huge thanks to THE James Lissimore for the sleep-deprived photo rush.

Periphery
Let's get the most obvious cliché checked off right of the bat, everything is bigger in Texas and the implications on the 450 title from Chad Reeds digger are tipping even Texas-sized scales.
The last few weeks Chad has proven definitively that he is the rider most capable and motivated to keep the RV2 freight train from running away with this series. While James likely still has the skill to do so, they still can't get the Yamaha figured out well enough for him to ride like he used to. Yes he used to crash big even on the other brands but when he got up he would pin it again. Now he seems to be more reluctant to do so. Maybe he's older and less willing to hit the deck but maybe he just doesn't trust his bike? Dungey, while fast, is more obviously than ever just not at the same pace as RV and Reed, or even a throttled JS when he's not remounting from mid-pack.
The East coast SX2 class debuted as well and there were some fireworks in round-one that make this series very compelling right off the bat. The defending champ took the W but it wasn't a holeshot and run-away, he had some battling to do and the action behind him was typical SX2 carnage.
Welcome to Dallas.
The track looked like it was steam-rolled clay. Ruts took longer to establish and it looked slick out there. The track had interesting rhythms with a few options and it seemed to be pretty evenly divided between who was jumping which timing option through them. I was surprised to see no-one going triple-triple into the left hand 90º closest to my couch but apparently the first of the jumps just wasn't going to provide the lift safely.
SX1
Last week was rough for Weimer. He was involved in about 219 incidents and called it a night in the main following one of them when he got a stinger in his previously broken arm. He was understandably frustrated. He came into Dallas committed to hitting the restart button with a fresh focus on survival and results. Mission accomplished for the 21. In his heat race right after the first turn he got a little out of shape and made contact, coincidentally with Dungey, which left RD5 on the ground. Dungey was lucky not to get tattooed as the pack was still making its way around him.
In the main Weimer would again hook up with his 2012 nemesis in a few corners. Props to Jake for not going all Michael Douglas in "Falling Down" on the Dunge, which he definitely had the chance to do. They came together as Dungey went by, Jakes Kawi started smoking and at the end of the short whoop section Jake had a clean shot at RD5 but refused to indulge his previous weeks' fantasy of booting Dungey into the cheap seats(wait a second, this is Dallas, there are no cheap seats).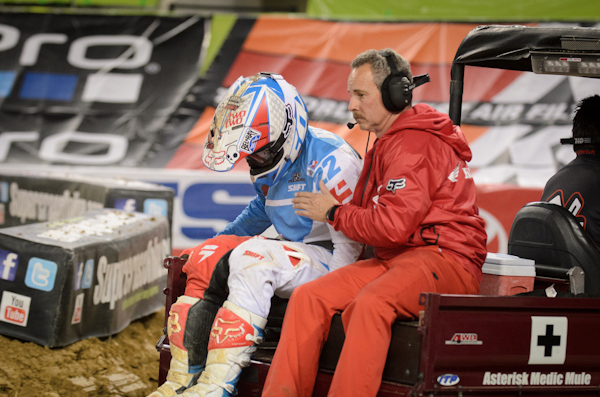 Moments before this, Reed was looking the strongest he ever has.
Yeah, Dungey came out ahead of Weimer again but a podium is a big step in the right direction and pays a lot better than a display of self-satisfying retribution.
How deflated did Stewart look when he stalled his bike after getting stopped by his downed team-mate? No urgency, you could almost here the sigh of "so this is what happens this week to jack me". Definitely no talk of him running a Rekluse this season but the resourceful JGR crew may want to now. Gotta feel for the guy, even though he sits fourth in points, it feels like he's Jerry Jones' "Jumbotron" out of the lead. In his post-race interview James looked deflated and that trademark smile was nowhere to be seen.
As the main event started we were spoiled with a continuance from last week where RV and Reed were enveloped in a neck in neck duel to the death. RV looked aggressive and physical on the bike setting the pace; while Reed looked controlled, calculating his strengths and weaknesses as the laps clicked-off. Ironic that Reed, the more controlled of the leaders and looking better than I can ever remember threw down his fastest lap and the fastest lap by anyone in Dallas, of 46.662 on the lap prior to his massive digger(that's my huck-a-buck). Chad was like a lean 125cc 2- stroke right before it gives up the ghost, just ripping like never before and then, pop.
The second Reed hit the dirt it felt like a different race, series and year. They say before death your life flashes before your eyes. When 22 hit the ground, I saw the rest of this series flashing before my eyes and it looked a lot like a year between '93-'00. When Chad Reed hits the ground and doesn't get back on the bike, you know something is jacked. Coughing up blood in Pontiac '08? Provisional and raced. Faceplant SLC '11? Finished. Millville '11? Need I say more? Chad could taste this. He was shadowing RV's every-move and looked full capable of maintaining the gap of his discretion until necessary. Who would have thought that the part of the track to bite him would be the often criticized as "one-lined and arbitrary" straight-sand section?
Whatever the case, we better all be hoping for a miraculous recovery from 22 or this series just went from potential "greatest ever", to "bust" faster than Milli Vanilli went out of vogue.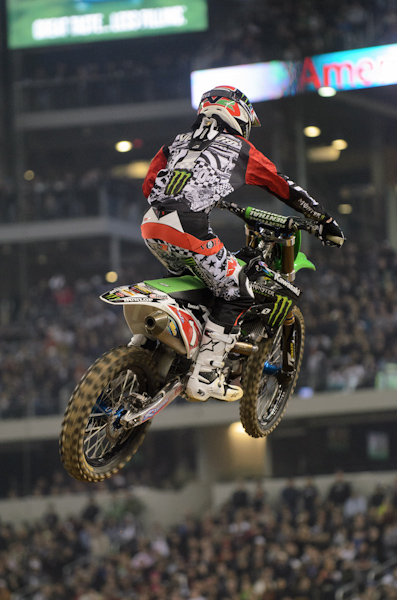 RV made it three in a row and is not slowing down.
Following Chad's exit from the race, RV's lap-times climbed 2 seconds and that was more than enough to comfortably seal the deal.
Prior to the season James was noting he still wanted to go for MC's SX win record and win a title in the same season. As it stands, RV may have a longer road to travel but it looks like a drag-strip compared to JS's winding route to destination unknown.
Hanny again shows that he is for real this year on the 450 with another 5th place finish. Feel-good story of the series so far.
Contrastingly, Broc had a great start in the heat to finish 3rd and his best main-event start yet but had to again remount from the back. Eventually he made his way back to 11th. Not at all what he's capable of but it will come.
Bummed to see Shorty not ready for 20 laps and still affected by his pummeling in San Diego but smart to heal up another week.
SX2
Wharton must have slipped "yo mamma" joke's written on stickies into every riders locker prior to his heat race in Dallas. Anyone who came within earshot of him either put him on the deck or left some rubber on his number-plate last night. It was not a fun night for Purple Rain.
Double-D went from K-O'ing his rental car to owning everyone in Dallas next to Bam Bam. Darryn, the personable free-spirited kid with the super-sick style everyone loves, is finally on the green juggernaut and barring catastrophe looks ready for his first W.
I say ready for it because there is a pretty significant road-block in his way and that is returning champ better known as 1E, bitches. As good as Barcia looked last year, was there any doubt with the drill sergeant from Michigan, "1SG Stanton", that he would be better? Dallas showed a more controlled and confident looking Barcia than last year in SX. Maybe it's just due to a fully healed wrist but the reason is unimportant, the result remains the same and that is Justin Barcia looks like the calm veteran out there. Comfortable with contact and ready for anything. Justin was sporting some fresh clipped lock's and a nice Joe Dirte' dirt-stache. Whatever it takes Bam Bam.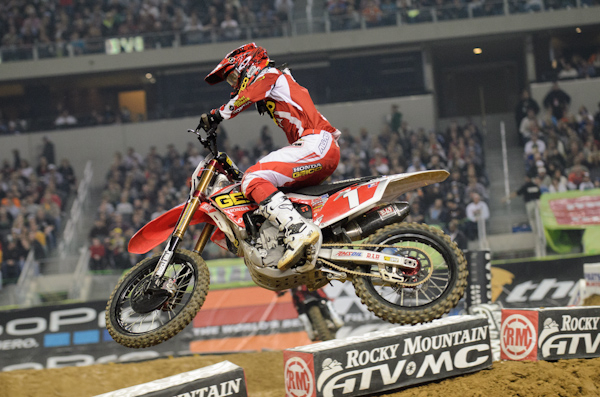 Barcia looked like a man possessed in Dallas. Even with a mediocre start, it was a matter of when he moved to first, not if.
Dallas marked race-one for German-phenom, Ken Roczen. Many billed Roczen as the "German-Barcia" and although he wasn't battling for the win, his riding resembled Barcia's in a surprising way. Roczen also looked very controlled and confident. He wasn't about to go balls-out to catch Barcia for a round-one duel and said as much after the race. Get good points and move on to round-two where hopefully he's up front to make it happen.
(Adendum- I have since changed my opinion on Mookie's move having realized he was fully on the brakes following initial contact, therefore it was intending to put Bogle down. I'll leave my writing as it stands though.)
They say opinions are like assholes and apparently, I'm the biggest when it comes to "Mookie-Gate". When I initially watched Mookie's move on SX2 rookie Justin Bogle, I thought– well, honestly I thought "holy shit, Bogle's leg is about to get spit out of a Mookie-wood-chipper". Really though, I thought it was dumb and too aggressive for that stage of the race but it didn't strike me as an intended take-out or "dirty". I'm clearly the minority in that opinion and I'm fine with that. My idea of a dirty move is one where there is clear intent to put the other dude down leaving them no-option, other than eating dirt. I still feel that Mookie was attempting to make a contact-pass, but not to leave Bogle no-option. It's hard to not call it dirty though when Bogle ends up getting violently ripped off his bike. I definitely see the other side of the debate and although I still don't think Mookie was intending to clean-out Bogle, let me be clear, yes it was dumb, far too early in the race and series for that matter but not intentionally dirty.
Dumb, not dirty.
It's ok that my opinion differs from the approximately 95 tweets I got in opposition; I'm not trying to change your opinion, just stating mine.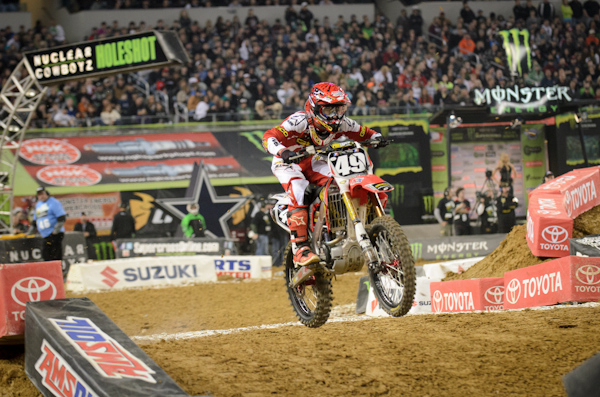 Bogle looked very strong in his SX debut. With his riding and helmet smacks.
Should Justin be pissed? F*#@ yes! I don't blame Bogle one bit for that smack. I fully expected him to go all Jimmy Superfly Snuka on Mookie with a Suplex or Atomic bodyslam. Bogle was riding an awesome race, looked solid, moving forward and Mookie ruined all of that in one instance. Bogle's debut went from something solid to build on, to something to rebuild from. Super bummed for Justin. His little whip-one-leg-kick-down move is awesome to see(in a heat race even!). When Justin starts winning, I'm sure we'll see even more of these antics and I can't wait for either of them, the wins and the moves.
I was also very impressed by Mookie's restraint after getting "smacked upside his head". Maybe that was in indictment on feeling guilty for his intentions? Or maybe he just expected it knowing Bogle would be pissed about it regardless of intention. Nevertheless, for any man to be smacked by another and restrain himself from reacting, that's some stellar restraint that we haven't seen since; well, since Ryan Sipes refrained from judy-chopping Matt Moss a few weeks back.
Disappointing start for Blake Baggett, in other words picking up where he left off last season. We all know Blake has the potential to win by double-digit seconds but until he can achieve consistency at the front, that stigma is going to continue to be attached to him. I feel like Blake expects himself to win every race, puts too much pressure on himself, gets overwhelmed quickly and mistakes compound until it's a losing fight within the battle.
But hey, I've been wrong before, right?
End
Leaving Dallas we have quite possibly a whole new series in the 450 class and that's not a good thing. Chad has shown he's tougher than most and unless something is torn, fractured, or broken I think we will see him out there(insert video clip of Kellen Winslow Jr.'s locker room interview where he calls himself a f*@$ing warrior). At what percentage though remains to be seen.
In the SX2 class, well, after one round we already have plenty of intrigue and storylines to follow. Can Barcia get even better? Will Bogle get retribution? Will Bogle get a win? Will Baggett show consistency? How many rental cars will Durham pound into submission?
Yeah, the season is still looking incredible.
P.S.
In my open, I noted the mad TV crew member. Checkout the face of the guy trying to give RV the headset, clearly RV is just not fast enough for him.
This guy doesn't think RV's fast enough.