This sport needs a gum sponsor with the lack of teeth brushing by the riders.
This sport needs a gum sponsor with the lack of teeth brushing by the riders.
By: Moser
Photos by: Thee James Lissimore
Some great racing action this weekend at Hotlanta in both the 250F and 450F class. There was red light gate, wall gate, sand gate, KTM won't start gate, and every heat race leader crashing gate but this column isn't about gates it's about Short. Last lap passes in both classes made all the difference this weekend all the difference in regards to coming up Just Short at least.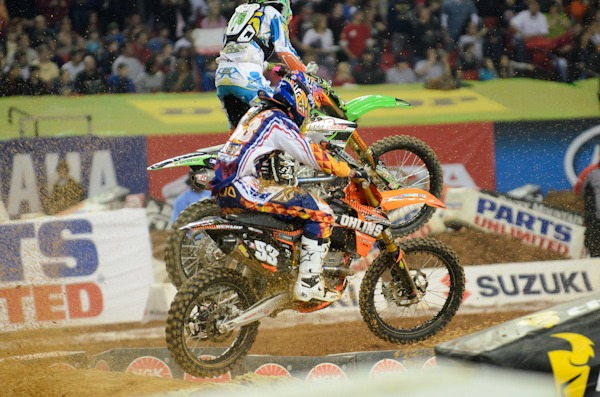 The color/graphic detail on the pants and jersey reminds me of a tribal tattoo.
#93 Catanzaro.- Ohlins USA, Langston Motorsports KTM
AJ is on the newly formed Grant Langston Motorsports KTM team, they've had a bit of a rough start to the season but their bikes look cool and let's be honest looking good is what's really important. With the live race coverage I was actually able to watch the LCQ and here's my breakdown. I made some notes so I wouldn't forget my initial reaction let's see what I have written down. "Ohhhh Catanzaro gets loosey goosey before the sand section oh no he's getting past in the sand on the last lap". You could see the #55 KTM of Lance Vincent coming on the last lap (lots and lots of KTM on the track in the 250F East lites class it's like a pumpkin festival out there). The pass by Vincent on that last lap was looking like a sure thing, as sure as a Monster girl not needing to make a hotel reservation for a place to sleep on Saturday night. AJ looked to be riding a bit tight and was making mistakes, que the Jaws music Vincent smelled blood and just kept coming for him and coming for him and made an easy past in the sand section.
AJ won an arenacross title in 2010 so the kid has some skills. Did you know that Catanzaro is a city in Italy (near the bottom of the boot) also known as the city of the two seas, of 96000 inhabitants (thanks Wikipedia). I imagine the story of the beginnings of the Cananzaro name is just like in the Godfather part II with a young boy immigrating to the USA and choosing a name at Ellis island, I wonder if he has any mob connections. I'm going to start following AJ on twitter @AJCatanzaro you can learn a lot about a guy on twitter and you never know when you may come across a young up and coming Stroupe. I wonder what the chancibilty is I'll see a chipotle tweet before Friday. AJ is 0-2 for qualifying so far this season having missed the main event in Texas also, hopefully he can start to turn his season around or Grant Langston isn't going to have any hair by the time they get to Las Vegas.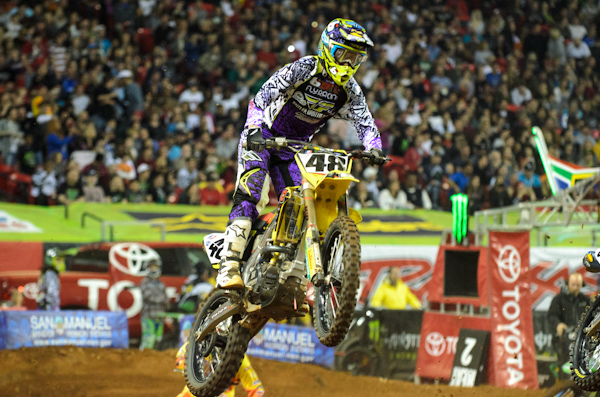 If you look really close you can see his new pearly white grill.
#48 Jimmy "Top" Albertson – BTO Sports.com, Palmetto Suzuki, Fly Racing, MMI
Top Jimmy's season started out well, getting a ride with the BTO Sports.com team seemed like a good fit. He not only qualified for the main at A1 but finishing 17th in arguably one of the most stacked Supercross seasons to date a great way to start the year. Without a lot of Supercross experience due to injuries over the years Jimmy was considered a bit of a wildcard coming into the season nobody knew exactly where he would stand because he's pretty tall, not literally stand but more so finish in the results. With the first race jitters out of the way Jimmy had to go into Phoenix feeling good but a crash resulted in several new teeth, a slight concussion and a separated shoulder. Trying to ride through injuries and/or come back from injuries is never easy, everyone recognizes its part of the sport blah blah blah but this isn't a pulled groin or bruised inner thigh these were some legit injuries. I was shocked when Top Jimmy and his new teeth lined up to race the next weekend at LA.
The Top Jimmy Shadow. Infamous.
Top Jimmy is a fan favorite and not just of Sinjin. The pulpmx Top Jimmy shadow video went viral and instantly made me a fan along with basically every other pulpmx listener. What's not to like about the guy he hit the road last summer when he couldn't find a ride (respect), he has long kinda greasy looking unkept hair (sexy), he's friends with Ronnie Mac (awesome) and he had a shotgun wedding with Georgia Lindsay who's accent alone is reason enough to marry her. My people were able to get ahold of his people and after lots of scheduling conflicts we got in a Short text interview.
Good morning, the bad news is you missed the main by one position (sorry bud) the good news is you're featured in Just Short article on pulpmx today. I just have a few stupid questions if you have a minute.
Haha thanks for the reminder, ok shoot.
To start what are you wearing? Wait don't answer that, sorry I'll try to be a bit more professional, moving on. We all know that starts are key is it true you've hired Ronnie Mac for a ½ rack a week to help with your starting technic? What tips has he given you?
We started off with bike and gear setup. He said that by having a fender on the bike it wasn't allowing me to pop the proper wheel that was necessary to pull a holeshot. So he ripped that off. Then he cut the mouth piece off my helmet. I asked him why he did that and he just responded "cause mouth pieces are for pussies and if you are a pussy you can't ever pull no holeshot".
Speaking of mouths you have a very nice new mouth full of teeth. Have you been riding the LCQ for more TV time with these live races for another opportunity to flash your new pearly whites on the starting line?
Silence
We can skip that question if you would like?
Silence
I hope I didn't offend you?
Silence
These questions were all in good fun I didn't mean any disrespect?
Silence
I have a deadline for my Just Short article Matthes runs a very tight ship soooo?
Silence
This means one of two things, you're having cell service or phone problems or this will be my first and last text interview with a rider and/or likely my last Just Short column because Matthes is going to fire me and block me on twitter?
Silence
Jimmy I'm sorry I'm a fan, we meet in the Whales Vagina you showed me your teeth even though you hadn't brushed them and we talked about how serious JT$ is on race day, your brother Gregg and I have lots in common we both drink beer.
Silence
Honorable mention: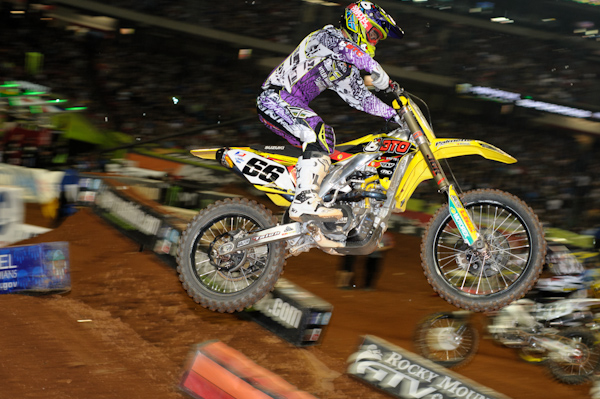 Why is JT$ a motocross rider? Because he can't sing and dance.
#66 Jason "JT$" Thomas – BTO Sports.com, Palmetto Suzuki, Fly Racing, MMI
What happened? With three corners to go it looked like JT$ had a lock down on the Just Short spot in Atlanta but the pressure got to him and I'm trying not to take this personally that he didn't want to be the feature rider in my column. After getting out of shape he got a bit off balance and started to turn left then more left and then somersaulted onto the start straight. I saw a picture of his sprained ankle via….email and it's huge, like size DDD SoCal fake boobs huge, doesn't even look real. If he laces up the boots this weekend I'll be amazed. I don't have four Manitoba titles (I'm a four time Ironman) but I have sprained my ankle and it hurt worse than a broken bone I couldn't put weight on it for weeks. Art Eckman once called JT$ the Ironman of Supercross and as a four time Ironman I couldn't agree more. Keep icing that ankle down while watching Rocky marathons, and when you return to the races be it this weekend or next and regardless of weather conditions the black beanie and two day beard need to make a comeback. Nothing is over!!!
Thanks for reading this Short recognition of the guys that almost made it. See you next week if I'm not fired, Moser.
Please continue to send your complaints about this column to jasonw@racerxill.com he enjoys reading them.