Multi-time supercross and national winner David Vuillemin gives us his take on what he saw at Indianapolis.

Multi-time supercross and national winner David Vuillemin gives us his take on what he saw at Indianapolis.
By David Vuillemin
Photos by James Lissimore
Welcome back to Snake Eyes for this Indianapolis edition… I wasn't there but I followed the practices on my iPhone and watch the race "almost" live on Speed.
Let's start by talking about the track. In the pre-show on TV, a lot of people were excited about it saying it looked fun with great dirt. Okaayyy. Seriously, what was good about this track? I really thought it wasn't a racing track and it would have been way better in someone's backyard. I wasn't a fan of the flat turns like in turn one and the one after the second triple. I know the promoter is scared since Matt Goerke jumped in the stands in practice of Indy '04 (or was it '05?) from a bowl turn but those flat turns don't make for good racing at all. Everyone went inside, it made a rut and made the track really one lined. It was also really tight with, again, a lot of 90 degree turns. Add the tightness around the over under bridge and you get a slow track where it's difficult to pass. There were two spots to pass where the two 180 degree bowl turns were, before and after the whoops. The most technical thing on the track, for me, was the lack of traction. It was as slick as a race in Anaheim and, if you watched the race, you witnessed a lot of crashes because of it.
In the lites class, Ken Roczen was way better this weekend from practices to racing. He clocked pretty much the same lap time as Barcia in practice which had to be good for his confidence for the night program. I saw more motivation and more will to win in him. His heat race against Durham was pretty cool. Ken got frustrated when Darryn passed him back but it wasn't a bad move at all. Those Euros have tough times with a little American rough riding… 😉 As far as practices went, no surprises at all, it was pretty much the same thing since the start of the East series.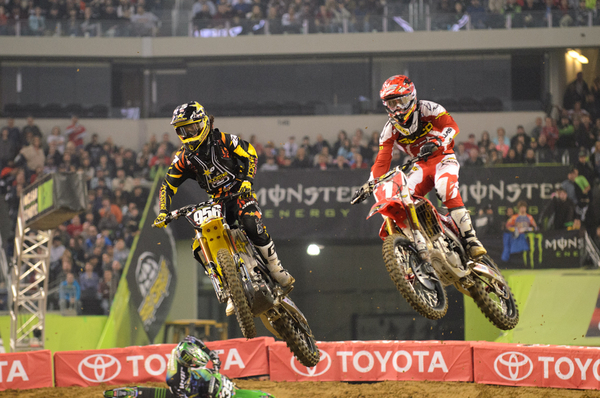 Blake Wharton won his first race in a couple of years but Justin Barcia (R) still has a nice points lead.
The main had had its fair amount of drama. The race got red flagged, not really surprising, it happens pretty often but what about the restart? This staggered restart was interesting and in a way, more fair for the guys that were doing good. It was the first time in the history that I've witnessed this. In normal conditions, everyone would have had to restart on the gate and race a new 15 lapper. But, the AMA decided to apply this rule that no one really knew (who reads the AMA rulebook anyway?) and they restarted the race with a green flag in the order of the lap prior to the red flag. I like it but I would have preferred a rolling start "a-la-Nascar" to avoid some chaos. I thought Ken was "lucky" to start the second part of the main in front. For example, he could have started 6th with a normal restart with the holeshot to Barcia. A few laps later, he lost the front end and the race in the slickest part of the track where it bit a lot of riders all night. Guys! When it's shiny, ride off the main line! Ken will win a race soon, he has everything to do so.
What bothered me a bit was his interview post race with Erin Bates. He used the words "bad luck" in every sentence. There isn't such a thing, kid. He got a huge break with the staggered restart (you will tell me he could have holeshoted the restart too but this "in line" start helped him a lot) and he's talking about bad luck because he crashed? He could have crashed even without the red flag and is making a mistake and losing the front bad luck? I don't want to be mean but he lost this race all by himself. That's the bottom line. This will build his experience and like Oscar Wilde would say "Experience is the name everyone gives to their mistakes".
What about Blake "Prince" Wharton? He rode great, capitalized on Barcia's bad start and Ken's mistake to step it up and make it happen! He rode good in his heat race too, battling with Barcia (more on that later). It's great to see a new winner but it cost me $20… ;-). Yeah, I bet with a guy in the PulpMX chat room while listening to the PulpMX radio show that Malcolm Stewart would win a race before Blake. I really thought Malcolm would have stepped it up this year after a promising rookie season. Oh well, Blake is third in the championship, one point off Durham now. It would take a lot for Barcia not to win the series but if Darryn and Blake stay within 25 points, they still have a shot at it. In motor-sports, and we've seen it a lot, anything can happen.
Mr Consistency this year has been Durham. DD got another podium, his third, and is currently 2nd in the series. I've been at the Kawasaki track with Nick Wey and lately, Darryn has been putting down the laps and looking more aggressive which is helping him. I was surprised he fought back against Barcia the way he did in the heat race and I was happy to see that. DD is super talented but looks nonchalant on the bike too often. This weekend, he came to fight and it paid off.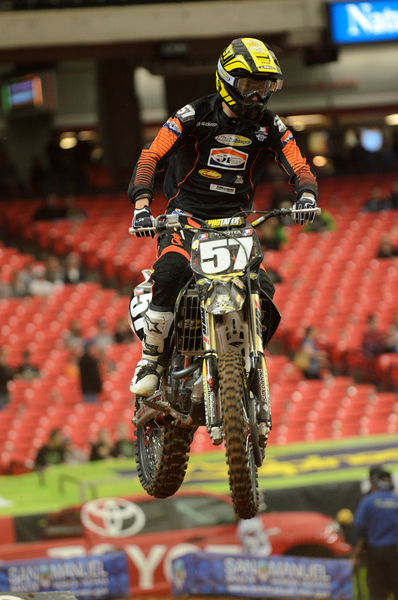 DV thinks that Jake Canada need to believe in himself more.
Mr Stashe's winning streak came to an end in the Circle City. Barcia was the fastest in practice by a hair and won his heat race. He looked the best of the Lites class but missed his start in the main. Add a slicker track in the last race of the night (which doesn't fit his riding style), a crash before the red flag, an one lined racetrack and you have the recipe to beat him. It will take all the above not to see him win this year. And it's not about luck, just circumstances, decisions and destiny… He salvaged the last spot on the podium and only lost 5 points on Wharton and 2 on Durham. Could have been worse. I can't wait for Toronto, he will show up all pumped up to get back on top. A couple things he did bothered me a bit. The way he moved over on Wharton (a-la-Alessi on KDub, more on that later) in the rhythm section after he passed him. This is really dangerous and Windham's crash is the perfect proof of it. He doesn't need to do that to mark his territory. The territory is his already. The second thing was his post heat race interview on TV. I know, being arrogant and bad ass is part of the game but humility goes a long way too. Just my 2 cents.
Blake Bagget ended up in 4th which is better than last week but still far from his potential. I guess something happened after the restart where he went from 2nd to 6th in one lap. He got passed, I think by Barcia and Roczen, in the same tight turn with only one rut where it's impossible to get passed… He got anxious when those guys were behind his and went over the rut. Those kind of mistakes cost a lot in a race and it shows that he is still perfectible and lacks a little SX experience. His times in practice were still off the pace, 1.7 sec from Barcia/Roczen. I think he is fit to race the whole moto but he will have to work on his technique to acquire some more speed. With the circumstances of the Indy main event, he should have battled for the win.
Jake Canada got his career best finish with a top 5. 14th on the first lap and considering what I said about the track it's a great performance. His 6th place in timed practice shows he has the speed. He lacks a little fighting spirit against the guys, he feels, are better than him. We saw it in the heat race where he was cautious and didn't really fight to contain Durham and Roczen after his holeshot but it will come with the confidence. He has/had the potential to give those guys a run for their money in the heat race for sure… I am pretty happy for the kid. He's a super nice guy and the shyest tattooed guy I know! hahaha. I am pretty proud of signing Jake in the middle of the Nationals and I pushed to sign him again for 2012 at MCR last year. Pat on the back to myself on this one.
That's gonna be it for the Lites. I don't see everything I can from my couch… I need to find a sponsor to fly me to the races to be more explicit. 😉
450
In the 450 class, it seems like we are losing a little more interest about the championship every weekend with all the stuff happening and the riders getting hurt. Like I said last week, since RD, CR, TC are out for a while (and James being James), there are a lot of guys that are capable of making the podium and take some good bonus money that goes with it. In the front, Villopoto had to work for it this weekend to come out with the W. This kid is pretty cool and still gives 100% even knowing he would have had almost a 3 races advantage on Bubba after the Indy main since James didn't qualify. At this pace, RV could be Champion 4 races before the end!! Still, we saw a great Ryan in Indiana. He got a poor start and grinded away for 16 laps to get the win. RV doesn't know how to manage a points lead and I thank him for it! This wasn't a RV track (nor a Barcia like I said above) but you could see how he evolved from the heat to the main. He made mistakes in the heat, he crashed and wasn't too smooth. He changed his lines in the main. He stayed away from the shinny slick part of the track. He tried different lines by going wider in the turns. We saw him go outside before the finish for exemple using the loamier dirt and had better throttle control. Even if he won a bunch of races this year, he didn't improve technically that much in the main in the previous races. I remember Oakland where he stayed in his lines all night, they weren't that good and cost him the win. I liked what I saw in Indy. I really enjoy the riding technique side of things and how to overcome the difficulties on the track when it changes. Some riders hammer laps without thinking. You could noticed he started jumping in the whoops too. He wasn't doing it as good as Metcalfe who was jumping 4 in. Ryan was only jumping 3 in but in the main it was faster to jump…
Let's talk about the Bubba crash in the heat race. He went too wide at the exit of the first turn and that the cause of the crash. He felt like he could have got landed on on the first double so he made a hard left to go down the rhyrhm section on the left safely. The thing is that it was super slick and he lost the rear on the take off of a 24ft double. Came up short, came to a stop and KW couldn't go anywhere. It's a bummer because he was riding good again. His laptime in practice was 0.1sec slower than RV and well over half a second on the rest of the field. With RV being the last one standing in the Big 5, the race will become pretty boring soon if James doesn't come back in Toronto… I don't feel like the rest of the field is ready to hang it out and take some chances to battle with RV for the win. Seems like a podium is satisfactory for them. I didn't see Brayton hang it out for the last 5 laps. He lead from lap 6 to 15. He came 5 laps short. I would have bet that if it was any other rider catching him (JB10), he would have tried harder to win the race. I can be wrong but it's the way I felt about Brayton's end of the race. He had a shot to pass RV back easily but was too shy in his move. At this level, you can't be shy, you have fight for it whoever is the opponent… Put Brayton's teammate, Seely, instead of RV and we would have had a different ball game. Still, JB has a great day. he won his heat and got 2nd in the Main. Way to step it up with the circumstances. Good Job!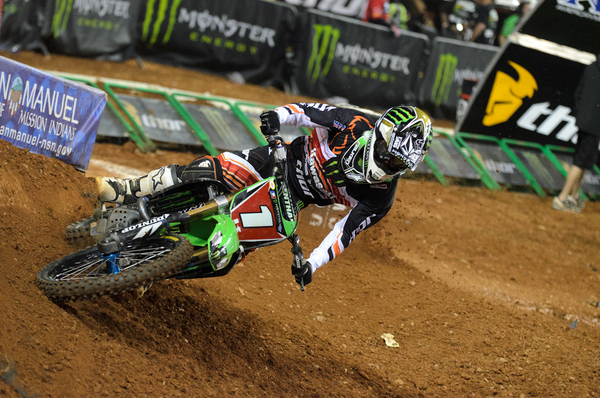 Villopoto's got a huge lead with his win at Indianapolis.
Another guy stepping in up for a while is Davi Millsaps. 2nd podium in a row and he is proving he can be one the box in normal conditions and not only in the Daytona mud. He had to fight for this podium by making some great passes out there!! 8th in the first lap, he passed Izzi, Marvin, Alessi, Metcalfe and capitalized on KW gnarly crash. We saw Davi fired up and aggressive. That's what he was lacking at the beginning of the year and it all goes with believing in himself that he can podium now with a few guys out. The riders' approach is totally different now that 2 spots on the podium were open this weekend and it showed on the track. Davi's fitness has been improving too. In Indy, he clocked his best time in the 15th lap of the main, the latest individual fatest lap of the field. It's the reason he passed Metcalfe at the end of the race. he charged the all way! His best ride of the year for sure!
I am telling you, all those injuries of the top guys bring the "not-top-5-on-paper" guys to life. Metcalfe's ride is the proof of it. Yes, he said something about a new bike set up on TV, might be true but I don't really buy it. How much better can you get in 2 days of testing? His drive was awesome this weekend. He fought with RV for a while and didn't really want to get passed. He showed me another image than the good motocross rider that is struggling in SX. His jumping technique (a-la-French) in the whoops was awesome and way faster. He was attacking and racing the track more than usual. His first few laps were great too. Went around Musquin and Alessi fairly easy and was aggressive to contain RV. He made a couple mistakes at the end where he didn't jump a triple. That helped Davi to make the pass. I like what I saw from Bret. He looked way more in his element this weekend.
Seely got fifth but didn't get much love from the TV broadcast, only a post race interview to thank his Muscle Milk Honda and tell us he had a gnarly crash in practice. If you look at the results sheets, he was 9th on the first lap and 5th at the checkered flag. That's a good ride!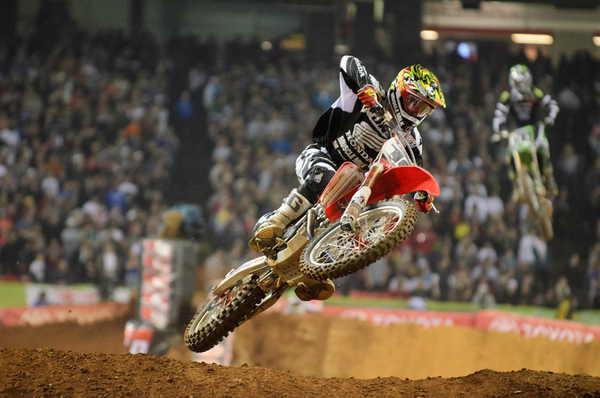 Brayton was on this weekend and led some laps!
As the "Donnie Hansen of the 3rd millenium", Mike holeshoted the main. I got to give it to him. He rode great at the beginning of the race, then went from 1st to 4th in 2 laps and later on would get passed by Millsaps and Seely (KW would have passed him too if he didn't crash). Sources say that he had a bike problem in the main. I guess the bike started burbling and messing up. That could be the reason of his finish. He was in a great position at the beginning to get his 2nd ever 450 podium… Mike got only one top 5 this year in Dallas. This will be true for all the riders out there and not inly Mike but, at this state of the season, if you are not finishing in the top 5, you are not a 450 Top 10 level guy… For Indy, Mike will have the benefit of the doubt because of his MCR450F problems. On the KW/MA incident, I don't think when you are all the way left in a rhythm section you should move over to all the way right like that. Mike is lucky it was Windham that tried all he could to miss him. Because if you put a less talented rider in KW's spot, Mike's JT Racing ALS helmet would have had a frame or drain plug impact on it. This sport is dangerous enough, we don't need those kind of moves. It goes the same for what Barcia did to Wharton.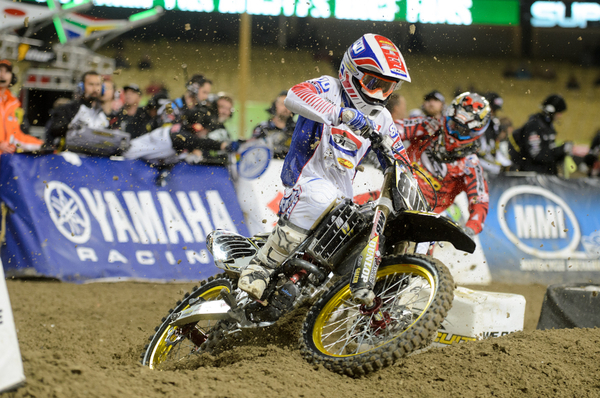 Mike Alessi led laps also!
Marvin Musquin got 7th on his 350. He got a great start, 3rd on the first lap. When I saw that, I really thought he would have had a shot at a podium spot. He is super smooth, has great throttle control which is great for this track. But it didn't happen. He lost 4 spots in 4 laps and stayed in 7th. He was 8th fastest in the main and it would have been his race finish with Windham. in the mix. This kid has so much potential and should be doing way better even in the 450 and with this field and with anything to lose but to prove himself.
The series move to Canada… All the sudden, Matthes gets all excited! Toronto is always a race with "crappy" wet/frozen dirt but it shouldn't be the case this year. The weather up north have been great lately which would help Dirt Wurx to make a good track.
I will not be there but will follow on my iPhone, my MacBook and on TV like most of you guys.
Au revoir!
DV