This is an experiment of the mind.
This is an experiment of the mind.
Photo by: James Lissimore
It's no secret that I write about the races I watch on the tube. To be completely honest, I had made it a practice to not write about the races I DO attend. It was never a preconceived choice, more of an affect of getting back home to the family after traveling for the race and being generally exhausted. I commend those soldiers, such as my boss, who travel every weekend and then write about it afterward. If it were my sole source of income, I would obviously go about it in a different manner but that's just not the case. The list of responsibilities put on hold while I am away for this extracurricular labor of love, frankly, takes priority after time away.
This week though, I have chosen to buck the trend and write about the race having only watched the action live. I can absolutely assure you, there were events that occurred during the racing that I am not yet aware of. The coverage on TV, as stated in the perennial favorite "Days of Thunder", is "excellent, you'd be surprised what you can pick up". Would it be smarter to both watch live and watch the broadcast before writing? Of course but I'll do that next week. As I stated, this is an experiment of the mind. Knowing that in advance, I am ok with setting myself up for failure. On to Indy!
Track
At floor level the dirt began the program looking pretty tacky and the track held up well. A few stories up in the press box however, the track took on a whole new look. It appeared loose and silty in general. It was apparent that the surface was changing quickly and many areas became slick and dry. Which surface to set up for? If you set up for tacky, you're also setting yourself up for the inevitable wash out and remount. If you setup for the dryer, slicker surface; the trade-off is lost grip on the otherwise non-troublesome areas of the track.
We saw it all night, people washing out all over the place. The track wasn't deteriorating real fast but it was drying out leaving a slippery silt-surface everywhere.
SX2
Two things stood out from SX2 heat 1, first was Darryn Durham's great wire-to-wire ride followed by the classic Nac-Nac in Ken Roczen's face. The second thing was Ken Roczen not taking kindly to the Nac-Nac and roosting Double-D in the corner following the finish. Pretty surprising response from the generally easy-going German. I was all for both moves though, in a world of politically correct fronts, even the slightest display of excitement, personality or "no-shit-taking" is a breath of fresh air. Maybe Ken is feeling frustration over his inability to pull a win? If so, Ken's frustration level didn't relent in the least following his race in Indy.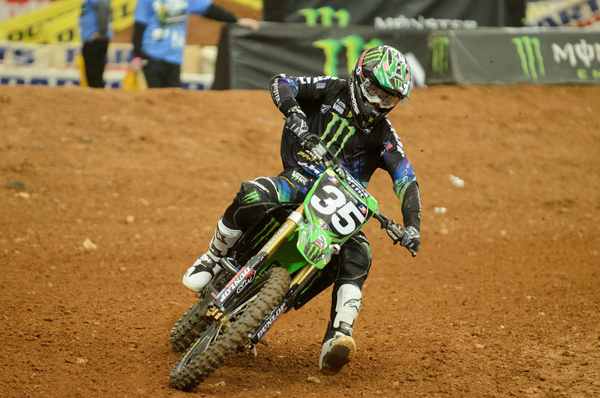 Durham is the rock of PC East.
The second heat looked like pretty much every other Barcia-participated heat and main event of 2012. I was fully expecting my "Point/CounterPoint" prediction of Barcia's undefeated streak to extend. Blake Wharton managed to keep Justin honest, as he typically does, and Justin Bogle ripped a partial "cordova" over the finish! I caught a few instances of the Bogle leg-swag during practice and was pumped to see him stepping it up another notch in the night show. If you don't like Justin Bogle, you need to reconsider your own state of mind. He's fresh, fast and has a blast out there. What's not to like?!
Justin Barcia had his work seriously cutout for him if he was going to extend the streak in Indy. He got a terrible start and with the pace being set out front by Ken Roczen and crew, Justin was not moving forward at a pace which was making me think he could get up front before the checkers.
Then came the crash. Kyle Cunningham's crash exiting the whoops was very scary. Scary for a couple reasons. First was of course, the fact that he laid motionless and unconscious for seemingly an eternity. As he lay there, many of us in the press box were dumbfounded at the use of the flags in the situation. There was one official who stood right at Kyle's body with a yellow flag in one hand and the Red Cross flag in the other. Neither being waved and no other personnel warning riders in the corner entering the whoops or guiding them away from Kyle's body as they navigated toward him and the lone flagger at Kyle's body. Ultimately, the flagger did start waving the Red Cross flag and thankfully, Kyle and the flagger were not hit nor did any other rider become a casualty. This could very easily have become more catastrophic than it already was due to the flagging. It's a whoop-section, one of the most crashed-in areas of any Supercross track, regularly. How is there not a better flagger presence in that vicinity for exactly this type of scenario?! This happens so often, we have a crash where a rider is unable to get off the track and one flagger is available who either just waves his arms from outside the tuff-blocks or stands at the rider in an attempt to route traffic. I realize it's dangerous to put a flagger in every corner but there needs to be a better routine for an incapacitated rider. The racers heading toward the downed rider need to be made aware as early as possible and that has to be before reaching the rider in trouble. Anyone?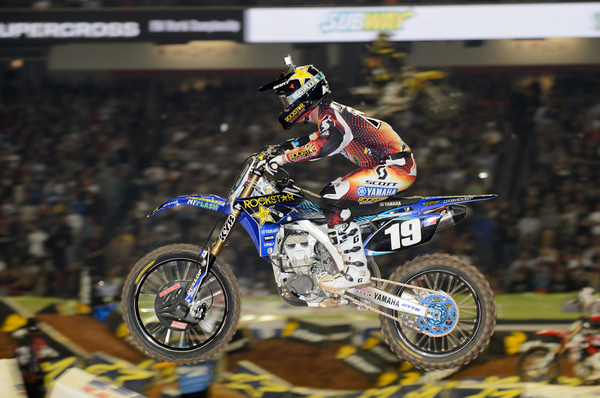 Keep Kyle in your thoughts people.
Another thing I noticed during the main events was the blue lapper flag is absolutely useless. I was watching riders get that flag all night and not once did I see a lapped rider change one thing about their attack of the track when being blue flagged. Suffice to say, that flag may as well be transparent for the effect it has.
The Cunningham crash necessitated a red flag and restart. During the implementation of the restart, it looked like mass confusion with the riders initially lining up behind the gate, then they lined up single file and ultimately, they were in a staggered single-file line. I can understand the confusion, it was an odd occurrence and one I've not seen in our sport so the process not being implemented quickly and clearly gets a pass. It appeared that the AMA was sure to get lambasted for yet another failing of the season but in the end, they got it right and that's what counts. Good job AMA, what could have easily been the biggest blunder of the year, started out sketchy but worked as it should have.
On the restart Ken Roczen's night went from awesome to awful with one quick front-end wash and Blake Wharton was poised to capitalize on it. Darryn rode solidly in 2nd and managed to keep a comfortable gap back to Barcia until the last 3 laps when Barcia closed enough to make it interesting. Darryn covered the insides and made no mistakes though and Barcia was forced to be content with 3rd.
Blake Baggett's main event start was terrible again and salvaging 4th was a real accomplishment for the inconsistent Pro Circuit rider. That's a 4th place to be proud of.
Jake Canada was the surprise of the SX2 main event. 5th place is very impressive for a bike powered by hot tub jets!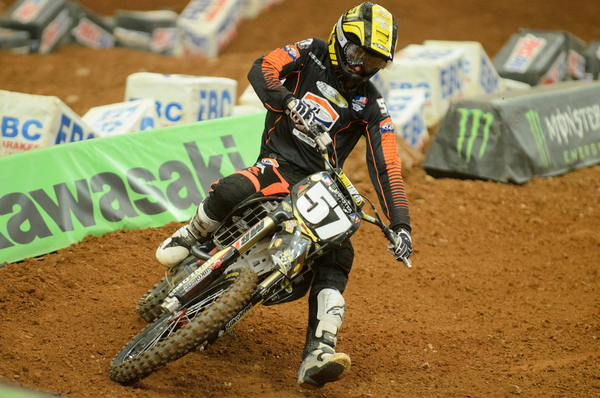 Hot tub jet powered bikes have overtaken electric bikes as the likely 4-stroke killer. 2-stroke fanatics continue to be crazy either way.
Captain891(Bogle) had a terrible Daytona and Indy wasn't much of a rebound for him. Call it rookie-season tribulations. He'll pull it together. The cordova in the heat almost makes his 6th place finish a podium in my heart.
Honorable mention for Matt Lemoine rebounding from an appearance in "Just Short" last week to a 7th place finish in the main in Indy. 7th place is by no means where Matt should be but it's a building block and he'll take it.
Keep Kyle Cunningham in your thoughts and prayers. He took a major hit and could really use the positive vibes. Great guy too.
SX1
Starting with heat number 1, Indy was shaping up to the anomaly of the series. James went down in the first rhythm of lap one and Top Jimmy was on an unalterable course into James' body. Kevin Windham was a victim of the carnage as well, thus sending the 7,14 and 48 to the LCQ. Maybe. James was clearly in pain, the kind of pain we haven't seen him in since Jacksonville last year when he was similarly plowed in the main and DNF'd. The cruelty of 2012 continues for James.
You know some strange stuff is going down when the top 4 of the first SX class heat reads: 1. Metcalfe, 2. Goerke, 3. Sipes, 4. Izzi.
Strange indeed.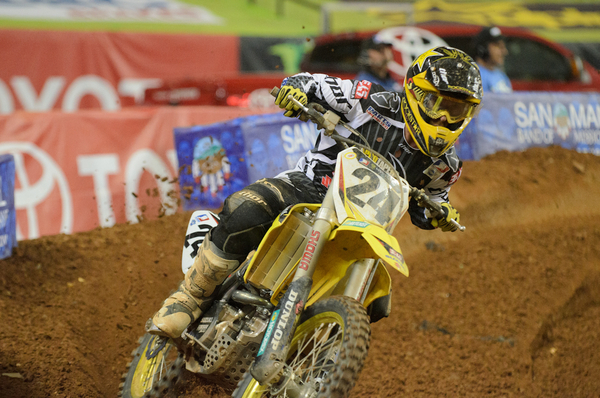 Metty just motos down no matter what.
It didn't stop there though. With heat 2 we saw some more oddities. Points leader and competition crusher, Ryan Villopoto was present but didn't do as we'd expect and demoralize the field. Nope, Justin Brayton made the best of a great start and pulled down the win. RV came past the checkers second but unfortunately his buddies, Nick Wey and Jake Weimer were involved in a crash on the landing of the back triple which left Nick with a hernia and Jake lining up for the LCQ. Kyle Regal who had been looking strong in qualifying position on his new Hart & Huntington Kawi, hit the deck and would also be sent to the LCQ.
So now we're set up with an LCQ which included James Stewart (who was deemed not able to race), Kevin Windham, Jake Weimer, Nick Wey (also unable to race due to hernia), Jimmy Albertson, Kyle Regal and past LCQ king, Jason Thomas. Not exactly a beacon of hope for the 3 digit guys.
The Strangeness continues.
Kevin Windham and Kyle Regal would pull down the two final spots in the main leaving some shocking names off the gate in the Indy main.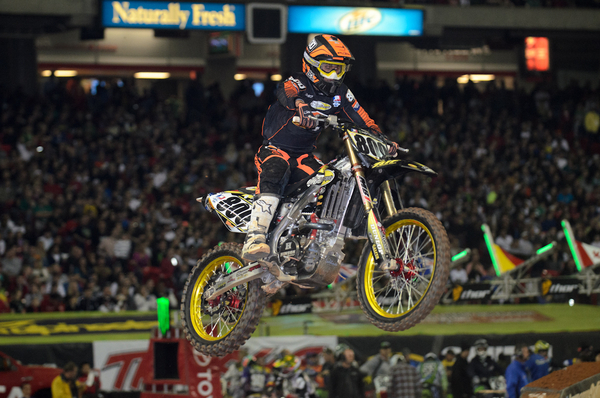 Mike Alessi took his hot tub jet powered bike to the front of the pack in the main for 5 laps.
This season began with the most stacked field ever and now in Indy finds itself with a starting gate including Supercross Renaissance man Ryan Clark. I mean really? No disrespect at all to Ryan Clark, the dude clearly has skills but would you expect to see a rider of his caliber on the line in the best class the sport has ever seen? I'm just saying, I wouldn't.
The main began with a Mike Alessi holeshot and lead for 5 laps. Let me say that again, Mike Alessi lead a Supercross race, that Ryan Villopoto was in and did not crash in the first turn in, for 5 laps. Look at it however you want, I saw a Ryan Villopoto who realized the field has thinned and he was unmotivated by those left for him to fight. Ryan, to me, looked like he was a cat playing with a ball of twine before pouncing on it, tossing it away and moving on. Justin Brayton as well as many others in the class are phenomenal talents but RV is arguably the most efficient Supercrosser we've ever seen and simply in a world all his own when motivated to his peak (damn that Dallas crash for Reed leaves questions unanswered though). In Indy, there was simply no one on the gate that was capable of piquing that inspiration and he was fueled merely by pride and the expectation to win. It was a foregone conclusion. It's depressing to see the Indy main is what this amazing season has become but that's the reality.
End
Hopefully James is good to go for Toronto and K-Dub gets fixed up by then as well. The ever-consistent Nick Wey finds himself sidelined with that list of players which is growing week to week. This has to end… but will it?
So the experiment concludes. As I said, I know I missed some details, possibly even got some wrong having only watched from the press box, not from my couch. But I am going to do that right now.
Long live the couch potato race report!
See you at the Loose Moose.