For this week's selection from GP's Classic Steel, I thought we would take a look at Jeff Ward's 1984 125 National Motocross title winning Kawasaki SR125.
For this week's selection from GP's Classic Steel, I thought we would take a look at Jeff Ward's 1984 125 National Motocross title winning Kawasaki SR125.
By: Tony Blazier


In most people's minds, Jeff Ward and Kawasaki go together like peas and carrots. Over the course of his pro career, the green bikes became synonymous with the multi-time champion. A little known fact is that    Jeff had actually started his pro career riding a FMF-backed Suzuki RM125 in 1978. It actually was not until a year later in 1979, that the diminutive Ward switched to riding Kawasaki's. After making the switch to the green machines, he would never switch again, riding for the team until his retirement in 1992.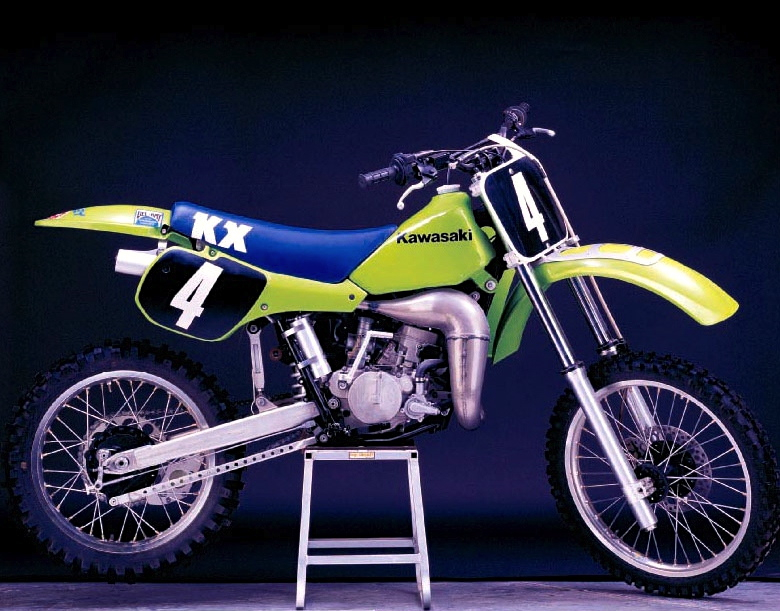 At first glance, Wardy's '84 Factory SR125 actually looks pretty stock for a full on "works" bike. Although less exotic looking than the Factory Hondas of this era, the '84 SR125 was very trick under that plain exterior. Photo Credit: RacerX
Here you can see a prototype version of Kawasaki's "KIPS" variable exhaust port on the side of the SR's cylinder. Before the production rule came into effect in '86, the manufactures could test out pre production stuff like this on their factory race bikes. The "Kawasaki Integrated Power-valve System" would make its debut the next year on Kawasaki's '85 KX models. Photo Credit: Stephan LaGrand
Early 80's KX's all used a version of this "dog bone" rear linkage design. Interestingly, you could actually adjust the link's length to alter things like ride height. One problem with the dog bone design was it had a rather high center of gravity; it was eventually phased out for a more conventional linkage design. Photo Credit: Stephan LaGrand
I always liked this fender design. It is about a million times better looking than the gigantic snow shovel Kawasaki stuck on their KX's only a few years later. The old school Oakley sticker is cool too as Wardy was one of the iconic brands first "Factory Pilots".
Photo Credit: Stephan LaGrand
1984 was shaping up to be an important year for the one time mini-cycle prodigy. After six years as a pro, Ward had yet to produce a National or Supercross title for his team. He had endured the reign of Mark Barnett in the early part of his career and lost a fierce title fight with Johnny O'Mara in 1983. In 1984 there was a lot of pressure on Jeff, as it was starting to look like now or never for the "Flying Freckle".
Custom, handmade aluminum swingarms were a staple of early 80's "works" bikes. It was trick parts like this that added to the aura that surrounded these unobtainable machines. Photo Credit: Stephan LaGrand
Wardy and his 84 SR125 were on fire in the '84 125 Nationals taking home 80% of the overall wins on the way to the title. Photo Credit: Motocross Action
This front end may look pretty stock, but a closer inspection reveals hand machined lower forks and works triple clamps. It was little touches like these and the cross-drilled oversize front brake that let you know this bike is special. Internally these forks shared no parts with a stock bike. By '84 the factory teams were already experimenting with "cartridge" fork systems to handle damping. The new cartridge designs offered vastly superior control and were a huge advantage over the stock suspension at the time. Photo Credit: Stephan LaGrand
Ward came through big time in 1984, winning eight out of ten rounds, to clinch his first National Motocross title. From there the flood gates opened for Wardy. In 1985 he would do the double, taking home the 250 National and 250 Supercross titles.  Before his career ended in 1992 Jeff would go on to capture a total of seven motocross and supercross titles, becoming the first and only rider to capture titles in the 125 MX, 250 MX, 250 SX and 500 MX classes. That incredible run of national titles began with this machine, the 1984 Kawasaki SR125.
The very "Euro" front fender brace may have been a nod to Kawasaki's notoriously brittle plastic in the 80's. I never understood why Kawasaki stuck with these single sided radiators for so long. It always made the bike look lopsided to me. Photo Credit: Stephan LaGrand
In 1984 bikes like this were the things dreams were made of. The era of the Factory "works" bike ended after the '85 season and with it went these handmade and 100% unobtainable bikes. It was a sad loss to the sport, as they helped to make this period one of the most interesting in motocross history. Photo Credit: Stephan LaGrand