I don't see how you give the rock hard ride hard award for the night to anyone other than Justin Bogle in Toronto.
I don't see how you give the rock hard ride hard award for the night to anyone other than Justin Bogle in Toronto.
Photos by: James Lissimore
The typical Toronto dirt is known for being a different beast. This year it was a hybrid of what the riders are used to (rocks and ruts) but with the added sketch-factor of dry and slippery. You see, the weather in the great white north is usually much colder when the series crosses the border, so when they truck the dirt into the Rogers Centre, it begins to thaw and during that thaw process, it is spongy and ruts up fast and deep. This year however, temperatures have been record breaking and the dirt thawed before being trucked. So, while the dirt wasn't spongy, it still had the rocks and ruts to compound the dry and slippery characteristics, which gave the riders reason to be cautious all night.
How dry was it? They actually had about 6 garden hoses laying down water before the heats began. It was an odd sight but necessary and benefitted the conditions. The track actually looked better halfway through the night show than it had throughout the day but that doesn't mean traction was plentiful or the rocks didn't hurt.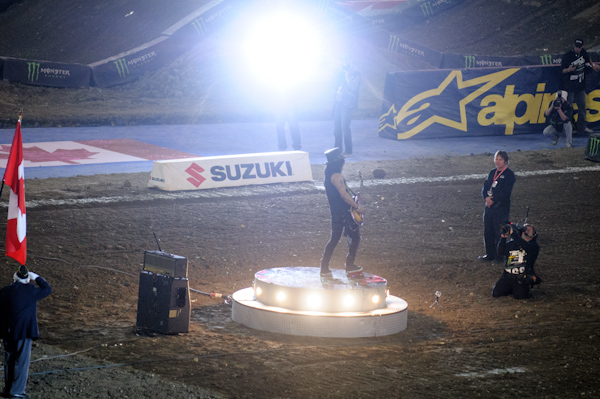 Slash did what Slash does.
SX2
I don't see how you give the rock hard ride hard award for the night to anyone other than Justin Bogle in Toronto. Justin's night began on a high with him posting the top qualifying time but that's where his love affair with Toronto ended. In his heat he got caught up in a corner and ass-packed by Filthy-Phil, then a few laps later when he was charging back to a qualifying position, Pellegrini takes the main line on the finish-line jump which fades inside to out and initiates contact and a nasty free-fall to the ground for both riders. Bogle was trying to make something happen by taking an alternate line and just didn't take into account how far the main line brings the riders outside. There was no room and you saw what happened. It was a racing incident and an UGLY crash. It was a bit of divine intervention that Bogle lost his wind in the crash because it was apparent; his initial feeling was that Pellegrini made a bonehead move. Bogle dominated the LCQ but then in the main his misfortune returned as he found himself in last and battling forward again. It was a resilient ride to 8th for Justin who had to be wondering what the hell he had done to deserve that kind of misfortune all night long.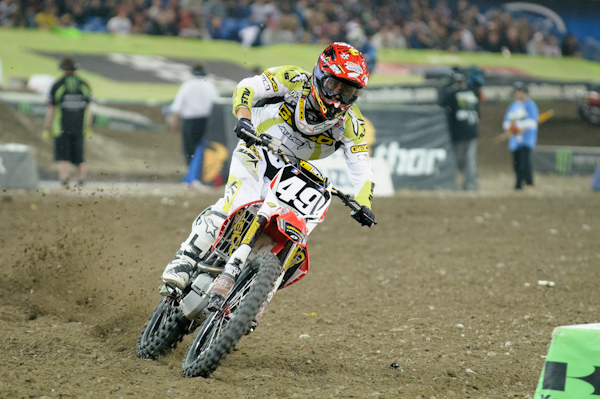 Tenacious B.
The battle between Alex Martin and Tyler Bowers in the main event was impressive. It was the best we've seen Alex ride all year and if Tyler hadn't made contact, Alex looked good enough to nail down a fourth. Considering the contact and speed of the class though, that 6th may be even more impressive than an uninhibited 4th.
Jake Canada's impressive rides continue and the Californian Canada has ridden himself into 5th in the point standings. MCR was smart to sign this kid for the 2013 season already because this kid will definitely be hearing phones ring and seeing $$$ attempting to lure him away from these new hot-tub jet powered MCR machines. Jake seems to turn the smallest confidence boost into improved results. I don't think we've seen his best yet. Podium? Crazier things have happened.
Blake Wharton was not happy in Toronto. His final qualifying practice was delayed due to a bike issue and when that happens, how can it not mind-eff you a little bit? He didn't get a great start in the main and wasn't able to make time on Barcia or Roczen. Following a win, that doesn't satisfy in the least. Blake looks like the RV of the SX2 East. He's very physical on the bike and looks like he just wants to punish the track as he clicks off laps. He looks faster than Barcia due to his physicality on the bike. How crazy is it that everyone used to talk about how much energy Barcia looked like he was wasting as he man-handled the bike but you seldom hear that anymore.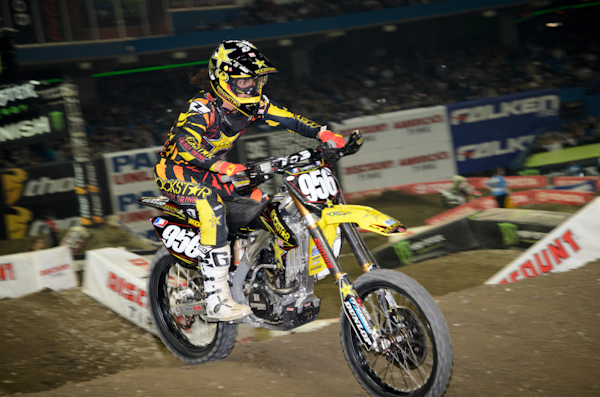 Moto-Slash didn't seem happy in Toronto.
Roczen came in sick and though Barcia pulled the holeshot, Roczen pulled the trigger on the on-off following the first turn which gave him the advantage for a couple laps. Roczen was impressive to pull down second considering he was ill and Wharton, who was behind him, was coming off a win and hauls the mane (attempted hair joke).
Barcia tasted defeat last week in Indy and it was bitter enough to let him know he didn't want a second helping. Even coming into Indy with a 4 race streak and more confidence than anyone, he was not able to overcome a poor start. This week he made sure to not put himself in that position again and made a little contact on Roczen to over-take first, then ride smart on his way to win number 5 in 6 races.
Roczen cannot be happy that all the talk of him vs Barcia before the season has essentially silenced.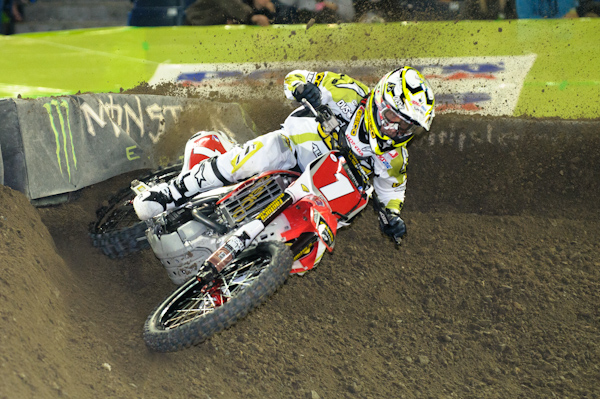 Five and One Folks.
SX1
You may look at Wil Hahn's 10th place finish and say that was a failure, not me. Wil has been on a rough road since A1 of last year, that's a long-ass time to be recovering and contemplating how you got where you are and how to rectify the issues. How many times have we seen riders come back from injury, try to hard, pump up and crash out or re-injure themselves? Too often. Look at Josh grant or Nico Izzi, both insanely fast at times but also usually coming back from injury and not able to race hard the full 20 laps. This temporary stint for Wil is a great no-pressure opportunity for him to re-acclimate himself to real racing and get his endurance back up to par for when he rejoins the SX2 West series. Leaving this race in one piece is step one, step two is get more comfortable and still stay healthy, step three is return to his SX2 series improve and yes, stay healthy.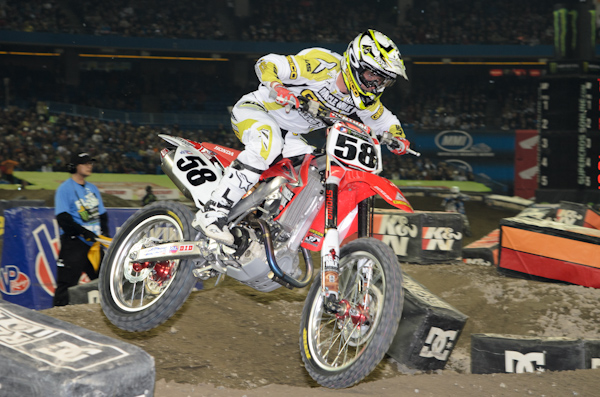 Safe and sound.
Broc is definitely still dealing with riding tight which keeps him from riding to his potential. At this point with the season going the way it has, when he does see a glimmer of optimism, that pressure doesn't alleviate, it elevates, as he doesn't want to do anything to sabotage it. When I watch Broc during racing, it also looks like he's making an effort to keep away from any contact with others and I think that hinders him as a racer. It's tough to blame him right now, his mindset is essentially "don't eff up" instead of attack attack attack. Confidence is a bitch and regaining it is done little by little. In my opinion, Broc needs to figure out how to "reboot" his mindset. It's the only way to make all that sludgy pressure that's built up this year a non issue. It's silly to say "ride like you don't care" because that's a risky gamble in such a dangerous sport but that's what makes these struggles so difficult to overcome.
Chizz had a great race going most of the main and really looked like a top 5 would be where he was headed. Couple issues near the end left him in 7th though which is still a good ride for Kyle. He looked really good all night.
Jake Weimer was riding inspired in the main. He hung with the lead pack for a while and I was sure he was going to be headed to the bank with that oversize bonus check this week. Unfortunately as has been the case with Jake often this season, he found himself stymied due to contact with another rider. This time it wasn't a block pass or rough riding, just a slowed Matt Goerke who moved to the inside, which just happened to be the line Jake had settled upon. If that wasn't frustrating enough, Jake blipped it over the back of the bowl turn onto the concrete and the frustration was cemented.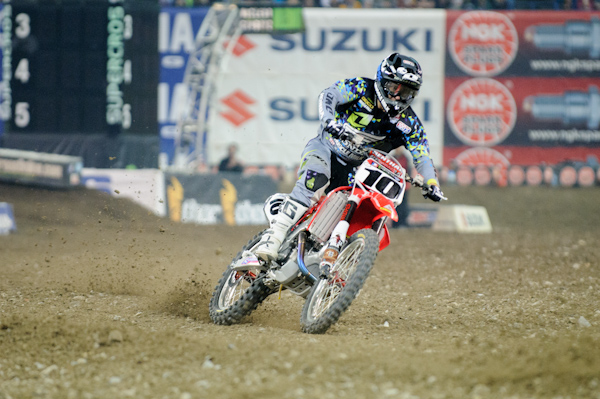 Brayton is making the most of his one-year deal.
Following the race, Jake was critical of "guys who get in the main and then just ride around". Look, Jake was frustrated and was still sensitive to the podium that had just slipped from his grasp. In my opinion, it was just a case of Jake happening to choose the wrong line. The wrong line because Goerke was attempting to get to the inside, out of the way. A perfect storm as they say but more of an annoying drizzle since there were no physical altercations or injuries.
Many are critical of Jake and his post-race comments. They think he is a whiner or complains too much. I say he's honest even when he's most frustrated and that is pretty cool to see. So often we hear the PC version but Jake wears his heart on his leathers and I have no problem with it. I'd rather hear some honest complaining than filtered BS. As long as Jake's complaints don't become excuses for poor results, all is fair. Come back stronger and smarter.
Davi Millsaps continued his streak of solid rides and don't look now but Davi is only 8pts behind his team-mate, James Stewart. Of course, James has missed 2 rounds but being available to race is pretty key when sponsors are sizing up a prospective rider and that's exactly what they will be doing with Davi when this 1 year deal expires. Davi's time at JGR has ranged from "glad to have him", "what's wrong with him", "we just want him to try" to now, where the team is pretty content with him. Davi should honestly be a podium guy every week now but the consistency is nice to see.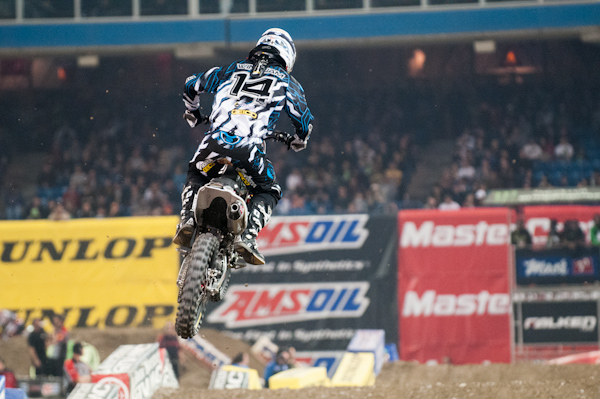 Kevin's flight was canceled but he wanted to see his Toronto fans so bad, the $1700 ticket barely hurt.
Kevin Windham is so adored by fans that you honestly get goose bumps when he is intro'd in opening ceremonies. The fan response would make you think the crowd was just notified that they were on a filming of "Oprah's Favorite Things". Following K-Dubs week of therapy and massage, no one expected him to transfer and there wasn't a single boo when he pulled the extended nose-wheelie without a transfer. Honestly, looking around the track, I couldn't see anything that would have lent itself to a transfer anyhow. Kevin could very well find himself on the podium in the final tally of this season. Impressive as always.
A few weeks back I wrote an article on Pro Moto Talk going over that group of riders who has made up the 3-7 positions this year. I felt that moving forward, Justin Brayton would seize control of those riders and make the most of the depleted field. Case in point folks, Justin has led at least a lap and finished 2nd the last two weeks. Not only that, he's looked better each time out and the confidence is building. There's that C word again.
Wrap Up
If you follow my twitter, you know I was more than fired-up by the flagging of the #35 guy who was positioned inside the return-start straight before the 180º left-hander. All night long, starting in practice, this guy would face and wave his flag at the downed rider which by the way, in his position, was 180º the opposing direction of the racers approaching the incident (who he is supposed to be alerting). Without fail, he did this every time there was an incident. He looked bewildered. Just like a car-crash, he couldn't take his eyes (or flag) off the altercation. I'll deal with the flagging in general on Pro Moto Talk later this week. The video clip I found looked like crap when slo-mo'd and was useless so I tossed it.
Yeah, so RV won again and the race at the front was pretty much a foregone conclusion but the sketchy track kept it interesting throughout the pack. There were guys going down everywhere and although the title battle has fizzled, it's those battles in the pack that remain interesting down the stretch.