Our friend Moser sends in his dedication to the men who came up Just Short in Houston

Our friend Moser sends in his dedication to the men who came up Just Short in Houston
Just Short Vol. 13
By: Moser
Photos by: Jamie Lissimore
Everything is bigger in Texas including the tears and drama
RV wrapping up the championship with four races left, Bogle crashing in practice leaving his bike in working condition on the track and walking back to the pits, Barcia having an altercation with a lapper after having the win in the bag and the bonus check in the bank, all shocking in their own right, I'm not sure if it's Crying Game shocking but surprising none the less.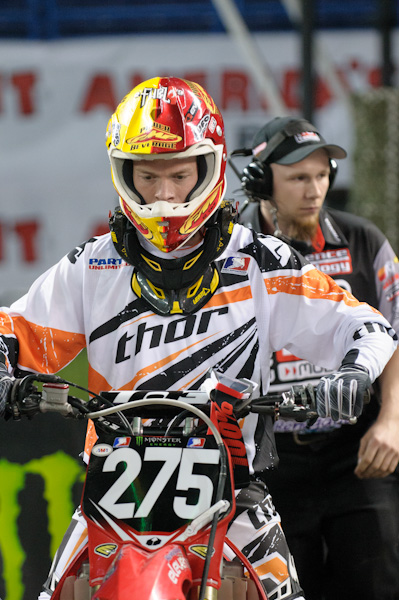 I like FMF and their image but these helmets are just ridiculous.
#275 Jeffrey Gibson -K&N/FMF/Scott/MotionPro/SDG/Galfer/Tag/ICW
Jeff Gibson has been around a long time and probably knows a lot of people. Just like Mr. Ryan Clark who was featured last week Gibson has been in the game for a long, long time. I would look up some of his old stats but he's been racing longer then they have been documenting results. Don't quote me on this but I think Gibson rode arenacross this year and like Tyler Bowers and a few other arenacross guys every year after their season finishes up they jump into the Supercross series to mix it up a bit. The Arenacross series is frequently referenced as a fairly lucrative series to race when compared to the Supercross series in earnings potential per weekend, so it's cool to see some them race some Supercross when there's not much money in it for them.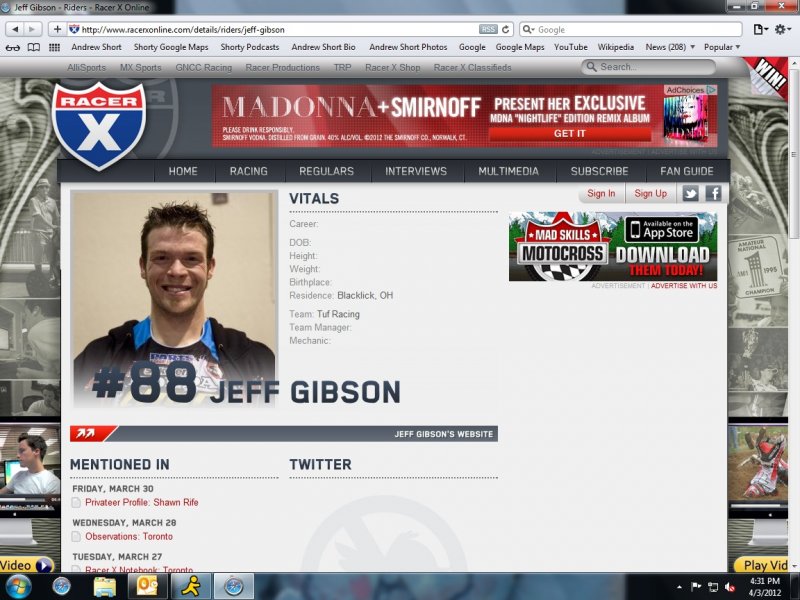 Not much info for Gibby besides his hometown which makes me chuckle.
I asked the man that wears headphones that are not plugged into anything while commentating previously taped races a sir Jason Weege Weigandt about Gibson. Weege is a statistical expert in not just all two wheeled motorcycle sports but I'd also assume four wheeled motorcycle atv racing, and wrestle mania, I asked him to tell me something about Gibson that I probably didn't know, "Jeff Gibson won the 2009 Arenacross championship" who knew, seriously I certainly didn't remember but I don't really follow Arenacross, well nobody really follows Arenacross if you're flipping channels and stumble across it you may watch it but it's not taking up space on the DVR. This Just Short recognition of Gibson seems a bit too Short which is ironic because the guy has been around so long I should have plenty to write about, I don't really know what my reader demographic is but I'll go out on a limb and say anyone reading this already knows who Gibson is. RacerX Online has cute little stats on the riders so I looked up Gibson's to get a feel for where he comes from. Well as you can see above Gibson has been racing so long you can't but a number to his weight, height, or age, I suppose he's timeless, maybe age ain't nothing but a number.
#617 Gavin Faith -Storm Lake Honda/MTF/FactoryConnection/Alias/EVS/Dunlop
Gavin Faith has had a solid season, starting with a fill in Geico ride on the 250F and now going the privateer 450F route and consistently making mains. I have Faith that Faith has the highest chancibility of finishing in the final transfer spot than any other rider, he's been coming up Just Short of being Just Short and making it into the mains each week, no easy task. If I wasn't so tired right now laying naked in bed I would look up exactly how many last transfer positions in the LCQ Faith has finished in this year but instead I'm going to guess and say it's approximately 5 +/-. Does anyone know if Faith will get back on the 250F for Geigo when the West coast rounds start back up in Seattle? I haven't heard anything so I'm assuming not but I'll look into it, get in contact with my people and get an answer.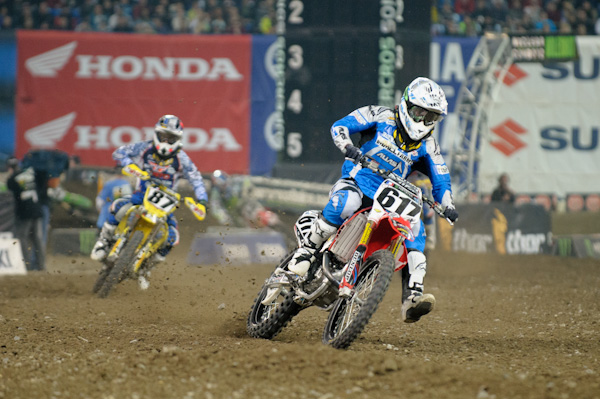 I had never heard of Faith but he's legit for sure.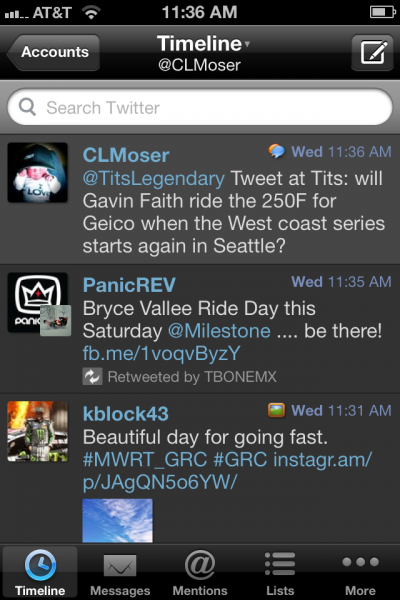 Just Short bringing you the hard hitting questions and answers.
I thought Faith had come up Just Short already this season, but we're 13 rounds into the series it's all starting to blend together a bit, I thought he had but after looking through my very organized Just Short filing system it doesn't appear so other than the mention in Transponder Gate when JT$ mom overruled the transponders. I didn't know who Gavin Faith was at the beginning of the season but I won't forget him anytime soon and it's not just because his name is catchy and hard to forget. If Faith doesn't get picked up by a team for the outdoors he will get a decent support ride next year, Stamp It. Faith has a website called you'll never guess www.gavinfaith.com and did you know he raced in the Australia SX series, either did I? The website hasn't been updated lately but it's visually pleasing and I really like the font used, easy on the eyes.
#48 Jimmy "Top" Albertson – BTO Sports.com, Palmetto Suzuki, Fly Racing, MMI
Pending interview with Top Jimmy:
STATUS STILL PENDING
Jimmy is playing hard to get and I've been flirting with the line of harassment to get some answers out of this guy, but he hasn't blocked me on twitter…..yet. Jimmy got to hang out at Shorty's this week for a Fly photo shoot if there was even an acceptable excuse not to have time to return my emails, texts and phone calls, hanging out with your wang out with Shorty is definitely it. Looking forward to talking to you in person at Seattle SX Jimmy I'll take into consideration that you have long arms upon my approach.
Thanks for reading this Short recognition of the guys that almost made it. See you in TWO weeks, Moser

Please continue to send email jasonw@racerxill.comif you're feeling lonely or just want an email pen pal.