Will we see BT race in the USA again?
Will we see BT race in the USA again?
By: Dave O'Rourke
Photos by: Damo and Matt at Dirt Action Magazine
According to Wikipedia a tragedy is "a form of drama based on human suffering that invokes in its audience an accompanying catharsis or pleasure in the viewing". While not all took pleasure in what happened it was most certainly a tragedy. What unfolded during the second lap of practice on the Saturday of the second round of the 2012 Monster Energy Australian MX Nationals could well be a turning point in the career of Ben Townley just as his signing with Two Two motorsports was, less than one month ago.
From speaking to several people at the track BT hit a jump that landed in a set of rollers, upon landing his hand slipped off the handlebars throwing him to the ground and dislocating his hip (the same one he injured at a Supercross in New Zealand at the end of 2010) and sending him on a helicopter ride to the local hospital. In BT's defence there are two very similar sections at the Goanna Tracks facility one with a smooth landing and one without. I guess only Ben knows which one he thought he was hitting.
So is this the end of Townleys' American Dream? You would have to think so. I would almost put money on the fact that you will see him race in Australia again most likely with the Carlton Dry Honda Team. All we can do is wish BT well and Chad Reed for that matter as he hunts for someone else to fly the Two Two flag in this years' AMA Motocross Nationals.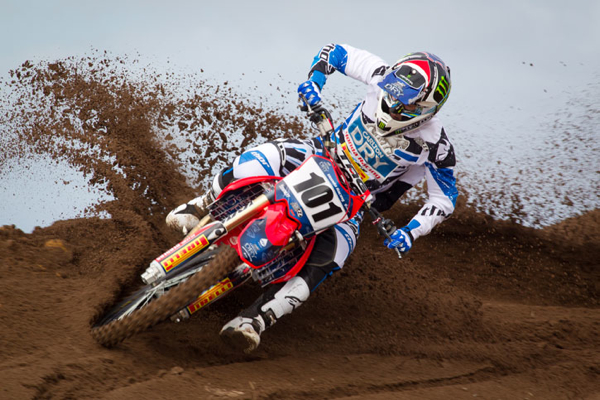 Will we see BT race in the USA again? (Photo Credit hondamx.com.au)
Other than the aforementioned event, there was some quality racing to be had on the weekend. While one New Zealander was out another one took the top spot on the podium and the red plate and that was Josh Coppins. Of course we like to do things differently in Australia and the moto formats were no different. The MX1 (450) class saw two 5 lappers with a 30 minute moto to finish the day off. That last moto played to Coppins strength and like the steam train he is he maintained the same pace from start to finish to get past eventual second place finisher Tye Simmonds.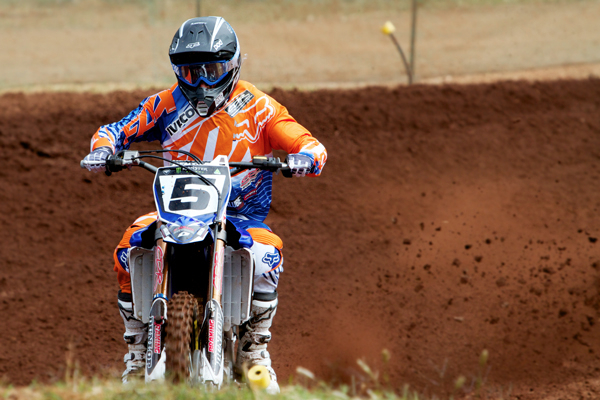 There is no doubt the Lizard still knows how to get the job done.
Tye Simmonds is as Privateer as Privateer gets. His old mechanic from his KTM days here in Australia Ken Wheeler who now runs Factory Spec Suspension is taking care of the front and rear end and Ross from McWatters Competition Developments is looking after the motor. The rest is up to Tye. He walked away from a factory contract with KTM to go his own way and it looks like it is paying off. His second place was well deserved and consistency is what got him through to that important podium spot. Third place was taken up by another Privateer Honda rider and former AMA competitor Jake Moss. When the music stopped at the end of last year Jake was left without a seat so like Tye and Chad before him he decided to start his own team using CRF450's and with the help of a mining company is getting to the races and using some quality machinery. Jake blitzed the first two motos going 1 – 1. Unfortunately a first turn crash and a tip over mid race left him languishing in 16th. Luckily he still scraped enough points for a podium showing.
The MX2 Class was a story of domination and redemption for Serco Yamaha Metal Mulisha's Luke Styke. After winning the Under 19's championship a few years back Luke has flirted with success but through one reason or another hasn't picked up a factory ride. Last year I saw him at this very race with a T-Bar in his hand out of the back of his van changing his air filter. What a difference a year makes, this bad boy come good was never headed over the three motos. His team mate Gibbs definitely had the pace but a succession of crashes wouldn't let him get too close to Styke all weekend. Luke was just in the zone and I'm sure he felt at one with his bike and it railed every rut and cleared every jump with pinpoint accuracy.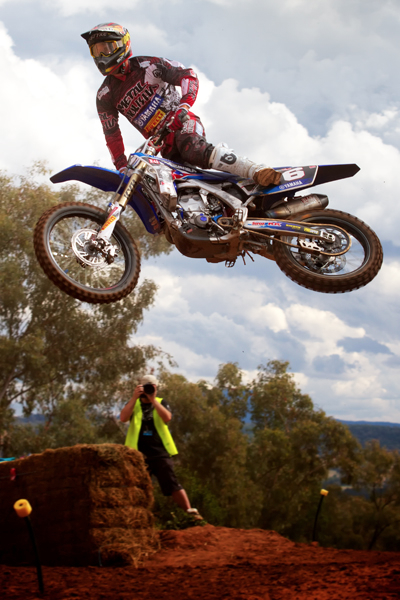 Styke could do no wrong at Coonabarabran on his Pirelli shod Yamaha.
Kirk Gibbs also a member of the Serco Yamaha Metal Mulisha team was what you'd call an unlucky second. Yeah, Yeah I know you make your own luck at this thing, but a series of small mistakes stopped him from being in contention for the overall. I think he should be proud of this result and look to build on it for the next round. In third place was the ladies favourite Kade Mosig of the Monster Energy Kawasaki Team. Another reformed privateer Mosig has moved on from Craig Andersons Berry Sweet team and into the Factory Kawasaki truck after some good results at the end of last year secured him that spot. If Kade can remain focused he should be a podium threat for the rest of the season. With his team running full Pro Circuit engines and suspension there is no reason why he can't.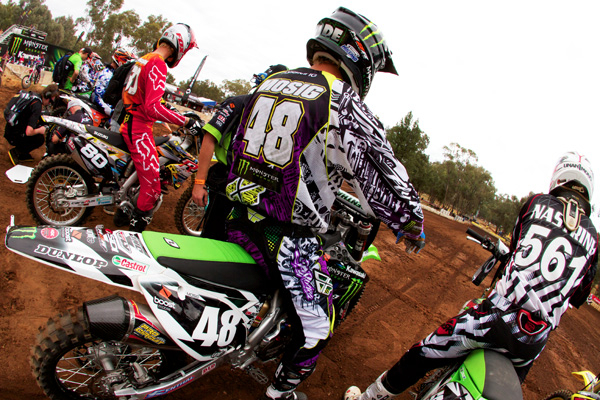 Kade's on Green for 2012 and in form.
MX1 Overall:
1. Josh Coppins
2. Tye Simmonds
3. Jake Moss
4. Jay Marmont
5. Brad Anderson
6. Cody Cooper
7. Lawson Bopping
8. Daniel McCoy
9. Daniel Reardon
10. Todd Waters
MX2 Overall:
1. Luke Styke
2. Kirk Gibbs
3. Kade Mosig
4. Cheyne Boyd
5. Ford Dale
6. Scott Columb
7. Errol Willis
8. Justin McDonald
9. Ryan Marmont
10. Josh Cachia
I just want to say a big thanks to Damo and Matt at Dirt Action Magazine for the quality photos so make sure you give them a follow on twitter (@dirtactionmag) for irreverent tweets (OK some of them are dirt bike related) or me for that matter @itsORourke.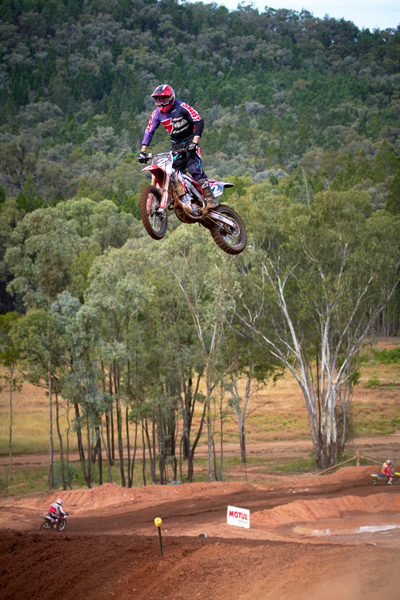 4th Place privateer Honda rider Cheyne Boyd airs it out over the big Coona Step Up.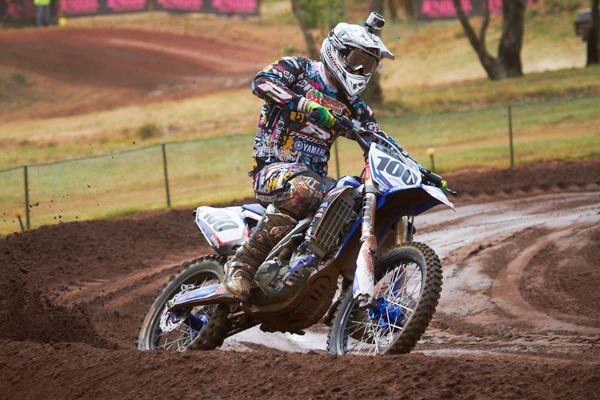 Ando ran 6 motos at round 2, MX1 and the over 30 Vets class where he went 1 -1 – 1.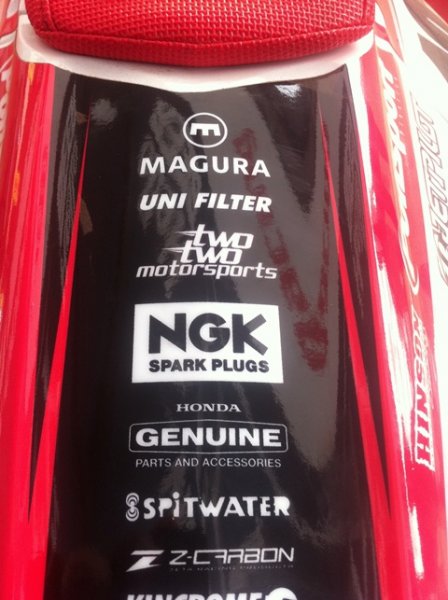 Two Two Motorsports is a sponsor of the Carlton Dry Factory Honda Team.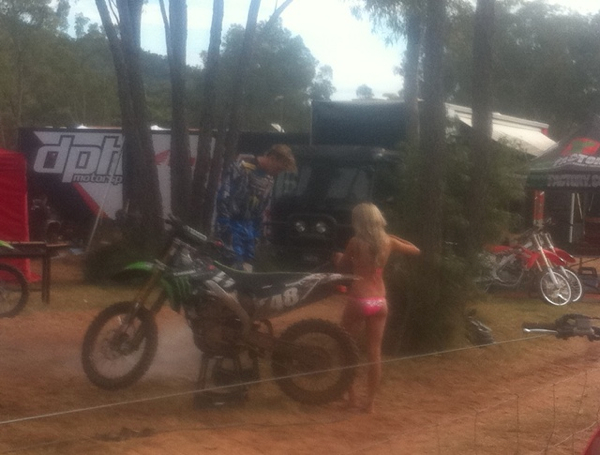 This is the way we do things Down Under (Photo Credit O'Rourkes iPhone).