The class which has always been considered the seat-of-your-pants, unpredictable, inconsistent feeder-class to the "premier" class, has once again more than made up for the lack of a battle for the top spot in the MX1 class.
The class which has always been considered the seat-of-your-pants, unpredictable, inconsistent feeder-class to the "premier" class, has once again more than made up for the lack of a battle for the top spot in the MX1 class.
Photos by: THE James Lissimore and Simon Cudby
MX2
Strangely, it is exactly those characteristics that have made the racing so great during these first four rounds. The clincher though, is that these traits are affecting the same four riders from weekend to weekend.
In Hangtown it was Eli Tomac finishing 5th and appearing to be a bit shell-shocked after having won the West SX2 title. Blake Baggett, who had been target fixated on Hangtown about 3 races into the SX2 East series, simply dominated the opening round even though Justin Barcia and Ken Roczen spent most of their time in Hangtown leading laps.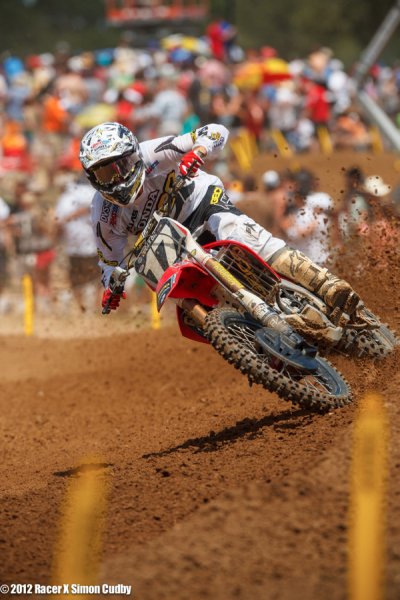 Eli Tomac is the MX2 Series first 2-time overall winner in 2012.
Round two in Freestone saw Eli Tomac pull a shocking and commanding 1-1. Shocking for a couple reasons, firstly, Texas has been known to make Eli it's bitch two years running and secondly, no one expected to see Eli go from a 4-10(even though there was a time-robbing crash in there) to a 1-1. The ever-inconsistent Blake Baggett seemed to side-step that bugaboo to pull down a 2-2 for 2nd and Ken Roczen, again, rounded out the podium. It was Justin Barcia's two moto's worth of terrible starts in Texas which resulted in a 5th overall. Considering Barcia's bike was going end-over-end in the first turn, that 5th overall was as impressive as Eli's at Hangtown.
When it came to Lakewood, Justin Barcia did what he usually does following a downer of a race weekend. He put on a clinic for much of the race and went 1-2 for the top podium spot. Blake Baggett finished the day 2nd overall and much like Freestone the week before, I say this back to back 2nd overall for Blake is just as impressive as his incomparable displays when he does his mid-race sprint forward for the W. Blake was the poster child for how the phrase "you win the title on your bad days" rings true, unfortunately for doing just the opposite of that. Ken Roczen setup his tent and sleeping bag for 3rd overall for the 3rd race in a row and Eli surprisingly threw his "hometown advantage" right out the window, finishing 4th.
Which of course brings us to High Point, a race where people everywhere were all but guaranteeing another Blake Baggett display of sheer dominance. And why wouldn't they? Last year Blake emerged from an early crash sporting the full-on goon-visor and flat laid-wood to the field. Even in the midst of his charge forward, his speed was so apparent that you were watching him wondering when he would overtake the lead and how much he would extend it by. It was stupid how bad he worked everyone that day. This year unfortunately, for Blake, it seems that his competitors took notes and have been borrowing right out of Blake's own playbook as the series inches on.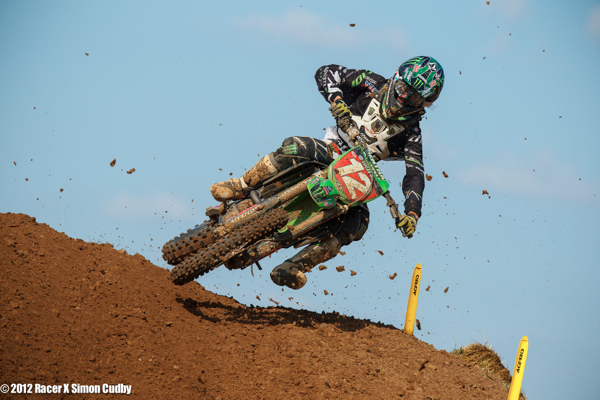 4th was still a solid ride for Blake.
There was no better example of that than Eli Tomac in both moto's at High Point. What's the tell-tale sign of such claims? Eli Tomac led exactly one lap in High Point, yet finished 2-1 for the W overall. I'm sure there will be many jokes regarding Eli "El Chupacabra-ing" Blake Baggett with his own medicine but hey, that's the way the sport works. An exceptional rider introduces a tactic, technique or approach to racing that proves both startling and effective and the top guys pick up on it and apply it when necessary. Blake Baggett's "2nd half" approach gives hope to all who have supreme fitness but where it really pays off is when a rider compounds that with the supreme on-track skill attack from behind. Getting a great start and owning your own race from the beginning will always be preferred but ever since Blake proved the "2nd half" strategy works and now Eli has seconded that motion, it gives all those top guys that glimmer of hope which assures the racing, moving forward, will be fierce for the duration.
Justin Barcia looked to be the dominant rider at High Point and rightfully so. Were it not for a few mistakes in the closing lap of the second moto, High Point discussion would be all Justin Barcia. It was fate that Barcia lost those two positions in the end, giving the edge to Eli. If Eli hadn't won that second moto, the story would have been one of incredible determination coming up just short. Having turned out the way it did however, Eli's ride is a go-to tale of never giving up and one of the most impressive come from behind race wins in the history of moto, especially in those closing laps. With those costly errors, Justin lost the overall but retained 2nd place and made points on current points leader Blake Baggett.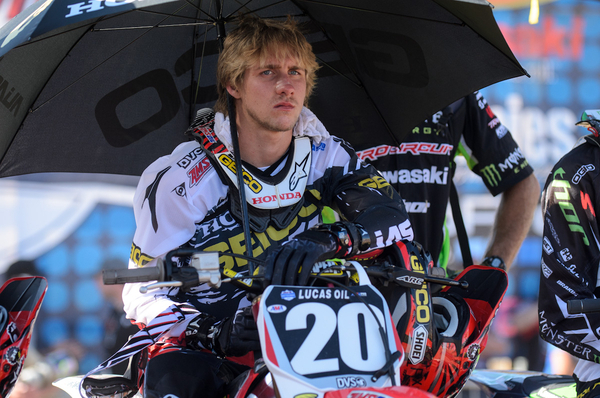 Barcia has lead the most laps in the MX2 class thus far. Lissimore Photo
Ken Roczen, for the fourth race in a row secured 3rd overall with his least impressive first moto of the season, not even sniffing the lead battle on his way to 5th. Moto 2 on the other hand was a glimpse into what we have been waiting for since the MXdN of 2010 in Lakewood. Ken made all Americans quiver with fear and anticipation that the German phenom would make our born and bred, bleed American racers look silly when he committed to our series fulltime. In moto 2 Ken pulled the holeshot and gave us our first look of the Suzuki mounted Roczen of two-years ago, for 15 of the 16 laps anyway. The most telling part of Roczen's High Point though, was his podium interview. You could sense Roczen's disappointment in himself and he said so. It was the first time we have seen the smiley German optimist look genuinely shaken by his own failing on the track. I like that. The smiles and optimism will only get these guys so far, they need a little piss and vinegar to really work them into a frenzy and elevate the game. That's good, as long as it doesn't encroach the danger zone where the riding becomes erratic and a crash is the reality check that painfully reminds them of their humanity. Although a 5-1 certainly wouldn't have garnered a 1st overall for Ken, it would have marked his first moto win and believe it, that is a mental hurdle that when achieved will make this series even more exciting.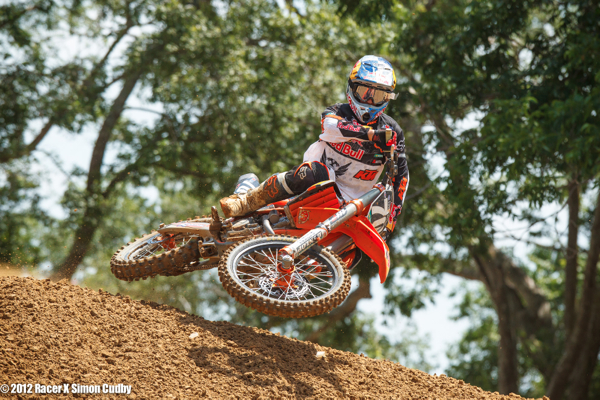 Ken is on the verge of a moto win.
So here we are, the first race where points leader Blake Baggett finishes off the podium, in 4th overall to be exact. Sure, during the last few laps of moto 2 Blake looked to be unraveling a bit, couldn't put together the laps like he did in 2011 that no one had an answer for and gave up 11 points to race winner Justin Barcia but lets be clear, Blake minimized the damage with that 4th overall. The Blake of old would have finished 13th when those tip overs and adversity struck. Moving forward though, will the realization that at least one of his competitors has found a way to implement "2nd half", make Blake's "Headsies" return? We shall see but at the moment, the only thing that matters is Blake is still the points leader by 7 points over Barcia, 11 points over Tomac and 17 points over Roczen.
They say consistency is always a great approach toward securing a championship but so far in 2012 the most consistent front running finisher has zero wins and although he has led the second-most laps in the series, Ken Roczen is the tail of the top four in the points. The pressure is building for Roczen to pull a W before it gets any further out of his reach and no one knows that more than Ken himself.
Marvin Musquin is slowly getting more healthy and closer to being able to ride at capacity for the full race. He will podium this series.
I am really happy to see Wil Hahn take such a big step forward this week. For a while now I've just been content with Wil finishing races without injury or other setbacks. Clearly it is go time and Wil has shown that he is now committed and confident to race forward and be a factor. It's a great day when a rider rebounds from such a lengthy string of adversity. Come with it Wilbur.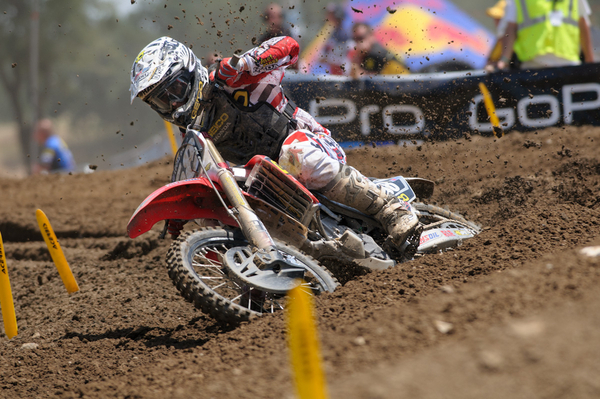 Wil Hahn is back. Finally. Lissimore Photo
Much like Wilbur, it's great to see Hotsauce back in the top ten with a solid result. I really don't care about Ivan's re-entry to the MX2 class, I want to see Ivan have a solid outdoors for the same reason he committed to them, because he needs to be racing year round in order to excel in racing. He's had to deal with injury in SX1 the last three years and although in 2010 he was sidelined from the outdoors due to injury, I absolutely believe Ivan is the kind of racer who needs to be in it in the summer and winter series. Whatever the outcome this summer, if Ivan sustains through the end, he will be better come SX 2013 for it. Stamp that.
Another impressive finish for TLD's Jessy Nelson. Don't look now but Jessy, the kid who was preparing for Loretta Lynn's only a few weeks ago, is now sitting 12th in points and that's really damn impressive.
MX1
So here we sit, 4 rounds in and the tease of a possible title fight is effectively all smoke and mirrors. James Stewart's commitment to the series was a huge boost for the class which had been riddled with injury throughout SX. Following round one, the question regarding James' capabilities on a motorcycle were essentially answered. After Freestone where Ryan Dungey was Stew's alter-ego for the duration of both moto's, it appeared James was indeed the James we all considered may still be in there, merely oppressed by a bike he just couldn't deal with.
Then it all came crashing down. As Matthes would call it, "Photographer-Gate". A major aspect of the outdoors series that Davey Coombs has been working toward since 2009, roping James Stewart back into the outdoors was over as quickly as it began. I can only imagine the emotional scars that photographer will have to live with for the rest of his life following that tongue lashing. He's Brazilian though and I hear the girls down that way are ok to look at, so retirement should go well.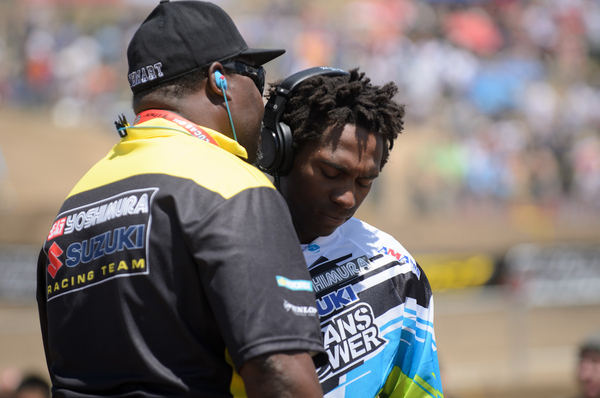 Will James be RSVP-ing for Red Bud? Lissimore Photo
Flash forward to High Point and James deemed himself good enough to give it a shot, so he did just that. Judging from qualifying, one would assume James was good to go but just as he showed many times in SX, it's infinitely easier to put together one great lap than it is to string together a full race-worth of laps at race-pace. James struggled in moto-one, commenting that he was essentially riding with one-arm out there. It was a valiant effort but he was undeniably lacking in confidence and effectiveness due to his injury. He needs to just take as much time as is needed for the injury to not be a factor. It's clear that even if he doesn't race another outdoor moto, he's further ahead in bike setup in 4 weeks (cough) than he got in 3 years on blue. It would be disastrous to come back to the outdoors before he is ready, suffer further injury that could possibly lead into the 2013 SX season and leave him effectively in no better situation than he was on the bike he didn't agree with.
Dungey did what Dungey does.
Mike Alessi is one tenacious mofo. He has been running 3rd in the big boys class since 2007 when he was a D I S T A N T shadow to the RC/Stew runaway show and he just keeps fighting. Looking back at High Point 2007, there are about 6 guys still racing now who were racing then. Alessi didn't finish 3rd in that race but he did may times that season. For him to essentially remain runner up to the lead battle for 5 years and still lead laps and talk on the podium so optimistically is the definition of tenacity. Aside from the constant looking back, blocking and at times cross-jumping, I like Mike Alessi. I like all the guys who bust their asses and are legitimately focused on reaching their true maximum potential, no one can accuse Mike of not doing that. Mike has made mention of a choice to not do interviews this series unless required by tv and in High Point he was, two times. Yes, Mike Alessi is mildly socially awkward but I liked his tv time, he was clearly moved by his mechanics commitment and as I always say, I prefer honesty over polish every time. Awkward, imperfect, immature, douchy or otherwise(not implying all of those are Mike). Always honesty first.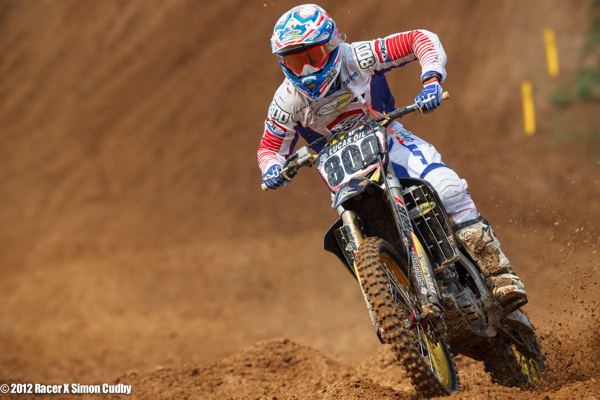 Tenacious M- "The Bike of Destiny"(Tenacious D reference…)
Mike's bike looks great out there. He pulls holeshots, it obviously has a great motor setup but that thing looks like it handles great as well. Nobody was jumping that quad-down smoother than Mike on that hot-tub-cycle. Kudo's to Moto Concepts for taking many gambles since the team's inception but who would have thought that bringing in the Alessi concept would prove to be the strongest gamble yet?
Pretty amazing paradigm shift when you compare the trials of the elite JGR team and the results of the MCR team at face value. I can't help but think of how much different JGR's track record and current situation would be if they were on any other brand. Honestly, does it seem like JGR with full Yamaha Factory support and the results it has garnered is any better than MCR has proven a non-Factory supported team can be? In my opinion, it's not even close. With all the massive resources at JGR's disposal, it's clear to me that if MCR can do it, JGR could at least match it. Maybe touting the fact that you have "full factory support" is just that important? Maybe on paper but results are what matters and that's all done on dirt. I feel like JGR may have sold it's soul for that Factory Support title and in the end they are suffering the fate of most who are mentioned in that cliché.
Jake Weimer is continuing to deliver pretty much what I expect of him as does his team. It might sound like expecting Jake to be 3rd is a bit of a stretch but really, he has been prepping with RV for months so it's time. It's been a long time since Jake won the '10 West SX2 title and then floundered in the outdoors with among other things a back injury, so it's great that he has managed to erase the past and start anew.
Solid moto-one for Andrew Short but the second was a struggle. Andrew finds himself in a slightly distant 4th in points but I expect him to get stronger moving forward.
Proud new papa, Davi Millsaps returns to racing with a 5th and thank goodness, JGR needs something to hang their hats on before team morale goes right down the pooper… even further.
Something tells me Brett Metcalfe is feeling a lot like Ryan Dungey did last year on the Suzuki. Brett is much better than his results show. Is there fragmentation inside the Suzuki truck with the addition of James? Is Brett being treated like the hallways sweeper now with the Stew-show in-house? Something is up but only Brett can answer that.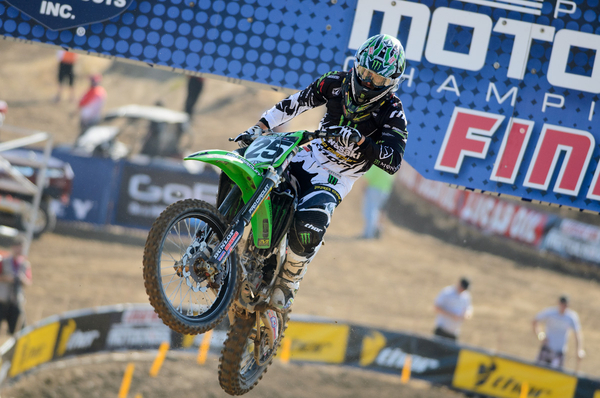 Broc's best races are yet to come. Lissimore Photo
I talked to Broc (Tickle- boss request) on Thursday and one of the things he mentioned to me brought a big smile to my face. He said he doesn't look at the guys he's racing in the same way anymore. That tells me he's matured and moved past the shell-shock of bewilderment that comes with reading the names on the back of the jerseys while racing. Now they are just obstacles between he and where he wants to be. Broc pulled two more solid starts in High Point and although he had a tough crash in moto 2, he's headed in the right direction and more importantly in a better headspace than I've ever seen him in. He loves the east coast tracks so now is the time to pull max points.
Feelgood story, Nico Izzi wasn't quite as good this week, especially considering he lead this race last year on the Eleven10 mods bike. Hopefully it was just a fluke race and not the figurative "wall" of the series.
Crazy stat- In four races, even with 2 DNF's James Stewart has led 20 more laps than Ryan Dungey.