David Vuillemin gives his thoughts on the Mt Morris national as well as the GP.

David Vuillemin gives his thoughts on the Mt Morris national as well as the GP.
By David Vuillemin
Photos by James Lissimore and Simon Cudby
Hey everyone and welcome to another installment of my weekly column. I wasn't in Pennsylvania for Round 4 of the Nationals. I was at my daughter's soccer tournament in San Diego. I was following the live timing on my phone and caught the action later on my DVR. For the "haters" saying that I comment from the couch and should be at the races, if you went to a race before, it's tough anyway to see everything from the track. I am sure that when you watch the race on your DVR the next day, you catch even more stuff. I wish I could be cloned, go to the races and spend time with the kids but that technology hasn't arrived yet.
High Point was once again a great race, especially in the Lites class. The 450 class, unfortunately, looks like is going to be on the "boring" side for a while.
Let's start with the track. I wasn't super impressed with the track prep to tell you the truth. I thought it wasn't deep and watered enough. It got hard packed pretty quickly and was actually dusty at times. It looked a little bit like Hangtown or Red Bud in the '90s if you remember and were born then. As far as the layout, High Point was always one of my favorites. I won two Nationals there and it's the closest you get to a Euro track along with Unadilla. But, they have made a lot of changes in the last several years by adding a lot of SX-like sections, which I am not a fan of. Motocross track should stay natural as much as possible and using its natural soil which is the case in Pennsylvania though. I don't like the jumps on the inside of the sweepers even if it gives a couple options. Just like in SX, it narrows the track because one line is always faster than the other.
I am going to start with the 450 class and keep the best for last. Ryan Dungey scored his second 1-1 of the season and if you look at the results on paper there isn't much to say. I have something though. Ryan won that race with his experience and his line choices. Ryan anticipated the track real well by opening his turns and squaring them up for the most part helping him to keep his momentum. That's where Mike Alessi, even with his best finish of the season (2-2) wasn't has good. Mike was making tight turns too much and doing some "stop and go" in way too many occasions. Jeff Emig told us on TV that Ryan's KTM was fantastic on this track and Ryan also said it in his podium interview. I couldn't disagree more. I thought his bike wasn't working properly and it was the worst it looked since the beginning of the year. Again, it's my opinion. He was getting kicked a lot all around the track which led to a few mistakes. The track was choppy, slick and those conditions amplify the problems with the chassis/suspensions for sure. I really think Ryan could be even more dominating with a better bike set-up, especially this weekend. He might need it if Stewart ever shows back up at 100%. I don't know if it was the same bike as in Colorado but Ryan didn't look as comfortable for sure. It doesn't take a rocket scientist to see that.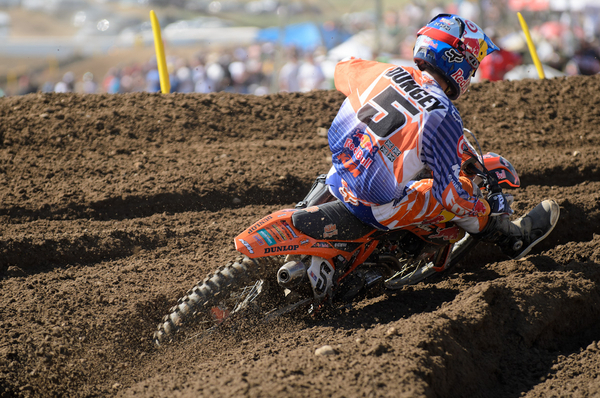 Vuillemin thinks that they have some work to do on Dungey's KTM. Lissimore photo
Like I said in past columns, it's only Ryan's 4th MX race on that bike and I am sure they will improve it, even if he won pretty easily again. I also saw a lack of traction on the rear end like a lot of riders out there in both classes. It seems like a lot of riders choose softer tires for the deep starts and compensate for 30 minutes around the track if it's hard packed like this weekend. My philosophy is different on the subject, I think pretty much any tire works good on the starts going straight with pristine traction and I'd rather feel comfortable around the track where the traction isn't good. I also saw Mike Alessi lose the rear a lot of times. It happened when Dungey passed him for the lead in moto 1 actually.
Mike had a good day too and was the virtual overall winner for half of the second moto. Like I said above, Mike lines weren't up to par and was entering really tight in a lot of turns which makes him lose his momentum. In High Point, you pretty much go right-left-right-left around the track. If you get in tight in the turns, you have to exit wide which puts you tight in the next turn and it snowballs from there. You can't recover from bad lines and you keep losing your momentum. I was impressed with Mike's beginning of moto 2 where he passed Dungey for the lead in the opening lap. He was aggressive and committed to win the overall. We haven't seen Mike do that too often. It was impressive. It's just a matter of time until Mike wins his first moto of the season and an overall. As far as his bike, I thought it looked actually pretty good overall besides that lack of traction in some sections of the track.
Like I said in the opening of this column, the 450 class is not super exciting lately. Hopefully Bubba can get healthy and get back in the mix. Add Villopoto, Reed, Canard and we could have the spectacle the Lites guys are giving us every weekend! Jake Weimer had his second podium in a row and put himself as the third guy of the class lately. Jake wasn't far from Alessi at the end of both motos, only 5 seconds. Now that he made it to the box twice in 4 races, he will have to be more aggressive in the first few laps to be closer to Alessi who we all know will be up there at every start.
What about the Lites class? That "big 4" is spoiling us more and more every weekend! Even with Baggett leading the championship and looking super fast since Hangtown, I think the Geico-Honda team gets the award of the best all around bikes in the class this year. Eli Tomac's win in High Point marks the 3rd overall win for the team in 4 races. And after an amazing SX season, the Geicos are confirming they have a great program every weekend.
I'll start to talk about Baggett. Blake rode great once again this weekend in his own style. I was talking earlier about anticipating the track and keeping the momentum going, Blake does it very well. His outside lines were very good and made a lot of passes in moto 1 because of them. Just like Dungey, I feel like his bike wasn't up to par this weekend. He made a lot of mistakes, over shooting ruts, going of the track and getting shaken up. The track might be the reason. On a choppy and slick track, to compensate, you have to adjust your bike on the softer side to gain in comfort and traction. I don't think the way his bike worked this weekend was as good as the Hondas. Since the beginning of the MX season, Blake has been pushing the limits with an amazing speed. But at that speed, he was the fastest in both motos on Saturday, with a bike set up a little off, you start making mistakes which could result in crashes. That could be the reason he struggled in moto 2.
Barcia won first moto and "struggled" in moto 2 a little bit. He couldn't stay with Roczen at the beginning of the second race and got passed by Baggett and Tomac. You can read the part above where I talk about Alessi lines again and it's pretty much where I feel Justin can improve. The two fastest Lites riders in High Point, Baggett and Tomac, are the ones who have the fastest corner speed and the ones who rail the turns without being scared to travel more distance. Both of those guys, in moto 2, had faster lap times than Dungey's 2nd moto times. Shows me, what I've said about Ryan's bike could be true. Justin improved a lot in his SX turns this year which I talked about during the Supercross season. I was impressed by his improvements then. If he can use the same philosophy in MX, he will be able to match Eli and Blake's top speed.
Talking about Eli, his second moto was just amazing and maybe the best race of his career. Beside the start, everything else was an A+. His fitness was great, his fastest lap came in the second to last lap of the second moto. His determination to win was Carmichael-like. He basically only had one lap, the last one, to pass Roczen in second moto. He obviously didn't want to hear from his crew, "if you had one more lap you would have had him"… He was on a mission and made the same move on Ken than he did on Barcia a couple laps before. Eli's ride was simply inspiring and textbook!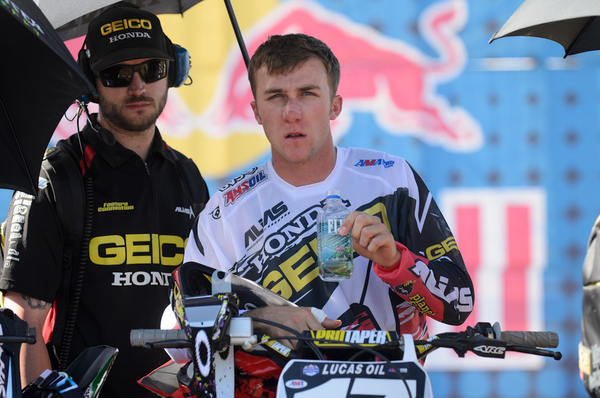 DV likes the way the GEICO Honda team is looking this summer. Lissimore photo
How didn't Roczen win the second moto? Yes, he crashed and lost 6 seconds in a lap which is a lot. Even with the crash, he should have won that race. He still had a decent gap on Tomac with 3 laps to go but pretty much blew out. Instead of getting his focus back and try to clock fast lap times, he started looking back while Tomac was setting his fastest lap of the race. Could be a few reasons, concentration after the crash, a mental break or a lack of juice. Ken is still in the hunt for the championship and will have to make some adjustment to stay in it for the title. He's been on the podium at every race I think but he will have to start winning to get some points back and build his confidence. Like I've been saying since A1, we haven't seen the real Roczen. Maybe we did in moto 2 though until his crash. That's the Ken I know, he starts in front and takes off. But again, he was .8 sec off Blake's fastest time and .6 sec from Tomac's. Seeing his attitude on the podium after the race, you can see the kid wants to win and was disappointed in himself. I like this attitude a lot which means he's going to go back to work and wants to improve.
The lonely 5th guy in the class is Marvin Musquin. Marv' was the "fastest man on the planet" in practice, faster than the 450 and will have to carry it into the motos. It's always tough to come back after an injury and a surgery though. His fitness isn't there yet and his speed in the race is far from his practice times. He was 2 seconds slower in moto 1 than Baggett on the fastest lap time and almost 3 in moto 2. Maybe he knows if he goes all out and at his potential speed in the race, he won't have enough to go 30 minutes. It could seem like a lack of ambition but it's a smart thing to do until he gets 100%. In the US, lot of people would rather see him go "practice fast" and race the "big 4" even if it's only for 15 minutes but it isn't really the "French" mentality which I can relate. Having races every weekend doesn't help his case. It's tough with the traveling to improve from race to race. It's a slow process with only a few days of training between races. If he works the right way, he should be closer to the "big 4" after the first break of the MX season.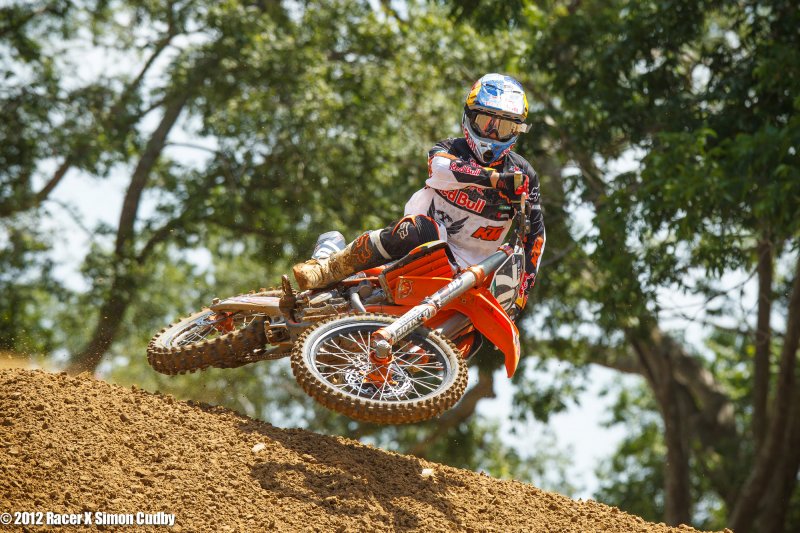 Vuillemin likes Roczen's attitude when it comes to his loss this weekend. Photo by Cudby
The most exciting 450 season might be the World GP this year. In Portugal, last weekend, it was again a great one with their "big 4", Cairoli, Paulin, Desalle, Pourcel. If you are willing to spend 5 euros to watch the races (you could easily cheat and find a live streaming 😉 ) and willing to wake up super early on sundays, do it. It's well worth it. The battle for the win in moto 2 between Paulin and Cairoli was amazing and pretty much what we see in the Lites calss in the US.
I won't be in Budds Creek this weekend. I'll be at Competitive Edge in California for a Lorreta Lynns qualifier to help a French 85cc rider to make it to Tennessee. His name is David Herbreteau and he races for Bud Racing, the team I raced for in 2009 for my farewell tour in Europe. I've never been involved in US amateur racing and should be a good experience.
Talk to you next week and if Matthes, my boss, is cool enough, he'll let me do a podcast! ahahah
DV