Our man over there McCready gives us a snapsnot of the GP season so far and what's to come.
Our man over there McCready gives us a snapsnot of the GP season so far and what's to come.
GP Round Up … Five to go!
Report and pictures by Jonathan McCready
MX2
This year's MX2 World Championship has been crazy on and off the track. Jeffrey Herlings, the championship leader, has been at the centre of both story lines.
On the track Herlings has been the fastest, but some start straight wars with Tommy Searle , and a crazy take out move of Arnaud Tonus, left Herlings feeling the wrath of the paddock, the Tonus family, and angry British fans off the track.
Then after winning the Russian GP just a week ago , Herlings was involved in a big car accident, leaving him knocked out and dealing with a broken rib and a concussion. He is in a race to be fit for the next round but says he should be ok.
It is easy to forget that he is only seventeen years old with a lot of pressure on his shoulders, and that despite the behavioral issues, Herlings is doing his job impressively and leads the championship he wants so badly. He also has behaved a lot better in recent weeks and it seems he is trying hard to become someone KTM can be proud of and kids can look up to, but he is still an emotional guy who wants to win and says what he thinks.
Herlings was super quick last year but he has upped his game on the hard pack this season and only Tommy Searle can run with him there, and no-one can touch the Dutch sensation on sand. He may well be the fastest sand rider that has ever lived.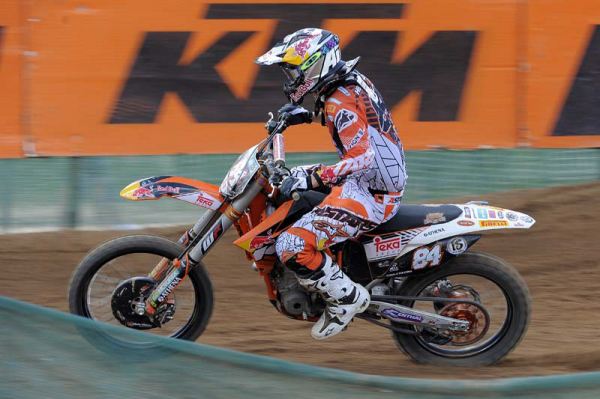 Herlings has been the best rider but he's also been the best at creating controversy.
The rivalry between him and Searle has also been one to watch. Searle and Herlings are certainly not friends and after cutting each other off repeatedly coming out of the start gate the duelling duo finally called a truce half way into the season. They both want to win fair and square but they still are not best buddies.
Searle had just got the championship lead down to sixteen points and it looked like the championship would go to the wire, until Latvia wrecked everything.
The Kawasaki rider had two incredible DNFs through freak machine problems, and while Herlings too DNF'd the last moto on a grueling track, again due to machine failure, it left the determined Brit with nearly 40 points to make up against a rider who has only been outside the top two in four motos all year.
Then just last week in Russia, Searle was forced to start from the last gate after another machine failure in the qualifying race. Despite two sterling rides from terrible starts to third and second, Herlings took both motos and Searle is now a whopping 49 points behind with only five rounds to go. Oh how quickly things can change in motocross!
This is Searle's final chance at the MX2 title as the age restrictions will force him into MX1 next season, so the last two rounds have been a bitter pill for him to swallow. Anything can happen yet but it is now Herlings title to lose.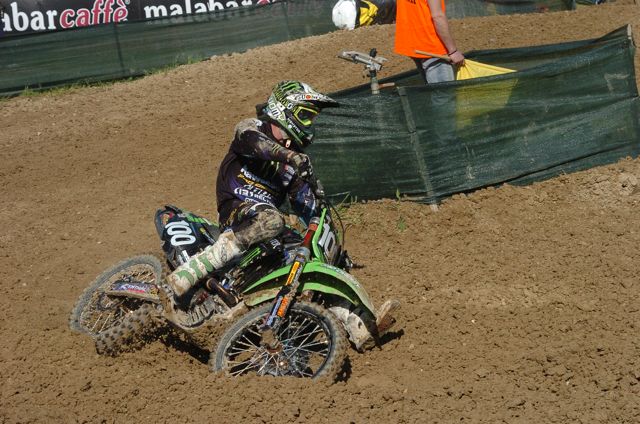 Searle's had a good season but mistakes have hurt him. He's going to MX1 next year.
Just a few points back from Searle in third is Jeremy Van Horebeek. The Belgian is really coming on strong at this stage in the season and is a regular visitor to the podium. He got his first moto win of the season in Latvia and is getting closer all the time to the speed of Searle and Herlings.
Searle's teammate Joel Roelants sits in fourth in the series. He was looking like a title contender until a concussion at round three in Italy held him back. He is beginning to show his form again however and took his first ever GP win in Latvia.
The depth in MX2 has been called into question this season, but when you take four top guys out with injuries including the entire factory Yamaha team of Charlier, Tonus and Osborne as well as the speedy Frenchman Valentin Teilliet, then any series will suffer but with the u23 age rule in MX2 the injuries have hit the championship hard.
On the positive side, this has allowed some younger guys to come to the front including factory KTM teenager Jordi Tixier. The Frenchman got his first podium in Latvia and is getting stronger as the season has gone on, lying fifth in the points. Another French teenager who got his first podium his his debut GP season has been Dylan Ferrandis. This guy is super quick and is proving to be a fast learner. If he keeps getting the starts he could visit the podium again before the season is out. Top ten in points is very good for his first GP season.
The biggest disappointment in MX2 aside from all the injuries has been the factory Suzuki team. Neither Kullas nor Petrov have been impressive at all, both struggling to be top ten and with the money being spend, Suzuki will not be pleased with their performances this year. Although both guy have been affected by injuries as well. I would be surprised if Suzuki don't hire a big name in 2013.
MX1
The premier class in the World Championship has again delivered some epic racing with multiple winners.
Defending Champion Antonio Cairoli began as expected with a win in the sand of Holland. Paulin won round two after tying on points with Pourcel and then Christophe won round three. Desalle was never far away and Cairoli was always snapping at the heels of the winners, keeping his points lead.
After the South American rounds that saw a brilliant moto win for David Phillipaerts in Mexico afte coming back from bad wrist injuries, Cairoli came back still in the points lead. He won the overall in Mexico, but faired badly in the mud in Brazil. Pourcel won easy in the Brazilian mud winning the first motos by over minute in a Stefan Everts like display of bike control and technique.
Pourcel was back in the points chase and both Paulin and Desalle were there as well. But Cairoli took charge again beating the French in their back yard and winning again in Belgium two rounds later to build a commanding points advantage.
Then it all went horribly wrong.
Cairoli somehow ended up with no points in Sweden after a bike issue in race one and getting his bike literally stuck in the mud in race two after running off line.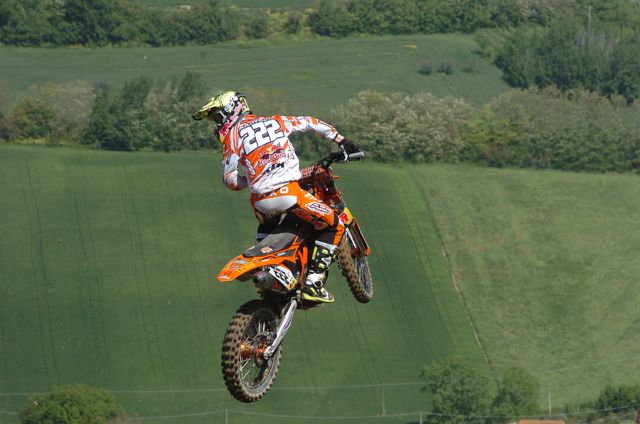 AC is the man, blew a huge point lead and then went and got three wins and one second to get it back.
In one fell swoop Cairoli had lost the points lead to Desalle who won both races in Sweden. Desalle has been more conservative this season but he struck when it mattered and left Sweden with the red place. Pourcel too was back in it with Paulin falling off the pace a little mid season still there in fourth.
But in the last four motos an angry Cairoli has won three and got second in the other. Desalle struggled with the pressure of the red plate in Latvia and crashed several times, while Pourcel struggled to make top ten in Latvia before two mediocre fourths in Russia lost him even more points to Cairoli.
The Italian now leads the points again with a twenty point cushion over Desalle. The Belgian needs to start beating Cairoli again soon to stop the momentum and give himself a chance of winning his first world title.
Pourcel is a further seventeen points back of Desalle and a second World title now looks unlikely. However some of the Frenchmans favourite tracks are coming up and he will need to win to claw back some points.
Pourcel on his day can win, but when the tracks are difficult and Cairoli and Desalle really get aggressive and fight, Pourcel doesn't seem to be able to go with them. His bad days are pretty bad while Cairoli aside from Sweden is always challenging for the win or podium, and that is proving the difference in the championship.
However if Pourcel is racing in the US next season he will want to at least bring this championship down to the final round, because as he knows anything can happen at that point.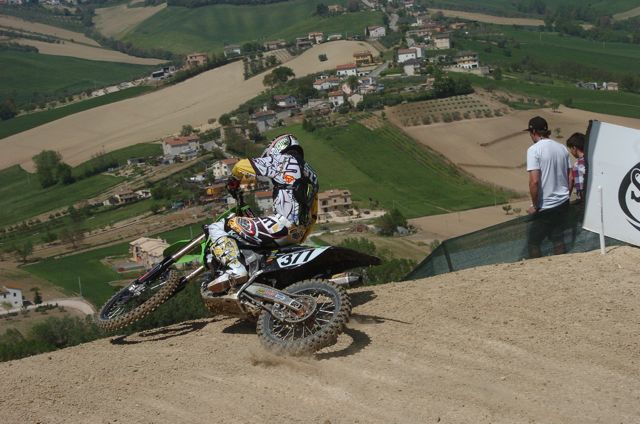 Will we see Pourcel here next year? Time will tell.
Other success stories of the championship have come in the form of the two Belgians Ken De Dycker and Kevin Strijbos.
De Dycker got the chance at factory KTM after Nagls injury has meant he still hasn't raced a GP (although he should be back next weekend). De Dycker has been impressive and got the podium at the last two races. He is fifth in points and back on the form of his factory Suzuki days.
The same can be said of Kevin Strijbos. The former two time world runner up with Suzuki is now riding last year's factory 350 KTM for the privateer KTM UK team, and things are working brilliantly.
Under the guidance of Harry Everts, Strijbos is winning the British Championship and is a regular front runner in GPs again. He got his first moto win since 2007 in Latvia and has been on the podium a few times and sits a very solid sixth place in points. It is nice to see someone so talented coming back on form and years of injury and difficulties.
It has also been nice to see Sebastian Pourcel run at the front at time after two years of solid injuries. The older Pourcel still has the talent to run at the front but again is still finding his feet in the class after all his injuries.
Like the big bike class in America, injuries have taken its toll especially on factory Yamaha. Both Frossard and Phillipparts are now out for the season. Title contender Frossard had to give in to a knee ligament injury sustained at round two while Phillipearts re-cracked the injured wrists in Sweden and faces another painful recovery. Max Nagl has been missing all year and yet the MX1 series is still incredibly deep and producing some brilliant racing.
The factory Honda riders of Goncalves and Bobreyshev havn't missed any races but then have been riding hurt for most of the season, but if Boreyshev can get some momentum going he could win a race this year, and he just came off a fine fifth at his home GP.
So with five rounds to go Cairoli is in the driver's seat, but expect one last charge from Desalle and even Pourcel to keep the points tight going into the final round. It ain't over yet!