A Short look at some Shortcomings from Dilla
A Short look at some Shortcomings from Dilla
Words: Moser
Photos: Terry Spezzano @Peiper419
Unadilla is not just one of the oldest tracks on the circuit I learned that it's also "MY TRACK" according to Jason Weigandt, that guy can be so possessive. I'm not sure I've ever seen ruts so big or seen so many mistakes by professional riders over the course of the day. It wasn't a matter of not making mistakes but just limiting them and trying to stay on two wheels, or in the corners trying to keep your pegs from dragging you to a complete stop. I didn't see any post race bike photos but there is not enough safety wire in the world to keep the pegs, brake lever and shifter straight in those types of conditions.
I don't question that the track conditions were dangerous the sheer number or crashes alone proves that but the unlimited line selection made for great racing and lots of passing, so maybe there is a happy medium in there somewhere, who says you can't have your ice cream and eat it too? The MX1 moto one just blew my wig back with each new leader hitting the deck. I've seen that happen before in a race I can't remember where but I think the quote was "nobody wants to win this race" and every time someone inherited the lead it was like cue the Jaw music. Shout out to @Peiper419 for the use of his photos for Shortcomings this week, he sent me a bunch of Shorty pictures that I'll put to good use, thanks man.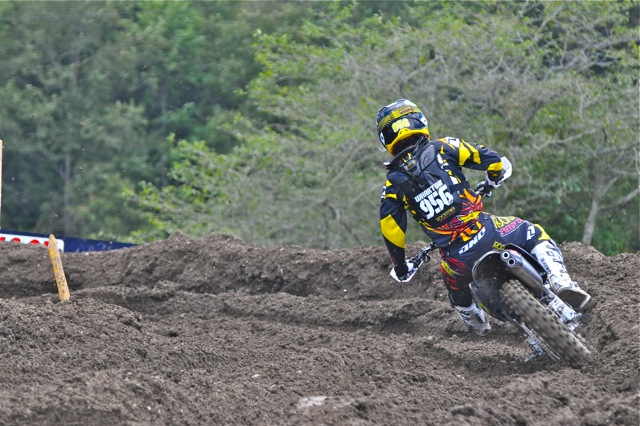 A Rockstar sponsored by Rockstar B2B Photo Cred @Peiper419
#956 Blake Wharton | Rockstar Suzuki
Blake has had a quite outdoor season, what else is there really to say he's in that best of the rest group. Against my better judgement I did some "research" to try and make this a legit article. Blake sits 7th overall right now in points which is solid when you see who's in front of him, who knew. He's had three motos now where he hasn't scored any points, Highpoint, Southwick and Dilla, we can probably assume one of those was caused by his badass hair getting stuck in his wheel. Blake is nine points ahead of his teammate Anderson and here's an interesting fact Anderson has only had two motos that he hasn't scored any points.
I wonder what type of preferential treatment you get when you're the highest placing rider in points on the team, do you get to shower first or get your pick of bunks, maybe the lowest placing rider in points has to clean Whartons hair out of the shower drain. Was it Mitch or maybe YOT that made riders clean the bathroom, I think Hanny lost a bet his rookie year when he rode for YOT and had to scrub the toilets or something.
Blakes best finish so far was a 3rd place in moto two at Budds Creek. When was the last time Blake rode outdoors I know he missed last season because he had both shoulders operated on after supercross but I think he missed some of or all of the previous outdoor season to. Maybe that's why I think of him as more of a Supercross guy simply because he hasn't raced outdoors in so long. I think of Wharton as a veteran of the class but I'm not sure he can legally drink a beer yet, it's so easy to lose perspective of how young these kids are. Blake has made it through the season in one piece and he's signed with Rockstar Suzuki again for next season, a familiar team and bike has the potential for him to be a title contender for next year. Yeah I don't know why Wharton DNF'd at Dilla insert Matthes "editor" note here if he even reads these things anymore. (Matthes note- he crashed out)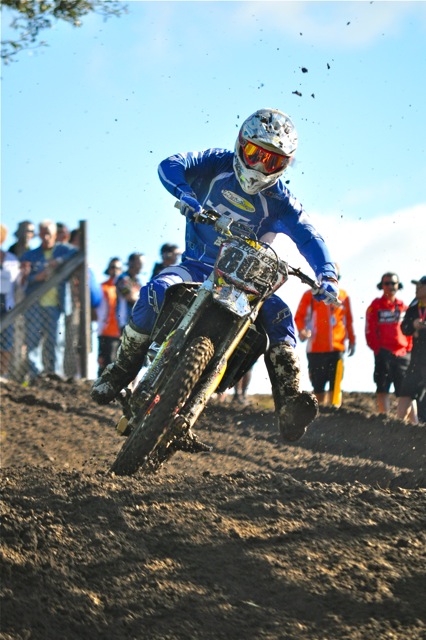 Ever notice how Alessi counter balances in the corners with a really really straight leg? Photo Cred @Peiper419
#800 Mike Alessi | Motoconcepts | Hot tub time machine#
Michael suffered a mechanical DNF in moto one from a rock "rooning" his radiator and surprisingly these new age motorcycles don't like running without coolant. Remember when one huge advantage to owning a four stroke was that you didn't have a radiator it was air cooled, well that and you could run unleaded gas without the hassle of trying to mix it without a ratio rite like Marthes. I have some experience with causing irreparable damage to a radiator much to the dismay of Moser Sr. wallet. I told this story in my "bikes of my life" article but I don't care I'm going to tell it again. I was riding a 1998 CR125 with the super trick big ass single radiator instead of two separate ones, it was the last lap in the highly competitive Novice class and coming into the last turn I was going to be "Just Short" of passing this guy. He was just rolling it in because it was pretty one lined in the last corner but I squared it up and held it wide open off the single at the finish line over jumped the next corner and landed on a hay bale. Radiator fluid started pouring out everywhere immediately so I turned off the bike and my dad was standing there holding the broom from sweeping the gate, just shaking his head at me. We still agree to disagree with how close I came to making that pass.
Another rooned radiator was on my 2000 CR125 my best friend @chris__holliday T-Boned me in the first corner at a Lorreta's area qualifier (I still have the photo sequence of the take out) luckily the radiator held for the race and I qualified but it was so twisted up it went into the radiator scrap pile too. That same year I kept losing radiator fluid on my practice bike and for the life of me I couldn't figure out where it was going we replaced the pump seals and would check everywhere for signs of leaks but it was never to be seen. Finally we found a seam at that bottom was cracked just enough that it would leak but dry before it even puddled up, some Jim Bum Sticks radiator shop welded it up for like $20 and it never leaked again. Last but not least I went over the bars in the whoops section on the 2nd to last whoop, and my 2001 CR250 chased me down and just pile drove me into the berm at the end of the section I split my top lip open and had to get stitches. It also ripped my radiator cap completely off somehow, rooning yet another radiator, sorry Dad. Well that was a fun trip down memory lane what does any of this have to do with Alessi, that's right his radiator broke.
For a non factory backed bike Motoconcepts hasn't had too many bike problems this year I recall one other issue in Supercross but overall not bad, although sometimes factory bikes don't seem all that reliable either. Speaking of factory bikes I'm very impressed that KTM hasn't had any problems with Dungey's new 450F-an all new bike is a sure thing for something to go wrong. I stopped keeping track of the bike problems they had with Shorts 350F last year, well I didn't so much stop keeping track as I just forgot how many because anytime he had a mechanical DNF I would drink to try and kill the pain. Maybe Shorty worked all the kinks out of that new 450F testing last summer before it permanently kinked both his elbows.
Back to the Stallion, he's had a very solid season and he seems happy over at the Motoconcepts team and we all know a happy rider = better results. I'm definitely in the boat that he got F-d on not making the Short list for the MXDN, out of respect they should have at least lead him on a little and included him in the hypothetical discussion but meow. One last thing on Alessi I wish he would loosen up just a little bit in his interviews he's too politically correct, if there is one advantage to not riding for a factory team it's the fact you don't have to be as straight and narrow, exhibit "A" Chad Reed. Mike has gotten burned in the past by his comments like they explained on a podcast but again there is a happy medium you don't have to be straight vanilla, spice it up a little with some Baileys on top of your vanilla, seriously try it it's delicious. I'm all over the place tonight but when did Tickle become a good interview he was great on the Pulpmx show Monday night, good to see he's getting more comfortable talking and being himself, keep up those pep talks Swiz.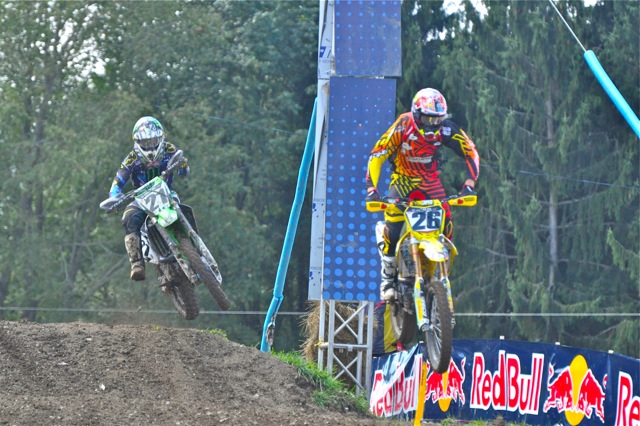 Burner I've said it once but I'll say it 29 times that new Fly gear is sicker than sick bro.
Honorable mention:
#26 Michael Byrne | BTO Sports
How can you not feel bad for Burner? He battled back from a serious neck injury that was at no fault of his own but caused by a wheel imploding. Then raced his way back into shape the entire outdoor season showing steady improvement, he's leading the race it's looking very promising he's going to get a moto win and sticks a leg out and breaks his Tibia. I wonder how many times Burner has had to text FML this week, poor guy. I haven't meet him but he seems like a good guy even though he hangs out with those hoodlums JT$ and Reed. Here we go again, back when I used to race I broke my Tibia similar to Burner I didn't really crash I stepped off my bike coming out of a corner I was barely even moving and landed on my feet but immediately I could feel the bones moving around in my leg. I hope his heals quicker than mine did, I didn't have a clean break but more of a spiral fracture which didn't require surgery but it took all summer to heal nothing like spending the entire summer with a cast all the way up to your balls.
Thanks for reading this Short recognition of the guys that had Shortcoming this weekend, see you in two weeks-Moser
Please send any complaints to jasonw@racerxill.com & and any compliments to steve@pulpmx.com