Much like last years MX1 title, Steel City brought a substantial shift in the points leading into the final round; this year it was the young guns providing the fireworks though.
Much like last years MX1 title, Steel City brought a substantial shift in the points leading into the final round; this year it was the young guns providing the fireworks though.
Photos by: swizzle
Steel City has long been the ho-hum track of the schedule. No one loves it, other than the handful of locals who call it home and no one abhors it like they do, say, a Washougal or Unadilla. It's been rumored to be dropped from the schedule for the last few years(many hoping, in trade for the also long rumored "Southeast National"). It's typically pretty warm and moderately muggy, hard-packed and develops slot-car ruts in the corners. This year it started out tacky but dry, choppy and not as deep as most tracks this year…in other words, classic Steel City. When the rains came for the second MX1 moto, all that hard-pack became a slick surface which you just knew was going to benefit the newly crowned MX1 champ. When the gate dropped on the second MX2 moto, the track had absorbed much of what had fallen from the sky and the tackiness began to return throughout the moto and the kids pushed it to the limits.
MX1
I know this has been brought up before but I want to start with an aside. How about that Kawasaki 450 commercial where Fro plainly, unarguably states that the motor is "499 cc's"? I know one thing, if Monster Tom was on the quality assurance board of that commercial, that mistake would not have made it to air. Apparently there is no QA system in place for Kawasaki media promotion. It's such an obvious error. The only thing more unimaginable than it making it to air is, why would Fro even mention "499cc's"? So he's standing in the sound isolation booth recording the voiceover for the commercial, and he drops "the 499cc engine"… stop right there. The producer at that second, should be like, "hey Fro, this is 2012, we haven't made a KX500 in years". Anyhow, I digress. Get it together Kawi. At least they didn't make a new bike that's "so forward thinking, everything else is backwards"– How did that work out again?
Broc got a poor start in moto-one and mounted a solid charge forward before the mechanical. It's the way it works in moto sometimes. These guys are absolutely killing these machines at capacity for 35 minutes straight. What can you do, sometimes indeed, shit happens. I'm sure many expect me to go ape shit over Broc's third mechanical DNF of the series. Not happening. We're at the second to last round and Broc's bike has been reliable enough for him to prove his value and sustainability. It certainly didn't help his push forward in the points in his fight with Shorty and Weimer but with Andrew's poor second moto and Jake's much more consistent day, that battle is now realistically between Andrew with 333pts and Jake with 327pts. Broc still has a punchers chance with 309pts and that's exactly what he is, a fighter but it's his rookie year, following a lackluster SX1 debut and he's got his 2013 ride on lock, so that's a rebound and a win. In moto-two Broc was of course fresh, pulled a much better start and finished a respectable 5th.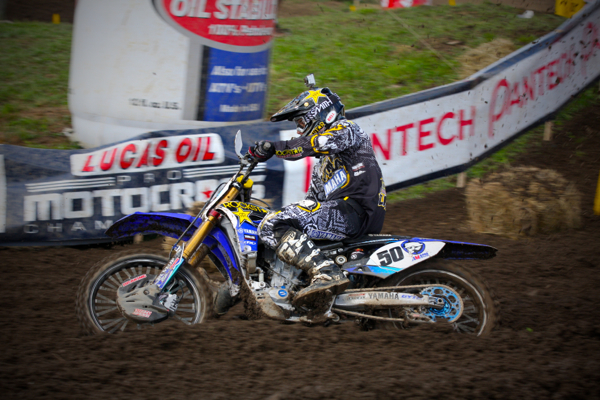 Nico Izz's bright spot's shone again. Will they become widespread in 2013?
The featurette on Izzi was nice but I just hope he really believes everything he said in it. The guy has so much talent and I'm really hoping that it's the Yamaha + little guy equation that is causing his inability to finish strong consistently this year. He was solid at Steel City going 8-8 for 6th OA but I'm hoping his maturity increases and that combined with getting back on a Suzuki equals a successful story of redemption. Yup, that's me, the hopeless optimist and eternal underdog backer. In moto-one when Izzi passed Millsaps, I swear I saw Davi's lips mouth "see you on the ground in a few laps bud". He's just got that stigma the last two years, fast but can't finish. It's no secret that Izzi has home run speed, the problem is, he only has it through the seventh inning stretch. After that, the opponents who encroach on the back of his jersey start feeling pretty good. Again, I'm hoping Suzuki + maturity = Rebirth.
Shorty pulls a great start and cashes it in in moto-one. I've been trying to get Andrew some music I knew he'd like since the middle of Supercross. I actually guaranteed him that when he got it, he would podium the next race and, well, Andrew got the tunes during the week off, was stoked on them and pulled down his best moto finish of the series in moto-one. Just saying. Seriously though, Andrew has proven he has the ability to put the struggles in his private life out of his mind pretty well when he's on the track, for instance when the Short's son Hudson was dealing with the unknown future with his vision issues. Now Andrew is dealing with some issues of his own and again, he has proven his resolve on the track… for the first moto anyway. Toward the end of moto two, Shorty and Chizz locked bars on a downhill and both went down pretty hard. Both guys got up and finished just a little banged up. It happens. Andrew is a win/win for any team. He proves it year after year and although Broc's mechanical DNF likely loses my bet with Moser on Broc beating Andrew in points, there's no better guy I would rather lose a bet to. That's Andrew, not you Moser.
Loved the look of Dungey's new Fox gear and that bike he rides that was named after himself looked to be handling better than ever. Its clear they are not relenting after clinching the title. Developing and fine tuning that bike at race pace is top priority now. it's going to be very interesting when A1 comes around to see how much better that KTM is than in 2012 when it was very impressive. I gotta wonder though, how much of Dungey's success, comfort and mental-levity is dependent upon his mentor, The Man. We heard how unhappy he was on the bike last year that won him everything the year before. What was the difference? Personnel. Namely, Roger and Ian. Now back with his guys, Dunge is happier when losing a race than he was last year following a win. What happens if/when Roger wants to retire to home-life before Ryan Dungey is ready to step away himself? Does he finish his career uncomfortable, unhappy and unfulfilled? Does he take steps to make his mental-game more internally reliant? Does static arise in the inner-circle and cause a fracture? Whatever happens, it seems unlikely that a rider could be interwoven with one manager for the duration of their career. On the flip side, seeing the unhappy Dungey of 2011, it would appear he will take whatever steps necessary to ensure that is just what happens.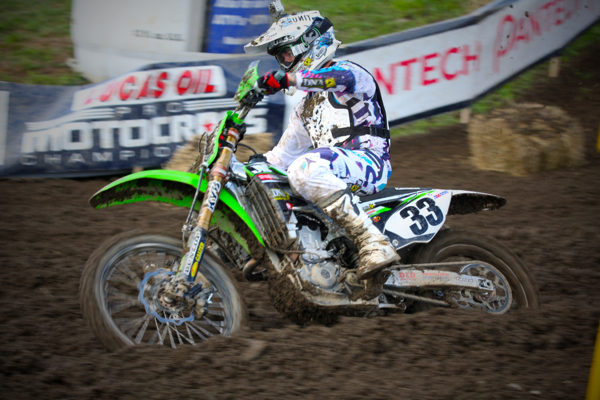 I didn't write about him but Josh Grant had a solid day in Steeler Nation.
Just like Weege and Fro noted on the broadcast, that second moto "step-aside" Alessi pulled to let Dungey by was peculiar. Aside from that, I like what Fro said in response to Weege stating how much better Alessi was riding after letting Dungey by. Fro noted that by way of Alessi moving from leader to chaser, "there was a lot less pressure on him", which as we all know, is true. So Fro pretty much stated that Mike may ride better when not under pressure. I'll take that as a win for JT and I over Matthes' argument that Mike performs well under pressure, pressure such as racing MX3 in the MXdN. Even though I do believe that Mike has issues performing his best when the pressure is on, I still reserve the right to agree that he was screwed out of the MXdN. There's no two ways around it. He's the only guy to beat the MX1 title holder, yet he was passed over. Though after seeing how many mistakes Dungey made while riding behind Mike, I think it's safe to say, the thought of Dunge and Alessi near each other in Lommel is a scary thought.
JT$, in the penultimate(thanks Ralph) outdoor race of his professional career was chosen by the man, the scholar, the gentleman of all gentleman, Da Weege; as "The One to Watch". If you're reading this, then you have likely been seated in the JT$-Bandwagon for years and see this as well-deserved. Keep an eye out for JT$ at Lake Elsinore next weekend for a post-moto farewell lap to bid adieu to the fans and sport(from the track anyway) that have ben such an integral part of his career and who he is. I got a pretty good chuckle when JT moved into 20th and Fro said, there's JT Money who just moved into 20th, which is "a point" paying position. Ouch. Well JT made it up to 19th, so there Jeffro. Point Deux.
Justin Brayton's bike looked to be handling like crap but the jury is still out on whether it was due to it actually being setup poorly for the track or due to Justin riding with absolutely no aggression out there.
MX2
Taking full opportunity to gloat a bit on my mid-season PMT article claiming Tomac was a man amongst boys. And he is. He's actually been a little more sporadic than I expected to see but when "on", there's no question who is the alpha dog. Month's ago when Barcia wasn't concerned in the least about making or keeping friends, even the guys in his truck with him, Justin was the clear Man of the class. Since his Houston SX debacle, Justin looks to be maturing and putting his "win at all costs" attitude on the back burner and Eli has used his standard riding skills to take advantage of it. When rider maximum velocity is so evenly matched, the separator actually is the will to win and the tactics employed to do just that. With Justin being less aggressive than ever, Eli is able to enforce his will and come out on top.
As we have seen many times this year, Justin is best in moto-one and in moto-two "not as best". Hope that gets squared away before they head to Lommel. Justin was bummed that he couldn't put together the pressure to get Eli back in moto-one but he didn't look deflated, just motivated.
Coming into Steel City, Blake Baggett held a 28pt lead over Eli Tomac and a 24pt lead of Justin Barcia, following the race, his lead was down to 12pts over Tomac and 16pts over Barcia. Baggett was only able to secure two 4th place finishes which created that 14pt swing. Although Eli has all the momentum, nothing to lose and infinitely more team mates going into the last round at Lake Elsinore, I still see Blake with the edge because, of course, the points lead belongs to him. Beyond that, he excels on hardback California tracks and from everything I've heard, regardless of how great the creature comforts and landscape is at L.E., by second moto's, no matter how deep they rip it, it ends up a hard pack, blue groove surface. That's right in Blake and Marvin's wheelhouse. Will Mitch find some bodies to saddle up alongside Blake to provide some sort of cushion out there for Blake and his number one plate? Lots of drama coming into the last round, hopefully the track is capable of nurturing that storyline and doesn't turn it into a yawner.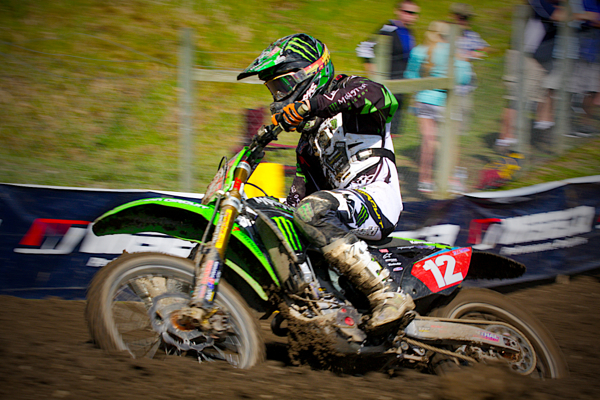 Can Blake Baggett keep a cool head when it all comes down to the last moto's?
It's just awesome to see the top of the MX2 class so young, so close in speed and so motivated following the motos, win or lose. There was a time when the MX2 class was full of questionably aged guys, though fast they were, peppering the results of the young guys class. Let's be honest, many of those guys were masters of slowing the pace to retain position, not pushing and racing man to man. Seeing the youth excel and lead the class with balls out, no guts no glory racing, is exactly what makes this the most exciting MX2 class ever. Also, encouraging is that that fact doesn't appear to be changing anytime soon. With Justin graduating, most of the current front runners will be staying put next year and don't forget, our sports most anticipated amateur graduate to the pro ranks in history, Adam Cianciarulo, is slated to make his debut in 2013. Add to that names like Cooper Webb, Jeremy Martin, Zach Bell, Justin Hill and the other fresh faces, as well as the guys sure to step it up next year like Bogle and I am definitively "Super-Pumped".
How the hell did Mookie make that outside rut pass on Bogle in moto one!!? That was worth a triple take. Mookie has skills but Mookie is a big dude too. He could use the four stroke equivalent of a 167cc "RM125".
Wil Hahn moving up from 17th to 6th in moto-two was the most impressive ride of the day.
There's been lots of talk about how amazing Lauren and Tiffany from the broadcast are, well I heard her say "expecially" during the Geico segment. Smell that blood in the water Georgia? Attack.
Following the race, the quad national broadcast began and wow; I watched it for about ten minutes and was just in a state of dazed confusion. The coverage was pretty much the same as an AMA national thanks to the soothing sounds of "DaWeege". Rider interviews were about the same too, they actually call their quads "bikes". Wishful thinking fella's? Bizarre fact, the guy who holeshot the first Moto used to race the B class around here in about 1998 and even then he was known as "The Bumblebee" the fastest quad racer in the country. Crazy. Much to my dismay, no "guys with gun-racks just pinning it through the woods".
Bring on Lake Elsinore and all the bitching that is sure to follow about how it's not as good as Glen Helen.