McCready gives us the low-down on the sandy GP
McCready gives us the low-down on the sandy GP
Phenomenal Herlings Destroys the Field!
Words and Photos by Jonathan McCready
The toughest track in the world – that was how Ken De Dycker described the brutal deep sand circuit of Lierop in Holland, the destination for round fourteen of the sixteen round World Championship, and not many riders disagreed after the toughest GP of year!
There are some performances that will pass through the folklore of motocross, witnessing something so special it didn't seem possible, until it actually happens. Well, it happened at Leirop.
Jeffrey Herlings, the golden boy of Dutch motocross, placed himself firmly in the category of legend after demolishing the opposition so badly that even Stefan Everts, the former sand king, was left scratching his head. "Unbelievable" was how the great Everts described Herlings' devastating speed and performance.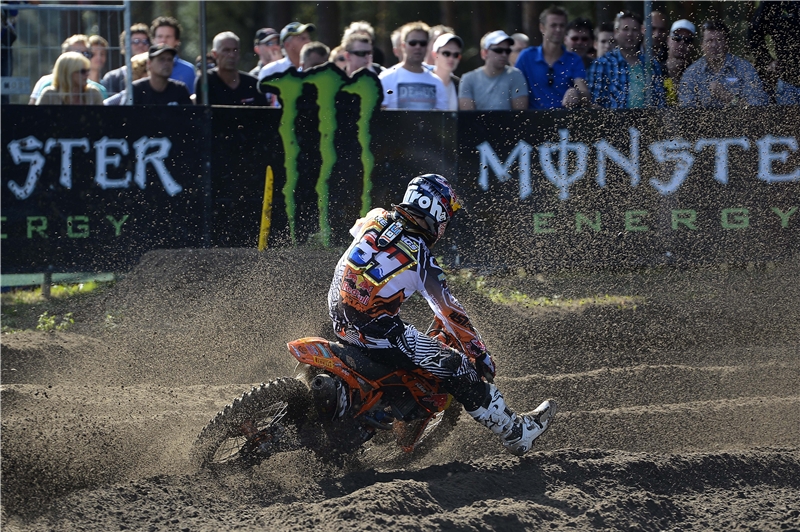 Herlings was the man in the Dutch sand of this there was no question.
The seventeen year old Dutch sensation lapped everyone bar his teammate in the first moto in a stunning display of sand riding never seen before. In race two he lapped all but three riders. His speed was quite simply mind blowing and Everts summed it up best when he said " He is an animal, the fastest man on the planet in sand." When Everts, who previously held that crown, says something like that you know Herlings is doing something incredible.
The track itself makes some of the best riders in the world look slow as they navigate their way through the deep ruts, bumps and whoops, but Herlings made it look easy as he bounced over the bumps and ran lap times consistently 5-6 seconds quicker than the next best rider. Even the great Cairoli in MX1 couldn't match the lap times set by Herlings.
Herlings of course has been pretty much unbeatable in sand before this, winning his first GP at Valkenswaard at just 15, against Roczen and Musquin. They never even got close to him then and he has been unbeatable ever since, even if he crashes he has managed to win.
However, this was Leirop, the toughest track in the GP's. Herlings had never raced a GP here, but the rougher the track the faster he went and the more he pulled away from the field. Herlings said he cannot wait until he gets to race the American's and Cairoli in Lommel. He expects Dungey to tough but the Dutchman is staying humble and saying he can't be called the best in sand until he beats Cairoli. This sets up a very exciting MXDN in three weeks time.
But what of the rest? Belgium's Jeremy Van Horebeek made it a KTM 1-2 and was the only rider not to get lapped on the Sunday.
Max Anstie had the best ride of the season and maybe of his career, going 3-3 for, you guessed it, third overall, and justifying his selection in the GB Des Nation's team.
Tommy Searle carded two fourth places, but it looks much better on paper that in was in reality. Searle coming off the high of beating Herlings at his home GP, had nothing for his main rival on this day.
Herlings now has a 65 point lead over Searle in the championship and looks set to clinch the MX2 World title at the penultimate round of the series in Italy, to give Holland its first World champion since Pedro Tragter in 1993, almost twenty years ago!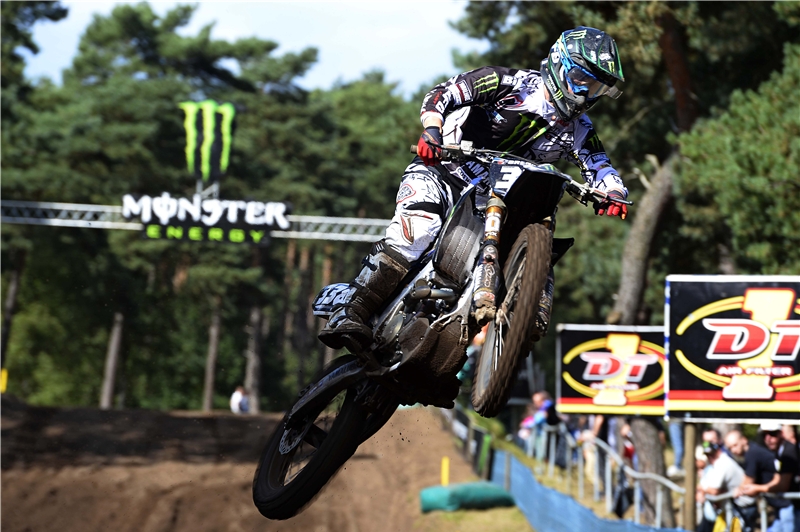 OSBORNE! OSBORNE! OSBORNE! was top ten on the day.
Zach Osborne, everyone's favourite American, flew the flag bravely all day, a 7-8 performance, on his least favourite surface, netted the American a good ninth overall.
In MX1 Cairoli won again, however a bad start in race one meant he had to catch a fleeing Max Nagl before eventually catching the German with ten minutes to go and pulling away, it was a KTM 1,2,3 as Ken de Dycker finished in third .
In race two Nagl crashed early on lap one but Cairoli was in the lead again followed closely by De Dycker. A crash by Cairoli let De Dycker get to within a couple of seconds of the Italian but Tony held on to win both motos.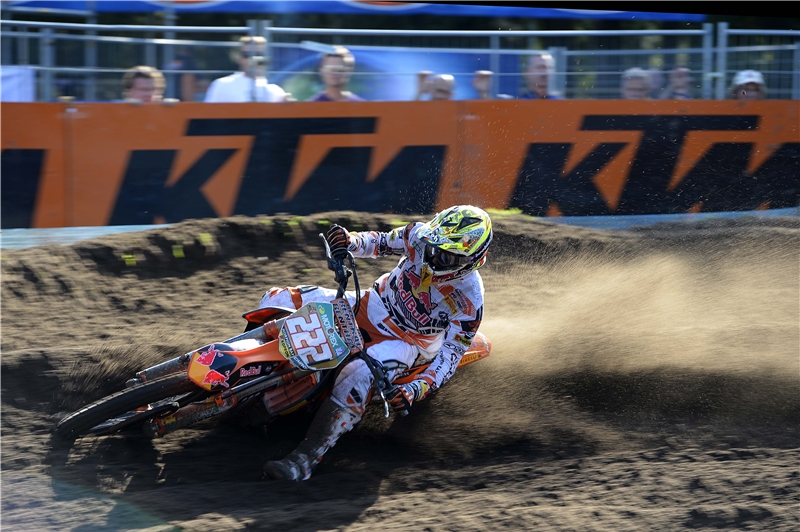 2012 just might be AC222's finest season ever.
Just how fast Cairoli can go in sand still remains to be seen, with Dungey coming to Lommel and Herlings racing him in the final moto of the year, we will see the true speed of Cairoli in sand, but will it be enough to beat Herlings? Only Tony has the answer, and it could be the race of the year.
With a 76 point lead in the series, it means Cairoli should clinch his sixth world title in his home country of Italy next weekend, what a party that will be!
Second in the championship Clement Desalle battled a hand injury from England and fought hard to a sixth overall, but his championship hopes are effectively gone and he will want to get his hand healed in a bid to lead Belgium to Nations glory in Lommel to redeem his season in just under four weeks time.
Ken De Dycker confirmed Belgium as the USA's main challenger at Lommel with second overall after two brilliant rides. The battle between De Dycker and Barcia in MX3 will be fascinating!
Estonia's Tanel Leok took his factory Suzuki to its first podium of the season in two classic hard fought come from the back Leok rides.
Scotland's Shaun Simpson was a fine fifth overall on the factory Yamaha, but was still left scratching his head at missing out on selection for the British Nations team!
The teams now head to Italy in what will be, baring a disaster championship celebrations for KTM in both MX1 and MX2 as Herlings and Cairoli should be crowned champions on the hard pack surface of Fermo, one of the old school tracks on the calendar. There couldn't be a bigger contrast in circuits from Lierop to Faenza for the riders – brutal sand to rock hard Italian concrete, but then that is the beauty of GP motocross!
MX2 Overall: 1. Herlings 50pts, 2. Van Horebeek 44pts, 3. Anstie 40pts, 4. Searle 36pts, 5. Tonus 31pts, 6. Nicholls 28pts, 7. Coldenhoff 27pts, 8. Tixier 27pts, 9. Osborne 27pts, 10. Lupino 20pts
MX2 Championship points: 1. Herlings 622pts, 2. Searle 557pts, 3. Van Horebeek 519pts, 4. Nicholls 387pts, 5. Roelants 367pts, 6. Tixier 367pts, 7. Anstie 314pts, 8. Ferrandis 272pts, 9. Butron 263pts, 10. Lupino 241pts
MX1 Overall: 1. Cairoli 50pts, 2. De Dycker 42pts, 3. Leok 38pts, 4. Bobryshev 32pts, 5. Simpson 29pts, 6. Desalle 29pts, 7. Paulin 28pts, 8. Strijbos 27pts, 9. Nagl 22pts, 10. Goncalves 20pts
MX1 Championship points: 1. Cairoli 592pts, 2. Desalle 516pts, 3. Paulin 468pts, 4. Pourcel 452pts, 5. De Dycker 446pts, 6. Strijbos 369pts, 7. Boog 355pts, 8. Leok 338pts, 9. Goncalves 315pts, 10. Simpson 271pts