Pulpmx scored a major international victory at Bercy and here's a photo report about it
Pulpmx scored a major international victory at Bercy and here's a photo report about it
Photos by Steve Giberson/Vital MX
HERE'S a link to all his Bercy stuff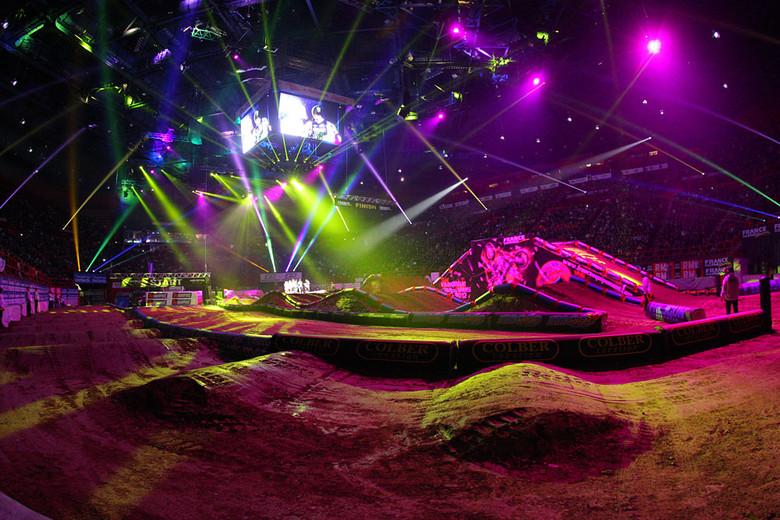 Bercy is always a great time and this year is 30 years for this historic race. Just about every great rider in history (save for Ryan Dungey & Ryan Villopoto) have raced here at some point. Like the MXDN, it's a race that everyone should hit at some point just to say that they've been there.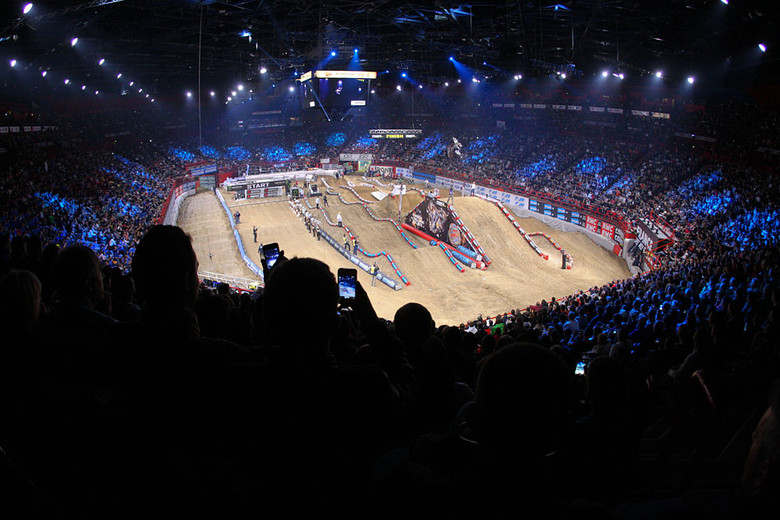 According to the promoters, it's the best attendence the race has had for five-six years as all three nights were basically sold out. Many times on Sunday afternoon, there are pockets of seats here and there but not this year. The fans saw some great racing as usual. The race is more of an arenacross than a supercross and it keeps the racing tight.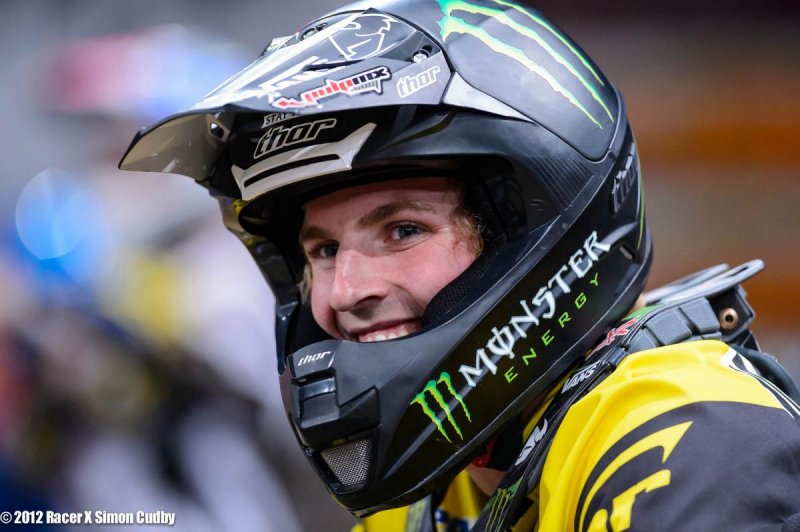 This is a Simon Cudby photo because I couldn't find a close up with GuyB's stuff. Here's the Pulpmx.com sticker on Jake Weimer's helmet and he was the big winner with 1-1-2 main event finishes to be crowned King of Bercy. Pulpmx.com is pleased and proud to be associated with Weimer's win and we like to think we had a big part of it. The cost of the sponsorship? I had to bring Jake a soy milk latte from Starbucks every single morning. Done and done.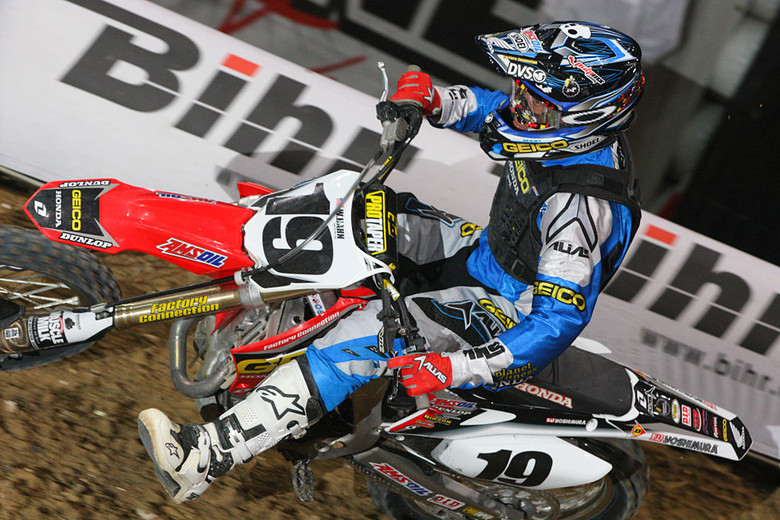 Just to cover my bases, I made the same deal with Wil Hahn as you can see in this shot but he let us down. Not really, but we're a demanding sponsor dammit. Hard to believe that Hahn had never been to Europe before and it's really tough to do awesome at Bercy when you've never done that or raced three straight nights dealing with everything that goes on. Hahn did alright, he wasn't on the top three guys level but he was consistently working his way through the pack each night, his main event starts were terrible.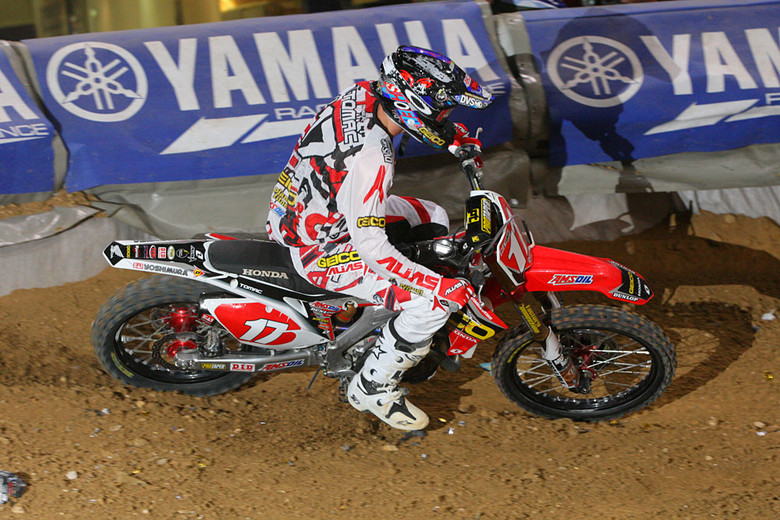 Last year it came down to Tomac and Chisholm for the KOB title and Chiz got it in a great ride. This year, it was down to Tomac and Weimer in the last main and Weimer came through with a pass on Brayton with about two laps to take the crown. So another second for Tomac but he did win the last night's main event and the Superpole all three nights. Eli can't wait to get on the 450 full-time and he looks pretty damm good on one.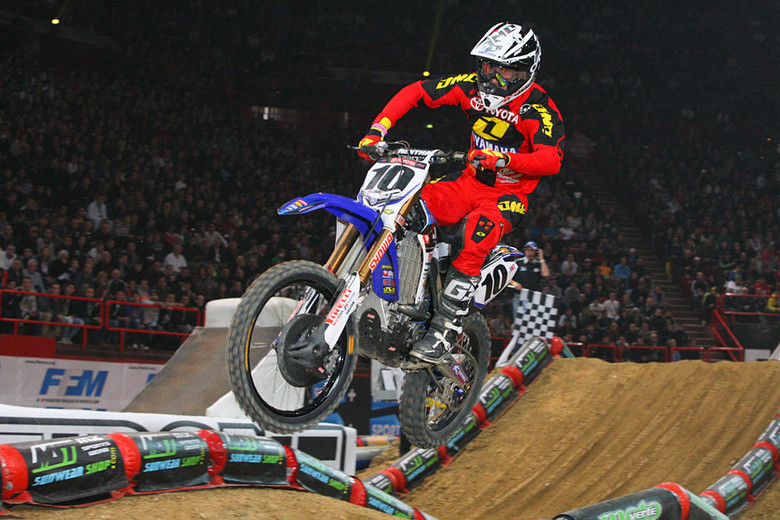 Former KOB Justin Brayton and I couldn't come to terms on a Pulpmx sponsorship package but it didn't seem to affect our friendship. Brayton was very fast but mostly rode by himself all weekend in third and it was up to him as to whether Tomac won the thing or not when he got by Weimer after Jake fell on Sunday's main event. Brayton was solid and consistent all weekend and he and the bike looked good in the whoops.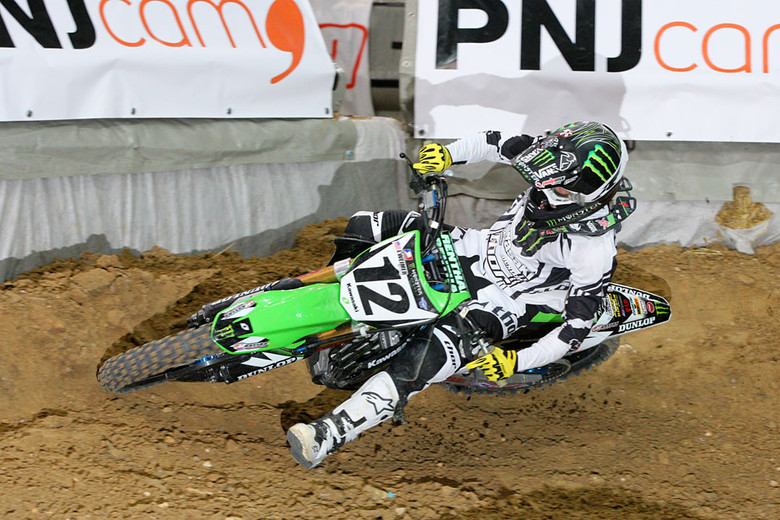 Weimer has a new number for 2013 and new goggles as well (Arnette). He'll also have new gear (Answer) real soon. No word on the Pulpmx.com sponsorship and if it keeps going or not, somehow we don't think a Starbucks a day will do it.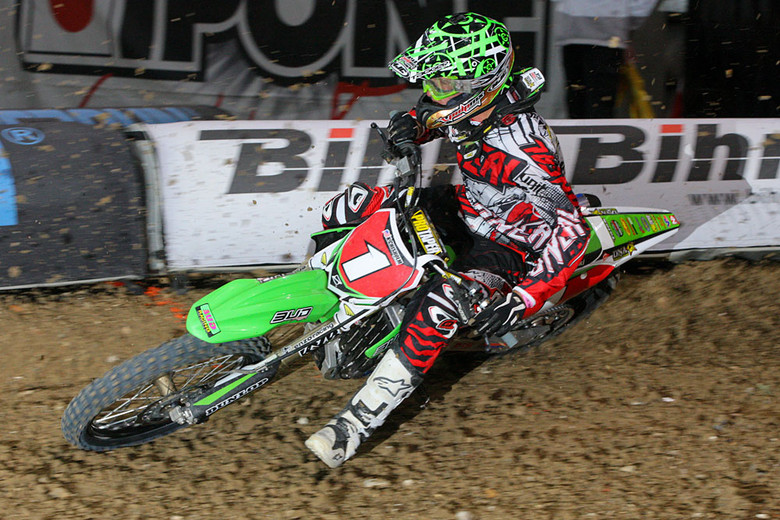 Chisholm and I made no deal for Pulpmx.com stickers and he ran two big ones on his chin bar because he's just a top notch guy. The defending KOB was good at Bercy but last year, he was equal to Weimer and Tomac and this year, he wasn't. So did they step it up or did he not ride as well? I think a little bit of both to be honest. Chisholm went 4-4 in the first two mains but then caught his foot on a tuff block in the elimination races and pulled out on Sunday. At first it seemed to be serious but initial x-rays show no break, maybe some ligament damage once he gets an MRI done. I like this look, red plates on green bike with red gear and red Pulpmx.com stickers. I think you'll see Chisholm on a Yamaha for 2013.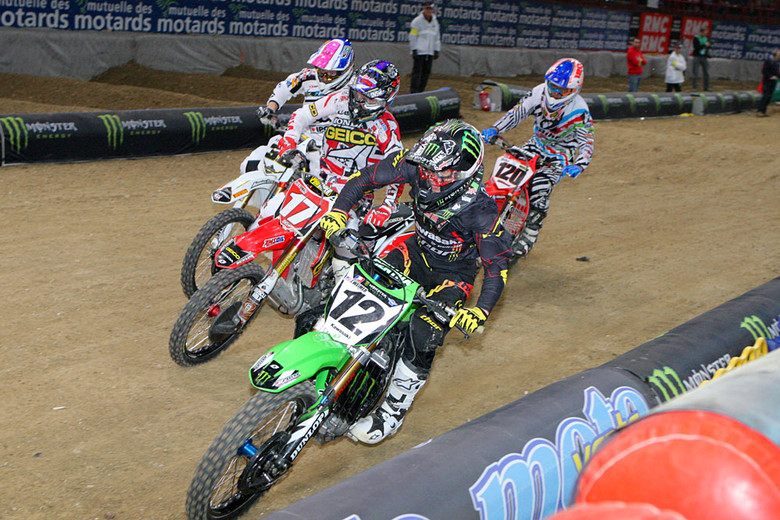 The elimination races were pretty cool. They start with 14 riders, go three laps and chop off the last 5. Then another three laps and the last five go home. Then a final with four guys and another three laps. Weimer won two out of the three of these things while Tomac won the Superpole all three nights. Could either format work in supercross? Yes!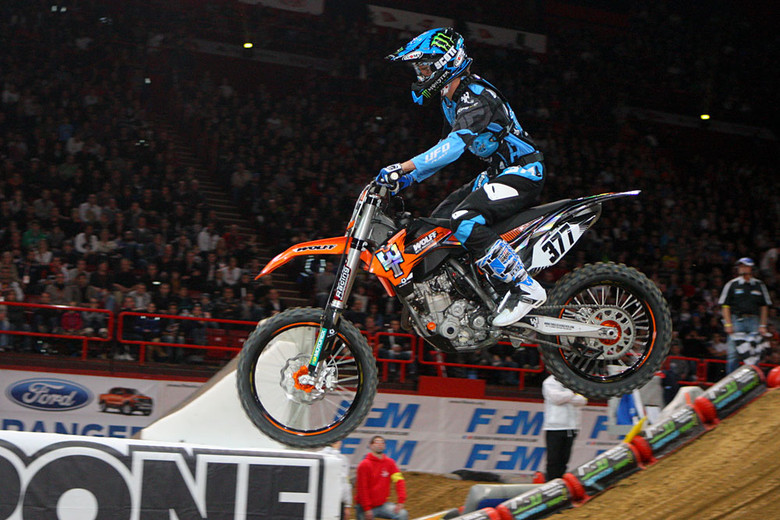 Christophe Pourcel showed up on a KTM 350 and crashed hard on Saturday night in the main knocking him out for the rest of the weekend. His bikes were stolen a week ago or so and this bike was pretty stock I guess. And it showed, he did win the heat race on Saturday but he looked bad in the whoops (maybe suspension wasn't as good as the stolen stuff?) and also looked to get pretty tired. The fans sure loved him though but he was a shell of his sx-title-winning self at Bercy. Once he recovers from his injury, he's heading to Florida to hang out for a while and maybe race, maybe not. Some European insiders think he'll never race again on either side of the ocean.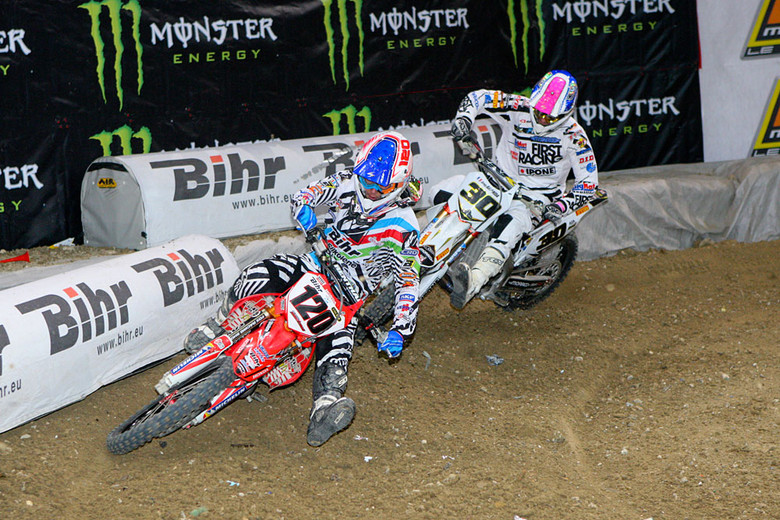 These were the two best European racers, Cedric Soubeyras is doing four or five supercrosses next year and was the best non-American by far. Gregory Aranda (#30) behind him was alright but nothing like he was in the past at Bercy when he won Superpole over Stewie a couple fo times. Aranda has signed with LS Honda for the GP's next year but it appears his old magic isn't there anymore.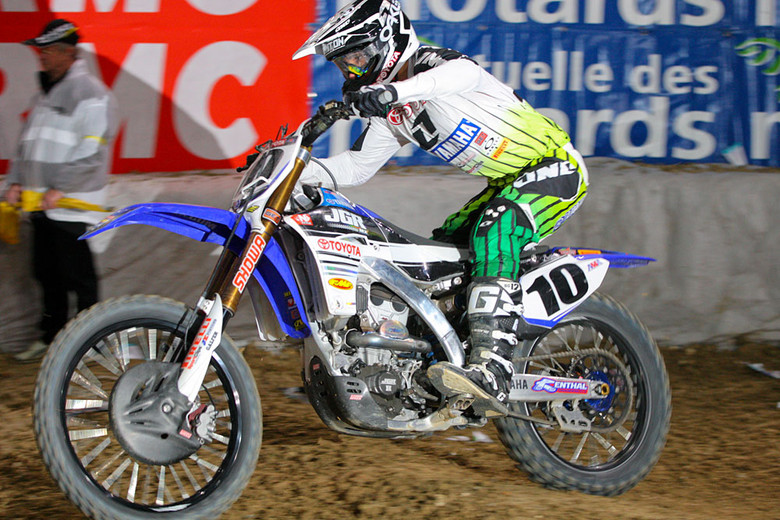 The JGR Yamaha of Brayton's is pretty trick when you start looking at it. The new exhaust wrapping around the head will be run in 2013 and I'd bet a lot of money it's production in 2014 seeing as how it was Yamaha who first approached JGR to try it. It's a weight distribution thing (like the Honda's) but I don't see it making much difference as the Yamaha already had a short muffler due to the midpipe wrapping around at the rear of the head. Maybe keep the shock cooler though as the production bike didn't have much there to help out. I told Brayton that if I rode for Oakley, I'd make it so that I ran the old school strap every single time because it's awesome.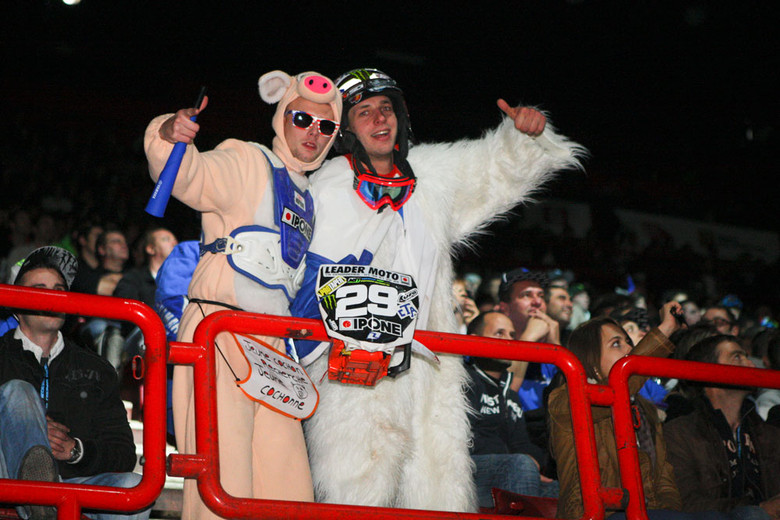 The fans at Bercy are always way, way into it. These guys dressed up every day or maybe they were different, I can't be sure. I tried to find this guy and give him a new set of X Brand goggles but couldn't find him afterwards. Probably had to go back into the home.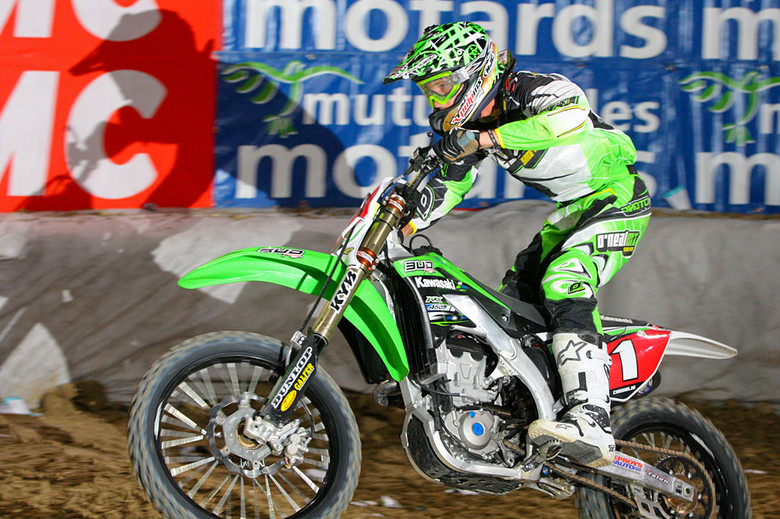 Great, great Pulpmx.com exposure from Chiz this past weekend. No, we're not going to dock his pay for not racing the last main event, he was injured.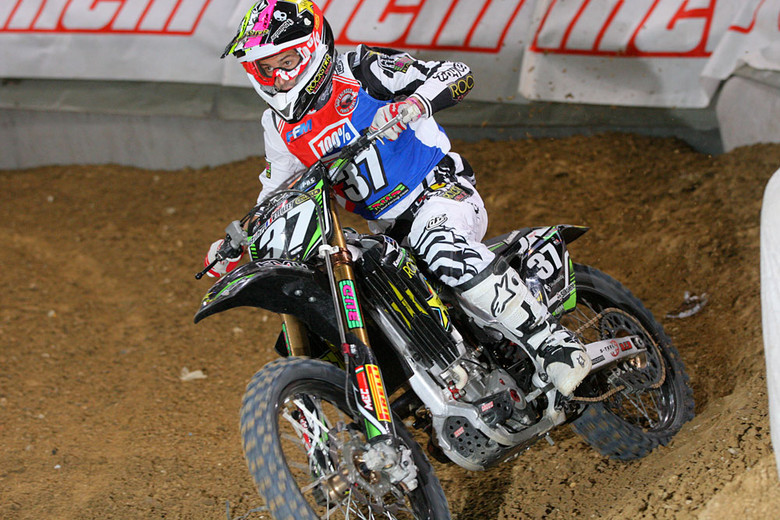 This is the next big French kid according to people who would know. Valetin Talliet rides for Bud Racing and has struggled with injury the last few years. For the first time in years, Bercy had a 250 class and this guy was the heavy favorite and fastest in practice every day. But he crashed out a couple of times and won the other four main events but it wasn't enough for the overall.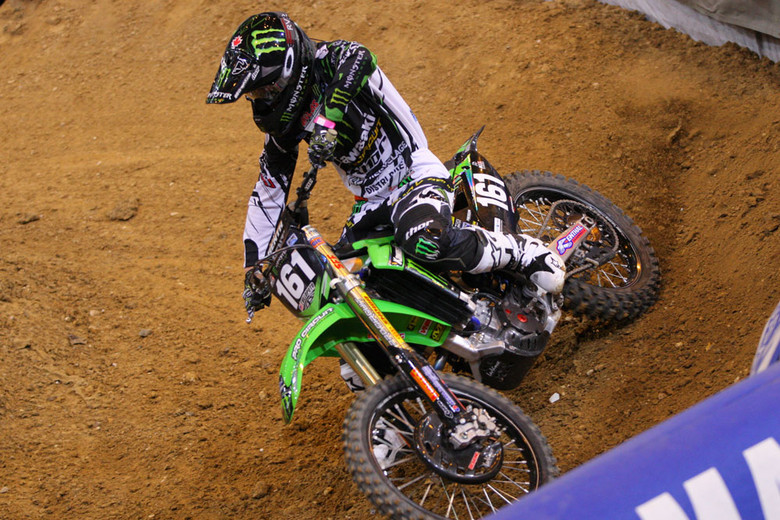 With Talliet crashing, this guy probably should have won the thing but Tyler Villopoto crashed out in the second main event on Saturday (it was two mains a night) and hurt his knee. Tyler's practices were really bad, he was barely inside the top ten but then in the main, he got a start from a crappy gate pick and at times was the only guy tripling in the 250 class.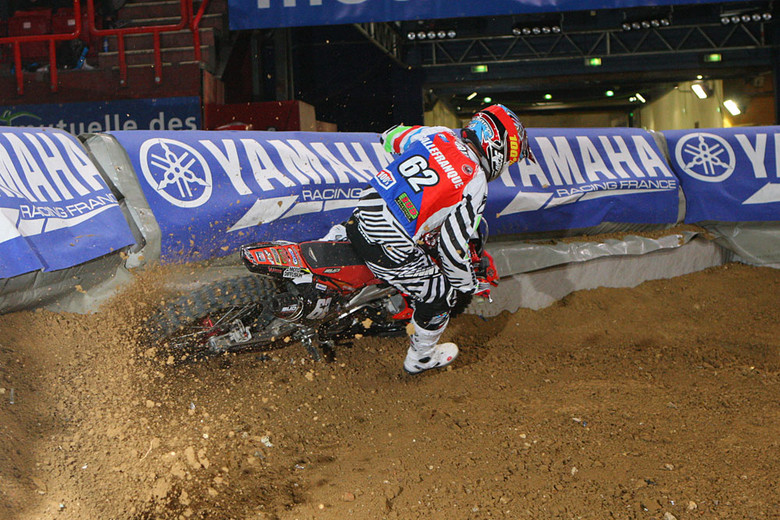 So with Talliet and Villopoto both faltering, this man here was by far the most consistent over the six main events. Josse Sallefranque took home the Prince of Bercy win with some solid rides. He wasn't the flashiest guy out there but he got it done.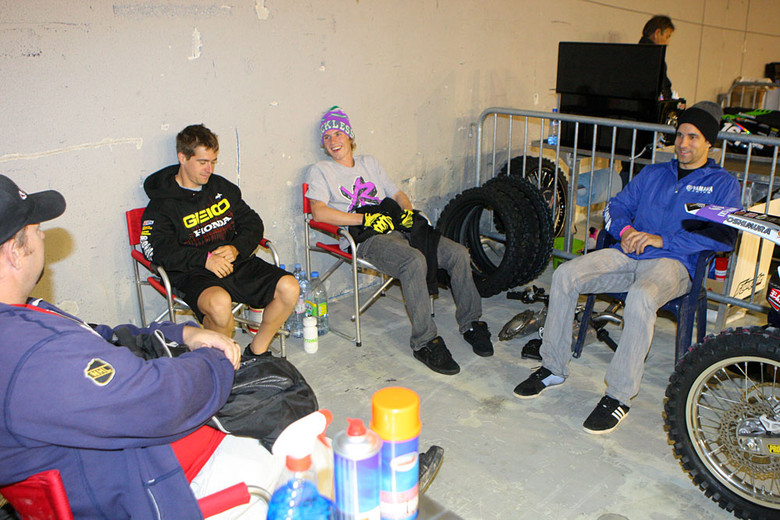 This is the best part of Bercy, just hanging out and telling stories and jokes. The Americans that went over (Brayton, Hahn, Weimer, Tomac, Chisholm) were some of the smallest-ego, nicest guys on the circuit and everyone got along great. At times, we were laughing so much that guys were in danger of missing the start of their races.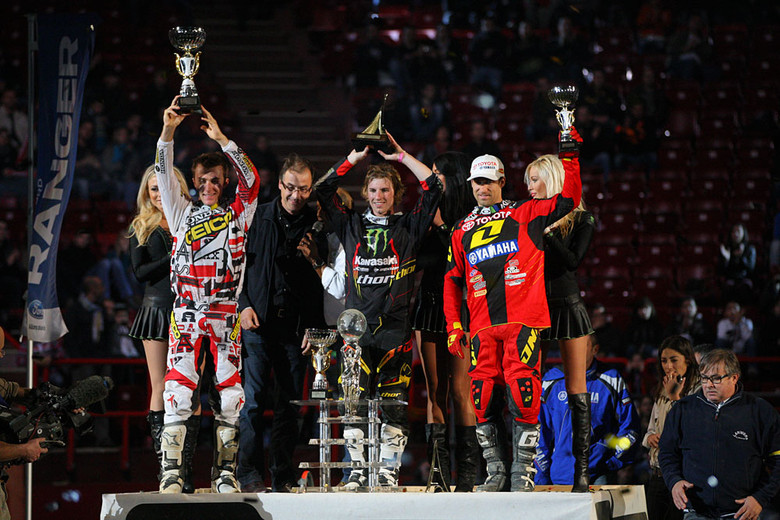 These three were in a class by themselves all weekened long whether it was the mains, the superpole, the elimination races- whatever it was, they were the top three racers with Tomac/Wiemer being a little quicker than Brayton. Bercy was awesome, I hope I get to go back next year and thanks to GuyB and Cudby for these photos.