Our ace blogger Nate Davis is back with some thoughts
Our ace blogger Nate Davis is back with some thoughts
By Nate Davis
As the countdown is on for A1 it is that time of year to reflect on the 2012 SX season. Instead of focusing on the highlights of the season, here is a Grinch like look at things we won't miss from 2012 SX season.
1.) Injuries: Hopefully this won't be a recurring subject when we look back at the 2013 Season. We saw too many injuries to the stars of our sport, but unfortunately there is nothing in the way of how these athletes compete that can prevent that. Saying that there will not be injuries in this sport is like saying a cluster of color blind hedgehogs has artistic talent. Let's just hope that 2013 will be an exciting, injury free year.
2.) Twitter Inspirational Quotes: As any fan of the sport in this new Social Media age, you most likely have a twitter account and are following the most of the sports stars. It is essential for these top athletes to find motivation day in and day out, however it's funny to me that sharing such inspirational quotes means that a rider suddenly has found the drive to work harder. Am I going to pull for someone that post what Michael Jordan was scripted to say for an for a Nike ad years ago, that has been taken out of context and now Johnny Racer has found that extra push to drive him towards a championship. I wasn't sure this guy had what it takes, forget the fact he rode over three hundred miles on a road bike that week, burned through 200 gallons of race gas finding that extra tenth of a second….. oh wait they now know something Muhammad Ali said in 1955, yep this guy is going to kill it this weekend. Maybe I am a pessimist but perhaps it's a fad that will pass quicker than an ex-lax ridden latte served to somebody that's lactose intolerant.
3.) Brett Michaels: Hopefully this year we can get somebody to scrap the Brett Michaels skit from the opening of every supercross. The lyrics to 'Get Your Ride On' are like nails on the chalkboard once you get to the final round of the series. Worse yet is watching riders trying to mouth the lyrics, most likely against their will. I saw something a while back on Twittter that B-Mayzee wanted to replace him. That'd be great, here is a homeschooled guy that likes to rap, with a grammar aptitude of an 8 year old, about partying but occasionally still rides a dirt bike. Personally if they were going to do something I think the band Main Event would be the way to go, or perhaps they could do something that's different every week based on the event like the NFL does. Long story short here's to hoping that we don't see a bandanna under a hat come Anaheim 1, that should rule out both Michaels and B-Mayzee.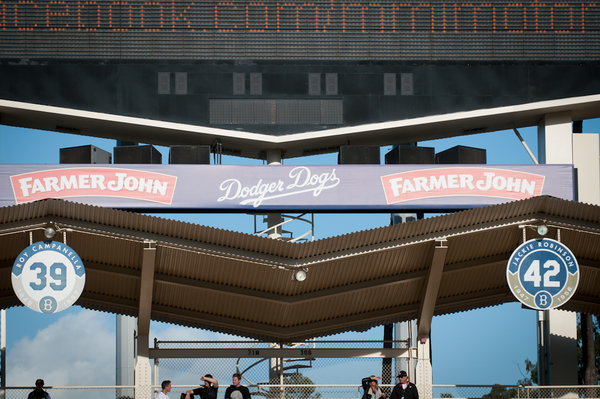 Nate's not going to miss Dodger Stadium. Photo by Lissimore
4.) LA Dodgers Stadium: This is said on hearsay, but from the sounds of it LA Dodger stadium is not the best place to take in an event that gets over at 11:00 PM on a Saturday night. Also from what I have read and heard the old facility isn't as majestic as it is made out to be, plus the Dodger Dog is something that should be dodged all together.
5.) Replacement Riders: This goes along with injuries but the truth is, despite of what is depicted, there are a lot of teams fielding riders this year. Yamaha stepping up its support across the board is good to see and has allowed opportunities for guys like Chisolm and Kiniry. With that being said if a factory rider is injured and the team begins to search out a replacement rider the crop of those riders will be slim picking. Just ask the guys over at Hart & Huntington what it was like to pack up everything and go racing week in and week out for top 15. As a fan you want Joey Privateer to get that shot, but the reality is seeing a factory bike at the back of the pack may reflect worse on that rider then if he cracked the top ten on his privateer effort. Not only that but if an acceptable rider goes for the replacement ride, the chance they can continue riding with the team they were with before are slim to none. Nobody can really do that, unless you are Nick Wey and start a Mafia.
This list may be a pessimist look back on 2012 but it is meant to shine light on what we can look forward to in 2013. I'll be anxiously awaiting the main event gate drop at A1 and hope that all the contenders will be behind the gate…. or on the gate.