We are in the midst of what could be the most competitive era in the history of our sport. With the tension high and the stakes even higher, we head into the 2013 supercross season with four of the best champions that have ever raced the series.
We are in the midst of what could be the most competitive era in the history of our sport. With the tension high and the stakes even higher, we head into the 2013 supercross season with four of the best champions that have ever raced the series.
By Paul Quesnel
Photos by Lissimore
Ryan Villopoto
Coming into the 2011 supercross season, Ryan Villopoto was considered the wild card amongst the guild of title contenders. After enduring the biggest injury he'd ever faced, RV entered his third season in the premier class with many people believing that if he didn't win the title this year, then there was a good chance it may never happen. With his career about to go one of two ways, he performed when his back was against the wall and now just two years later, Villopoto has solidified his place at the top of the sport.
The best thing RV has going for him right now is the consistency in his program. Besides the fact that he has just signed a multi-year deal with the manufacturer he's been with for his entire pro-career, he is also entering the third year of his partnership with the most successful trainer in the business, Aldon Baker. The other thing that really sets Villopoto apart from most of his competitors is his aggressiveness and ability to quickly move through the field. At the beginning of 2012, we saw some uncharacteristic mistakes made by RV in the opening rounds of the series. Nevertheless, I believe that from those mistakes we saw a display of Ryan at his greatest. By making these grandiose charges from deep in field, he served notice to everyone that his speed and ability to come through the pack had vastly improved from 2011 where he was already pretty darn impressive.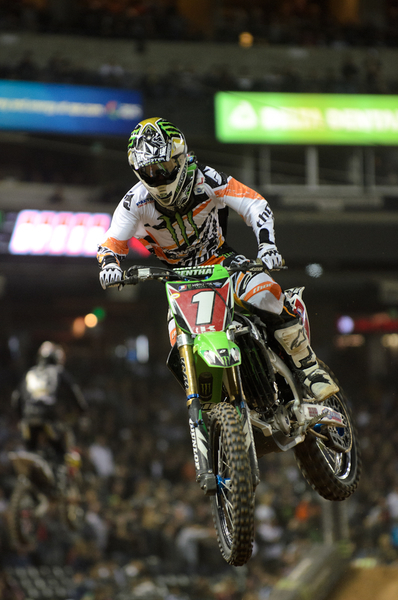 RV comes into this season as the favorite to make it three in a row
The one question mark hovering above Villopoto's head right now is how well he can comeback from his latest ACL injury. Although we have seen RV rebound from much worse in the past, the fact that Ryan has yet to fully complete a 17 round supercross series still stands. But besides his tendency for the occasional injury, there are really no more weaknesses in Villopoto's game. His mix of speed vs. consistency seems to be the perfect combination for winning championships right now and as long as he stays relatively healthy through 2013, his hopes for becoming the fourth person in supercross history to pull off the 3-peat are looking strong.
Ryan Dungey
I believe its safe to say that Ryan Dungey and KTM definitely surpassed everyone's expectations during the 2012 supercross season. However, before the duo's maiden series even began, many people just couldn't accept the thought that Dungey would be as fast on the KTM as he was on his Suzuki. Now, after having the benefit of watching the entire year play out, one could easily say that Ryan wasn't only impressive, but also that he was a actually more competitive on the new KTM in 2012 than he was in 2011 on the Suzuki.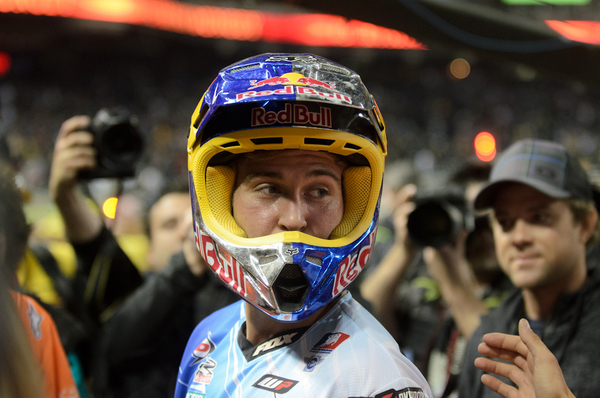 Dungey's bike will be better, but wlll he?
By winning one of the most coveted championships in all of motorcycle racing while still in his rookie season, Ryan Dungey proved to everyone that he truly belonged in the upper echelon of the sport and is planning on staying there for a long time to come. The only problem is that when you win the sports most elusive title in your first attempt, you really only have two options after that; you can either repeat as champion or you can fail to live up to the standard that you have already set for yourself. As Rick Johnson said to 16-year-old Damon Bradshaw after Bradshaw beat him in the 1988 Osaka Supercross, "Now that you've won, everyone is going to ask what happened when you don't." The only reason I bring all this up is because although Dungey has not had the same amount of success since 2010 when he won the title, I believe he has actually continued to improve with every passing year. Regardless of the results on paper, it's pretty easy to see that with every championship he doesn't win, Ryan progression as a rider (and as a person) keeps on moving forward.
Dungey's greatest attribute's are his consistency and the focus he keeps throughout the season. He keeps his attention on the championship at all times and knows that sometimes you have to lose a few battles in order to survive the war. The fact that it only took two races for Ryan to win his first main event for KTM speaks volumes about his (and KTM's) desire to win. If they come into 2013 with that same kind of determination, then I definitely wouldn't be surprised if they were holding the number one plate at the end of the year.
Chad Reed
Shunned by most of the industry after his debacle with Kawasaki, Chad Reed went against the odds before the 2011 season and decided that it was finally time to become his own boss. With most people believing that 2011 was just going to be a glorified farewell tour for Skippy, he came out and surprised everyone by successfully starting up and maintaining one of the best teams in the pits while also remaining just as competitive as he's ever been. In fact, one could even say that if anything, Chad's speed has only increased since the creation of TwoTwo motorsports.
As I've written before, I believe that Reed is the ultimate definition of the word,"racer." More than anyone else in the class, he has the ability to elevate his game when the time calls for it and as a result, the guy is always dangerous. One of the more interesting things about Chad is that back when he was going bar-to-bar with Carmichael and James in the '05-'07 era, it was pretty apparent that most of the time he just wasn't able to match their blistering pace. Nevertheless, by being consistent and minimizing the big crashes, he would always find himself right there in title contention at the end of season. What's really intriguing about all this is that ever since he started his team, Chad has shown that he has the speed to run with anyone despite the fact that he is now eligible to compete in the +30 class. For almost his whole career Reed has represented the consistent guy who could most likely beat anyone if he would just hang it out a little more and the fact that he has actually been able to make that transformation this late into his career is simply remarkable to me.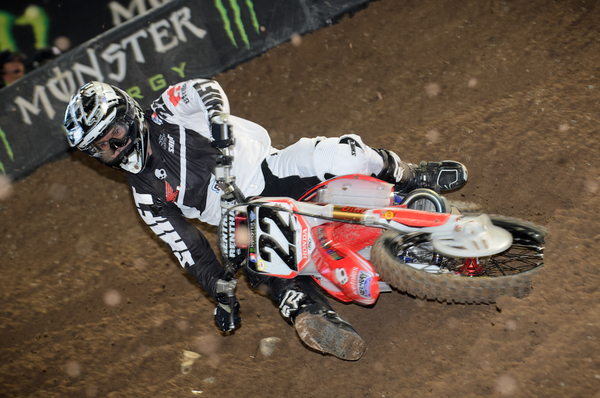 You can never count this guy out
Much like Villopoto, Chad also has a question mark over his head due to his knee injury from Dallas and if you put any stock in his results from the Monster Cup, you would have to think that he is a bit behind RV from the recovery standpoint. However, the greatest thing about Reed is his superior willpower and mental strength so in that sense, it's difficult to see the injury having any long lasting affects on him. Chad is a rider that feeds off confidence, and as long as he comes into this season believing that he can win and confident in his situation, than I for one think he has a great shot at becoming the 2013 supercross champion.
James Stewart
After being slated as the heir apparent to the great Ricky Carmcichael, everything seemed to be going according to plan for James Stewart following the '07 supercross season. He had just won his first premier class title, his main competitor had just retired from the sport, and his credentials alone suggested that there was a good chance he would break every record in SX history. Smash-cut to the present. Now entering his ninth season in the class, Bubba has only reached a fraction of the success people thought he would have by now and the James Stewart "era" has played out very differently from what everyone expected.
James Stewart is still the fastest and most talented rider on the track at any given moment in time. The thing is though, just because you have more speed and ability than everyone else on the line doesn't necessarily translate into winning championship championships. Almost the opposite of Reed, I often wonder how many more titles James could have right now if he backed down his pace in an attempt to try to stay more consistent.
When I think about the enigma that is James Stewart, I often try to think of him as if I had to race against him. And if I was Villopoto, Reed, or Dungey, I would actually not be worried by the fact that James has ditched the Yamaha and is going to be on a Suzuki this year. The JGR team seems to be a solid, well-grounded bunch of guys and I believe that if James had stayed with those guys, put his head down and somehow found a way to make that bike work, than he would be unbeatable. I don't want to say that James took the easy way out because I don't believe that's what he did, but I think that once you start running away from adversity, it becomes much easier to keep doing it in the future. Yes, for sure he will be fast on that Suzuki, but their is an intangible element at play with Stewart's tendency to crash and in my opinion, he had a better chance at fixing that with the help of the Gibbs family rather than Suzuki.
Whether you love or hate the guy, you have to respect James Stewart for being one of baddest mothers to ever race a supercross track. Regardless of if he can win the title in 2013 or not, we should all try to appreciate simply watching James ride at this point in his career because once he is gone, there probably won't be a more exciting character for a long time to come.