The 2013 Supercross season starts this Saturday, where did the time go?
The 2013 Supercross season starts this Saturday, where did the time go?
Man, where did the off-season go? Without a doubt, for myself anyways, this Saturday night's Anaheim 1 race is coming up, really, really fast. Maybe it's the no hockey (it's a sport played on frozen water- look it up) that made it go by fast- I'm usually quite distracted by that league for at least a month- but whatever it is, it seems like Lake Elsinore national wasn't that long ago.
I guess if you're me, a freelance media dude, you have the Motocross des Nations in Belgium for five days total time, the Monster Energy Cup, Bercy SX in Paris for another five days, Geneva Supercross for four days and there's two weeks gone just like that. I'm not sure if that's it or not but no matter A1 is here and the process starts anew.
Booking flights, hotels, rental cars- late nights of typing and generally lots of work start now. I'm not complaining (one of my new years resolutions is to stop griping so much on Twitter about travel- I love my gig but it's also maddening to travel at times and it's times like that I feel like sharing it on Twitter), it's an awesome job but it seems like I didn't have any time to catch my breath and here we are again.
Anaheim 1 is always pretty cool, it's goose bump time before the 450 main event gate drops. It's new numbers, new teams, new gear and everyone has a new attitude about their racing season. Soon enough reality sets in (usually around St Louis) and everyone takes his rightful place but A1? Yeah, everyone's a winner baby.
If you're going to A1, get there early. Parking is hard to come by later, you get to watch all three practices from each class, the setting sun sets a nice scene inside the stadium and you'll know what to expect later that night. The pits are a happening place to be with all the new looks and these days, there are so many interactive displays going on that you won't be bored. It's Southern California in January, what could possibly be bad about that?
If you're really lucky, see if you can secure a pass for the Knothole club, which is in the right field corner of Anaheim Stadium. It's some sort of club for cool people and you'll see reality TV stars, hot girls and Jeremy McGrath up there. This is just what I've heard though, I'll be in the press box up behind the home plate with the rest of the press and people who think they're important but really aren't.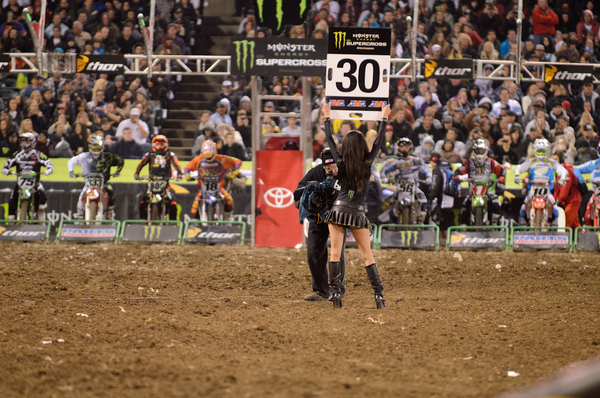 Let's get ready to rumble! Photo by Lissimore
Everyone who is anyone in the supercross world is at Anaheim 1. All the sponsors, all the industry people- heck even the racers that are racing east coast 250's are there signing autographs and hanging out. Look carefully early in the morning as the sponsors deliver the final graphics for the bike, the wraps for the rigs are often done early this morning and hand carried race exhaust pipes are brought over to put on the race bike which in itself is new.
Speaking of the bike, the new frame is tough to get used to for the racers. Everything about the race bike is stiff and new. Seat foam is still new, pegs are ultra-sharp and even the suspension feels a little more rigid as it's brand new stuff. The riders generally break in the race bike a few days before the race but that's not much time. More than a few racers I worked for hated the feel of a new bike. Knee braces and boots that are new are yet another thing I've heard the guys whine about mention.
One thing that I will give the racers is that it's really hard for many of the racers to focus on concentrate on the race at hand with the constant pulling and tugging they get from teams and sponsors. It's just different than, say, St Louis. The ability to not be overwhelmed back in the pits or on the track is a key for these guys. If A1 doesn't go your way, don't worry- you have another 16 races to go. It's a total cliché (and one that you'll hear this weekend) but it's totally true- you can't win the title at A1 but you can lose it.
So enjoy this weekend's race (live on SpeedTV by the way, the folks at Feld have really made it happen for live sx on tv this year) and remember to pace yourself and not jump to any conclusions about the season off of Anaheim. That's our job to do.
The ride begins again.