Scott Motorsports: Inside JAB Motorsports with Matt Lemoine.


Teams like JAB Motorsports are the lifeblood of our sport. Scott Motorsports and we at PulpMX realize this and we will use this weekly look into the JAB Motorsports Team to make sure they receive a deserved consistent spotlight through the 2013 season. Scott Motorsports is a proud sponsor of the JAB Motorsports Team and keeps team members Matt Lemoine, Gannon Audette and Vann Martin fully equipped from head to toe.
Swizcore – Tell me about JAB Motorsports, how did the whole deal come together?
Matt – It pretty much stayed from last year. My Dad was Team Manager last year and I've had so many people who have been behind me for so long that wanted to stay on-board with me; we have an awesome new guy on-board named Adam Smith from Houston and John Mitchell handles my motors and suspension. It's great cause we can do this deal our own way, the way that we like it.
So far everything has been awesome, we had our photo shoot with Scott Motorsports who stepped in and is a big part of the team and with my Dad staying involved and everybody doing their part it's been great. Hopefully it's a good year for us.
How does it feel at this point of the pre-season compared to last when the team was similar, though a little less in your and Bruce's control?
We are totally ready to race already where last year it took a little while to get things going because starting up things from scratch is always hard. Stuff is getting packed this weekend and the truck is heading out to California, we're ready to go. Everything is dialed in, I'm ready to get on the gate at A1.
I'm not gonna lie, I'm pretty sad the off-season is already over because it seems like just yesterday I was on a cruise on vacation after outdoors and now it's already here again but at the same time I'm excited. I'm stoked to start racing again and it's crazy that this year I get to race west coast and east coast. I'm used to people always asking what coast I'm racing and this year I'm like "dude, I'm ridin' all of em".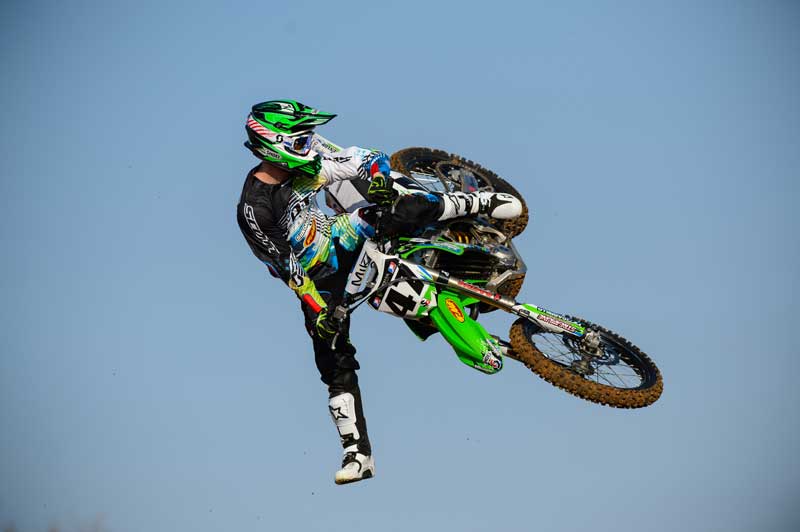 Lemoine's got a new number, a new size of bike but the same old jumping ability
What's the structure of the team?
Well Adam Smith is the team owner, he's awesome, my Dad is the Team Manager, John Mitchell does the suspension and motors and our other riders are Gannon Audette and Vann Martin.
Is Vann ready to go yet?(He recently dislocated his wrist)
He'll be ready for the East Coast 250SX rounds. We don't talk about his injury much, I don't want to bum him out so we just talk about guns and hunting stuff haha.
Your Dad has been with you forever but we don't hear the same controversy regarding Dad's in the pro-racer program like we do with so many others. What do you think the dynamic is with you guys that it's never discussed as a problem?
It's different, my Dad has always been there and especially last year and this year, I couldn't even think of racing a motorcycle if he wasn't there. If he wasn't contacting people and getting everything lined up and working on my bike; I couldn't be riding. I appreciate him a lot and we get along fine. We definitely bump heads like everyone would but we take it and put it behind us and move on quickly.
He believes in me more than anyone else does, that's for sure. It's good to have him, I'm glad to have him in the program and it keeps it all in the family which makes it even more special when good things happen.
It sounds like he's there to support you in every way without the added pressure of your results benefitting his livelihood.
Yeah, he definitely wants to see me do good and he knows all that I put into it because he lives right down the road so, if I have an off-day he's just like "don't worry about it, we'll get better next time". So rather than adding pressure I feel like he makes me more comfortable. It's much better than having a team manager telling me "you need to go out there and win, if you don't win, you're not gonna race next weekend."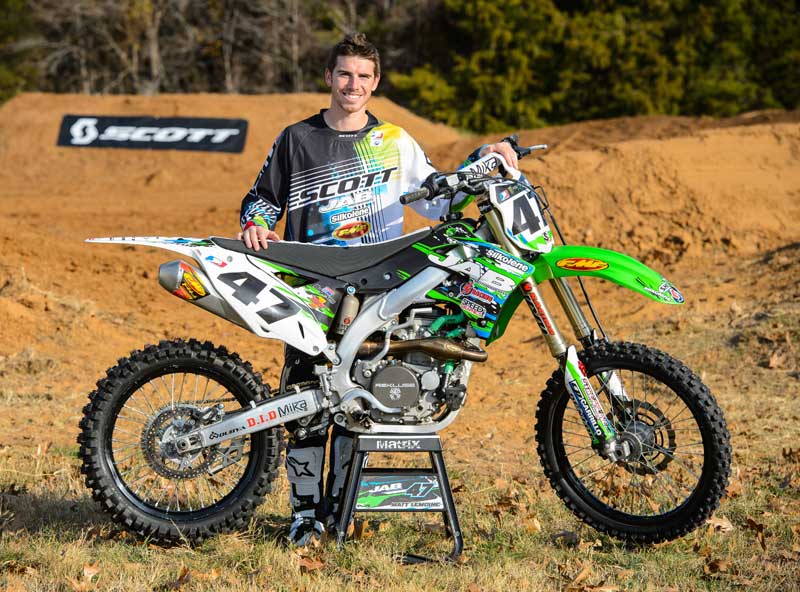 Lemoine's looking forward to a big year in 2013 on the JAB Motorsports team.
So how about the 450 jump to full-time now? What's going on in your head, is it all excitement or nerves?
There's definitely nerves just because you're racing soooo many fast guys y'know? It's crazy just looking at the top 20 guys in the main event. Every last one of them is just– they're all bad dudes! So, it's definitely nerves but I know I can beat a lot of those guys and that's gonna be the biggest thing for me. Just taking it one step at a time from practice, to next practice, see how it goes and definitely don't count my chickens before they hatch.
It seemed like last year early-on, the 450 class looked a little more like the carnage of the 250 class when even top guys started realizing how hard it was to qualify. The field is only getting deeper, do you see that continuing this year?
Yeah but the crazy thing is, the first few rounds every year seem that way. The first few rounds of west coast or even east coast, everyone seems to have something to prove and everything goes crazy. People ride over their heads, some people ride out of control, other guys want to clean somebody out; it's just how it is and it's something you just gotta try to minimize. Keep yourself out of bad positions, staying smart and riding smart which can be hard because some people don't do that.
I think the 450 class has a little more respect than the 250 class but like you said, it's gonna be tough. Everyone's gonna be charging hard so I just gotta get in there and mix it up with those guys.
So what are you setting at priority #1 for Anaheim One?
My goal for Anaheim One is to go in there and just see where I stand. I've been putting in a lot of work, as much time as I can on and off the bike, so I'm just going to go and see what result comes of that.
If that is a top ten finish in the main or merely squeaking into the main via the LCQ, will either of those matter to you since it's round-one and knowing how deep the field is, or is it just a matter of getting in there, your first 450SX race, and leaving 100% healthy?
Yeah that's definitely what I'm looking for. It doesn't matter, squeaking in or winning the heat race. Just going in and getting experience. Our heat races are longer, the main is longer, the bikes are faster, a far deeper class, more experienced guys racing so, just getting in there and getting my feet wet. I know what I'm capable of, so I just want to go out there and do it.
I just want to have fun, to go out there and enjoy it. I don't need to put any more stress on me that I don't need. I've just been having so much fun riding loose and whipping it. It makes a world of difference, rather than looking at it like work or a job. I'm so excited to go race and keep it fun and if it's not fun, I don't want to do it anymore.
Will your fiancé Hannah be coming to all the rounds?
She'll come to many of them but not all, definitely the rounds closer to home. She'll be at A1 though.
Well if you nail down a top 5 at A1 you better make sure she comes to every round. You don't want to leave that goodluck charm at home.
Ha, yeah for sure. She's actually never been to SoCal so she's excited to check it out.
So how do you feel going from the low-rider to the high-rider now?(Matt recently replaced the lowering kit on his truck with a lift kit)
Dude, I love it! I can't believe I lowered it in the first place. It's so sick now, especially right now after it snowed. I actually went to our school parking lot and was doing donuts, where before I wouldn't even be able to drive it. I can't thank my buddies Cody and Andy enough for doing the swap for me and saving me a bunch of money. I'm pumped on it.
I drove Hannah's Civic last night–
It probably felt like a go-cart!
Yeah, it did dude, it was so small! I was going 70MPH and it felt like I was doing 90MPH because her car is right down on on the road compared to my truck now.
Best of luck next weekend Matt!
Hell yeah, lets get it goin'!