By: Moser
Photos by: Jamie Lissimore
By: Moser
Photos by: Jamie Lissimore
Well nobody got shot in Oakland that much we know of at least, Swizcore did hear some "shots fired" though. Off hand I don't know either of the two qualifiers out of the SX2 LCQ but there is a high chanciblity the 2nd place guy Rusk was featured in Just Short last year, which I'm sure you all read. The SX1 class was stacked once again Tickle, Albertson, Blose, Peick, Pipes (hehehe Pipes) and Partridge. Obviously happy with the Just Short coverage he's been getting Partridge put in a very strong effort to once again come up Just Short this weekend doing everything he could to appear like he wanted to pass Albertson but never actually pulling the trigger. He did such an inspiring job that he crashed "trying" to pass for a transfer spot.
Seriously though shout out to Partridge who you can see really wants it this season and is doing everything he can to try to get into the main event. He's been very consistent this season and staying with that theme he again tried to get in a fight this weekend this time trying to defend the honor of Mrs. Millsaps who was trying to make it down to the podium. I feel like this altercation has brought Partridge and I a little bit closer as I've also gotten into altercations with the rent a cop security at the races that stop me when I'm trying to get into areas of the pits and/or track I'm not allowed in. I almost forgot, because "we" here at Just Short are always striving to improve ourselves we'll now be featuring some Instagram pictures of the riders featured in Just Short to give us a glimpse into their life.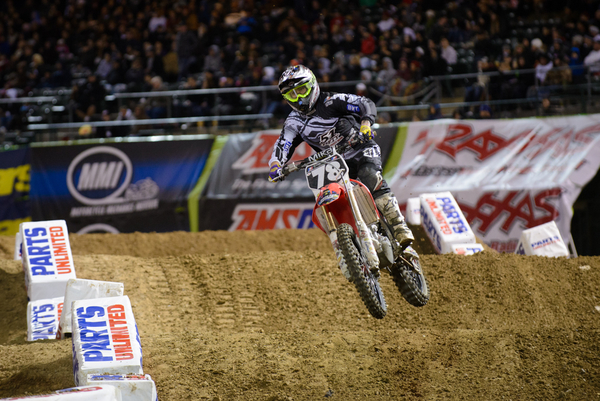 Now he's the Champion of a different type of doubles.
#78 Scott Champion La Jolla, CA, Honda CRF 250, 51fifty Energy, Allied Packaging, Unit
When I think of Scott Champion I immediately think of motorboating, I can't help it it's my natural male instinct. So for those of you that have been living under a rock Scotty was dating Erin Normoyle for several years. If you don't know who she is do yourself a favor and a google image search, you won't regret it. Erin Normoyle is an Aussie and me mate a David O'Rourke even worked with her for a bit in a motorcycle shop and said she was a nice sheila. Erin rode WMX and reading between the lines I'm assuming she had no problems finding sponsors based on her "likeability" to marketers (pretty face). Long story SHORT she ends up in the red white and blue of the USofA doing some racing in WMA, then transitioned to pit reporter and starts dating Scotty. They were together for quite awhile, years I think, if I was a real journalist I would figure it out but it doesn't really matter at this point because they broke up.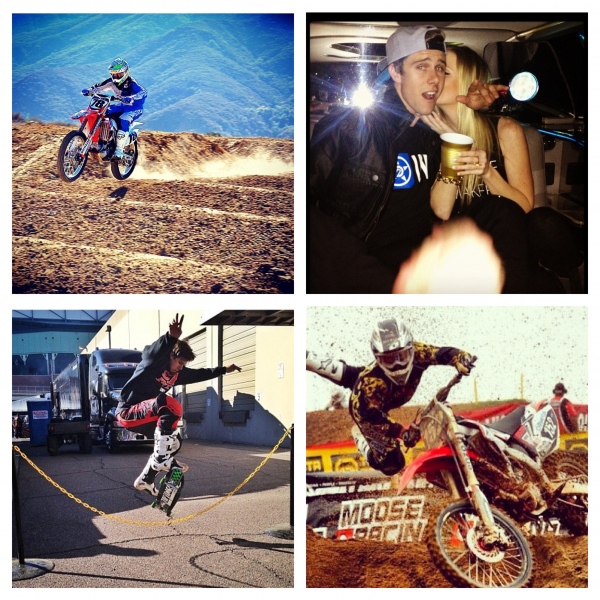 Looks like Scotty is moving on from Erin just fine, in moto boots that's more than a legit ollie, if he can stay on the bike maybe he has a chance to break through.
Honestly I probably wouldn't know who Scotty if he had not dated Erin, such is the curse of dating a hot girl. In defense of Scotty whom I've featured in Just Short before he has a badass last name and also got to ride a factory Yamaha 450 at Washougal one year for a one off ride (it didn't go well). Scotty is a fast privateer and he finds himself in that limbo like so many other riders, fast but not quite fast enough, some solid rides but no "break out" enough rides to secure that support ride.
The privateers are some of the most unappreciated people in the sport, followed only by mechanics and the AMA but the privateers are the grassroots of the sport and they all have a lot of heart in my eyes. Here is a link to a cool video @_kylecowling did featuring both Scotty and the ex girlfriend Erin.
http://vurbmoto.com/videos/privateer-ft-scott-champion/7873/
Tapia's on a 450, who knew?!
#95 Tevin Tapia, Menifee, CA, Honda CRF 250, trustimplants.com
Tapia grew up in the Northwest near my hometown of Seattle. When I was putting a hurt on the 125 C class, Tapia was doing the same in the 50cc and 65cc classes. I never meet or hung out with the kid but I'm sure I saw him sitting in the dirt between motorhomes making little motorcycle tracks for his toys and back in those days we still stad braaaaaaapppp, the good old days. Tapia was one of the top amateurs for his age group up until he went pro, but that's a delicate and important step. Without the right support and a little luck it's an uphill battle and Tapia has been headed uphill ever since he went pro. One Swizcore was quoted saying "Tapias on a 450 now?" and I was just as surprised. I don't know the reason for Tapia moving up to the 450 class but by the best I can tell it's a full privateer effort.
You can imagine my excitement when I saw that Tapias sponsor was www.trustimplants.combut lust it was too good to be true and not nearly as perky as I initially anticipated it to be. I'm speculating here so don't quote me but I'm guessing Tapia isn't just a supporter of trustimplants.com but he's also a satisfied customer. After checking out Tapias sponsor and then checking it again and again in disapointment, thinking I typed it in wrong I gave up and looked at his website www.tevintapiamx.com I was very impressed with the content provided on Tapias website, weekly updates, easy to navigate, sponsors displayed well.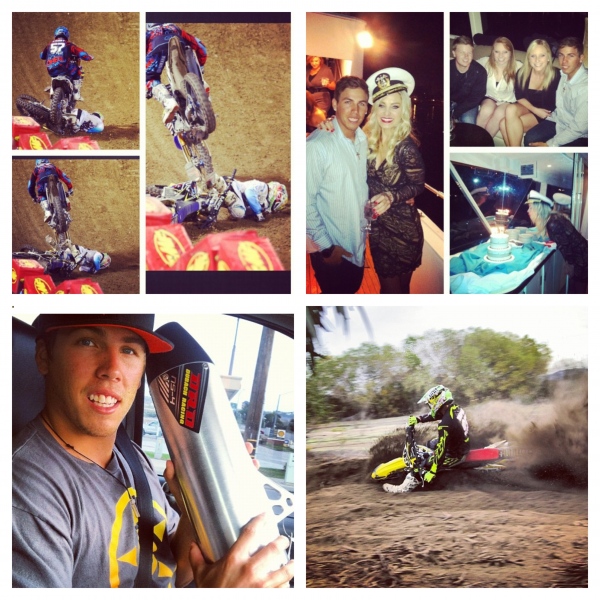 Tapia getting ran over by Lamay in Oakland good to see the N.W. guys sticking together, the irony of this pic is Tapia is posing with Erin Normoyle wearing a captains hat on her 30th birthday, and of course double fisting a Dr. D pipe.
When I asked Tapia who maintained and updated the site he said @motodz took care of all of it. @motodz only follows 8 people none of which are @AndrewShortMX29 so I retract my previous compliments about their work. Check out Tapias website and @motodz if you want to know what makes a good website for any rider amateur or pro. Tapia hasn't made a main event yet this season and has found himself on the ground and/or ran over, more than once. I can't not pull for a guy that is from the N.W. so I only wish Tapia the best and I'll be keeping an eye out to see if the #95 makes a main event.
Thanks for reading this Short recognition of the guys that almost made it. See you next week, Moser
Please send all comments to jasonw@racerxill.com