Teams like JAB Motorsports are the lifeblood of our sport.

Teams like JAB Motorsports are the lifeblood of our sport. Scott Motorsports and we at PulpMX realize this and we will use this weekly look into the JAB Motorsports Team to make sure they receive a deserved consistent spotlight through the 2013 season. Scott Motorsports is a proud sponsor of the JAB Motorsports Team and keeps team members Matt Lemoine, Gannon Audette and Vann Martin fully equipped from head to toe.

Photos By: THE James Lissimore
This week we wanted to give you a closer look into the actual look of the JAB team and what the outfit has built around Matt, Vann and Gannon. Yup, that's right, the JAB Team isn't a one-man show, they have Gannon Audette and Vann Martin in the program as well contesting the 250SX East Coast regional series.
There is tons of talk in the sport right now about the increased expenses to go racing in this day and age and those criticisms are VERY real. Not only are they real, they are scary when Teams like JWR, JDR and Chapparal are folding and treating contracts like the often criticized joke they are in this sport. That's not a slight at those teams. To go racing at the elite level, with elite riders, their salaries and the equipment they desire- it gets expensive; fast. Moving forward though, I expect more teams like JAB to grow. Mimicing their tidy, though well-equipped approach to pro racing.
Just look at what this team has put together. Aspiring pro's and currently over-budget teams would be wise to take a cue from the JAB team. As I said, they are very much the new incarnation of the privateer team. They are lean, focused and showing that the privateer effort is still an option; and in the current state of the sport, maybe the smartest assemblage of a team in the pits. Cut out the fat and go racing with what is needed.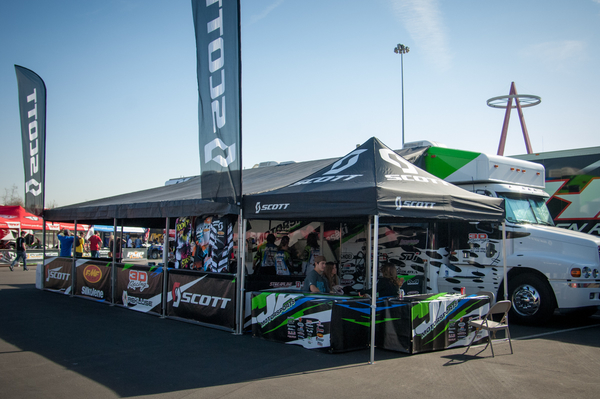 The new face of the Privateer effort.
"The Facilitator" heading back from Tech Inspection.
The JAB bike looks very trick.
Love that wide-angle, Liss.
Prime sponsor real-estate.
Ever heard of Mika Metals? You have now. Check em out.
Great composition MR. Lissimore.
Props to Matt for running great looking numbers.
Ride Engineering oversized brakes. You need 'em to stop these four strokes in SX.
These MotoTassinari airboots are very popular.
Dubya has been a proud sponsor of Matt for years.
Check out MikaMetals.com.
JM Motors and Suspension dial-in Matt's Kawi.
"Under the Privateer Awning" Sounds just as good as "factory".
Scott is a major backer of this whole team.
Liss getting artsy on the components.