Blogger Isaac Scoggin is back with a look at who's stars are rising and who's falling
Blogger Isaac Scoggin is back with a look at who's stars are rising and who's falling
By This is a wonderful land where hard work never goes unnoticed, and being the little guy only means you are waiting for the right Goliath to come along, and pick a fight with you. Wait, I have my time frame all confused here…yeah, that was fifty years ago and even beyond that. Time has changed, and over the years goals have gotten bigger, and entertainment has become a central focus. Not only do we want to be entertained, but now, in this day and age, we want to be the entertainment. A superstar is the new universal goal shared by this great Nation, and the world over (Gangnam style). No longer is it good enough to have a good job, making good money, raising a good family with good values, and just plain being "good" is not good enough. Now we want stardom, we want money, fame, and these have been easily achieved without work or even talent. Kim Kardashian inspires many by being a terrible human; Charlie Sheen magnetizes the masses with idiocracy (which many may apply to the upper level management of this country), and what can be said about the talk shows where stars should go to die, but instead flourish. But that is our new way of life; the more fake the reality, the better, the more drama, the better, the more Oprah, the better, the more shows about how our Nation is just searching high and low for stars, the better. I vote that this grand era in time be looked back upon with vanity, and I request it be labeled the "Stardumb" era. This era of seeking "stardumb" infiltrates even the ranks of our beloved racing, and although talent and hard work are indeed necessary to achieve greatness, the guidelines are set up at an early age for riders to sign contracts, gear deals, and even do photo shoots. The truth is that we are jumping the gun with our fear of missing out on the next big thing. You have to start earlier, work harder, walk and talk like a seasoned veteran, be prim and polished to shine, no exceptions. Oh, and no fun like your non-moto friends are having, you can't be a teenager, and injuries may ruin your life…still want to be a star?
I know what you are thinking, that is the way everything is now, you just have to be committed from day one to any sport, or any job, or else you won't be good enough. Being a star is a must, and that falls on us as a society. We want more, more, more, and we aren't impressed by mere action, drama, romance, or simple comedy. We want to be blown away by wild pulsating action, death defying drama, romance that makes you want to pull your heart out, hold it in your hands and feel it beat, and finally, we want to literally laugh so hard we poop ourselves. Then we want someone else to clean it up. What does this have to do with Anaheim 3, round 5 of the Monster Energy Supercross Series? Well, our sport is full of stars, and full of minute, little faint, barely visible lights that are obscured by the brighter ones that nearly blind us. We as fans try to look away in fear of being consumed by the sunspot beginning to fester in our eyes, and by the warm rays exuded by those stars, but rarely do we hold those fainter stars long enough in our sights to understand just how luminous they really are. Ironically, we all want to be left sightless by our own brightest star. I believe, at this point in time, we need to avert our eyes from their fixed position, and locate new points of interest among the galaxy. There are plenty of stars who deserve our attention, and now it is our job to give them what they deserve, after all, haven't they shown brighter in 2013 than ever before?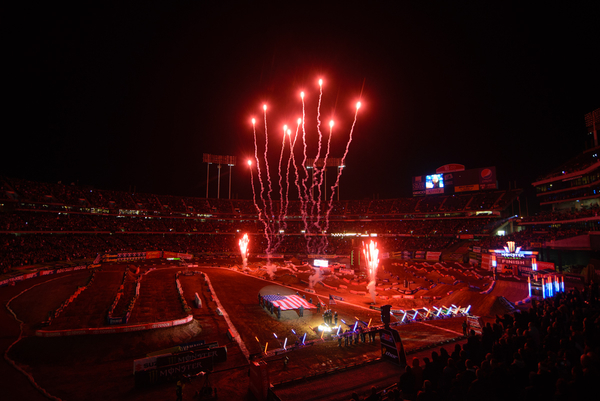 Oakland opening ceremonies. Sort of looks like a star right? Lissimore photo
The lights have been bright for the consistent frontrunners of the 250 class, and once again it remains a matter of what order, and not who, will finish in the top three. Roczen, Tomac, and Seely have outclassed the field, but Davalos, and Anderson have displayed speed comparable to them on various occasions. These stars have all been in our gaze, but Canada, Politelli, Baker, Savatgy, Cunningham, and Nelson (aside from a few holeshots) have been lurking outside of our focus area. Canada came off of a consistent year last year, and has been anything but consistent this season; however, he possesses the speed to run top 5, and in this class speed is as valuable as light itself. With any luck at all he will find himself on the podium by seasons end, and possibly on a team with factory backing. I am not sure he wants to leave the team he is currently on as his MotoConcepts Racing by Smartop team has, among other things, hot tubs. If they could get a hot tube brewing in the pits with the riders, and imagine this new concept, girls in bikinis, who would leave? I mean that sounds pretty factory right there. This is just a theory, but Canada needs to get his head back in the game, and hopefully he will be racing next weekend. It was a smart decision to sit out after having his bell rung, and I am willing to bet his night would have been better had he a hot tub to go back to. It would have been a bright spot on an otherwise glooming night.
The rest of the riders fighting hard for their fair share of the limelight have been either working from the back, or starting up front, but experienced a few hiccups that escorted them rearwards. Baker, riding the never evolving Yamaha 250f, has run close to the front, but has bent his shifter one race, and otherwise just struggled with the intensity it takes to remain up front. At the last Anaheim he pushed hard the entire time, and kept his mistakes in check long enough to get a 6th. A ride worth shedding some light on I think, he even raced Tomac hard for a few laps before succumbing to his pressure. Savatgy is a rookie with the JDR team that is soon to be no more. He is riding for a job I assume, and it is working, as he is pulling great starts. He even held his own up front for several laps, but eventually faltered, and appeared to run out of gas physically. His future looks bright, and any team would be lucky to have him. Cunningham, another rider of the blue express, has gotten terrible starts this entire series, but his speed has increased as the series nears its light year long break. He rides with a reckless precision, much like a bull chasing a runner in the San Fermines festival, which allows him to move through traffic quickly. Some riders may even move out of his way in fear of being an innocent victim of this blue bull. He rode great to rise to 4th, and it is only a matter of time before he reaches the podium. Politelli and Nelson have both taken two completely different ways to where they finish normally. Nelson has been the second coming of Alessi with his masterful starts, but Politelli likes giving the others a head start before tearing his way forward. Nelson had an off night by finishing 11th, and by not collecting the holeshot, but Politelli did not disappoint. He simply did what he does, and with some advice from Nelson he could be knocking on the top five's doorstep. An 8th place should gain him respect, attention, and a better ride on a team either red or green. All of these guys remain in the background, in the hazy distance, because we lose sight of those who are fighting for what is taken for granted by the masses, and that is a place among the stars. They already are there; we just need to acknowledge them.
The 450 class, truly the brightest stars reside in here, and rarely do they shine brighter than they do under the lights of Anaheim. Stars do many things; they rise, they fall, they shoot, they captivate us, they blind us, hell, we even wish upon them. It is fair to say we all stare at our own 450 star, and wish for them to burn brighter, and hotter than the next racer. If we had no choice (I am giving you none) but to categories the "stardumb" burdened elite that resonate on, or near the podium, we would use the terms listed above.
Stardumb labels
The rising star pushing up through the sky that is 450 Supercross class, could be none other than the rookie, Justin Barcia. He has, as most expected, turned up the heat, and intensity of the class all while making rookie mistakes that make you winch in pain. Stanton has poured some gas on the suffering fire that is Barcia, and now he ignites again in Anaheim for a 3rd.
Mr. James "Bum knee" Stewart has unfortunately snared the title of the falling star. He is still burning as he falls, and is actually burning brighter as he closes in on his target, which once was a championship, but now seems to be…fans? What else could he be out there for at this point? But a 4th place ride showed a spark of what could be come the seasons end.
With all the wrecks and mishaps littering Villopoto's 2013 SX resume he too could be included in this classification. The real question is how many times must he fall before he is categorized as such? Nevertheless, he could not be anything but the blinding star at this point. Every time he gets a clean track, or does not fall, he makes all blink in the hopes that they misinterpreted what they saw. His speed is blazing, and no one doubts his willingness to burn until he blows up, much like last year. The brightest star is the Sun, and to label him such would not be too far off.
To be the captivating star that all spend some time watching due to it's unique color, shape or brightness may be the best of all. Trey Canard has done this by coming from a huge question mark to prime contender for wins, and with some luck, a championship. He will need to eliminate mistakes like the ones that plagued him throughout A3 as he fell back to 7th by the wave of the black and white flag. He has yet to finish outside of the top ten, and was able to fight off the charge of Villopoto for the last five laps, which says something about his tenacity, and ability to dig deep even on his off nights. Your current points leader and runner up at Anaheim 3 could also be referenced to as the captivating star. Once a rising star, then a falling star, and now one that people watch to see if it will deem or fall again. Davi Millsaps did the unthinkable for the fifth time in a row; someone considered faster by any, and all standards passed him, he then passed back. Proving to be a now self-sustaining source of light and fuel, which he is using to possibly burn down the critic's questions of his desire, and work ethic.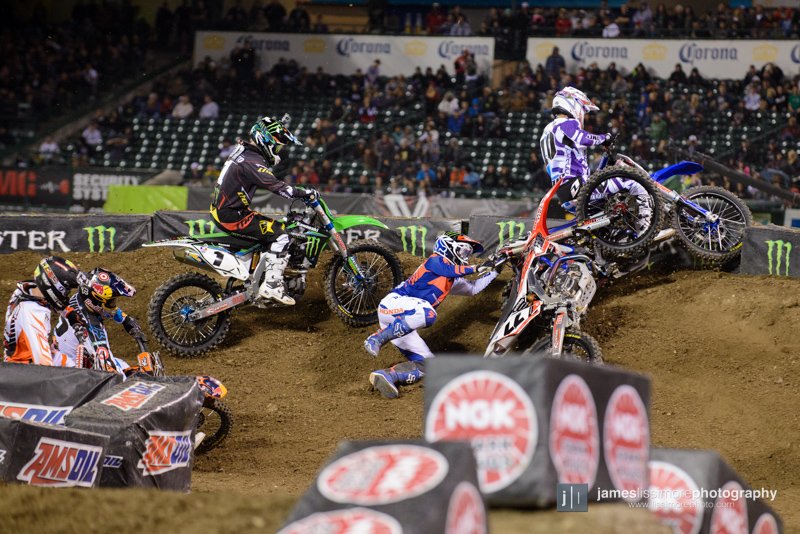 Chaos has taken place early in the last two 450SX main events. Photo by Lissimore
The shooting star that crosses the sky on the darkest of nights, reaching up to grab your attention when the surrounding world is black. Welcome Chad Reed, the man who has shot across the track to claim victims two races in a row. The racing incidents are piling up and soon someone will take notice that he is the new breed of freestyle racers. I call them the ground hogs! Looking at the pictures of his current Anaheim 3 stunt session, and the one that occurred at Oakland, one quickly establishes his goal to enlighten the dark world to his moves. He began with a no-legger at Oakland, as he lifted Stewart's bike off the terra firma, but as of A3, he has now exuded exemplary extension on his indian air trick. I break out in a cold sweat in anticipation as to what he will attempt next weekend. I am praying for a stoppie 360 with the possibility of everyone going down. Shoot my little star, shoot everyone down!
The night really belonged to one man, and that man was a wished upon star by anyone wearing orange, and willing to start a bike without exerting themselves beyond the push of a thumb. Ryan Dungey has been a star expected to challenge for elite status among our galaxy of racing. It has not been so, as Dungey struggles with everything from the shock on his bike to the urgency of racing, and mostly, he has left the starting line about as fast as a moon sized object such as the Death Star could really go through space. This weekend a star shown bright, and the wish was granted to a returning Jedi; however, even Yoda (Roger DeCoster) was worried about his young pupil, but the force was strong. Ryan cannot hope to be a star wished upon to victory very often and hopefully, he will remain a bright beacon of hope for the orange men.
These listed stars are the ones closest to your own universe. As a fan, you pick the star you find yourself fix upon, and you rotate around it like a planet in orbit. The closer the planet to the sun the closer the fan to the rider, and the farthest planet, well, he might not be a planet after all…just a casual fan.
The men that follow this constellation of luminous stars that one could call the big dipper, are then possibly envisioned as the little dipper. It is smaller, less of an attention grabber, harder to find when looking into the unknown, almost meaningless when looked upon as one, but when observed as a whole these stars contain the same fire as their bigger version. I am speaking of the men that are lost in the fray of battle, and those with whom the announcers rarely speak of. They are in a constant tug of war with teams to remain on a brand long enough to gain comfort and confidence. Hell, some of the teams they ride for come and go often, leaving them in search of some stability to reignite their careers before they burn out all too soon. Short, Brayton, Lemoine, Albertson, Goerke, Friese, Chisholm, Kiniry, and Weimer belong to different subsets of this very division. Short is far to fast, and fan friendly to be without a ride. He keeps proving himself to be a player, and last year he won a race. So how is he not on a new team already?
Brayton will never get enough credit for being the rising, but slowly, star that he has always been. He is the picture of hard work, and one of these races he will have the luck needed to podium, and I hope, win. Lemoine is doing great, but if he is turning down 250 rides for the East Coast rounds he is burning out. He will have a hard time breaking the top ten, but he is worthy of more attention than he gets. Albertson has the personality going for him that seems to elude those bright stars inhabiting the big dipper. He will only get better with time, and the outdoors, if he remains healthy, could be his best series yet. Goerke owes Mr. Villopoto one pretty good take out and I am not talking dinner. He is on the move forward with a level of consistency that is imperative to obtaining more exposure. Friese has decided to race without constant unnecessary attacks on other riders, and thus has maintained a solid series so far. He is making pretty good money, but he believes he should be a top five guy in the 250 class when it heads east in two weeks. I don't know if that will happen, but his experience in the big bike class can only benefit him as he attempts to use his own money to shine a little more.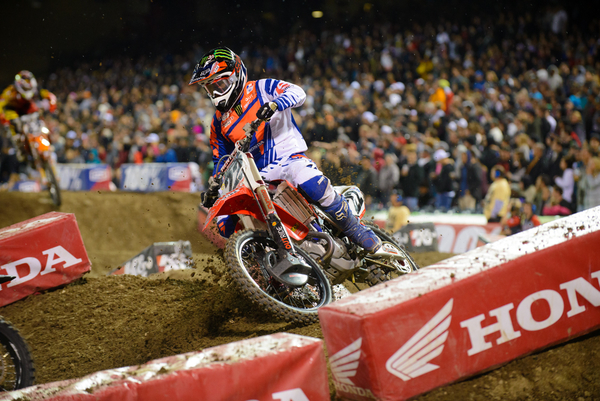 Reed's season has been up and down so far but he's fifth in points. Lissimore photo
Chisholm, and Kiniry are the bread and butter of the series as they fight hard to make the main every week. They don't even know if they will have these bikes from race to race as the teams future is wavering in the wind. You can't help but want them to break the top ten, and regardless what goggles Chisholm wears (should be EKS Brand), he is a star to wish upon. Weimer has a factory bike, yes; however, he lives in the shadow of Villopoto in all aspects of training, testing, and racing. He can come across as whiny, but he is honest, and very fast. If not for some broken ribs he should be in the mix as much as anyone. I would have guessed him to be ahead of Millsaps this season, but with some time Weimer will twinkle like the little star he is.
What are stars? They are the little specks of light illuminating the darkness we call night. They are what we literally, and figuratively look up to, and when we aspire to be something, it is always with the inception of being a bright star for all to see. Our era in time has grown to expect greatness from everyone, and if you are not great then you are nobody. I find error in this logic, and I can appreciate the concept of levels in dedication, talent, and opportunity. Not all riders are created equal. Not all bikes are either, and not all teams contain the financial backing and resources to produce machines on par with the elite factories. The simple truth is we have limits, and sometimes we are limited by our opportunities. Unfortunately, moto enjoys this same discourse that plagues this Nation we call home. We do have a wonderful life, and we do have freedoms we don't even realize are freedoms because we have never been without them. But, we still suffer from societal demands and ideas that render us feeling like failures. You know what a star is made of? Stars are basically, big exploding balls of gas. When you put it that way I am one bright, shiny, possibly a little stinky, star. So relax, we are all stars after all. Sure we don't all shine the same, but it really depends on your vantage point.