Tip of my hat to mechanic to the stars, Mr. Nate Alexander with the "Just Short of a Job" title this week.
Photos by: Jamie Lissimore
Tip of my hat to mechanic to the stars, Mr. Nate Alexander with the "Just Short of a Job" title this week.
Photos by: Jamie Lissimore
I made a point of trying to take better notes when watching the LCQs in Texas. Jeremy Martin had the 3rd fastest qualifying time of the day in the SX2 class so there is no reason he shouldn't be in the main event. He needed to pull the trigger on trying to pass Powell earlier for 3rd and he might have had a chance to catch Bell for that last transfer spot. Martin ran it in deep on Powell but didn't seal the deal and let Powell keep the line and the position, but all is fair in love, war and LCQs. With the track being so hard to pass on Martin needed to be more aggressive earlier, if you get a bad start in an LCQ you don't have time to make every pass clean without contact, in my opinion. My SX1 LCQ notes just say "sucks to be Nicolette". He was riding good but Blose was riding better and that can't be a fun ride back to the truck knowing your teammate is headed to the main and you'll be watching from the stands.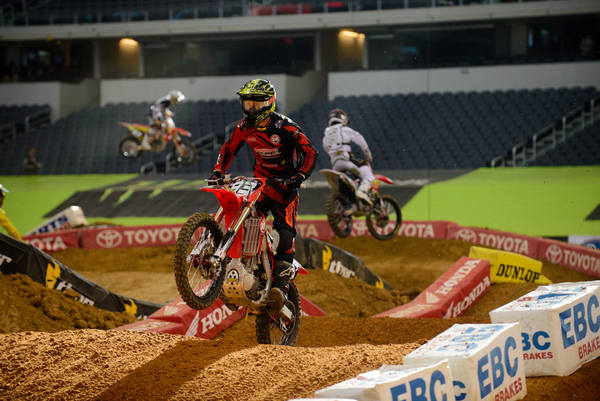 Riding a Honda and wearing Fly gear would make anyone look good
#93 Landen Powell South Jordan, UT Honda CRF 250 — none listed —
Who is Landen Powell? I don't know either. On the AMA score sheet he has "none listed" for sponsors, not sure if that's a mix up on the AMA's part or what but at a minimum you should list mom and dad like the amateur kids do at the local races, I always thought that was cool. The staff here at Just Short trys to be original, I wouldn't go so far as to say we are innovators but this week lets get to know Landen Powell just by browsing through his Instagram photos. They say a photo is worth a 1,000 words, I don't have time to write a thousand words, so hopefully a photo is really only worth a hundred or so.
Landen finished 18th overall in practice in Dallas "felt amazing in practice today! Time to open er up and have some fun tonight". He's riding a Honda, the black rims and red hubs are a nice look on the Honda's and I'm a fan of the all red plastic as well. Based on the number of selfie pictures with the same chick I'm going to assume his Facebook status is "in a relationship". The graphics on his bike and the truck he's pitted under say Rocky Mountain ATV/MC Racing so that must be the "none listed" sponsor. Landen is a good looking kid. I'd guess 5' 11", 175 pounds, average build, dirty blonde hair. (I typed this a couple of different ways and it's impossible to not make it sound creepy).
Landen got a cute little puppy about 2 weeks ago and is for sure a dog lover, with dog related photos throughout his timeline. Before the season started, he tested out a Rekluse clutch at Pala; it would be interesting to know if he decided to run it or not. Landen demands 100% from his goggles and is wearing Fly head to toe with Astar boots. It's impossible to make the Fly gear look bad this year and Matthes is an idiot because the flat black Fly helmet is killer. Oh the things I would do to that helmet are only legal in the South. Being from Seattle, anyone that drinks Starbucks coffee is alright by me. Landen and I are men so we drink our coffee black. Twelve weeks ago he got the email from the AMA saying his SX license application was approved. Not sure if that means this is his rookie season, or if you have to submit that application every year. Hey Landen you're not fooling anyone, you have some strategically placed selfie crotch shots in here, they are tasteful and to the untrained eye, probably innocent.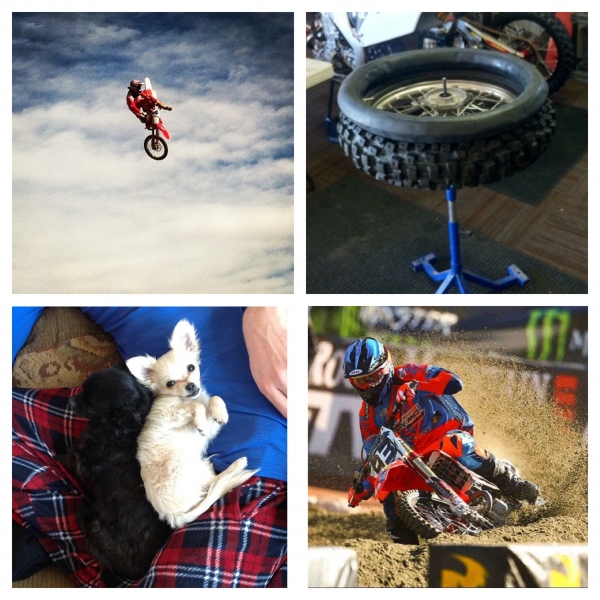 Skying it out sky picture.
Racers trying to change tires is always entertaining.
Dogs and crotch selfie.
Blasting a berm in SX.
I don't know what RED rescue elixir is but it says it's a "super food with 100% agave" and they're also a sponsor, it appears. Previously an Answer sponsored athlete, Landon must have seen how good Shorty looks in his Fly gear and made the switch based on that. There is some type of Chip and Dales-esque topless photo that went down in Lake Powell 21 weeks ago. Go check the picture out yourself, I can't really describe it. Hanging out at Lake Powell when your last name is Powell would be kind of cool. Alright lets wrap this up; he plays golf, eats Chipotle, rode for the High Desert team in the nationals last year and oh, he did race SX last year, so this isn't his rookie season. Oh no, he ate at Jersey Mikes 52 weeks ago, doing the math in my head that could possibly be during the same time that Sinjin was working there. Last but not least the first picture he ever posted was of a golf course 71 weeks ago. Landon and I seem to have a lot in common, he rides Hondas, I ride Hondas, he likes girls, I like girls, he drinks Starbucks, I drink Starbucks and we both occasionally hit the links. Based on Instagram alone, because again I don't really know anything about Powell, he seems like a cool kid give him a follow @powell_93 and good luck this season.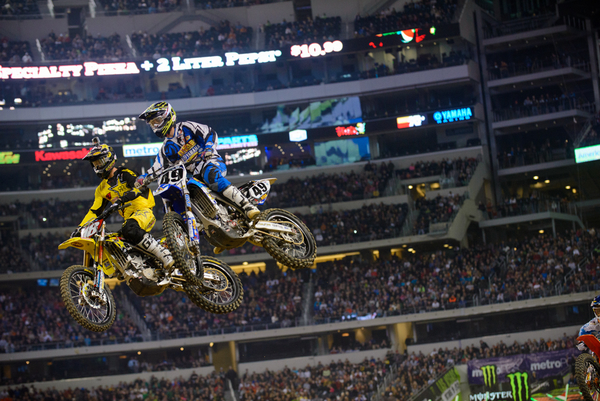 Nicoletti is dangerously close to losing his solid triples ranking.
#49 Phillip Nicoletti Bethel, NY Yamaha YZ450F N-Fab TiLUBE Yamaha
Congratulations to Nicoletti for being a featured rider of Just Short yet again. I got in touch with a man that has spent some time with filthy Phil to get a little insight into what makes him tick. I present to you the man that tightened Shortys nuts and lubed his rods over the past year, @nasty_nine, Nathan Alexander. Nate is a man of few words so when he speaks you listen, he's a quality over quantity type of guy. You may have heard the L&MC Team Chaparral folded and if you weren't aware of that please take a long walk off a "Short" pier. To get by for the time being, Nate has be deep frying chicken at KFC, but his real passion is working on trick-ass dirt bikes. Kyle Cowling just did a really cool feature on Nate and the sacrifices he's made to get to this point in his career. Definitely check it out. http://www.vitalmx.com/videos/features/Nathan-Alexander-A-Mechanics-Journey,8453/elmo,16138
How do you know Nicoletti, did you guys work together directly at all or just acquaintances?
Just acquaintances he knows me I know him….just from hanging out at club mx and at the races with e10 (editors note e10 must stand for eleven10mods, it's much easier to type and sounds cooler wish I would have thought of it myself).
Tell us something about Nicoletti that most people don't know, is he superstitious, a ladies man?
Definitely superstitious! But his superstitions aren't working for him obviously he's like 0 and 7 on main events.
You worked for Eleven10mods so maybe you can explain how all 6′ 2″ and 185 pounds of Nicoletti was able to pull so many great starts on the 250F.
Def.. Chad Sanner does not cut corners. And I'm sure him being a member at ClubMX he did plenty of starts.
What is Nicoletti's strength as a rider?
He's hard headed…..he doesn't care what people think.. He's Weston peick in philthys body.
What is his weakness or where do you think his riding can improve?
He's super negative but that might be from the black cloud that surrounds him? When he rode KTM's DNF's, then e10 bike tons of DNFs…..Got his own bike and DNF'd some more.
You've had the pleasure of whispering words of wisdom into the ear of Andrew Short on the starting line, what would you say to Nicoletti on the start of an LCQ?
Your motorcycle is going to fall apart some point in this race…..you either need to get the bad karma off your back or you need a really good start…….lets start with the start.
Where do you think Nicoletti is capable of finishing in the SX1 class?
He's capable of top 5.
With Nicoletti's size I think moving up to the 450 was a smart move but his results having shown it yet, put yourself in his shoes would you have said on the 250, moved up to the 450 or tried the GP's?
I wish someone like Moto Concepts was able to help him on a small bike….I don't think the kid needs to be on a Geico bike or a PC bike to do well…..he just needs to have someone behind him to keep his head on straight.
Thanks a lot Nate, you're a good dude and I'm sure someone will put your talents to good use soon. #getnateajob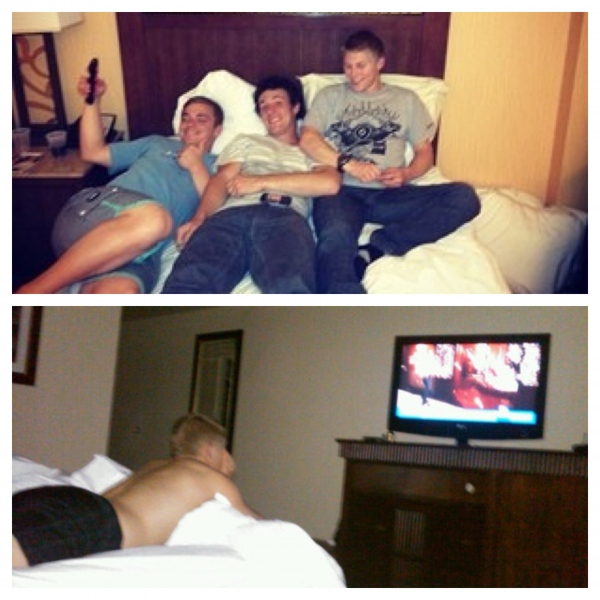 Left to right is Osborne, Filthy and Alex Martin, you know just three dudes hanging out in a hotel bed nothing to see here.
Why wouldn't you want a topless photo of Alex Martin watching tv?
Filthy Phil isn't big on the social networking and still only has two photos on Instagram that I posted in his last Just Short feature. So I browsed through his twitter and found these somewhat questionable photos.
Thanks for reading this Short recognition of the guys that almost made it. See you next week, Moser.
Please send all comments to jasonw@racerxill.com