As much as I'd like to say this weeks Swizcorner is about one of my favorite hardcore bands, I am even more excited to give Wil Hahn his dues.
As much as I'd like to say this weeks Swizcorner is about one of my favorite hardcore bands, I am even more excited to give Wil Hahn his dues.
Photos By: THE James Lissimore
Since Anaheim 1, this years Supercross series has been filled with unanticipated results when contrasted with what has become the norm over the past few seasons. There have been some truly inspirational stories of re-emergence, some frustrated rides by perennial podium guys, race winners struggling to even keep pace with the leaders and break out rides by the "also-rans". When the East coast 250SX kicked off last weekend, the race action took a back seat to the spectacular get-off of Zach Bell and his controversial night following the crash. With Dean Wilson, far and away considered the favorite of the East coast, taking the win at round 1, the series looked to be lacking in intrigue.
Enter Atlanta and Wil Hahn's unwavering effort and belief in himself. After some of the darkest years of his life, not only does the series now have some flavor, more importantly, Wil Hahn becomes the poster child for resolve and tenacity.
Wil Hahn's career in the pro ranks began began at Star Yamaha where his results were a 50/50 split of top 10's and struggles near the back of the pack. He didn't enter the pro class with the accolades of a Justin Barcia, Eli Tomac or Dean Wilson but with the description of, "Tommy Hahn's little brother". Everyone knew he had speed and he had the whole "little brother" theory working for him, which kept it intriguing. You know the "little brother" theory, right? The averages show, in pro MX/SX that the little brother often surpasses the accomplishments of the big brother in racing. James Stewart has been the glaring exception to this rule but by and large, it proves true over time. I digress…
In typical Star Yamaha, or should I say Bobby Reagan, fashion, Wil was one n' done at Star Racing. In 2009 he moved onto the MDK KTM team where he had much improved results, even scoring his first SX podium. Struggles at the St.Louis round with a crash in his heat and a poor start in the LCQ left Wil out of the main. If he had scored his average points in St. Louis, he would have finished 3rd in the series, a big step up from his rookie year.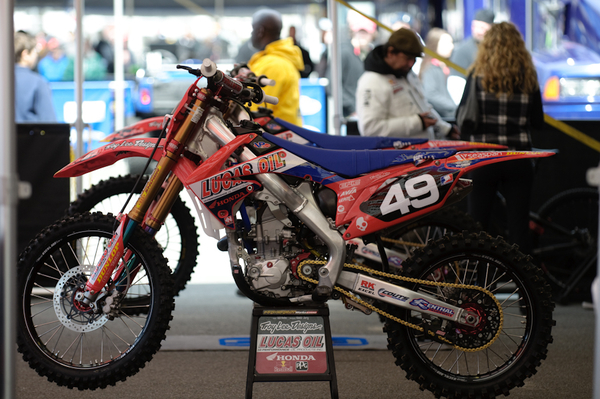 Wil's ascent began under the TLD awning in 2010 and wins seemed a foregone conculsion.
The Troy Lee Designs team took notice of Wil and for the 2010 season, they brought Wil on-board. This is when the younger Hahn really found his groove. They say when you look good, you feel good and of course when you feel good, you're going to ride good. If there's one thing you can always count on in our sport, it's that the TLD team is going to look awesome. Bikes, gear, pit presence; it's all aces. Wil's personality really started coming to the surface under the tutelage of perennial funny guy of moto and TLD team manager, David Pingree. Ping had a knack as a team manager of keeping the mood light, though the goals focused and knew that you can't rule a team with a broad stroke. Each racer has his own intricacies and as such, they need to be dealt with in a manner which puts them in the best mindset for success. The mood under the TLD tent matched the look: Cool. With the laid-back Cole Seely as Wil's teammate, you'd be hard pressed to find stressful or tenuous moments under that awning. If they did come about, you could count on Ping to break the tension with a joke. Deprecating humor is always a sure-fire way ease tension and refocus the big picture.
That 2010 season was a breakout year for Wil, Cole and the TLD as a whole. Wil scored 6 podiums and there were multiple times during the series you just knew he was going to pull the W. Though it never came in 2010, the future was looking bright for Wil.
A life-long dream of Wil's had been to ride for Factory Honda and when their 250 outfit came knocking for 2011, it should have been a slam-dunk decision for him. But it wasn't. Wil knew how special the vibe was within the TLD team and that as much as his skills had made 2010 a huge step forward, it was also due in large part to the chemistry of the whole TLD operation, which if course included manager and confidant, Pingree. In the end, Wil did opt to go with the Factory Connection Geico Honda team. Who could blame him? It was a long time dream, the conglomeration of all the effort he had put in thus far. The end game. To shun it would be like turning your back on all you had ever hoped for. Wil was chasing this dream, not about to delay it.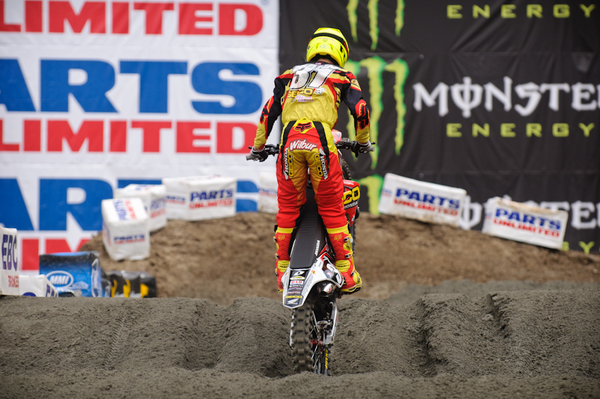 A rare Anaheim 1 2011 photo of Wil prior to his sidelining practice crash.
As the 2011 SX series kicked off, so too did the rails on Wil's goals for the year. Whether it was over-urgency, a simple riding error, or just another example of the high stakes of the sport, Wil wouldn't even make it through practice; as a crash left him with a broken back and sidelined for months.
What had only moments earlier seemed to be the first step of the natural progression of his career, now seemed like a brutal joke. To work so hard and progress year after year and be rewarded with that thing which you sought for years; only to have it snatched before the first gate-drop. To show that their investment in you was warranted. Cruel sport. Wil's indoor debut would be delayed a year and the regret for not being able to show his team what he was capable of began to grow.
Adding insult to injury, literally, in the first days back riding Wil again went down and broke his shoulder. At this point, all he could do was shake his head. It's moments such as that; that very moment when the hope is beginning to trickle back into the light, out of the darkness. Only to have the door slammed once again. Brutal. For the second time in months, he was put on an extended hiatus and would not be able to repay his dream-team with a result for their investment. The depths to which the depression could reach at times like that are intense. You could sit and ask why all day long but what would that help? Some would turn to their prescribed pain pills for relief, others? Swallowed in their misfortune with permanently numbing effect. Wil took it for what it was; another cliff-face to scale.
When the 2012 SX series kicked off, Wil put in an inspiring ride to 8th at the opening round including a crash which again left him sidelined for the next 5 rounds. Upon his return he scored a 5th and a 4th before saddling the Factory Honda 450 in place of the injured Trey Canard, where he finished 10th, 13th and 9th. Wil was still focused on proving to the Factory Connection Geico Team that his best was yet to come. Getting out of 2012 healthy was step one. Step two was a solid off season of health and progress, which would help build that head of steam he longed for over the previous 2 full years.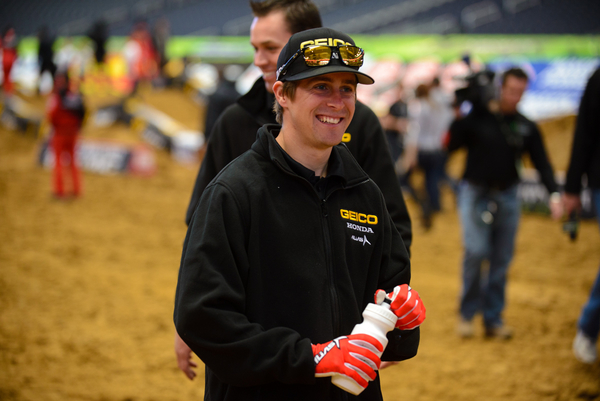 It's 2013 and Wil has reason to smile again with two years of struggle behind him.
Wil Hahn's win in Atlanta was the the 180º pinnacle of what had been a prior two years of pain, depression and mental anguish. This sport is full of riders playing mental games with themselves. They tell themselves whatever they need to, to keep their spirits high, goals attainable and attitude positive. So often this leads to riders "chasing their tails". The mental game does't pay off and the results don't come. It's all in vain. Wil Hahn proved that mind can indeed overcome matter. His positivity, will to win, effort and PMA (Positive Mental Attitude for all you non- Bad Brains fans our there) overcame the darkest period he has endured in his career. A solid two years of tumultuous times is enough to break anyone of their PMA. For Wil to not only return from those depths but to accomplish his best result, a race win no less, is the ultimate example of fortitude, tenacity and "Wil Power".
Congratulations, Wil. You have just become a bookmark for future racers looking for the proof of how a positive attitude not only can– but does pay off. Regardless of time frame.