It's almost here! We are just a couple of days away from the start of the 2013 motocross world championship which will kick off this weekend Qatar.
It's almost here! We are just a couple of days away from the start of the 2013 motocross world championship which will kick off this weekend Qatar.
Words and Photos by Jonathan McCready
Qatar leads us to the first couple of changes in the GP calendar. First it starts at the beginning of March and not April which has meant a rush for the teams and riders to get ready for the grind of the season.
Secondly, the addition of the fly away races in Qatar and the Thailand GP next weekend makes the calendar a whopping 18 Grand Prix in 17 countries over four continents.
The championship winners will have to be versatile and consistent to be successful over such a variety of tracks and terrain as well as all the travelling.
Another change for the overseas GPs is the addition of the controversial "Superfinal".
Instead of the MX1 and MX2 classes getting two motos each, they will have one moto each then the top 20 of each class will run together in the final race of the day.
Of course both classes will still get their qualifying heat on the Saturday so for spectators they will still get to see plenty action and there will be the last chance qualifier for prior to the Superfinal on Sunday.
All this means a certain sense of excitement and extra anticipation as everyone from the teams, to the riders, to fans all wonder how it will work out.
To have the top 20 riders from each class has the potential to be very exciting. It will be the best of the best and Herlings proved at the Italian Championships that the MX2 machine can be competitive when he took victory in the Superfinal against the 450s of Frossard and Bobreyshev.
To further increase the anticipation this weekend's Grand Prix in Qatar will be a night race!
Yes, for the first time ever the MXGP series will be run under the lights. They have done it before in MotoGP at the same venue so they do have experience, but motocross is different and everyone is waiting to see how it will work.
Here is a look at the runners and riders for 2013.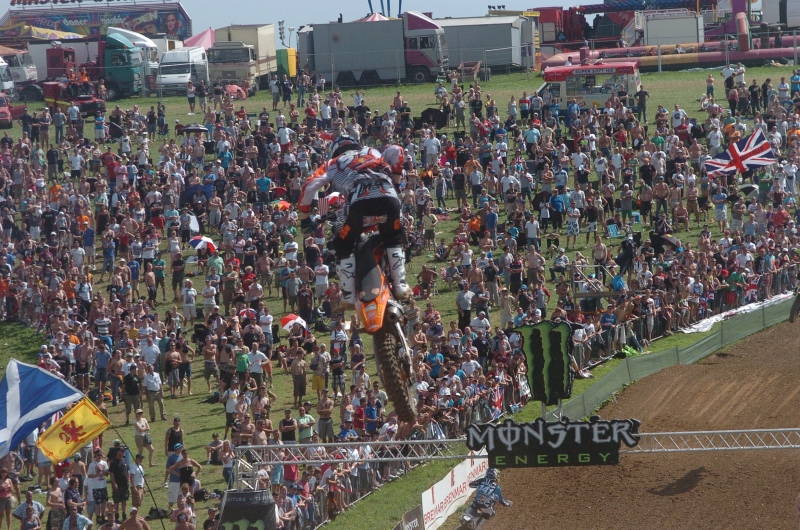 Herlings is the heavy favorite to repeat in the MX2
MX2
The MX2 series is supposed to be the Jeffrey Herlings show, but on Tuesday Herlings tweeted that he had a big crash in Lommel and may be injured. It appears that Herlings has bruised his leg but he will be racing in Qatar.
The defending champion is the overwhelming favourite and he should win the title but it is motocross so you just never know.
The battle behind should be fantastic. There are at least eight riders who believe they are the ones who can challenge Herlings this year and even more who think they should be top five.
It will be a big year for his teammate Jordi Tixier. Fifth last season, the Frenchman has been content to be outside the limelight so far but this year he will be expected to be on the podium regularly. Stefan Everts has put a lot of work into Tixier over the last year and he will want to see some reward.
Arnaud Tonus is the one that has the raw talent to push Herlings. He is now on the CLS Pro Circuit Kawasaki but he is just coming back from a dislocated shoulder and hasn't had the bike time to be 100% but, when he is, he will be very fast.
Teammate to Tonus is Italian Alex Lupino. Alex was on the under powered Husky last year so this year will be his chance to really show his potential. He has the experience and is very good on hard tracks so don't be surprised if he lands on the podium there.
Fourth in the championship last year was Jake Nicholls and Jake is looking fantastic in pre-season. He stays on KTM in the Jacky Martens team but has bikes as close to the factory team as you can get. This is his last year in MX2 and he wants it badly. Jake is consistent on all tracks and if he starts well and can get on the podium early that confidence could take him to being Herlings toughest challenger.
His teammate is the very talented Romain Febvre. The Frenchman who previously raced supermoto had his first GP season last year and finished a fine thirteenth. This season he is in a really good team who will give him everything he needs to challenge for the top five consistently.
Team Suzuki have a brand new team in 2013 with Max Anstie leading the charge. Anstie is in his third year in the GPs and so far has not got the results he expected due to one reason or another. This year all the pieces seem to be in place and if Max can stop himself being overconfident and get some decent starts he could get his first GP win ever.
His teammate will be young Belgian Julien Lieber. The latest in the Belgium line of fast motocross riders Leiber will be expected to put in regular top ten performances in his first year as a factory rider against stiff competition.
Factory Yamaha will be hoping for a injury free year with their riders unlike last year's injury ravaged campaign!
Remaining under the factory Rinaldi tent is Frenchman Christophe Charlier. This guy is fast but he just can't remain healthy enough to get any momentum and confidence, maybe this will be his year to show what he really has.
Monstery Energy Yamaha boss Steve Dixon lost both Arnaud Tonus and Zach Osborne but are back again with three hungry riders.
Aussie Dean Ferris is the team leader and he could be the surprise package of the season. Ferris rode MX1 last year but only managed the first few rounds before he got injured. He was starting to work his way into the top ten and looked to have a lot of promise. He has landed on his feet with a top bike and he should be at the very least top five and in the Australian MXDN team at the end of the year!
Brit Mel Pocock was the European Championship last year for Steve Dixon and got a full MX2 GP ride as a reward in the same team. He showed last year in some wildcard appearances that he can put it in the top ten but this season the pressure will be on to do it every week. Mel is working with Tommy Searle's trainer Kirk Gibbons and is getting stronger both physically and mentally. This could be a big year for him.
Maxime Desprey was Pocock's rival last year in the Europeans and when he was on form no-one could beat him. The young Frenchman is very talented and like Pocock has a big chance to run in the top ten regularly in his first season.
Team Bud Kawasaki have two extremely fast and talented French riders on their team. Valentin Teilliet has so much raw speed but he just can't remain injury free. If he gets the start he could be a regular podium contender all year, but he has to learn to stay off the ground!
Young Dylan Ferrandis got his first podium in his first season last year to mark a fine debut season but he broke his leg soon after that took him out of the rest of the year. Now 18, Ferrandis will want to be on the podium more often and maybe even steal a moto win during the year.
Other riders will be seeking to get amongst these guys too. HM Plant KTM rider Elliot-Banks Browne ran top three at the final GP until a mechanical forced him out, the British Champion will want to get a redemption podium this season. Alex Tonkov battled Marvin Musquin in the sand of Lommel at the MXDN last year and the Russian teenager is showing promise again in pre-season, let's just hope his Honda is fast enough!
Riders like Harru Kullas, Glenn Coldenhoff and Peter Petrov are always around the top ten as well, but if everyone stays healthy it will be even harder this year than last to do it.
Some onlookers say there is a lack of depth in MX2, but when you look at the amount of riders capable of getting on the podium the depth is pretty good – if they all stay healthy!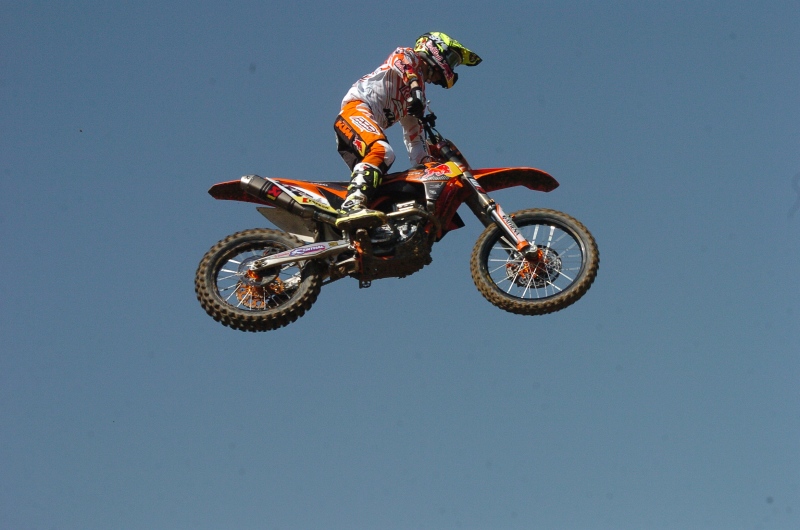 The great Antonio Cairoli is looking for yet another MX1 World Championship
MX1
There have been no such accusations in MX1. In fact it could be argued it is getting too deep and making it hard for very good riders who have won GPs only a few years ago to get a ride!
Six time World Champion Antonio Cairoli is once again the favourite. Cairoli will go for number title number seven his season and if he succeeds will be the second most successful GP rider ever.
Cairoli has everything you need. He rides smart, but he can pour it on when he needs too and he can ride on any terrain – but his rivals are getting increasingly determined to dethrone him.
Clement Desalle tried the conservative approach last year but it just didn't work. He needs to get back to his speed of 2011 but somehow marry it with the consistency of 2012 to really challenge Cairoli.
Factory Yamaha's Steven Frossard has the speed but he basically missed all of last season so he needs to be able to remain healthy as well and hope his speed is not affected. On his day Frossard can be unbeatable.
The other title contender is Gautier Paulin. Through the first half of the season in 2012 Paulin was right there in the title hunt, but a mid season slump meant he had to fight to hold his third place championship place from Christophe Pourcel. The factory Kawasaki rider is looking superb in pre-season and is pretty handy in the sand so if he has learnt to maintain his top form throughout the season Paulin could be Cairoli's toughest challenger.
MXDN winner Max Nagl moved to Factory Honda in the off season and all was looking good until he broke his hand in Mantova. He is back on the bike and will race Qatar but it is hard to say how competitive he will be. Max showed new found aggression last year but you wonder if he has the total self belief that you need to be World Champion.
His teammate is Evgeny Bobreyshev who will hope to get and injury free season again after a troubled 2013. Bobby has been fast and consistent in pre-season and hopefully that is a sign of things to come in the Grand Prix season.
Kevin Strijbos had a fantastic 2012, winning a British title and re-establishing himself in the GPs with sixth overall including a GP moto win. Strijbos was rewarded with a factory Suzuki ride and is back with the same team who took him to second in the World in 2007. With Joel Smets keeping him in line, Strijbos could be a player if he gets some good results at the start of the year.
Ken De Dycker has also been rewarded with a factory bike after his good form in 2012. De Dycker has resigned with Factory KTM and seems to be as focused and fast as he has ever been in his career. Can he do a Millsaps?!
Then there are the MX2 riders coming up to join the party!
Tommy Searle remains with the CLS Pro Circuit team but has a factory 450 Kawasaki and should be ready to challenge for wins straight away. Searle is coming off the best year of his career and showed at the MXDN in France in 2011 that he can ride the 450, his weakness is still the sand and that may rule him out of a championship challenge but on hard pack he can run with anyone.
Jeremy Van Horebeek also has a factory 450 but will run under the official factory team's awning as teammate to Gautier Paulin. Van Horebeek's smooth style will suit the 450 and he is fast in all conditions but similar to Nagl it seems he doesn't have the self belief to really challenge for a world title just yet.
The third rider to move up is Joel Roelants. The Belgian won his first GP last season and things were going well until he dislocated his hip at the British GP and was out for the rest of the year. As a consequence Roelants is not long back on the bike and is still searching for the speed and form he had last year.
Rui Goncalves and Xavier Boog are now on the Ice One racing team but will have the support of Factory KTM racing. The Kimi Raikkonen funded squad have upped their game in 2013 and have two sold top ten riders who both can podium on their day or even win a moto as Boog proved last season.
In addition to these thirteen rider there a number of riders who will hope to be in the mix. Shaun Simpson has moved teams to the factory TM squad where he hopes to finally get consistent starts and be in the top ten all year.
Tanel Leok is back where he first had GP success in the British MVRD Honda squad but again good starts will be key. Another former GP winner Jonathan Barragan has moved back to KTM where he had most success but this time it is British based STR KTM. Italian Davide Guaneri is always there or thereabouts and again stays on KTM.
Former World Champion David Philippearts is back but this time on a Honda. He is still getting back to speed after a serious wrist injury but the Italian won't give up until he is fighting the leading riders again.
With such a stacked field starts will be at a premium with so many guys capable of running at the front.
It's just time to get it started now!