How fitting is it that "The Gateway to the West", that is St. Louis, actually produced racing?

How fitting is it that "The Gateway to the West", that is St. Louis, actually produced racing?
By: Isaac Scoggins
Only nine rounds into this incredible series before the fans see a race between the top dogs of the 450 class, along with an intense battle for 250 momentum. The day was nippy and the chill in the air infiltrated the lungs of all unknowing victims of events to come. Before the racing even began, gears were being put into motion, albeit slow motion, and it was palpable throughout the faces in the pits. Truthfully, with my own eyes I witnessed three events that were instantly unrecognizable by this observer, and the flame of these memories would not be rekindled and connected until the final wave of the checkered flag. Wheels in motion can look still if close attention to one's surroundings is not paid in full.
My first clue that the night was brewing with possibilities was when my torpedoed hand, aimed at Steve himself, locked on and seemingly pulled the rest of me in tow, towards the destination. His face showed surprise and I believe a faint hint of horror, as my initial words were spoken. My second indication that life at the race was headed in a wild, shifty direction was when, as fast as my hand had carried me to its resting place, Jason Weigandt moved away from me and to the JGR rig. He reminded me of a mongoose dodging and then striking a snake, with glancing eyes and a slight grin, as he maneuvered past and into his safe haven of food and Brayton. The final situation that shown most prominent was when a certain number 1 Monster Energy Kawasaki rider, walking the pits in casual clothes including skinny jeans that were slightly sagging, denied a little boy his Herbie Hancock. Maybe he didn't see the kid, maybe he did but I imagine not, as the boy stood watching his hero strut off into the distance, occasionally tugging the slim fitters up, and then the tears began to well up before cascading down his ashamed face. His father tried to console him but his pain was too great for words to subdue. I felt bad enough to offer my own signature then I realized he wanted a meaningful one, so I regrettable reconsidered. Might have produced a laugh, but we shall never know. I did not know it then, but the faces I had seen on my journey through the pits had foretold the story of the St. Louis Supercross already. There would be shock, avoidance, and tears. "The Gateway to the West" can now be officially transposed into "the Gateway to the Best".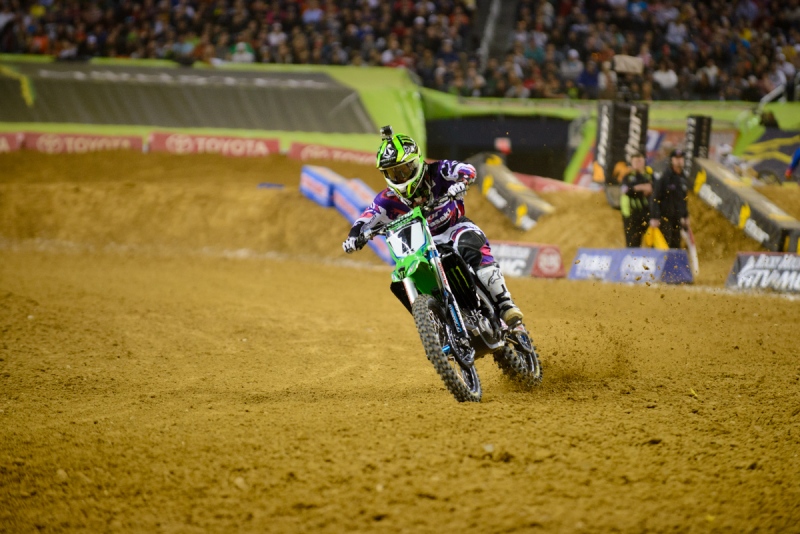 RV rode a great race in St Louis, ripping through the pack- twice! Photo by Lissimore
The state that claims it must be shown and not told, had to endure a little of both. The showing was clearly evident throughout the heats and mains, as the racing produced multiple passing opportunities that were afforded only by the dirt composition. The track design itself lacked creativity and set the stage perfectly for another "holeshot takes all" scenario. I felt as if the layout, and some of the obstacle placements even, were reminiscent of 2007 when Carmichael won his last SX in St. Louis. An obstacle moved here, a sand section put there, a slightly more technical track overall, and we would have been living it up like the '07. Either way, the tracks all year seem to give advantages to no rider or particular skill set other than the rider who rounds turn 1 in the number 1 position. I believe rider's strengths and weaknesses should be factored into the layout of the entire series as it could produce better racing, and allow the favor to sway between riders. I believe a track should maintain its personality and characteristics that make it specific to that region of the Country. If that region has hard clay, let it remain hard clay, if that area is sandy, let it be sandy, if that area contains the perfect dirt, let it be so on the track. That way tracks vary in traction and what obstacles can be placed where on them, and different skills are needed to become Champion by season's end. It would most likely create a multi-winner series, as the different textures would lend themselves to different riders.
Of course, Feld wants to protect their investment and allow all riders to remain healthy all year to ensure excitement throughout the year…I get it. However, what I do not understand is how they imagined this year would pan out with everyone healthy, and no real battling? How did they feel that would go over with the fans? As of now, I am sure they have discovered the sword they were once welding is, in fact, double-edged. Now that the fans of SX have procured that sword from Feld and have it placed firmly between their blinking eyes, I wonder if they now see. We fans are picky, and we expect great things from our riders. When the tracks hinder them in any way, it pisses us off. We don't just want a freight train of our favorite riders; we want battles that engulf the top 6 and allow for crazy swapping of positions. The kind that permits a rider to come from 6th to 1st and then back to 3rd. It would be a hard job to produce this racing but the talent and determination is there, we just need the tracks to allow for it. We are wishful in our thinking and these elements may not be the gateway to this form of racing, but we need to be shown and not told this.
The shock of the race, in comparison to that on Steve's face earlier in the pits, was some of two things: first, the man who garnered the holeshot did not cross the checkered flag first, and second, Kyle Chisholm and his JGR Yamaha parted ways by way of Goerke's BTO KTM. Mike Alessi grabbed the start that has been inexplicably elusive this season for him, and rode a great race that netted him 7th by start and restarts end. Given Alessi's prowess in SX it should not be a shock that he nabbed a start or did not win, but this year has proven starts rule above all else. Nevertheless, a 7th place finish accompanied with a smooth yet fast ride by him sends shock waves, especially after the season he has had thus far. Kyle Chisholm got the shock of his life by being in the wrong place at the wrong time. Goerke, allegedly, changed lines on the face of the second triple to avoid landing on Jake Weimer, which resulted in an ejection of rider from bike. Poor Chisholm received a hurt ankle and knee, and possibly one of the shortest stints on a team ever. Hopefully he can recover and be back where he belongs soon, as I still believe he has much better days ahead. So in a way, St. Louis was more like a gateway to a realm of Hell for Chizz.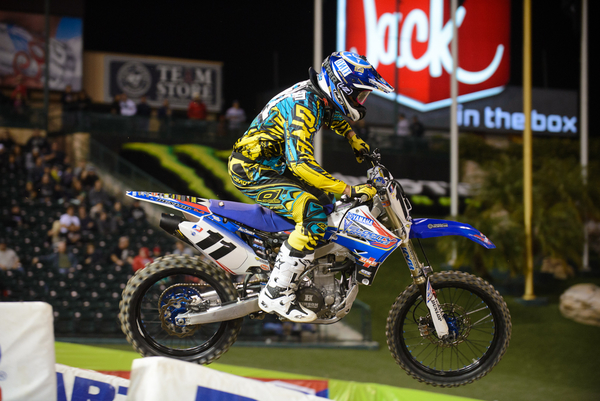 Looks like Kyle Chisholm will be on the sidelines for the next little while. Photo by Lissimore
Avoidance also contains the word "dance" in it. Now, although Weege did no moves that were recognizable as such, I do believe his dance moves would be described as such – an avoidance of rhythm, eye contact, and apparently, men wearing flannel. I already stated how he managed to allude any introduction and he did so with such awkward smoothness that I assume it is done often. A maneuver this clever can only be paralleled with the move Wil Hahn used to reassert himself back into the number 1 position. Wilson may have avoided the bad race it appeared he would have after such a poor start, as he used a mixture of composure and speed to move forward quickly. However, Hahn regrouped after Wilson made a pass and immediately took back control of the race. This win was a statement for Hahn and Wilson, or so I believe. The dirt allowed Wilson to push the limits and carve down and around many riders with precision, but Hahn used it to his advantage too. The question now will be who can avoid the big mistake or who will make the smallest one? We have seen both riders get aggressive over the years but never with each other…that might soon change. In fact, I predict that it cannot be avoided.
Just as tears fell like rain from the little boy's drowning eyes, so too did it fall from every team looking to stifle the number 1 bearing Monster Energy Kawasaki's advances in points. Villopoto was not to be denied on this day, and perhaps a closer look at the events that unfolded show a bit of desperation lie beneath that red beard. His horse has been beaten to death, resurrected and beaten again by media and riders, but the fan's voice has not been heard. Whether you are a Villopoto fan or not, it is impossible to overlook the aggressive nature in which he attacks the tracks and riders. He is a pleasure to watch race, as he is a "no bullshit" racer who pushes his limits almost every race. His style is not pretty per se, but it is unique and often times a breath of fresh air amongst the world of precision that is SX. I believe the reason some fans get upset with him is because he makes it happen, and we wish our favorite riders would do the same…but they usually don't.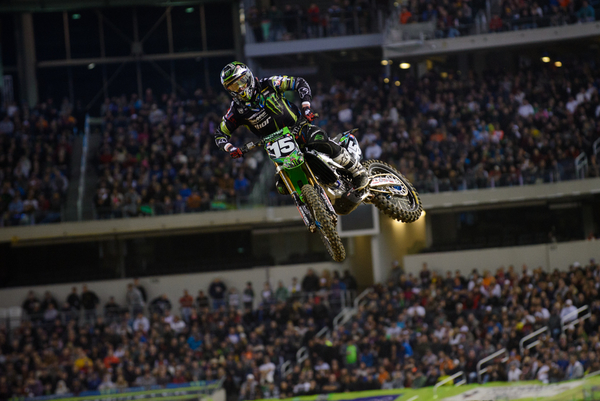 Wilson was very good in St Louis but Hahn was a tad bit better. Photo by Lissimore
I believe a section containing the red and white cross flag should permit no passing throughout the entire section. You have to ask yourself where does that section begin and end though, the apex of the corners coming in and going out? If so, then James Stewart also made the move in the section with the flag out. The rules are bent easily because they are allowed to be by the AMA, and ruling on the fly so they can keep themselves out of making an impacting decision can only go on for so long. Sooner or later they will be put in a position where they must stand their ground and affect the outcome of a race or maybe even the series. They do have a job to do and I have no doubts that it is hard, but some things are meant to be black and white, and not grey; they need to make it such.
The city of St. Louis welcomed SX with a simple track and tractable dirt. The fans were treated to intense racing that included thirty full laps of main event dueling. So the last five laps of the 450 class were kind of a let down, but overall it was a great night to be in a warm dome. Halfway through the series, and we can clearly look back at the race and now see that desperation wore plainly on Villopoto going in. Coming out of the event the picture looks much more clearly than it did, but much racing is left, and the intensity has yet to reach the frequency and pitch that it will before season ends. Who knew a simple stroll through the pits could foreshadow events to come that night? The dirt off the banks of the Mississippi River may have saved the series thus far by giving the fans what they wanted most – a real race. The series is now half over, and hopefully more racing takes place like that of St. Louis. It is only fitting for the Gateway City to usher in the best the series has to offer, and I hope it is just the beginning. As a Missourian, I ask the series to "show me" great racing and to not simply tell me about it.