This season is shaping up pretty good up north
This season is shaping up pretty good up north
Big news in Canadian moto in that Team Red Bull KTM has replaced its injured star Dusty Klatt (ACL surgery) with Tyler Medaglia for this summer's CMRC nationals. Klatt, a former two-time Canadian champion, tore his knee up racing a local arenacross and had surgery a little while ago. He's hoping to make it to the last five nationals this summer but for now, his KTM team had to act to fulfill terms of their agreement with energy drink Red Bull.
Enter Tyler Medaglia who last year rode for the Gopher Dunes Honda team, which was basically built around Medaglia for last year. Bad deal for Derek Schuster there at GDR team as he now loses his star (and only) rider. Medaglia had to go and get on the only team left in Canada that is a direct factory team, the bike and salary is too strong to say no. But with every door closed, another opens for the Gopher Dunes team who is hoping to lure a big name up from America to jump on the empty Honda.
Medaglia had a rough year in 2012, but before moving down to the MX2 class on a Blackfoot Yamaha and winning titles, T-Dags was a real force in the MX1 class on an OTSFF Suzuki. It was thought that a return to the class would see him right up front once again. And there were flashes here and there but before injuring himself late in the season, Tyler was not on the level of a Bobby Kiniry or Matt Goerke. Still it wasn't that bad of a season for Tyler but it also wasn't that great either.
He'll be better on the Red Bull KTM (and truthfully, he probably would've been better on his second year on the Honda of the GDR team) and teamed with Colton Facciotti both riders will be a force each national.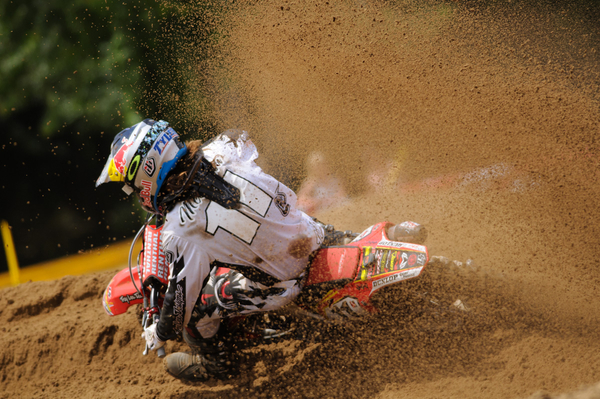 Medaglia on his GDR Honda last summer in the sand. Photo by Lissimore
And they'd better be up to task this year as it's looking more and more that Leading Edge Kawasaki has struck back with the loss of Goerke to the BBMX team down here and signed Brett Metcalfe. It's not done yet but it will be unless things go completely haywire. The Metcalfe camp is just waiting on the final contracts to be delivered to them and they should be a go.
Metcalfe, when last seen racing, is a world class talent that will cause Facciotti, Medgalia, Kiniry and whomever else comes up to step up their game. Monster Energy has reached deep down into its pockets and wants the number one plate once again (and don't worry, KTM's Andy White has been checking with the now-on-KTM Goerke if he has any interest in coming up to Canada with his number one plate on one of the USA national off weekends. Stay tuned for more on this). The signing of Metcalfe is an indication that they're serious. Along with bumping up MX2 champion Teddy Maier to the MX1 class, Leading Edge Kawasaki isn't rebuilding, they're just reloading.
This is a big year for Colton Facciotti, it's been two years now since he's won and when he's healthy, he's proven to be pretty much untouchable but that's the rub. Staying healthy. Facciotti hasn't been able to do that for a couple of years now and in a shortened nine-race series, it's essential that he does. Kiniry will be strong once again because that's what he is, Bobby's a racer through and through.
For years now the depth of the field in Canadian moto has been challenged as the economy makes it tougher and tougher to keep showing up for a series that badly needs some energy infused into it. Although the MX2 class is wide open after Kaven Benoit, the MX1 class has five legitimate title contenders (Kiniry, Facciotti, Medaglia, Maier and Metcalfe) and a whole bunch of spoilers. It remains to be seen if Gopher Dunes team can seal a deal to bring an American up but if they can and if the salary number's I'm hearing are correct- they can definitely bring up someone that can win.
Stay tuned, the Canadian series has another three months until it begins but it seems like it's going to be as interesting as ever.