Zach "Like a" Freeberg has been riding well this year
Zach "Like a" Freeberg has been riding well this year
Teams like JAB Motorsports are the lifeblood of our sport. Scott Motorsports and we at PulpMX realize this and we will use this weekly look into the JAB Motorsports Team to make sure they receive a deserved consistent spotlight through the 2013 season. Scott Motorsports is a proud sponsor of the JAB Motorsports Team and keeps team members Matt Lemoine, Gannon Audette and Vann Martin fully equipped from head to toe.
Zack Freeberg is a born and raised Florida kid made his pro debut in the 2012 with the Suzuki City team indoors and the outdoor series aboard the Langston/Witt KTM. His results were definitely not what he had anticipiated and through the first two rounds of Supercross this year, things seemed to only get more frustrating. In the last two rounds though, he has put in some solid rides including a very impressive 8th this weekend on a ridiculous Daytona track.
I called up Zack to learn a little more about him and see how he feels about his experience in pro racing so far.
Swizcore- Zack, tell us a little about yourself. Where you're from, how long you've been racing, your path to professional racing.
Zack- My name is Zack Freeberg, I'm 20 years old from Riverview Florida. I started racing when I was 4, my first big Amateur National was at World Mini. I wasn't the best as an amateur until I got on Team Green in '07 when I was racing 14-15 Supermini. I moved to big bikes in '08 and won a few championships beginning with 250B stock and I stuck with Team Green until 2011.
Are you and Adam Cianciarulo still keeping in touch now that he trains at RV's? I know you guys trained together for a long time.
Yeah, we text each other still and we saw each other at Daytona. I lived with him for about 4 years and that was another huge part of my amateur career and they took care of me. Adam needed someone to ride with and I needed help as well and Alan is really good at knowing how to setup a program and he watched over me. I definitely wouldn't have done what I did as an amateur without him and probably wouldn't be where I am right now without them. They were a big part of where I am now and we still talk and keep in touch.
You worked with Red Dog a little bit and I don't know if you know anything about PulpMX but anything relating to Red Dog is required to be brought up. How was he to work with? He reeeaaally loves him some Freeburg.
I worked with him last year. I've always known him and rode at his house a little bit. I started really working with him last year during the outdoors season when I rode for the Langston/Witt race team. He's been there and done it all, he just knows so much. He's just a huge help with everything from starts, to mental, to fitness… pretty much anything. He's just good to have around because he's literally been through it all and he is easy to trust. He's still helping me out this year too so, it's working good.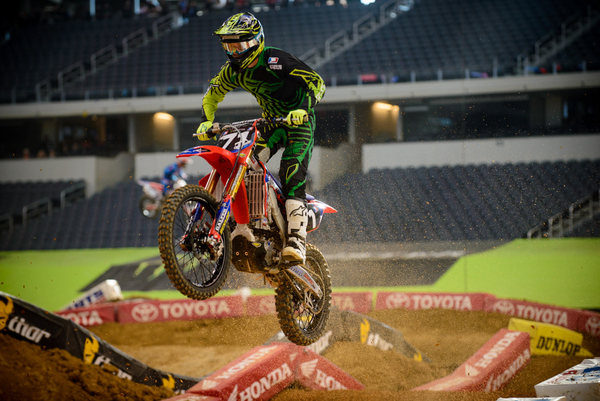 Zack is making the most of this indoor series as it will bear on his outdoor series as well.
How do you look back on your outdoor series last year with Langston/Witt? I know your finishes weren't what you wanted but did you pull away any pluses from the series?
I can't thank them enough for the opportunity. I wouldn't have raced outdoors without them because financially we can't afford it. It was a huge opportunity and I learned so much. I ended up with 14 DNF's but my rides leading up to the DNF's, I felt, were good. It didn't go as planned but it was a big learning curve so this year should be a lot better since I know how things workout now. It was a great opportunity though and I seriously can't thank them enough.
So it sounds like the team your on is all set for a full outdoor series?
No it's actually not but it's totally based on my riding leading up to the series. It's all on what I do.
It's kinda good to know that your future is in your own hands. There are no questions, you just gotta make it happen.
Exactly. It's either step up or step out.
You didn't make the main first two rounds but the last two rounds have gone pretty good. What do you feel was the difference these last two races?
Well the first round I honestly came in expecting to be up front in the main and it started off bad. I thought I had the start in the heat at Dallas and got on the brakes too hard and the rear end stepped out into a tough block and went down. I qualified 15th though so my confidence was good. I knew where I should be because I've ridden with guys on my track who I race with. Then the LCQ was stacked and I got a bad start and that was that.
In Atlanta I was dwelling on Dallas a little too much and wasn't feeling comfortable. I was flustered and didn't do anything there.
I came home from there, just cleared my mind, started fresh and made the main, and finished 12th. It still wasn't what I wanted but it was a start.
Then went to Daytona and got a decent start in the heat race and ended up 6th. Then in the main ended up 8th, so we're moving forward. I definitely want to be getting in the top 5, I know it's possible.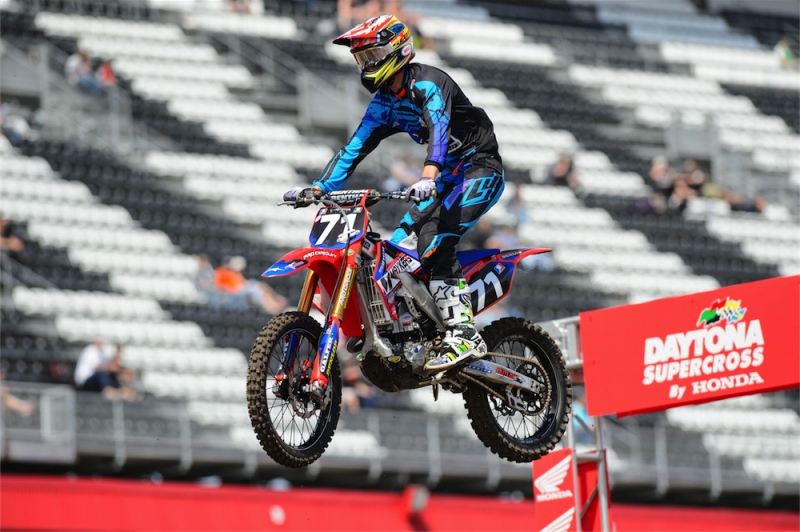 Zack is definitely a big kid for the 250 but an 8th in a deep Daytona shows he can do it.
Is it safe to assume you aren't a big fan of rock hard tracks like you saw at Dallas and Atlanta?
Yeah, I'm definitely more of a sand guy. Dallas wasn't terrible really but I struggled at Atlanta and in the slippery stuff. It's weird because my track is pretty slippery so I should be better on it but I do struggle on it.
An 8th on that gnarly Daytona track is a statement. What did you think of the track?
I honestly liked it. Last year was a mud-fest so I didn't really know to expect this year because I didn't have a true feel for what Daytona was. This year was so much better because it's not as tight and you can open it up and let it hang out a bit more. That's kinda my style. The longer lap time, the rougher track, it's not as tight– I kinda struggle more in the tight stuff and you can just let it hang out a little more. The rougher the track the better I feel and I think that comes back to me being a bigger guy.
This Daytona finish has to give you some confidence heading into Indy, yeah?
Yeah for sure, I just want to keep moving forward. There's a pack from 4th to 8th that seems to stick together and I just need to get a better start and get out there with them. I've been starting from 13th to 15th so I need to start top 10 and stay with those guys. You can't start 15th and catch those guys unless you're 2-seconds a lap faster and I'm not on that pace yet.
That 8th place definitely helps the confidence so I'll be there next week for sure.
Do you feel your strength is indoors or out?
I think I'm a better outdoor rider because I really like the long moto's. Just like Daytona showed, the rougher the track, the longer the moto's, the better I'll be. Like I said, I'm a bigger guy and I think that makes me struggle in the tight stuff. My style definitely leans more toward outdoors. I've never tried a 450 indoors so maybe that would be better but being so big on a 250 is harder.
What goals did you set for yourself before the series and have they changed at all?
My goals before the season were to finish in the top 10 every weekend and be in the top 10 at the end of the season in points. It still hasn't changed. I'm 15th in points right now; not that far out so I just need to keep putting in good rides and finish in the top 5 to score points and finish where I belong. So, no the goal hasn't changed. I just want to be consistent inside the top 10 with those guys.