Round two offered up the usual winners
Round two offered up the usual winners
Herlings and Cairoli dominate as GP motocross introduces itself to Thailand
By Jonathan McCready
Photos courtesy Youthstream
Jeffrey Herlings almost did it. After dominating the opening MX2 moto Herlings came into the Superfinal believing he could run top five or even top three, and his predictions almost came true.
It was an exciting event for Thailand to hold with spectators watching GP motocross for the first time in their country– and they almost saw history being made.
Herlings started about seventh with Cairoli leading from Desalle and Paulin. But Herlings soon found his way through including passing early MX2 leader Dean Ferris and positioned himself in fifth just behind old adversary Tommy Searle.
When Searle went down Herlings was fourth and he locked onto the back wheel of Gautier Paulin.
As Cairoli began to pull away from Desalle, Paulin and Herlings began to catch the Suzuki rider. Paulin, looking impressive all weekend, passed Desalle with a few minutes to go and that left Herlings right on the back of Desalle.
With three laps to go the young Dutchman was all over Desalle and looked set to get an historic podium, he made his move with two laps to go but as they came out of the left hander Herlings slowed almost to stop. After a while he was back up to speed but his chance of a podium was gone.
Herlings explained what happened on twitter: "I just got a few seconds dizzy with two laps to go because of the heat. That's why I had to slow down for a bit"
Still, a fourth place was pretty impressive especially when you look at the laptimes. Herlings had the third quickest time in the superfinal and was only two tenths off Cairoli's lap time – that is quick!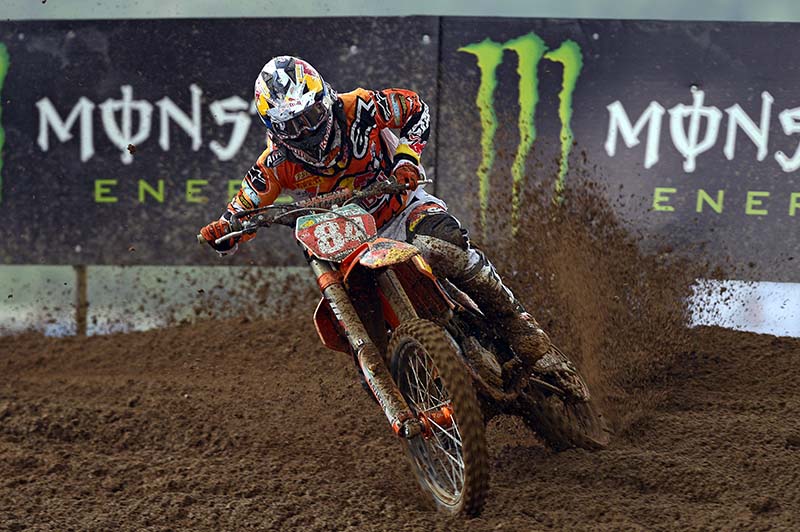 Herlings dominated the MX2 class again, the only question being- can he make the podium in the Superfinal?
Also impressive is Romain Febvre. The Frenchman is really opening some eyes this year in mx2 and two second places gave him second overall as he moved into second in the championship. Febvre is only in his second full time year of motocross after racing supermoto during his teenage years, but he came back to the sport he raced as a child and his progression curve is really high!
Last season Febvre was 13th in the championship, this year he is lying second – that is quite an achievement. It remains to be seen if Febvre can keep this form and his big test will come in Holland at the next round because he struggled in the sand last season.
Spaniard Jose Burton got his second ever GP podium and the KTM rider has looked really good at the start of the season. Christophe Charlier would been on the podium but a crash in the first moto while running near the front meant his results wasn't what it could have been It is nice to see Charlier finally healthy and showing his potential.
Italy's Alex Lupino had a good day with fifth overall and his performances have definitely went up a level on the CLS Kawasaki.
The disappointment was Aussie Dean Ferris in sixth. Ferris was fifth in moto one and got a cracking start in the superfinal, banging bars at the front of the field and leading the MX2 division. However, Ferris slowly dropped back to sixth place in a ride he won't be happy with – but he is still third in the he championship.
In MX1 the trio of Cairoli Paulin and Desalle are starting to show themselves as the class of the field. They finished 1-2-3 in the Superfinal, 1-2-3 overall and are 1-2-3 in the championship.
Cairoli won both motos with ease after an early challenge in moto one from De Dycker and Bobreyshev. Both rides passed Cairoli early but the Italian didn't panic and passed them both back after the half way mark. De Dycker still finished second – pretty impressive or the Belgian not known for his fitness especially in the heat.
Cairoli holeshot the superfinal and held off an early challenge from Desalle before pulling away again. It was a big statement from Cairoli who has shown Desalle in both superfinals, that if they get away together, Desalle won't beat him.
Gautier Paulin is positioning himself as Cairoli's strongest challenger aside from Desalle. The stylish Frenchman was fourth in race one before running down Desalle in race two. If Paulin can gate ahead of Cairoli it will be interesting to see what would happen.
Tommy Searle is edging closer to the top three with fourth overall. The British rider has shown improvement over the two GPs and could well be positioning himself to be one of the guys that could join the top three contenders, the only problem remains the sand track and the next round is in Holland. He also won't have liked getting beaten by rival Herlings in the superfinal!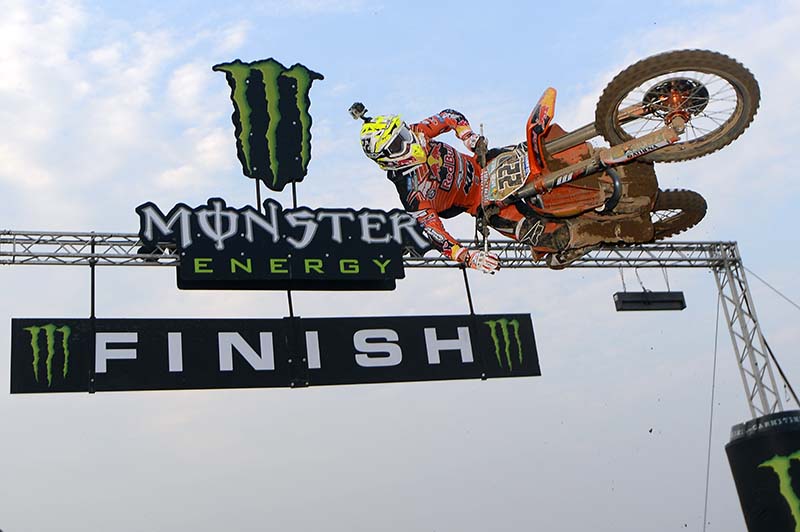 Say hello to the new boss, same as the old boss.
The track in Thailand was outstanding – it had a little bit of everything. From deep loamy ruts to off cambers and slick surfaces as well as some spectacular jumps the circuit was a challenge of variety and adaptability the whole way around.
Another challenge was the heat. With high temperatures and a lot of humidity the riders had a tough two days with all the practicing and racing in temperatures they are just not accustomed too.
The series heads to Holland now at Easter where we are back to two separate motos for each class – even though a superfinal would have been interesting to see Cairoli and Herlings battle in the sand again!
The superfinal format itself is still under review but Thailand showed it can work…the question is does everybody want it to work?
Results
MX1 Overall
1. Antonio Cairoli (ITA, KTM), 50 points;
2. Gautier Paulin (FRA, Kawasaki), 40 p.;
3. Clement Desalle (BEL, Suzuki), 40 p.;
4. Tommy Searle (GBR, Kawasaki), 34 p.;
5. Ken de Dycker (BEL, KTM), 34 p.;
6. Rui Goncalves (POR, KTM), 29 p.;
7. Joel Roelants (BEL, Yamaha), 25 p.;
8. Steven Frossard (FRA, Yamaha), 25 p.;
9. Kevin Strijbos (BEL, Suzuki), 25 p.;
10. Xavier Boog (FRA, KTM), 23 p.;
MX1 World Championship standings
1. Antonio Cairoli (ITA, KTM), 95 points;
2. Clement Desalle (BEL, Suzuki), 87 p.;
3. Gautier Paulin (FRA, Kawasaki), 78 p.;
4. Ken de Dycker (BEL, KTM), 70 p.;
5. Tommy Searle (GBR, Kawasaki), 64 p.;
6. Kevin Strijbos (BEL, Suzuki), 55 p.;
7. Rui Goncalves (POR, KTM), 52 p.;
8. Evgeny Bobryshev (RUS, Honda), 47 p.;
9. Steven Frossard (FRA, Yamaha), 47 p.;
10. Xavier Boog (FRA, KTM), 41 p.;
MX2 Overall
1. Jeffrey Herlings (NED, KTM), 50 points;
2. Romain Febvre (FRA, KTM), 44 p.;
3. Jose Butron (ESP, KTM), 34 p.;
4. Christophe Charlier (FRA, Yamaha), 32 p.;
5. Alessandro Lupino (ITA, Kawasaki), 31 p.;
6. Dean Ferris (AUS, Yamaha), 31 p.;
7. Glenn Coldenhoff (NED, KTM), 27 p.;
8. Jordi Tixier (FRA, KTM), 27 p.;
9. Max Anstie (GBR, Suzuki), 25 p.;
10. Julien Lieber (BEL, Suzuki), 23 p.;
MX2 World Championship standings
1. Jeffrey Herlings (NED, KTM), 100 points;
2. Romain Febvre (FRA, KTM), 82 p.;
3. Dean Ferris (AUS, Yamaha), 69 p.;
4. Christophe Charlier (FRA, Yamaha), 65 p.;
5. Glenn Coldenhoff (NED, KTM), 63 p.;
6. Jose Butron (ESP, KTM), 60 p.;
7. Jordi Tixier (FRA, KTM), 57 p.;
8. Alessandro Lupino (ITA, Kawasaki), 56 p.;
9. Julien Lieber (BEL, Suzuki), 47 p.;
10. Max Anstie (GBR, Suzuki), 37 p.;