Round three of the GP's bro
Round three of the GP's bro
Dutch GP Report
Words by Jonathan McCready
Picture by Nigel McKinstry
Jeffrey Herlings is just brilliant. After a disqualification on Saturday for outside assistance following a crash the Dutch teenager had to start from the outside gate in each moto.
In moto one he somehow came around in tenth and forced his way into the lead eventually after a good battle with teammate Tixier.
In race two Tixier holeshot again, but this time Herlings got squeezed out in turn one and was right at the back of the pack.
The race was one as Tixier started to run away from the field with Herlings mired in the pack. Herlings was 21 seconds back. With over half the race gone Herlings still had 12 seconds to make up on Tixier but once he got a clear track "the Bullet" put on the afterburners.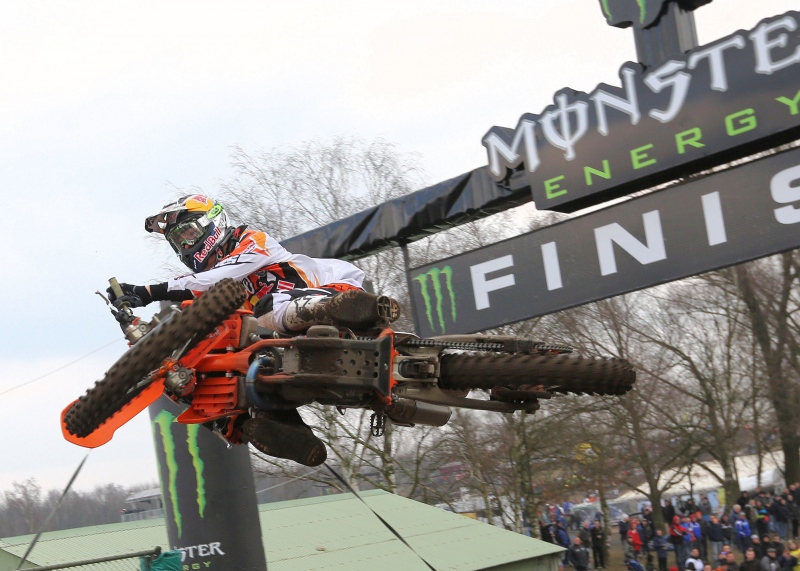 If it's the sand, it must be a Herlings win.
With some phenomenal corner speed Herlings hunted down Tixier and with three minutes to go he made the move to the delight of the partisan crowd. High fives, cheers, applause and waving arms all combined to create a fantastic atmosophere as Herlings put on another legendary ride.
Although he was in Holland the sand was nothing like as deep as Lierop or even Lommel and with the frost and cold weather the sand that was there didn't get as deep as it normally would. The result was a hard pack track with a sandy base and it was more one lined than normal… but Herlings still made it work.
Many have tried and failed to beat this kid in Valkenswaard, he won his first GP there in 2010 at just 15 years old, he won both motos then and has won both motos ever since. No one can touch him, not even Musquin or Roczen could stop him and he is just getting faster.
Herlings commented: "It was a tough race, I had to start from gate 40 and the start was really short. Jordi was riding awesome. They flattened the track a lot so it was difficult to overtake but I passed riders every lap, by the time I got into third with ten or fifteen minutes to go I had to step it up. The other guys got tired I think and I kept riding the same pace. It was the most difficult one in four years."
Tixier rode the best race of his career and finally showed the form his talent has promised. Everts has been working hard with the Frenchman over the winter and after two bad races inthe first two GPs Tixier is now on point and into second in the championship.
Jake Nicholls finally got his first ever podium. After getting beaten by his teammate at the first two rounds Nicholls rebounded in style by carding a fourth and third place finish. With his confidence up it will be interesting to see how he gets on in the rest of the season.
In MX1 Cairoli one again, and if you just looked at the results you might think it AC controlling the race but Cairoli should not have won the overall – it should have been his teammate!
Yes Big Ken De Dycker is doing a Davi Millsaps. Just when everyone questioned his hunger and fitness. De Dycker has found a winter program that works in a team he likes and is starting to show the world how much speed he really has.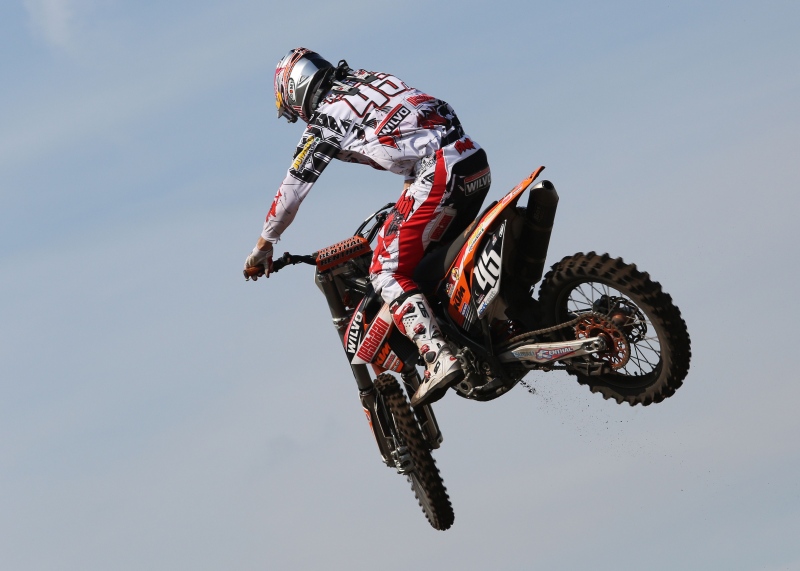 Britain's Jake Nicholls made his first career podium at the Dutch GP
De Dycker was so fast he seemed to be pretending to be Jeffrey Herlings. But after passing Cairoli for the lead in race one De Dycker fell and just couldn't get passed Bobreyshev for second in the closing laps. But he was the fastest man on the track at the end and that in itself was a warning.
In race two De and Cairoli both started outside the top five with Cairoli just ahead of the Belgian but De Dycker passed Cairoli in the first lap and motored away to move into the lead passing both Bobreyshev and Strijbos.
While all this was going on Cairoli had only moved up into fourth and by the time Cairoli made it to second De Dycker was almost ten seconds in front.
De Dycker slowed down so much in the last laps that Cairoli almost caught him but Ken as waving to the crowed on the last lap and took the win with a big nac-nac over the finish line!
Cairoli celebrated his overall win with a whip but he was visibly frustrated at not winning.
The Italian said: It is good enough but I expect to win both races. I pushed hard but was making a lot of mistakes in the first ten minutes. After I got warmed up i got my rhythm but maybe I waited too long to catch Ken who was already going fast from the beginning."
It was Cairoli's fifth win at Valkenswaard in a row and only Stefan Everts has achieved such a feat but it would have been more memorable for Cairoli if he could have dominated.
But De Dycker was just so fast, he has always had blistering raw speed but he has never been able to maintain it for an entire race. But at Valkenswaard he figured it out and said he feeling is better than ever.
He said: "I feel really strong this winter and with the bike I am feeling better and better. In the first moto I slid out in the waves sections, it took one or two laps to recover but I just wanted to go faster at the end but the time ran out. I have many fans and friends here and it is really special to do it here so they can see me ride like this. I am at the best I have ever been."
Evgeny Bobreyshev made the podium with third overall and dedicated it to his one month on baby daughter. Bobby is started to hit his stride and if he wins one it could be the first of many.
MX2 Overall
1. Jeffrey Herlings (NED, KTM), 50 points;
2. Jordi Tixier (FRA, KTM), 44 p.;
3. Jake Nicholls (GBR, KTM), 38 p.;
4. Max Anstie (GBR, Suzuki), 35 p.;
5. Glenn Coldenhoff (NED, KTM), 34 p.;
6. Alexander Tonkov (RUS, Honda), 23 p.;
7. Mel Pocock (GBR, Yamaha), 23 p.;
8. Priit Ratsep (EST, KTM), 22 p.;
9. Pascal Rauchenecker (AUT, KTM), 19 p.;
10. Romain Febvre (FRA, KTM), 16 p.;
11. Julien Lieber (BEL, Suzuki), 15 p.;
MX2 World Championship standings after 3 of 18 rounds
1. Jeffrey Herlings (NED, KTM), 150 points;
2. Jordi Tixier (FRA, KTM), 101 p.;
3. Romain Febvre (FRA, KTM), 98 p.;
4. Glenn Coldenhoff (NED, KTM), 97 p.;
5. Jose Butron (ESP, KTM), 74 p.;
6. Max Anstie (GBR, Suzuki), 72 p.;
7. Christophe Charlier (FRA, Yamaha), 71 p.;
8. Dean Ferris (AUS, Yamaha), 69 p.;
9. Jake Nicholls (GBR, KTM), 64 p.;
10. Julien Lieber (BEL, Suzuki), 62 p.;
MX1 Overall
1. Antonio Cairoli (ITA, KTM), 47 points;
2. Ken de Dycker (BEL, KTM), 45 p.;
3. Evgeny Bobryshev (RUS, Honda), 40 p.;
4. Kevin Strijbos (BEL, Suzuki), 34 p.;
5. Maximilian Nagl (GER, Honda), 30 p.;
6. Gautier Paulin (FRA, Kawasaki), 30 p.;
7. Clement Desalle (BEL, Suzuki), 29 p.;
8. Tanel Leok (EST, Honda), 28 p.;
9. Tommy Searle (GBR, Kawasaki), 23 p.;
10. Rui Goncalves (POR, KTM), 21 p.;
MX1 World Championship standings after 3 of 18 rounds
1. Antonio Cairoli (ITA, KTM), 142 points;
2. Clement Desalle (BEL, Suzuki), 116 p.;
3. Ken de Dycker (BEL, KTM), 115 p.;
4. Gautier Paulin (FRA, Kawasaki), 108 p.;
5. Kevin Strijbos (BEL, Suzuki), 89 p.;
6. Evgeny Bobryshev (RUS, Honda), 87 p.;
7. Tommy Searle (GBR, Kawasaki), 87 p.;
8. Rui Goncalves (POR, KTM), 73 p.;
9. Tanel Leok (EST, Honda), 61 p.;
10. Joel Roelants (BEL, Yamaha), 58 p.;