Not only am I screwed out of the hockey game, I have to work past midnight.
Not only am I screwed out of the hockey game, I have to work past midnight.
Photos By: THE James Lissimore
Man, it seems like only three years ago(wait… it was three years ago)… I got a phone call from Matthes asking if I wanted an all expenses paid trip to Florida for a week. Not only would I be able to stay at THE Time Ferry's home(albeit with a "don't be creepy bro" speech on their doorstep) but I would also be visiting Chad Reed and Ryan Villopoto's personal training grounds. Clearly, this phone call would be on ANY moto fan's bucket list. I don't care if you are the biggest shit-talker on both of these guys on VitalMX; if you got this call, you'd slap your mother to go.
Flash-forward to now, three years later and Matthes(and our gracious–err reluctant in the case of RV; hosts) continues to make this trek a reality for us. Matthes is smart about this trip these last two years though. You see, my family spends 11 days on the Gulf Coast just outside of Tampa every year so Matthes skirts the flight costs and we nail down work over three full days of balls to the wall shooting. It's a LOT of work but in the end it's always worth it. We hope you appreciate it too, so with that, here is day one in a blog-shell.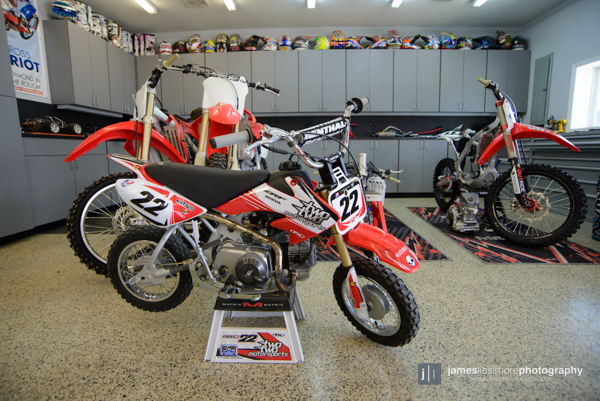 The TwoTwo shop wasn't bustling like normal with Chad recovering from his MCL repair.
As we rolled to a stop just outside the TwoTwo workshop in Dade City it struck me. This year was so different from the first year and even the second year at the TwoTwo compound. The first year we came, TwoTwo was in it's maiden year. It was just before Daytona and Chad was firing on all cylinders. Sure, the team was new and he was still feeling out team ownership but the TwoTwoRig was there, a full staff was busy as hell, Chad was riding, JT$ was riding, even Lil' Goose was spinning laps. It was a real "happening" going down in all directions. Worky worky, busy bee's.
Last year our trip came not long after Chad's Dallas crash which had let all the air out of the series. Even though Chad wasn't riding, JT$ and Byrner were all systems go and Chad even came out to give a hand in our production of "Small Man, Big Heart"(as an aside, it is a damn travesty that this video has so few views, it's damn good). Even without Chad riding and much less going on while we were there, it was a busy visit.
This year Chad wasn't riding due to the MCL repair he recently had, JT$ is now retired, Dean's recent injuries in Indy spun some of our plans out again but Byrner was a real champ and spun some laps for us. It was a far cry from the bustling TwoTwo atmosphere of three years ago but that's the way it goes when the guy who makes it all happen is recovering, as opposed to preparing. Chad brought out Tate as well and it was a riot watching him try to get on anything with wheels that spun and playing "dirt" all over the place. At one point I spotted him atop a SX tabletop chucking his shoes down to the bottom and sliding down the side on his butt. I have two boys myself, this is standard stuff… well, other than the surroundings of course.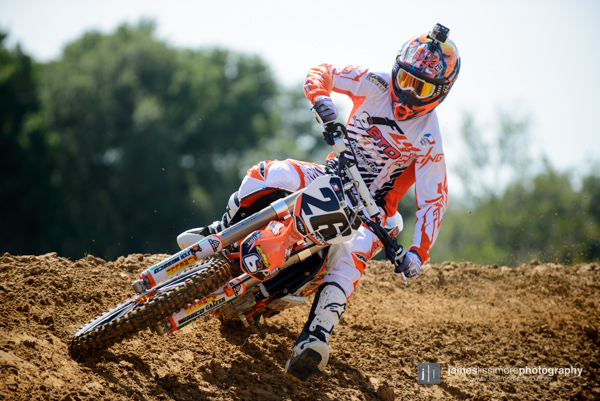 Byrner's been out of sight for a while but he spun some laps for us.
There was some time spent sitting around BS-ing about this and that. The topic of JT$ was broached a time or two, actually enough to where it almost seemed like the Fly Racing international sales manager was actually with us. In spirit, anyways. Somebody will be getting a text any second now if he reads this.
Following Byrner's riding session it was decided that some carting needed to be taken care of. Oh, for any Mom's out there, I know how interesting this is to you and yes, Chad changed a dookie-diaper. Now although Chad's knee isn't ready to moto yet, he made it clear that he was capable of laying wood to Byrner on the cart track, freshly doctored MCL and all. Now, there's a bit of a discrepancy as to whether Chad's cart is "better" than Byrner's but I will say, Chad's grill was all up in Byrner's rear bumper whenever he chose to put it there. Skill? Power advantage? This will never see an agreed upon answer. It's the basis of bench racing and shit talking that makes competing with your buddies great.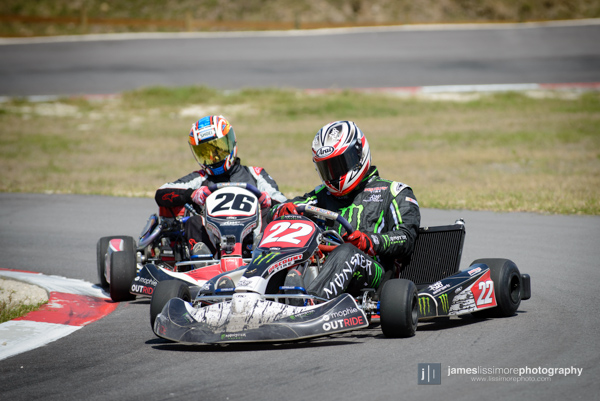 See all that rubber on Chad's bumper? That's what you call "bully-carting"
Joining Byrner and Chad on the carts was Chad's practice bike wrench, Mike McQuillin, and he was actually ripping the 125cc smoker cart. Just like the 2T vs 4T debate in MX, it thrives in the carting world. And just like in MX, on the cart track, the smoker sounds incredible but is a shit load more work to go much slower. It's facts people.
Byrner had a spin-out in what I would call turn-one which was pretty entertaining, though I didn't get it on film because I was walking to another section of the track but Liss got some stills of it. Dean-O's Dad, Andy, stopped by to see what was shaking and he was good for some laughs and an assist on a tire repair following Byrner's off-track spinout. Andy said Dean didn't come with him because he was at a Chiropractor appointment.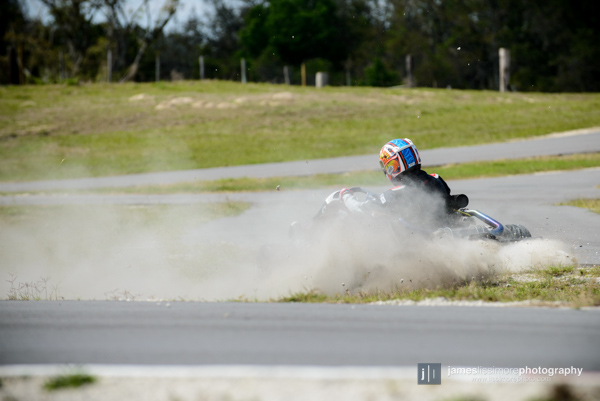 Byrner blowing corners and tire beeds.
With the lack of moto going down at the TwoTwo premises today, Chad, Byrner and Tate did their best to make the trip worth it for us and we can't thank them enough. I can only imagine what Tate will be doing next time we make the trip. Probably hucking his PW50 over the tabletop instead of his shoes off the top of it.
Many people idolize racers like Chad and it's understandable. He's got this spotlight on him, as do the other top names in the sport, and it's the ability to live in this spotlight while appearing as grounded and status quo as possible, that is the true feat. As extraordinary as Chad is on a bike(or a cart for that matter) and more impressively, keeping his sanity while living under the microscope of fans and social-media; in conversation he's just like any other group moto guys hanging out a the track. Of the guys I have had the fortune to be around in the sport, many(not all) of them are like this. They are good guys who don't necessarily aspire to be hoisted on the pedestal that fans place them on. They'll do their best to market themselves and build the brand but when it comes down to simple communication amongst like-minded people, it's as comfortable and unpretentious as it gets.
Yawwwwwn, time for bed. We have another long day tomorrow.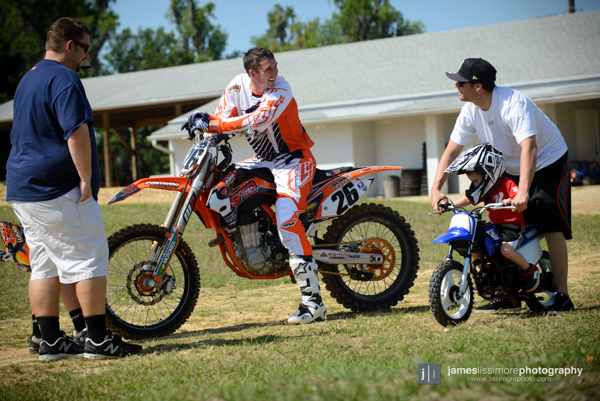 Tate got his moto fix early before heading out to "play dirt".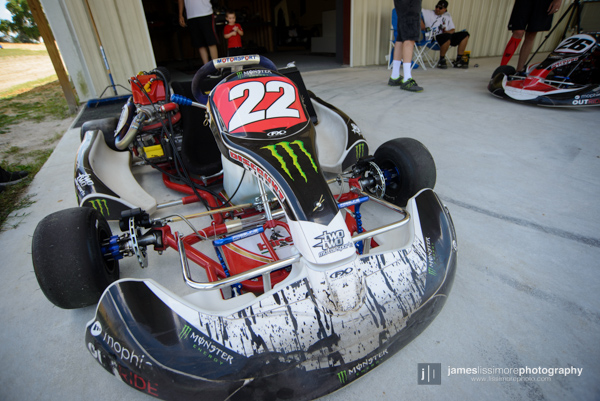 Chad runs the red background on his cart track because he is the alpha dog.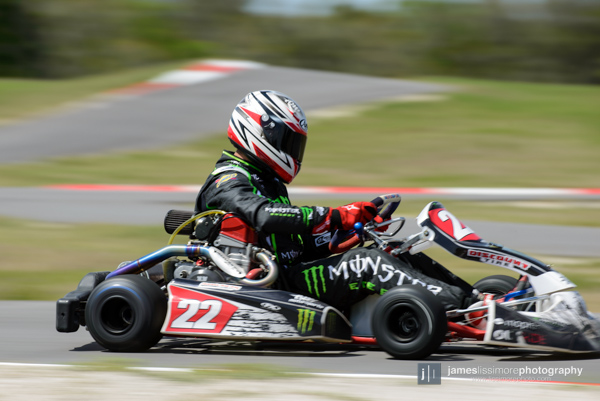 These things pull some serious G's in the corners. The track is just nuts.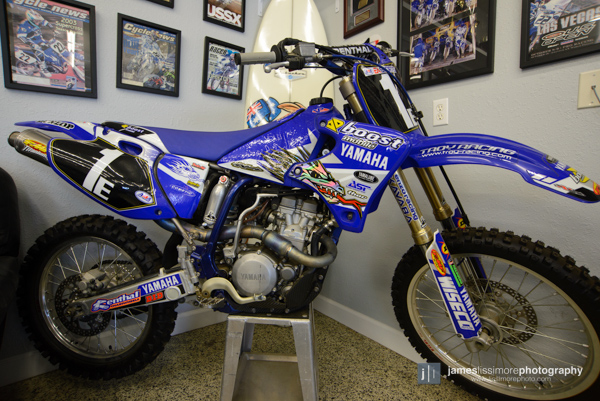 Every year Matthes loves to point out the external oil cooler lines on Chad's Championship winning YoT bike.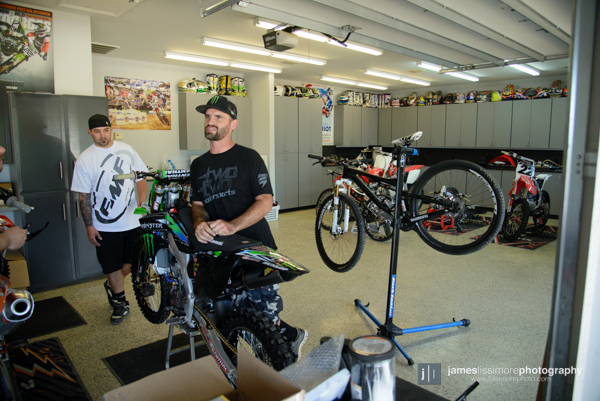 When Chad is preparing instead of recovering, the race shop is much busier. Here Chad and Byrner's practice mechanics ponder what is next on the todo list.