Day-two of Florida Week 2013 was a little less driving and a lot more riding than we had to work with yesterday.
Photos By: THE James Lissimore
It would appear that Tim Ferry is more immersed in moto now than he was as a Factory rider. He's got a son, Evan, who is absolutely loving riding, he's working with Trey Canard, he's got some top amateurs shacking up at his property on a "program" and lets not forget Zack Freeberg who lives nearby and the laps that Timmy himself spins regularly. Whereas Timmy used to just worry about putting in his laps, his training and his diet, he now is getting pulled in many different directions but oddly, he seems to be as relaxed as ever. Enjoying life.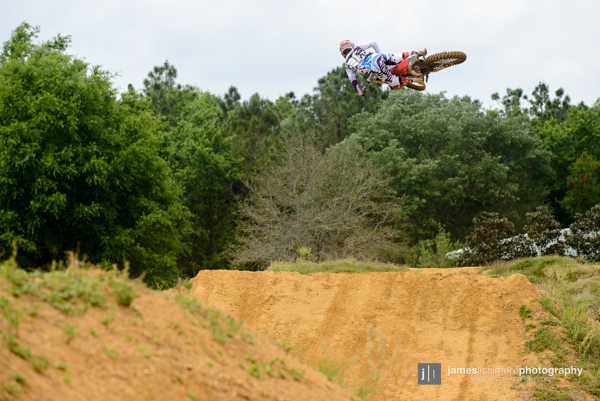 RJ Hampshire flicking it here. This guy has serious skills. Remember the name.
We started filming early and it went pretty much all day. Amateurs RJ Hampshire and Marvin Staser were putting in motos on the freshly watered track. Yes, watered by Red Dog himself, yet another job. I hadn't ever heard the name RJ Hampshire before Timmy began tweeting about him during the Daytona AM SX this year. Let's be honest, I am not much of an amateur scene follower, I know the top names that get the majority of the press but this Hampshire name and his results had me feeling like I missed something somewhere. He was blowing me away on the 450. Actually, he was blowing everybody away on it. Having not heard of him before and finally seeing him ride, I was very intrigued to get his back story so I grabbed him for a quick interview that I'll post later this week. Good guy, though Matthes is not a fan of his choice in music. I think he's ok with that though.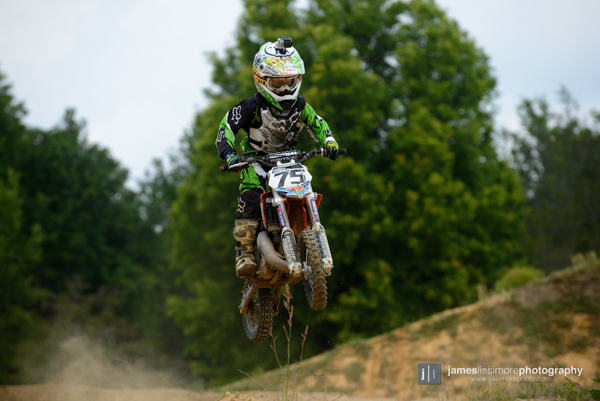 Evan Ferry rode about as much today as he would racing 4 classes at Loretta's. Loves it!
When Red Pup, Evan, saw the cameras getting hoisted out, you could tell he was ready to rip. The kid loves riding and loves hamming it up for the camera. He's apparently got a real knack for testing too. He was complaining of a bog on one of his 50's, so Matthes adjusted his air screw. Timmy immediately said, "I think that sounds worse, he's not going to be happy". Sure enough, Evan went about four corners, then looked over to us and put his hand up like "what the heck?" Evan rode back over, Matthes readjusted, Evan headed back out and while rounding the corner nearest us, he threw up a couple fist pumps! It was comical. I couldn't get over how much he already looks like Timmy when he rides. Body positioning is similar and his head even leans the same way Timmy's does in certain recurring instances. It's definitely in the genes.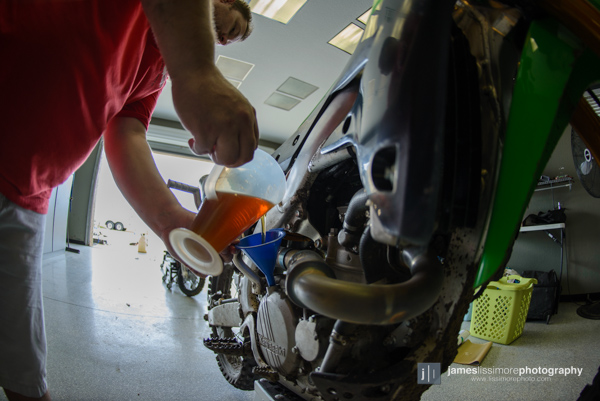 Matthes fulfilling part of his duties before Red Dog could "giddy his ride on."
Matthes dove deep into his wrenching duties again. Changing the oil on Reds bike, putting some graphics on(2x in the case of the shroud due to my superior application on the other side), helping troubleshoot a clutch issue, adjusting Evan's carb and he narrowly escaped replacing Timmys broken exhaust. He was saved that chore by Zack Freebergs mechanic who volunteered for the job. I actually put on my mechanic hat too. You see, Timmy's leaf blower was acting up and that just so happens to fall in my area of expertise so I followed my gut, which proved to be correct but only the tip of the ice berg for the poor blower. Someone had filled it with straight gas…cough, Timmy says it was Evie…, and the blower would not fire. As Sheaky would say, it sounded totally "metal to metal" when trying to start it.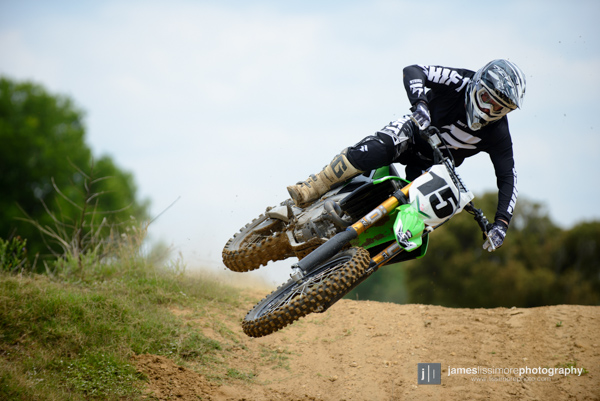 The Red Dog himself. Can you imagine how many hours he's spent on a bike? Like 10 years worth?!
We spent a lot of time filming, talking and hanging out during the day. Some of you may remember the first year we did this Florida trip, when we stayed at Timmy's and the day I was packing my camera gear in the bedroom and Evan was hanging out with me. He fell off the bed and got the wind knocked out of him. This story of course turned into a recurring punchline of me pushing kids off beds. We revisited the story today with Evan and Evan could barely remember it as I was recounting it to him; but the funniest part of the story telling was when I was done and he actually asked, "did you really push me off the bed?!" I couldn't handle it. I was laughing hard at that one. Classic!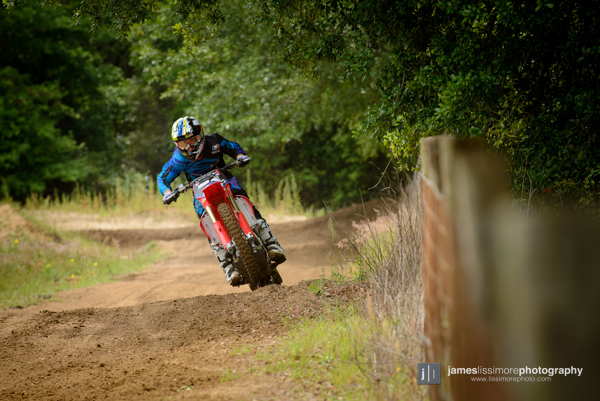 Zack Freeberg showed up a little later. He is a big dude for a 250F. Born n raised Floridian just like the one-five.
To give you an idea of how laid back this day was, we essentially had a pizza party mid way through. The Red Dog Academy is in full effect and everyone involved seems to be really enjoying it.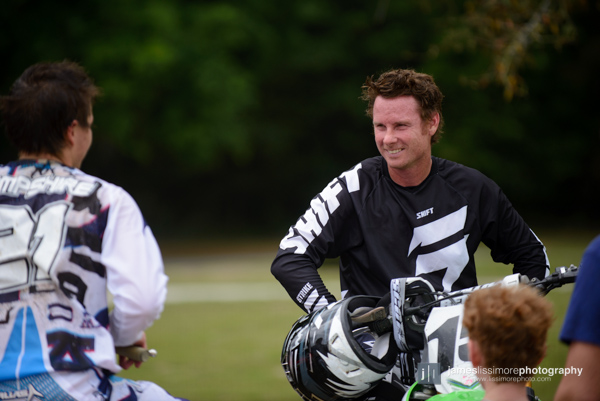 Timmy playing guidance counseler to RJ's inquisitive student role. Evan takes notes.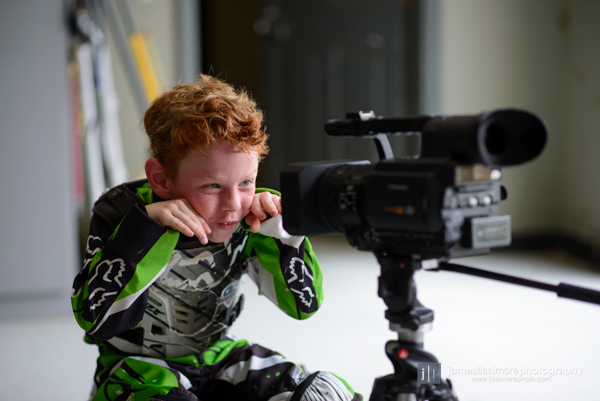 Red Pup hammin' it up for the camera and keeping the mood light.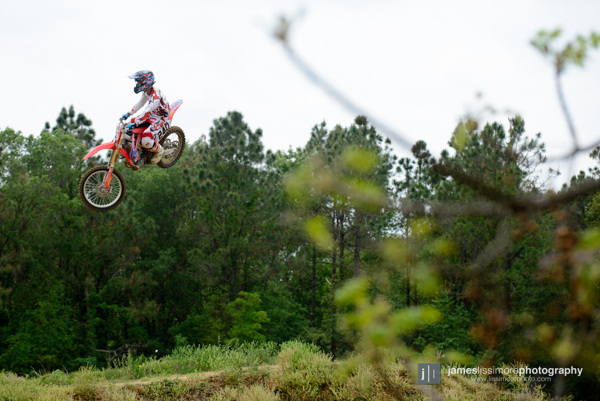 Marvin Staser was shredding with RJ and may have just gotten himself a goggle deal today.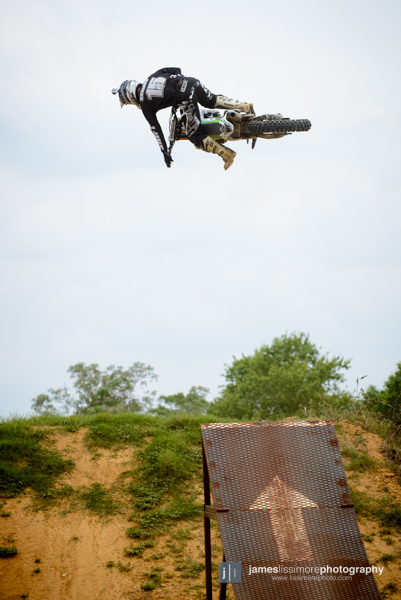 Red Dog and a freestyle ramp. Of course they make perfect sense.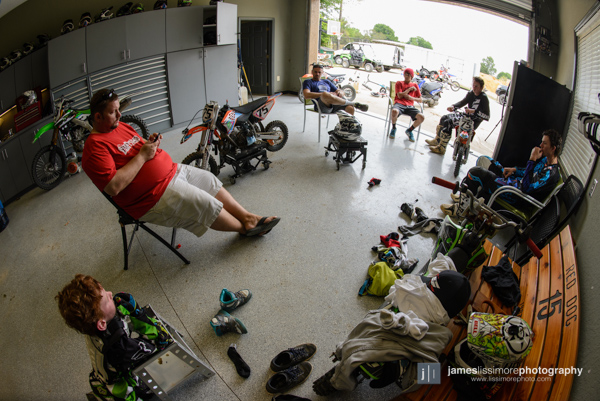 One of many chit chat sessions during the focused though relaxed day.