Moser hooks up a privateer
Moser hooks up a privateer
Short interview with #225 Tyler McEwen
Mr. McEwen had one of his career best Supercross races in Toronto, coming up Just Short of the main event finishing 3rd in the LCQ. Who is this Missouri man of mystery? We're about to find out in this Short interview.
Lets start off with the fact that I had a hard time finding any useful information about you online, why is Tyler McEwen such a mystery do you hate the media or are you hiding from somebody?
I don't hate media at all and I'm really not sure why I'm so hard to find because I have a facebook, instagram, and now I have a twitter thanks to pulpmx. I am not hiding from anyone just google didn't find my social media sites. (Editors note: if you want to stalk Tyler you can check him out on: Twitter @Mxer225, Instagram @mcewen225, Facebook tyler.mcewen.3, Email mxer_225@yahoo.com)
Moser: Summarize who you are and what you stand for or better yet what is your brand? If you don't have a brand we will come up with one for you by the end of this interview. A professional athletes brand is very important second only to your nickname it's marketing 101, do you have a nickname?
Tyler McEwen: I'm all about putting in hard work and trying my best, but most importantly having fun and enjoying racing. Friends have giving me multiple nicknames. I respond to T-Mac, TM, FW (Flat Whipper- is what FW stands for), and McMuffin.
Alright your nicknames are cool and I'll try to refrain from guessing what TM stands for but we're going to need an explanation for McMuffin. My guess is greasy, delicious, gut bomb, and/or colon blow.
McMuffin was started by the one and only, Kody Klyde Renzland. I have no explanation for that nickname other than Kody just made it up and it stuck.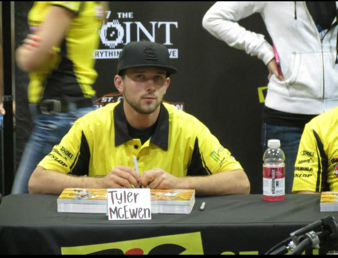 Hi my name is Tyler McEwen
Lets cover some McEwen stats:
Height: 5'9″
2 strokes or 4 strokes: 4 strokes but I love to ride a 2 stroke every now and again
Weight: 155
Superstitious: I am superstitious about running black plastic on my bike
How many fingers on the clutch: One
Eye color: Blue
What gear do you hit the whoops in: 3rd sometimes 4th depending
Favorite movie: Talladega Nights
Number of broken bones you've had: leg 3 times, left arm/wrist, foot, ribs multiple times, and random small fractures
Your dream ride would be on what team: Factory Honda
What other talents do you have: Riding wheelies on mountain bikes and I'm pretty good at soccer
They call you the Whipper so do you prefer to throw it to the left or the right: Left
You were a bit of a late bloomer and by that I mean you didn't start riding until you were 11 years old, what's the backstory there?
I didn't ride much when I was young. I did have a PW50 at the age of 5 but it never left my back yard and we lived on less than 1 acre so there wasn't really much to ride on. I rode the PW50 till the age of 7, then I got a XR70 that I only rode a handful of times. At age 11 I finally got a KX60 and then I started riding at a local track. From there it spiraled to an practicing or racing every weekend.
How competitive were you as an amateur, I saw you qualified for Lorettas? Where were you on a scale of "gnarly" living in a motorhome, racing every weekend, hitting every amateur national to "normal" living at home going to public school, racing locally with the occasional amateur national?
I mainly raced local tracks with occasional travel to other states. Once I moved to the A class at age of 15, I started going to some of the amateur nationals (Lorettas, Lake Whitney, Oak Hill, and Branson). At age 15 I was half way on the scale of "gnarly" and "normal". Every weekend we traveled to a track in the motorhome but came home during the week. I went to public school till half way thru 10th grade. Once I got my license I became home schooled. I didn't get to ride much more during the week once I was home schooled because there were no tracks close home and no one to go with me. When I turned 18, I started going down to Florida and lived in the motorhome over the winter months. I became a member at GPF in 2009 and lived there during the winters.
Describe GPF in 29 words or less?
A great place to ride in the winter and train with other riders. (Editors note: I think Tyler is quoting what it says on the GPF brochure)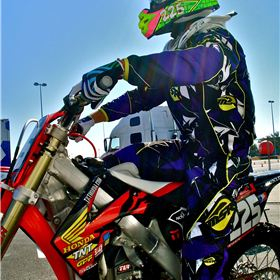 I'm a sucker for all things Honda and fell in love with these retro graphics McEwen was running at first sight
So many kids nowadays are groomed and molded into little future factory racers from such a young age, but Nathan Ramsey and John Dowd started riding and racing when they were older and it seemed to work out pretty well for them. I guess that's not really a question, I think racing on an amateur level is taken too seriously and the fun is lost, what do you think?
It is definitely taken too seriously on an amateur level. I think if it's pushed too hard on you when you're young, you get burnt out and it takes away from the fun of riding.
Growing up what rider did you look up to? Did you always want to race professionally, was that always the goal?
I always looked up to Jeremy McGrath. I never thought I would become a pro. After I rode the A class for a couple years and saw some friends try to go pro, I decided I'd go for it.
I'm working with limited information here but looks like you turned pro in 2009? Where at, how did it go and do you remember what surprised you the most?
I turned pro right before Steel City in 2008, that was my first pro race. It was a whole new experience learning how to qualify for the race, I just jumped into it not knowing what to expect.
One of the few pictures I was able to find of you online had some bad ass retro Honda graphics. I'm a big Honda fan so I'd love to straddle those, who made or makes them? You should look into running some retro Andrew Short graphics.
I have always liked the old school Honda graphics and decided to have Steve from Source Mx Graphics design them for me. Source Mx Graphics provides graphics for a lot of the Missouri riders.
What has been your best ride or finish in your pro career so far?
My best finish in the pro outdoor Nationals was at High Point in 2009 with 30th in moto 2 and 34th overall. As for Supercross the 3rd place finish in the LCQ at Toronto was probably my best ride.
You have some big boner air photos with Brett Cue who is known to run around with Ronnie Mac. Are you Ronnie Mac? Maybe that's why you avoid interviews and posting information about yourself online?
HAHAHA no I am not Ronnie Mac but I wish I was as cool as him.
Walk us through how to perform the perfect boner air, body position, do you seat bounce, elbows up or down, does bike setup come into play?
I honestly couldn't tell you how to perform the perfect boner air, it just comes to me. Every boner air is a little bit different.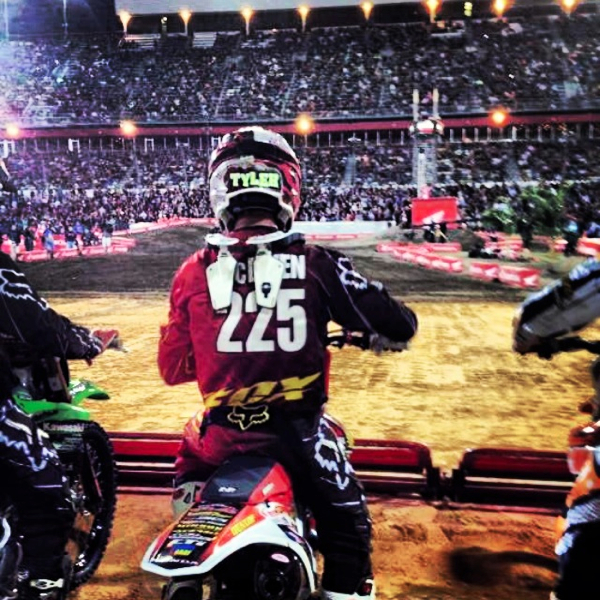 How many people get to say they lined up on the gate at a supercross? I tell people that I did all the time but how many people can say it and actually prove it?
Lets fast forward to your current situation, you're riding the 250F East coast series, who's helping you out, how are you getting to the races, driving/flying, do you have a mechanic, does your girlfriend wash air filters?
My main support for the races is my parents. I drive myself in the motorhome to every round, and I do not have a regular mechanic this year, I've just had different friends/past mechanics help me out. My girlfriend does not wash filters but she used to help change filters and wash bikes every now and again to help me get finished with bike work sooner, now she is too busy with Dental Hygiene School. I would like to thank my sponsors for helping me out: Big St. Charles Motorsports, Health First Wellness Chiropractic, TLR Performance, Factory Connection, Shades of Gray, Novik, FMF, Atlas, SiDi, Source Mx Graphics, ODI, Works Connection, TwinAir, 2twocool, Dragon Goggles, Hinson, Acerbis, Moto Hose, Renegade Fuel, IMS, Moto-Master, Ride Engineering, Dunlop, Fox, Cement Face, and McEwen Electric.
Do you consider yourself more of a SX or MX rider? I can't believe I'm asking you this I don't like the question but it seems relevant.
I've always felt more of an outdoor rider, but this year I started to feel a lot better on supercross.
What are your plans for the outdoors?
My plans for the outdoors is to ride the 450 and hit all the rounds except the ones on the far west coast. They are just too far me to drive by myself and too much gas money.
Thanks for the interview Mr. McEwen and in closing we need to address what your brand is. Hard working, fun loving, easy going? You sound like an everyday guy, a man of the people. Perhaps whip it whip it good? With hard work you can eat your cake and whip it too? We could go with the blue collar angle? What do you think?
I like the sounds of "with hard work you can eat your cake and whip it too!"