Well that's a wrap! It seems like only a few weeks ago, not months, that this series was kicking off with wildly different results than anyone could have anticipated in the 450 class.
Well that's a wrap! It seems like only a few weeks ago, not months, that this series was kicking off with wildly different results than anyone could have anticipated in the 450 class.
Photos by: THE James Lissimore
In the end, the status quo pulled through. There were a few surprises in the final point standings but I'm not going to itemize the results here. I want to look at each rider in the top 12(multiples of 5 are so old school) of each class and give my honest thoughts on where they finished when compared to what I expected of them.
With that, lets get started. I want to start with the class that caught a lot of shit this year. The 250SX East class. From the first round there was a lot of talk about how superior the West class was. It was hard to argue with all the names in the West but in all honesty the competition at the front of each coast was pretty equal in terms the number of riders with race winning capacity. Funny, with all that "depth" in the West coast, there were only three race winners, compared to five in the east. You gotta love when guys who are struggling in the West or are out with injury, are on twitter crap-talking the opposite coast. Stay classy.
1. Wil Hahn-
I like to think of Wil Hahn's title as a long overdue rain check which he was finally able to collect on. The promise he showed on TLD in 2010 paved his path to Factory Connection/Geico, a dream ride; and now he has validated the confidence they had in him with the title he was prepared to win two years ago.
2. Marvin Musquin-
Man, where was Marvin in the first few rounds of this series?! JT$ likes to talk of Chad Reed "flipping the switch" for outdoors, well, Marvin apparently has just such a switch, too. He just need to flip it sooner. He will be tough to beat in 2014.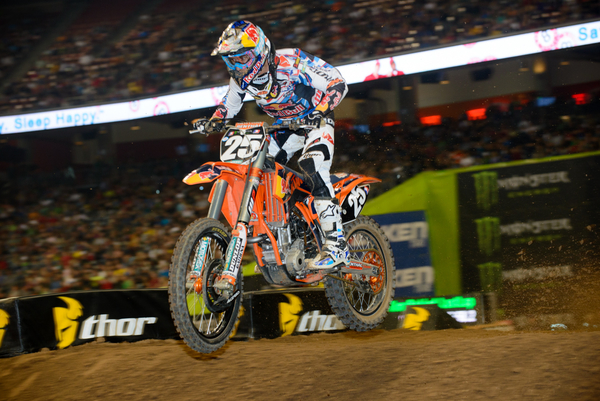 Although he came up a bit short, Musquin had a great SX season.
3. Blake Wharton-
3rd is totally respectable but for Blake, I expected a little more. He's been in the class a long time, won a handful of races, is on a great bike and absolutely has the skills to win a title. Maybe that last lap heart-breaker in Indy was a microcosm of the "Just Short" nature of Blake's series' finishes.
4. Vince Friese-
Really surprised by Vince's 4th in the series. He earned it too. It wasn't just by block passing, T-boning and other questionable moves. He really rode hard and pretty damn clean. Great series for Vince.
5. Gavin Faith-
Watching Gavin in the whoops at Dallas, I would've expected him to be a series-long front runner. After his Dallas heat-race win, I was highly impressed and thought maybe I had been snoozing on his skills. Not a lot of fireworks other than that heat-race win but 5th is solid for Gavin.
6. Cole Thompson-
After listening to Matthes lament on the lack of balls that Canadian racers have due to them not coming to race in America, I'm just glad to see one race the full series. To nail down 6th in points is even better. Come on down, Canadian racers.
7. Dean Wilson-
Dean reeled off the win in Dallas and that would mark the end of the glory for the perennial class-favorite. I hear Dean suffered more than a couple pretty serious crashes during his weekly preparation which left him less than 100% on Saturday's and inevitably the big crash in Indianapolis which ended his series. Still can't believe Dean-O is leaving the 250 class with no indoor title.
8. Lance Vincent-
Most people recognize Lance's name from when Justin Barcia lost his marbles last year in Houston but don't get it twisted, Lance is a very good rider. He had some very good races and some very bad, so ending up 8th is pretty good.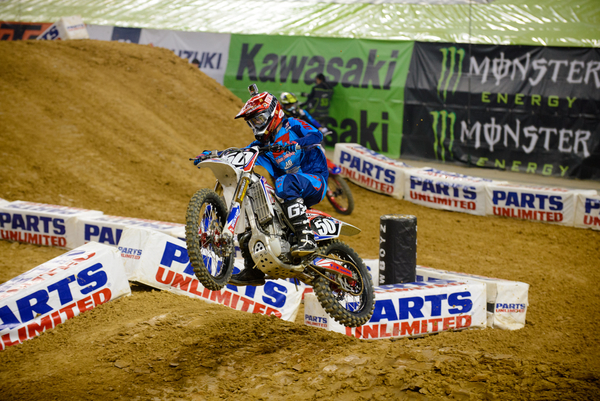 Until his injury, Kyle Peters was a real story in the 250SX East series
9. Kyle Peters-
Kyle proved he has a lot of up-side in his future. More up-side than down-side. I just hope he can put together a full series with no injuries to prove it. That 2nd in Indianapolis was impressive (even if Musquin came from last to first while few others could find passing lanes).
10. AJ Catanzaro-
4th in Indy. It proved to be the exception, not the rule but hey, it's a 4th nonetheless. Scoreboard.
11. Jeremy Martin-
If Jeremy can stay healthy, he's going to be a bear of a competitor. When he's good, he's really good. It's consistency he needs to master.
12. Justin Hill-
There was a lot of talk of Justin Hill coming into the series. I don't know, I was taking it with a grain of salt but he really did show that he deserved that ride. He's young, it's year-one and despite his consistent results, he looked to be riding better through the series before his injury in Toronto.
West 250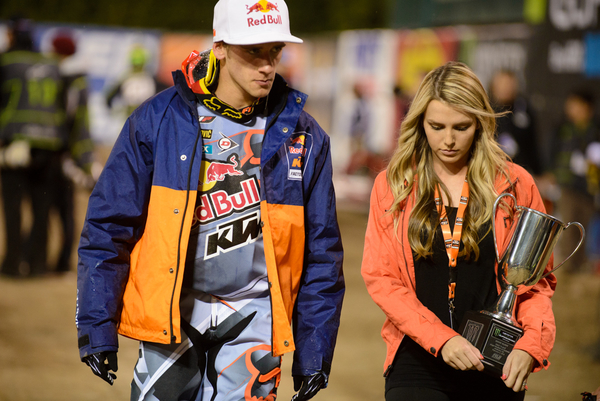 Das Champ.
1. Ken Roczen-
After the first three rounds it didn't look like Ken had anything for Eli. At that point, I would have honestly take a bet that Eli would run the table (admit it, you would too). As fate would have it, consistency would play into Ken's favor and even though he missed the SLC main, Eli's inconsistency secured Ken's victory.
2. Eli Tomac-
If Eli hadn't won the title last year, this series would have been an incredible heart-break. He did win the title last year though and he seemed to have one foot on the 450 all series anyhow, so it's much less discouraging.
3. Cole Seely-
Cole Seely did the impossible this series. He made the TLD "look" nearly invisible. This is not the Cole Seely we have come to know the last few years. He still looks great out there though. It's scientifically proven that you can't look bad in TLD. Seriously though, that SLC crash last year could have been he end of Cole, so third is a great step back toward normalcy.
4. Jason Anderson-
The former Horizon Award winner got his long-awaited first win in this series. Coming from where he was, being sent home to "get right", he's back on track. Kid has charisma and is starting to figure stuff out. I'm optimistic.
5. Martin Davalos-
I got nothing. Martin has become a parody of himself at this point. Matthes would make a joke about a piano falling on his head while leading in the last turn of the last lap of a Main to keep him from that elusive win at this point.
6. Kyle Cunningham-
Not sure what was up with Kyle's results this series. He's much faster than this 6th position suggests. Man, he's been on Yamaha's forever.
7. Zach Osborne-
Zach's series started off bad and things just stayed sideways for him throughout. Everybody knows he's better than this but results talk. He's a smart racer and I know he won't let this series get to him. You don't go to Europe at a young age, find your own way and thrive without gaining perspective and resolve. Zach will be fine.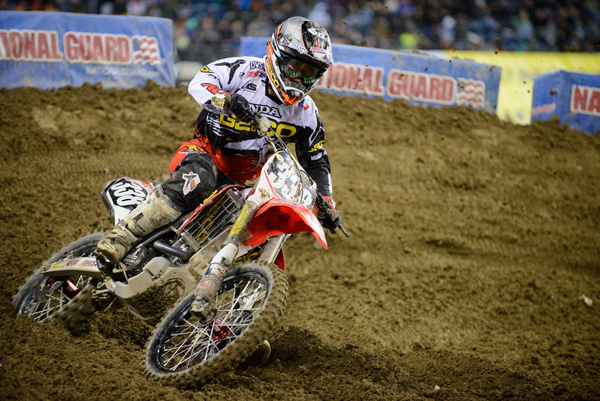 Osborne didn't have the season he wanted to have but we here at Pulpmx.com still support him.
8. Tyla Rattray-
Remember last year when Tyla actually held the red-plate at one point? It had everyone questioning if it was fair to not consider SX a strength of his. Nobody questioned that belief this year. He broke his neck with that red plate last year, I wouldn't want any part of that again either.
9. Joey Savatgy-
One of the highlights of the West series this year was when Joey Savatgy nearly held off Eli Tomac for the heat race win. This was when Eli was still the alpha dog of the class. Results be damned, that heat race was amazing.
10. Malcolm Stewart-
Same ole same ole. Can he get on a 450 already?
11. Christian Craig-
He's an enigma, just like his Dad. Well, not just like his Dad but still an enigma. So much style, so much skill. So few results. Sorry. I love watching him race, I just wish he'd make consistency work for him.
12. Travis Baker-
I feel like Travis is kind of in the same boat as his former teammate, Christian Craig. Tons of talent and ability but it's always something keeping that from translating to results. Racers with just that fortune are a dime a dozen. It's a cruel reality but it makes those who find solid results and consistency all the more impressive.
450
1. Ryan Villopoto-
What can you say about RV1? He won the title in 2011 even though he missed a main. Won it in 2012 with 2 races to go an wrapped it up this year with 1 round remaining. Before his 2010 St.Louis crash he even looked like the beast awoken, ready to seize that title as well. The guy is a legend. Yes, already.
2. Davi Millsaps-
For the second year straight Davi finishes 2nd in points. With the deepened field in 2013, the feat is all the more impressive. Not only that, he actually held control of the series unlike anything we've ever seen from Davi before. Too bad injury halted his progress near the middle of the series. He came back on in the end and looked as good as he did in the beginning but at that point, the points had gotten away from him and RV had assumed his control of the series. I'm very interested to see what progress Davi makes for 2014.
3. Ryan Dungey-
Waddyaknow; the Dunge finishes 3rd in points for the second year straight as well. He looked better than ever all year and that falls in line with what he's come to represent. I expect him to be better still in 2014. Better than RV? Unlikely.
4. Justin Barcia-
Two wins in his rookie season? That's a great start. He also got inconsistency out of the way. It was a hell of a learning year for Bam Bam.
5. Chad Reed-
It was a nightmarish year for Chad. Not since his 2010 year have I seen Chad look so uncomfortable and unlike himself on a bike. At least in 2010 the collision with James in Phoenix kept him off the bike most of the year. I'm honestly shocked he ended up 5th in points because he really only looked himself in San Diego before losing the front. Everything else was reeling and searching. I really hope they get the bugs worked out because nobody wants to see 2013 again… well no one other than RV.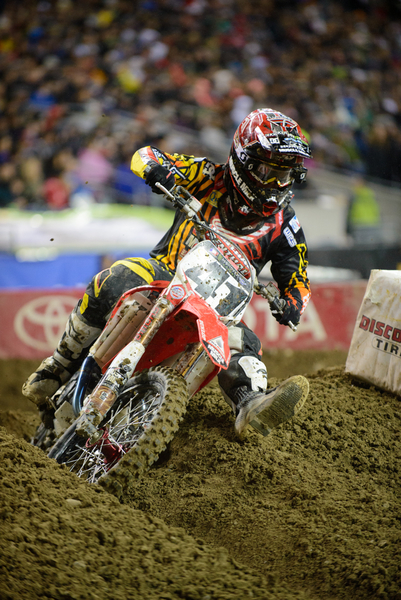 Canard had a nice bounce back season right?
6. Trey Canard-
It started out amazingly for Trey but then it was a whirlwind of inconsistency. Two of the last three rounds didn't end well but he did make it out with his health and that's a step forward.
7. Andrew Short-
Andrew was like a free agent in baseball this series. He switched teams 3 times (Chapparal/L&M Unbranded Effort/BTO Sports KTM). For any rider this would be a distraction, for Andrew Short it's downright mass-chaos. Clearly 7th isn't going to make him happy but I think even he knows it's respectable considering the musical chairs over the last 4 months.
8. Justin Brayton-
Not good. I can't imagine a worse time for Matthes and Weege to attempt to attach "Jet" to JB10. This series has been more like cargo-plane. The series was a big step back for Justin. I'm thinking this series was the anomaly, not the rule.
9. Broc Tickle-
Look at the names ahead of Broc. Who would you assume he would have beaten? Broc could absolutely be better than 9th, the hurdle he wrestles with though is stepping over that edge of his comfort zone. It's the same thing that Shorty struggles with. The similarities between Andrew and Broc are many both on track and off, I guess that's why they butt-heads so often. Like magnets with confused polarities.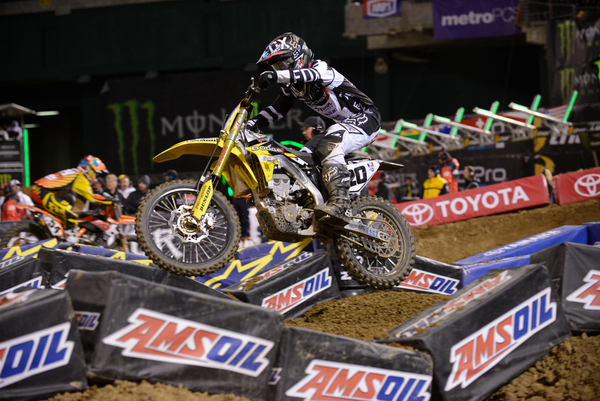 Tickle was about where he was last year but the field was way deeper.
10. James Stewart-
The Suzuki years are not looking much different than the Yamaha years. James' career has gone terribly awry from what was long accepted as the norm. No longer is he expected to win the race. As much as I used to hate watching him run away and hide in a race, I equally hate watching him struggle to finish.
11. Jake Weimer-
Jake had a forgettable year. Props to him for returning pretty fast from some broken ribs early on. The trials were many this series for him.
12. Matt Goerke-
Matt Goerke finished 12th without even racing the final 3 rounds. Scoring him his average points for those rounds, he would have finished 8th. No that's a triple.