Here's the details
Here's the details
Paulin wins again!
Report by Jonathan McCready
Images by YS and Ray Archer/KTM Images
Gautier Paulin's win at the Portuguese GP was the first time the Frenchman has ever won two GPs in a row.
After making an early pass on Cairoli, Paulin held off the Italian for the entire race until Cairoli had a huge over the bars crash off a downhill jump while looking for a way through on the last lap.
Cairoli somehow landed on his feet, scampered down the hill to his machine and went to get going only to find his clutch lever assembly was off his bar and wrapped round his wheel. While many may have DNF'd Cairoli smartly held the lever in his hand and rode round the final lap to still claim third.
Paulin looked incredibly relaxed out front despite the pressure and his loose smooth and fluid style is a joy to watch. Desalle just couldn't keep the pace of the leading duo and was unhappy and what he felt was a poor ride to third place.
The second race started with all three wanting to win for various reasons. Cairoli holeshot again with Paulin quickly into second and Desalle soon forcing his way into the third.
All three set a blistering pace, with Paulin catching Cairoli only for Desalle to catch Paulin and Cairoli to pull away but then be reeled in again.
On the last lap the three riders were nose to tail. Paulin, desperate to keep Desalle behind him, Desalle, desperate to pass both Cairoli and Paulin and Cairoli desperate to keep the lead!
Something would have to give and it was Desalle who had a monstrous crash when he endoed over the braking bumps coming into a right hand turn. The Belgian was lucky to get up after landing head first into a braking bump.
Surprisingly Paulin immediately shut of the gas and settled for second when he realised Desalle was down and allowed Cairoli to win and reclaim three points in the championship chase.
It is a mystery as to why Paulin seems content to settle for second when he would have made twelve points in the last two races if he had beaten Cairoli in the final motos.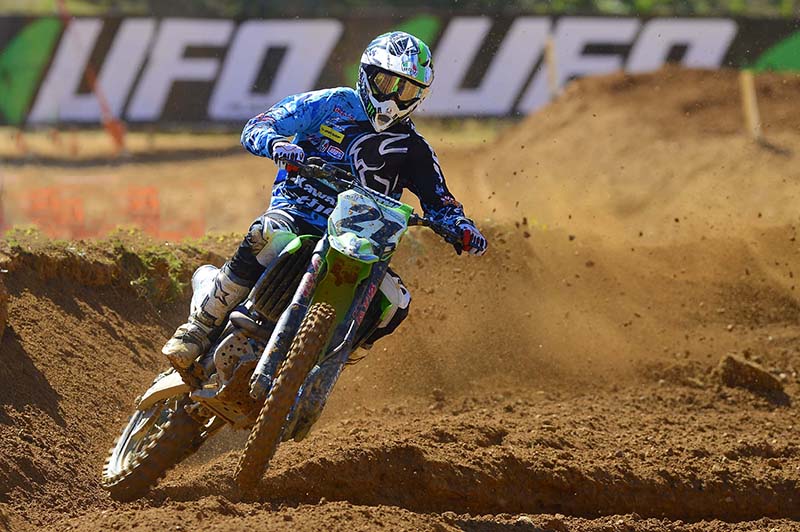 Paulin won his second GP in a row which closed the gap on AC a bit.
But still, Paulin is making small steps to beating Cairoli and Cairoli is becoming frustrated. He doesn't want Paulin to get any more confidence and his determination to win the second motos after Paulin's first moto victories are proof of that.
Paulin is on the cusp of becoming Cairoli's biggest threat in a long time. He is consistent and has only been off the podium once all season, he just needs that killer instinct to beat Cairoli in those second motos.
Desalle limped home in fifth and still made the podium but was in too much pain to go to the press conference. Hopefully Desalle has no major injuries and will be on the line on Brazil
Jeremy Van Horebeek had his best ride of the year in moto two with a fine fifth place finish. The Factory Kawasaki 450 rookie wasn't fat off the speed of the top three until after 25 minutes he lost the use of his front break. But it will be a huge confident boost to Van Horebeek to know he can go their speed.
Another rider who had impressive speed in moto two was Tommy Searle. Searle broke his finger to laps into race one and would finish sixth but in race two after a bad start he came through the field running laptimes the same as the leaders. Searle has never lacked confidence but admits it is taking him longer than he hoped to make the podium. But he is desperate to show the world he can win in MX1, he just needs to do it now.
The biggest disappointment of the weekend was Kevin Strijbos who said he just couldn't get into a flow around the tough track and only carded ninth overall. It looked like Strijbos had the speed to turn the big three into the big four but Portugal wasn't his day.
In MX2 it was the Jeffrey Herlings show and his speed was simply phenomenal. Herlings is running as quick and quicker than the Cairoli and co on his MX2 machine and you can bet he is rubbing his hands together for the superfinal in Brazil. Herlings is still only 18 and right now may just be the fastest rider in the world – and not just in MX2.
Dean Ferris was back on the podium with second overall. After coming back from injury Ferris has had a difficult last couple of rounds but now fully fit he is back to his podium potential. Steve Dixon might be in contention for winning the award for signing of the season. Ferris is the real deal and will be going MX1 in 2014.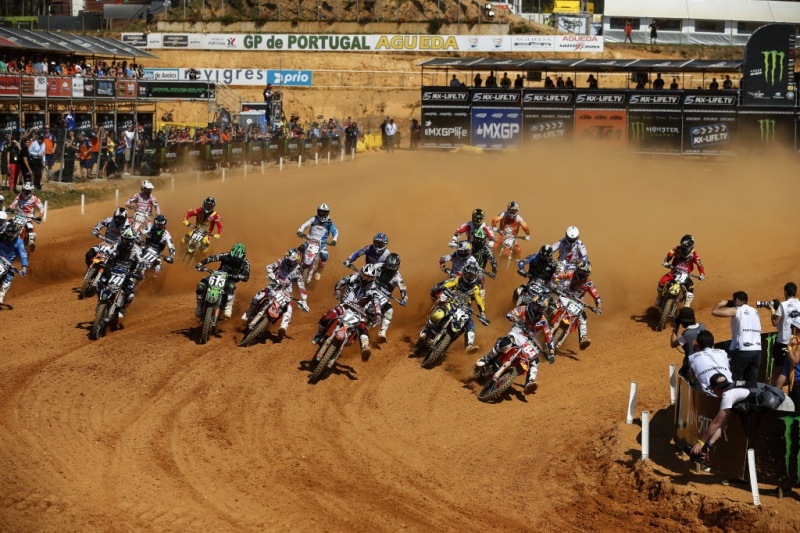 MX2 start and to no ones surprise, Jeffrey Herlings went 1-1.
Third overall is the maybe the most under-rated rider in the GPs -Jose Butron. The Spanish flier was left without a ride at the start of the season before Silver Action came to his rescue and both parties are reaping the rewards. His second podium of the year puts him fourth in points and in the mix for second in the championship.
Jordi Tixier had a mixed day but after getting taken out by a bullish Jake Nicholls in race one Tixier will be happy with fourth overall. But Tixier just doesn't show the same speed coming through the field that he does when he gets the holeshot, when no one bar Herlings can catch him.
Speaking of Jake Nicholls, the battling Brit did just that as he aggressively fought his way to second in moto one. Ncholls doesn't mess about and it looked like he would get the second podium of the year until a bike problem relegated him to 18th in moto two. A disppointed Jake will be even more aggressive in Brazil but Tixier might have some payback in store!
Dylan Ferrandis was another unlucky rider who, after a fine fifth in race one DNF'd race two on the first lap with a broken chain. But the young Ferrandis is back on form and could be on the podium soon.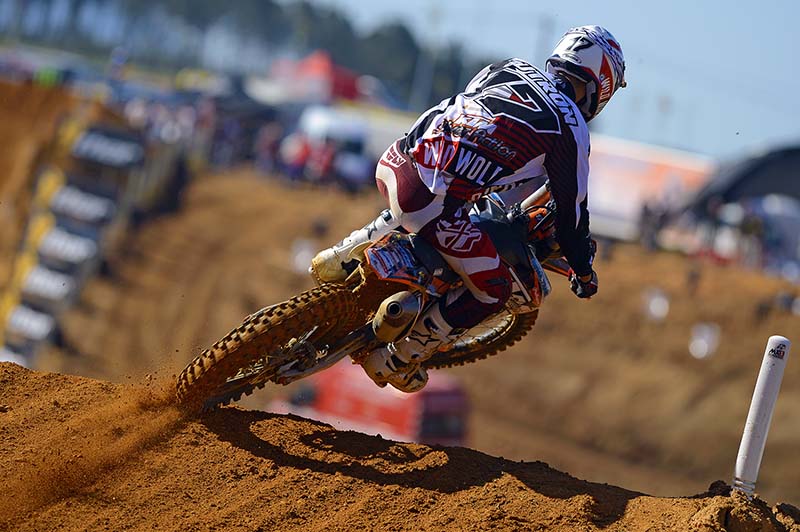 Left without a ride to start the GP's, Burtron is a surprise in the MX2.
It was another bad day for Jimmy DeCotis who yet again failed to score any points. It was maybe even the most disappointing performance of the three because DeCotis has had two weeks free of racing to prepare better and he wasn't any better. Jimmy would be struggling for top five right now in the EMX2 series let alone the GPs and that is not what CLS want.
You have to wonder what he and CLS are thinking. Jimmy said for the third GP in a row that he struggled with the track – but adapting to different tracks is part of racing in the world championship and being world champion. Jimmy has to become more versatile and fast because he might not be in the GPs much longer if he doesn't. Can you imagine Mitch Payton sticking with a PC rider who fails to score in the first three nationals of the year? I hope Jimmy figures it out soon.
Possible good news for Decotis is that Michael Lieb has confirmed he will be riding in the GPs for Beursfoon Suzuki for the rest of the year. That might help Jimmy to adapt with having another American who has already learned the ropes living close by to call on and maybe practice with.
The tour now heads to Brazil in two weeks at a one of the best motocross facilties in the world. With a big fanbase cheering them on it should be a cracker!
MX2 Overall top ten: 1. Jeffrey Herlings (NED, KTM), 50 points; 2. Dean Ferris (AUS, Yamaha), 37 p.; 3. Jose Butron (ESP, KTM), 35 p.; 4. Jordi Tixier (FRA, KTM), 34 p.; 5. Christophe Charlier (FRA, Yamaha), 34 p.; 6. Glenn Coldenhoff (NED, KTM), 26 p.; 7. Mel Pocock (GBR, Yamaha), 25 p.; 8. Jake Nicholls (GBR, KTM), 25 p.; 9. Alexander Tonkov (RUS, Honda), 22 p.; 10. Max Anstie (GBR, Suzuki), 22 p.;
MX2 Championship top ten: 1. Jeffrey Herlings (NED, KTM), 300 points; 2. Jordi Tixier (FRA, KTM), 219 p.; 3. Glenn Coldenhoff (NED, KTM), 183 p.; 4. Jose Butron (ESP, KTM), 178 p.; 5. Christophe Charlier (FRA, Yamaha), 171 p.; 6. Dean Ferris (AUS, Yamaha), 152 p.; 7. Max Anstie (GBR, Suzuki), 150 p.; 8. Jake Nicholls (GBR, KTM), 129 p.; 9. Alessandro Lupino (ITA, Kawasaki), 123 p.; 10. Mel Pocock (GBR, Yamaha), 112 p.;
MX1 Overall top ten: 1. Gautier Paulin (FRA, Kawasaki), 47 points; 2. Antonio Cairoli (ITA, KTM), 45 p.; 3. Clement Desalle (BEL, Suzuki), 38 p.; 4. Ken de Dycker (BEL, KTM), 34 p.; 5. Tommy Searle (GBR, Kawasaki), 33 p.; 6. Maximilian Nagl (GER, Honda), 32 p.; 7. Jeremy van Horebeek (BEL, Kawasaki), 31 p.; 8. David Philippaerts (ITA, Honda), 26 p.; 9. Kevin Strijbos (BEL, Suzuki), 23 p.; 10. Rui Goncalves (POR, KTM), 22 p.;
MX1 Championship top ten: 1. Antonio Cairoli (ITA, KTM), 280 points; 2. Gautier Paulin (FRA, Kawasaki), 242 p.; 3. Clement Desalle (BEL, Suzuki), 227 p.; 4. Ken de Dycker (BEL, KTM), 217 p.; 5. Kevin Strijbos (BEL, Suzuki), 183 p.; 6. Tommy Searle (GBR, Kawasaki), 180 p.; 7. Maximilian Nagl (GER, Honda), 132 p.; 8. Rui Goncalves (POR, KTM), 131 p.; 9. David Philippaerts (ITA, Honda), 112 p.; 10. Jeremy van Horebeek (BEL, Kawasaki), 109 p.;