Dedicated fans of moto have kept tabs on Adam Cianciarulo for the majority of his existence.
Dedicated fans of moto have kept tabs on Adam Cianciarulo for the majority of his existence.
Photos by James Lissimore and The Moz
The day has come and the highly touted Adam Cianciarulo has decided, with his tight support crew, that he is ready to enter the pro ranks. There are many who have incredibly high expectations, others more subdued but the fact remains; if you love moto, you're intrigued and you have an opinion. Here, Moser and I hash out both sides of the question, "Is it a good idea for AC to turn pro now?".
Moz– We're headed into one of the most exciting outdoor series in recent history, some may call it a perfect storm. The decision for AC to turn pro has many people waffling on whether it's a good idea or not. I for one feel that AC turning pro now is the best choice given the circumstances. I will present to you the cold hard facts that support why AC is ready and capable to race professional and why delaying the transition another year would not only hinder but hurt his rise to moto supremacy. My counterpart a Mr. Swisscore will no doubt attempt to razzle, dazzle and hoodwink you into thinking the young (but mature for his age) AC is not yet ready to make the jump into the deep end of the moto pool. Keep in mind Swisscore is not a psychologist so don't let his feeble attempts of convincing you about the consequences of a hurt confidence influence your opinion. Read and absorb the facts, digest them and make your own opinion, the right opinion that AC should go pro this weekend at Hangtown.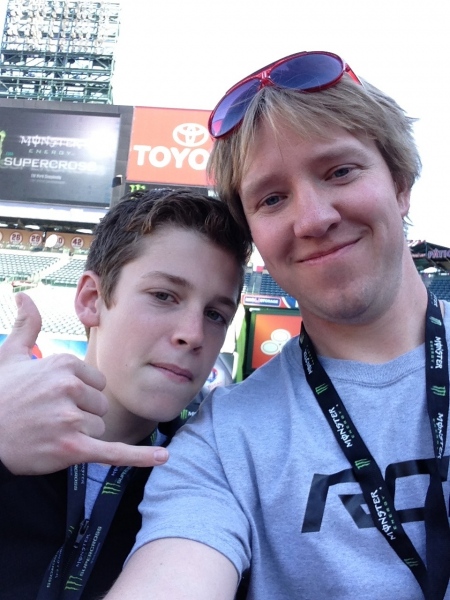 Moser is 100% behind AC making the transition now.
Swiz– Wow, Moser you spent more time playing Ms. Cleo as to what my position would be than you did stating your own. The basis of your blathering is correct though, I do think that AC turning pro right now is rushing it a bit. Let me clarify though, he absolutely has the tools to make turning pro now a completely justifiable option. He shares arguably the hottest trainer in the sport with inarguably the hottest rider in the sport and not only gets a day to day view of what it takes to be the best, he is front and center, experiencing just that formula that has built RV into the ridiculous force he is today. If ever there was a rider who has followed the blueprint to motocross success, it is Adam Cianciarulo. I was at RV's a couple months ago and watched Adam pound lap after lap on the outdoor track. He aint scared. I remember reading about him when he was 5 years old and of all the mini warriors to have their name in print over the years, Adam's was the most consistently referenced name and always improving; moving up the ranks. Never plateauing, like so many others. The sky is the limit and his future success is destined to be paved with the preparation of his past and the present day. He's doing everything right.
So why do I think it's #toosoon? It's simple. Adam just turned 16 and he's got a lot of growing to do in terms of muscle mass. His future is so bright and I just think he would benefit from a couple more months of Am Nationals for not only added big bike race experience but also giving him more time to add some muscle to that boyish frame he's still growing into. He's going to be lining up against guys who not only have years of experience, which is unavoidable regardless of when he enters but the majority of who, will out muscle him in the first turn and anywhere else they see an opportunity. I just keep coming back to how young he is and how bright his future looks to be and I don't see the point in rushing it. Motocrossers have pretty short careers as it is and just like RC always said, he wished he stayed on little bikes one more year. I just think as young as AC is and with his program and potential, why not come in for the last 3 Nationals with some more bulk and experience?
Moz– Personally I think the minimum age to race pro should be bumped up to 18 yrs old but that's a different point/counterpoint for another day. I will agree with you that AC has a boyish frame, I met him at A1 this year and he's even smaller in person than I had imagined. When we took an iPhone selfie I had to squat down to get him in the frame, he could probably fit in my pocket. He has noticeably grown since then and is probably at least 6″ taller now, that doesn't put muscle on your body but it adds weight and goes hand in hand with gaining strength. There are lots of riders that have had a slim build coming into the pro's, Tomac, Alessi, Windham, Pourcel, Zach Bell. Bell is probably a poor example of "success" thus far. Maybe you should listen to the Bobby Moore podcast he talks about his success as a very small and light rider when he turned pro.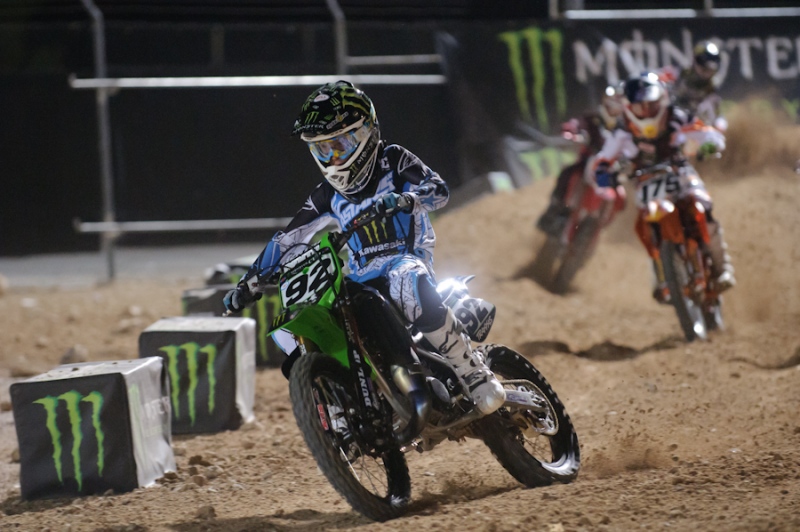 This was AC at the Monster Cup October a couple of years ago on the SuperMini.
RC was a smaller stature rider coming into the pros as well, granted he was heavier and shorter but a hurdle nonetheless. Sure RC says he wishes he would have stayed on the 125 in Supercross one more year, compelling argument but not relevant, ask him if he wishes he would have raced amateur another year. Building a foundation and strength takes years, it's the difference between boy strength and man strength and continuing to racing amateur is only going to prolong that process. Transitioning into the pros in the nationals as opposed to Supercross has proven to be a safer bet and smoother transition so given the timing it's right now or an entire year away.
Seriously Swiss how is a 5 lap amateur race going to help prepare him for turning pro? Even Lorettas with three 20 min motos per class isn't close to the same intensity or length of two 30min + 2 with the fastest riders in the world. I hope we can agree that speed isn't an issue here and it rarely is with any amateur coming into the pros. It's a difficult and delicate transition into the pros, the travel and grind of racing consecutively almost every weekend in the heat can be a bigger challenge than the racing itself. There is no way to train for the travel without going through the motions and getting into that routine this year will prove to be an invaluable experience next year. Like you said AC has all the tools: team, bike, trainer, the fastest rider in the world to ride with. If he stayed amateur he's not adding any tools to his tool box and that is how you plateau and lose focus.
Swiz– Firstly, let me hit on the points we agree upon (the cardinal sin of a Point/CounterPoint I should add); the pro eligibility age should absolutely be 18. Ok that's it. That's where our common ground reaches the figurative cliff. I'm not arguing that Adam should race through Loretta's this year to prepare him more for the pro ranks, he's training with RV2 week to week for craps sakes. My argument is he is coming into a class of wolves and he is physically more of a Fox. Fast, cunning and agile but unless he holeshots and gaps the field, his size is going to become a detriment at some point. I hope not but lets be realistic now. I like to hope for optimism but plan for realism, while you, both hope and prepare for alcoholism. Did I just digress?
Anyhow I want Adam's career path to be built for longevity, not for merely a booming debut. I fear that with his current physical size and this accelerated calendar he appears to be on, therein lies more potential for detriment to him due to his ill-equipped ( well notsomuch ill-equipped as it is incomplete) physical strength at this point. My point is short, logical and full of thoughtful consideration. Adam having a prosperous long-term future in the sport is best for all; him, us as fans, his support system and sponsors. The bottom line, in my opinion is, he just needs to put on more muscle before he jumps in with the wolves and the Chupacabra.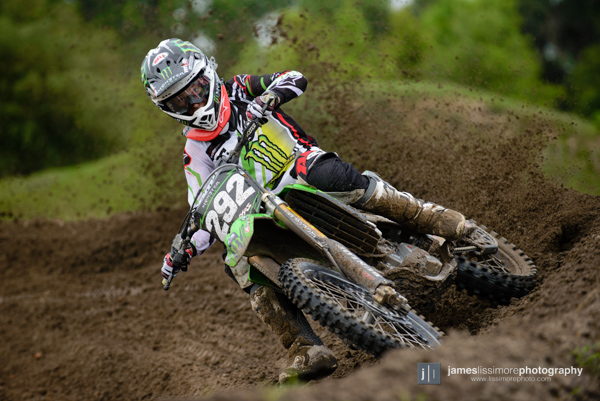 Don't get me wrong, AC has the tools to do well right now; I just believe holding off until after Loretta's could only benefit him… and he's just so young still. Why rush it, I say.
(Typically in P/CP we would end it at that but Moser is adament we go three rounds here. He must be a huge UFC fan… or more likely he's innebriated.)
Moz– Bro there is an age limit on racing professional, not a weight or bulk limit. You've witnessed with your own eyes AC moto-ing down at the farm putting in full length moto's there is little doubt he can go the distance regardless of his bulkiness. Your contradicting yourself, first it's "why not come in for the last 3 Nationals with some more bulk and experience" then it's "I'm not arguing Adam should race through Lorrettas this year". What's this experience he needs to gain and where can he gain it? The best I can comprehend that you recommend AC do is maintain his current routine, skip Lorrettas, hit the weights and whey protein, then after bulking up racing the last three nationals.
Waiting another year to go pro would be an attempt to make a "booming debut" then you are putting your balls out there and trying to dominate the class and win a title. That approach would cause an unmeasurable amount of pressure and is a recipe for failure. Going pro now with the understanding he is not the fastest guy (nor is he expected to be) that he has room for improvement, and with the only expectation being to learn and improve as the season goes on is the opposite of trying to make a "booming debut". I'm not sure anyone is ever ready to jump into the deep end of the moto pool but only racing the last couple rounds is the equivalent of dipping your toe into the water, just the tip and it's just not the same. Careers are short and AC's career started a long time ago, postponing his pro debut isn't going to prolong a career.
Swiz– Wait a second, not surprisingly you're bastardizing my point. The "experience" I feel he could benefit from is being on a big bike in race conditions. I don't need to explain to you or the readers the massive difference between hammering out motos during the week and getting actual gate drops in actual race conditions. Sure, he'd be the massive favorite in all the Am National's but the value in finishing at least a few races with some level of pressure would be useful.
Here's the ultimate deal, tomorrow at the end of the day conclusions will already begin forming and it will be only round 1 of the series. Many will use his Hangtown result as the judgement as to whether his graduation was the right choice or not and that's not fair. Give him the whole series. He's made the choice and now it's on him to discover how deep his resolve is over the course of the series. I'm sure he will be just fine.