Moser's look at those that came up Short at Lakewood
Moser's look at those that came up Short at Lakewood
Shortcomings #2 Vol 2
Photos by Simon Cudby
It was a rough Memorial Day weekend most years and that's in reference to my liver but this year it was my health in general. Kids in preschool are little petri dishes of germs and the germs won this round taking down my entire family. I feel somewhat responsible for Shorty's bad day at Colorado as he must have subconsciously been feeling some of my pain and it held him back. Colorado is on my Short list of nationals to go watch in person, nobody every has a bad thing to say about the place and I also want to see what makes the mountains blue. This week Shortcomings might be a little Short so feel free to read it twice.
#176 Joey Savatgy – FMF, KTM
It was very cool to see FMF step up and support Savatgy who had lost his ride for the outdoors when the JDR Team announced they didn't have the funds to go racing. I read somewhere that FMF had supported Savatgy as an amateur and to see someone have a vested interest in a rider and make a commitment and investment like that to get him to the races doesn't happen enough in this sport. KTM is also getting Savatgy a works or nearly works bike, which is now the 2nd time they have swooped in to get a bike to someone in need (the first obviously being Shorty getting picked up by the BTO Team with KTM Support).
If I was KTM I would be yelling this from the mountain tops "look at me look at me" but you don't see them running around tooting their horn, but they deserve a lot of credit. KTM's ability to react so quickly without the political constraints and fixed budget of the Japanese factories is a huge asset and one of their largest advantages.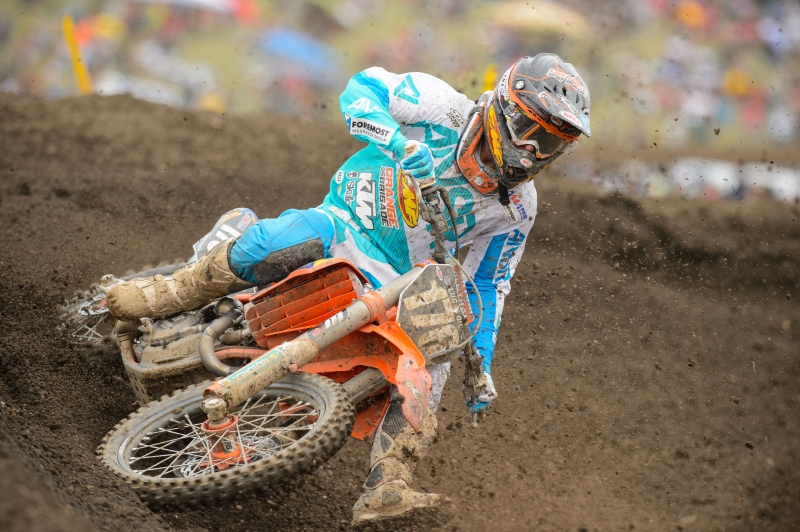 Has #swag jumped the shark yet?
At Hangtown Savatgy finshed in the wheelhouse of my expectations with and 11-10 for 9th overall. He went 16th-DNF at Lakewood hence the reason he's in Shortcomings. A crash near the end of moto 1 while up there and a bike problem in moto 2 were the cause of his comings of Short. I don't know much about Savatgy, he's got curly hair and he's having a pretty good rookie season. It's guys like these that deserve a little more press, the media gets too focused on the top 5 guys in my opinion.
There appears to be plenty of information online about Savatgy but that would be too easy and boring so here's what I learned about him today by playing the word association game- "I say Joey Savatgy you say?". The following responses are in no particular order and my lawyer recommended I keep the sources I'm quoting anonymous.
-#armswag
-Chin fuzz
-Former Aussie amateur Champion (with link attachment for proof) http://www.mtfmx.com/news?story=247
-His dad wasn't the goat of mountain biking
-Mini warriors
-Saki to me
-Orange team outfit
-FMF
-Come again?
-Yeah I've heard of him that's about it
-Huh?
-Ummmmm
-Where is this going?
-FMF Flyer
-That's a hard one but I think FMF
-Actually I think Piazzi which makes me think pizza which makes me think I'm hungry.
-Bad attitude (heavy sarcasm used)
-Tomato
-Unknown fast KTM kid
-Only guy ever who was born in Southern California moved East to MTF and now considers going to Georgia going home. When he's Supercross testing in California where he is literally from he says "I can't wait to get back home" meaning Georgia.
-FMF
-Who cares?
-Is he a "swag" type kid?
-I think that Brotocros joker is all about him therefore I am not.
-I'll google Savagty to see if I like him.
-He's all about swag I don't like him.
-Is my rant being documented? Should I stop? Should I go faster? Are you ready for me to finish?
-If spelling words wrong and wearing skinny jeans with "freshie" shoes is swag count me out.
-The FMF kid
I think we all learned something today, mostly that Donnie Elmer is a marketing genius because after this straw pole most people associate Savatgy with FMF. Speaking of which it comes as no surprise that FMF has some cool marketing around Savatgy. Check out an interview they just did with him right here where you will no doubt find out much more about his swag that I was able to come up with on my own.
http://m.youtube.com/#/watch?feature=youtu.be&v=35wAx5XWj_Y&desktop_uri=%2Fwatch%3Fv%3D35wAx5XWj_Y%26feature%3Dyoutu.be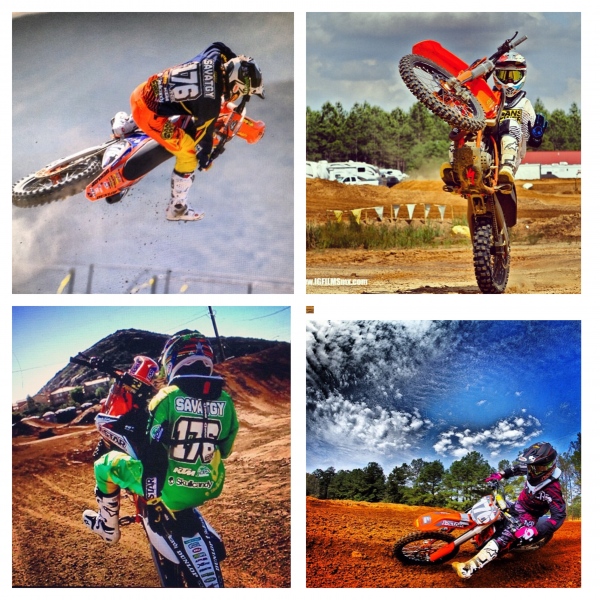 Hey Savatgy your swag is hanging out in all of these pictures.
#54 Les Smith – Witts End Racing, backdoor BTO Racing
Andrew Short said he didn't have the weekend he wanted at Lakewood well Les Smith has him beat with a DNF-DNS. Always remember someone somewhere is always having a worse day than you. At Hangtown Smith went 23-22 so he was consistent and was Just Short of making it into the points. Why do only the top twenty riders get points? There sure are a lot of riders working really hard for 30min + 2 laps that have nothing to show for it. Smith has had an up and down season, most down but with some flashes of brilliance in there (real original analogy I know).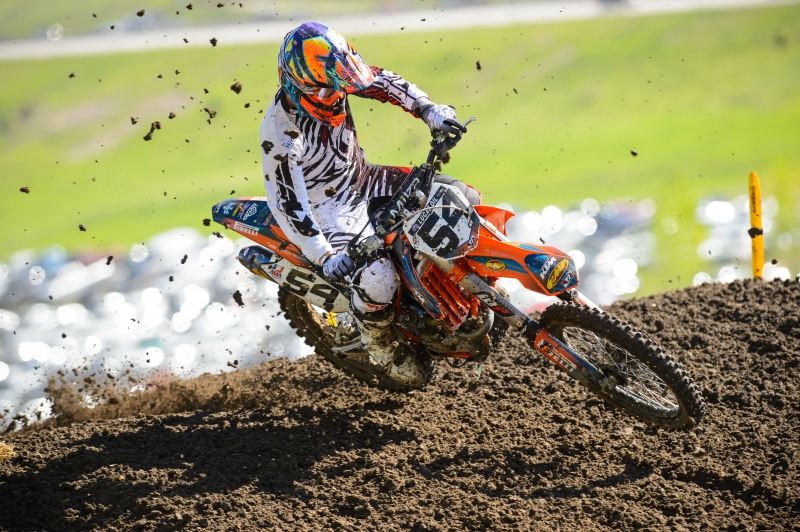 Cracked ribs are no laughing matter, literally
To get the inside scoop on Les Smith I contacted the peoples champ, the "elazion" of the VIP superfan experience and expert in all thing BTO Sports Team, thee Jason Thomas.
Moser: I have to write something about Les Smith so you're my guy.
Jason Thomas: Me?
Yup, you know him well enough to answer a couple of questions.
Ok
How does he take his coffee?
(Laughs), I have no idea.
Les has kind of a backdoor support ride with the BTO Team so does he get a locker or do you make him change outside?
He's under an EZ up typically behind the semi but he can use the truck like the other guys for the most part.
So no designated locker? I'm not going to let you skip the tough questions Mr. Thomas.
I'm actually not sure, he did but I don't think he does now.
What's Les biggest strength and weakness?
Strength is work ethic and very grounded. Raw speed and staying healthy could improve but those go hand in hand.
Shorty and Byrner are two of the nicest guys in the sport, how does Les fit in? Is he the bad boy troublemaker, the comedian or maybe just emo?
No he's very similar. Really good and nice guy. All three guys are kind of the same.
You gotta have some kind of dirt on him. Tell us something we don't know about him.
I really don't. In don't hang with him a lot. His real name is Leslie, which is awesome.
He broke some ribs this weekend right? Do you know what ribs? Have you broke a rib it's no laughing matter right its painful……to laugh?
No I don't, I have never broken any ribs but it can't be fun.
Alright thanks for your time, one last question. I say Leslie you say?
Lesbo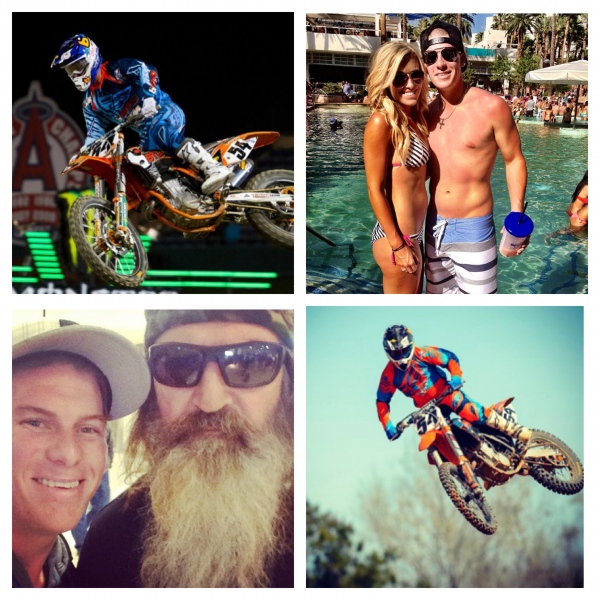 Topless picture of Leslie in Vegas your welcome, Leslie and one of those Duck Dynasty guys, and a couple of standard riding pics.
Thanks for reading. Please send any and all comments to jasonw@racerxill.com