You'll have to excuse my intensity in the lead image of this gear review.
You'll have to excuse my intensity in the lead image of this gear review.
Photos by: Matthew Durst
Much like most of you who visit PulpMX, I work my ass off during the week and this week I put in a good 70 hours. When I saw the Fly delivery at the beginning of the week, I was very excited to get this riding and review session started. As the week meandered along and the hours climbed, though, I was starting to drag a bit. After I got all geared up for the riding, the first thing I noticed was how damn comfortable the stuff is. That's a great feature, unless you were me this week coming off a life-sucking work week. Being the gamer I am though, I pulled it together and my hammock session, lasted only a few deep breaths.
I've worn a lot of gear in my day, yup even that dreadful baggy trend in the mid-90's. I've always been a bit of a renegade when it came to gear, a trailblazer you could say. My friends often credit me with wearing white boots when it was still considered more than a little fruity. How ya like me now? Anyway, back to the task at hand.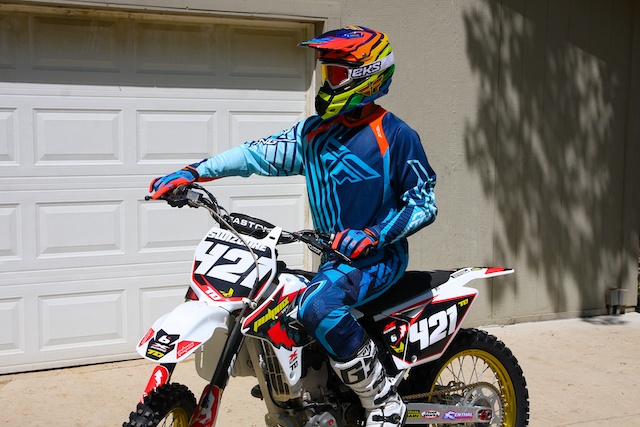 After the hammock, prior to riding. The Fly Evolution gear and Formula Stryper lid.
You of course know the old saying "you get what you pay for" and with this top shelf line of Fly Evolution race wear, it is inarguable. The ergonomically appropriate fit of the pants was instantly noticeable and they felt unlike any other MX pant I have worn before. There was no bunching, slack material or tensioning tight spots. It was a completely uniform fit around the circumference and the length of the pants. There are also micro zipper vents in the knee area but I wasn't utilizing them as it was a comfortably cool day. I could list all the features and technologies mentioned on the website for the Evolution pants but all that matters to us is the end result and that is that these are the best pants I have ever worn. All pants are not created equal and the feel of these is worth every penny.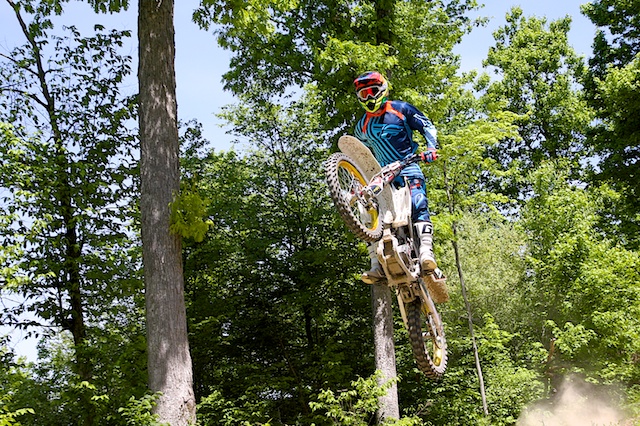 Here's a good shot of me not being unhappy with any part of the Evolution pants.
Jersey's seem to be figured out very well across the board nowadays. It's the seemingly minor details which all come together to make a great fitting and comfortable jersey. Things like a tag-less neck, unrestrictive cuffs, light breathable material (it's almost silk-like) and one of my favorite features, the siliconed shirt tail to avoid that late-moto Dean Wilson look. Of course the jersey hit on all those marks too.
The gloves in the Evolution line were right up there with the comfort and feel of the sister-components. I'm pretty finicky when it comes to moto gloves as I'm sure most people are and I didn't find myself thinking about my hands one time while riding. That's obviously a good thing. If you're having concerns with any part of your gear while riding, there's definitely a problem. The more transparent the ensemble is, the more you can focus your riding.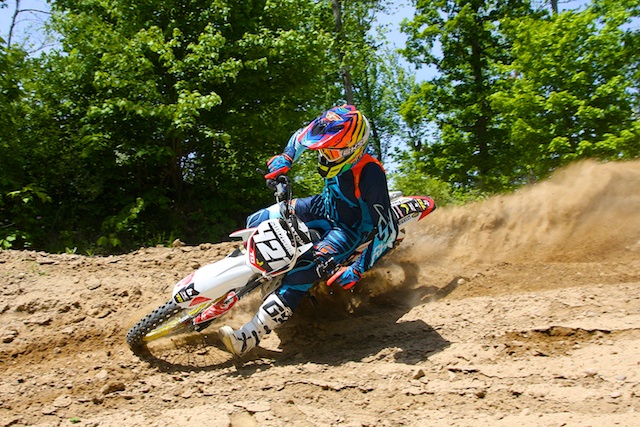 Fingers on the levers kiddies. The Evolution gloves come prepared for "rock n roll fingers".
For years of course I knew Fly was a gear company. I honestly never considered them a helmet company. The last time I went helmet shopping two years ago, I'll admit, I never even looked at the Fly offerings. After the initial test fitting in my house of the Fly "Formula Stryper" I felt like an idiot. The fit and finish were superb and I knew instantly that my melon had never felt so ideally surrounded. In the past, I have gone so far as to take a Dremel tool to the styrene foam shell to get a helmet to fit better and the Formula Stryper, felt both initially and after riding all day, like it was custom built for me. So impressed with it.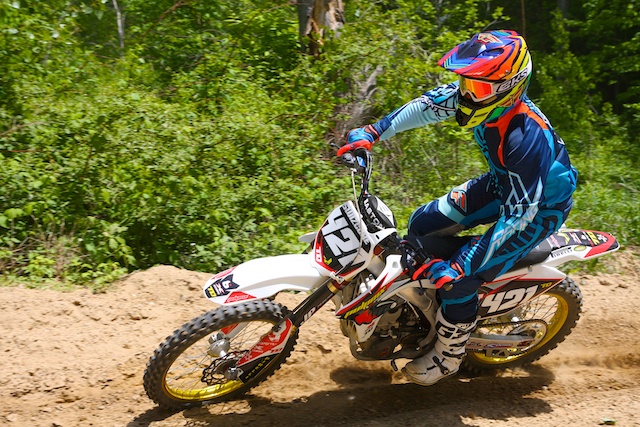 The Evolution gear is a sure thing when it comes to gear that performs.
Back to the "get what you pay for" thing. It's absolutely true. The best point I can make about that quote and this gear is this, it does everything great motocross gear should; it protects you while feeling utterly transparent and lets you focus completely on your riding. Hell, even in between riding sessions I didn't bother loosening or untucking anything. Other than taking off my helmet, I ran it race-ready all day.
What I'm trying to say is, if the Fly guys want their Evolution gear back, they may have to put out an APB on me, I aint giving it up without a fight.