It's Trey's turn to speak now, you'd better listen
It's Trey's turn to speak now, you'd better listen
PHOTOS BY SIMON CUDBY
Pulpmx: So you've gone 4-4, 5-5 through the first four motos of the outdoors. I think that's good. You're probably not happy. What are your thoughts?
Trey Canard: Honestly, I'm really happy. Obviously 1-1, 1-1 would be great. I can't get over anxious. With the 450 class I haven't finished more than two complete motos.
Yeah, I forgot about that. I think a lot of people did too.
And then too in the past two years not only 450s but I haven't even raced the outdoors in two years. So that's what I'm trying to look at it from. Actually the big thing right now is to just continue to progress and not get ahead of myself and make bad decisions that lead to another injury.
There does seem to be five of you guys. Maybe the top two, the Ryans, and then after that yourself and Justin and James. You five seem to be on another level, which is got to be so satisfying because you're in that mix. But on the other hand you were caught and passed this weekend so that, as a racer you never want that to happen. But you're close to the leaders' pace.
Yeah. And that's where I'm trying to look at it from. The thing is I'm in that mix at times, which is great. I wasn't there at the end but I felt like in the beginning I was definitely in the mix with those guys. And that's kind of a positive to take home I think. And I'm excited to be in that mix. I hope as the season progresses and as I progress through the year that I can be fighting more with those guys. Putting up more of a fight rather than trying to just hold my own as long as I can. I think that's the goal. That's where we want to be.
So looking in the mirror, where do those guys have you? Where do you think Villopoto, Dungey, what are they doing better or different than you?
I think the experience side of things is really key. Those guys have, well not Villopoto, but Dungey has a few good seasons of motocross under his belt. And Ryan Villopoto has kind of proven over and over where he's at as far as racing outdoors. I think the experience thing is going to be key, and that's what going to happen as I race more. I think as far as what I need to work on right now is just overall speed and just getting comfortable at that pace. I feel like I can almost go that pace but I have to do it, such an uncomfortable amount of speed. It's hard to maintain that. Those guys are a little more comfortable hanging it out like that. So that's what I'm kind of working on now. And I think bike setup I really need to have a little more wisdom I think as far as continuing to evolve the bike through the day.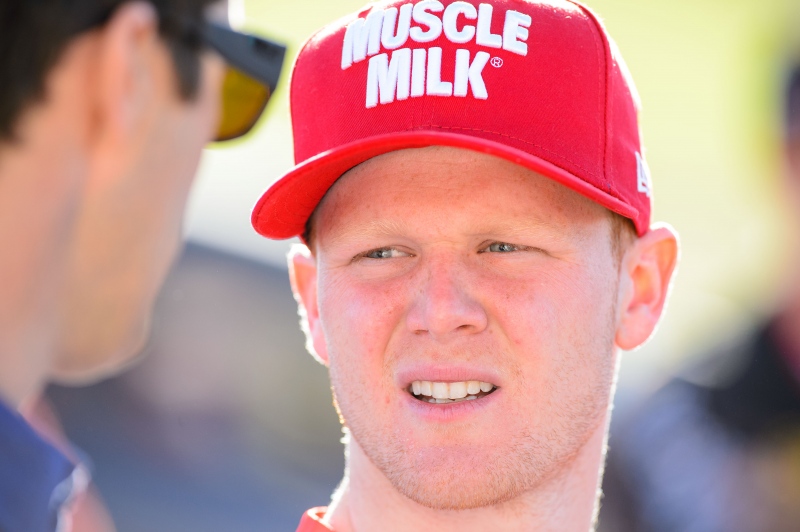 Trey's started the outdoors pretty well.
Weigandt talked to Stanton before the outdoors started and we had to laugh at Stanton because of the way he is. He was saying about Barcia, his own guy, he goes, "Justin's got boy strength and Villopoto and Dungey are man strength." And for the outdoors that's what you need to have. Do you agree with that or do you see what he's talking about?
I think the wisdom is a big part of that. We all saw Barcia really hanging it out for the first 15 – 20 minutes and then Villopoto just kind of sitting back and hanging out almost. And then when he saw a little bit of weakness come then he really dropped the hammer and put his laps in. I think that's a lot of wisdom. I think that pays off really big. Those guys just know how to race for that long and at that level. And they've proved it. They're champions. I think we can, Justin and myself, we can definitely improve in those areas.
I feel like you and Justin, who have both gone on the record as saying that you don't have any problems with each other but you are indeed rivals. I feel like you two are in for a long summer of battling each other. That's going to be a delicate thing to balance.
Yeah, it has been all year. A lot of times we've been very similar in speed and very similar in a lot of ways. I think that's going to be pretty key to just keep that camaraderie there without causing tension. I think it's been key all year.
Do you guys speak at all at the races?
Yeah, for sure. I think a lot of people think that we hate each other or something. And there have been times where it's been a little bit awkward, but all in all I think it's been pretty good.
The Vegas awards ceremony skit was pretty funny. That was pretty awesome.
I thought it was great.
It showed a good side to both of you.
For sure.
Was the last time you raced Lakewood, was that Motocross des Nations?
Yeah.
That's what I thought. So how much different was it or how much of a different experience was it, the track and everything else?
I thought the track was rough, as rough as I've ever ridden it there. That was definitely one thing that stood out to me. But it was cool riding there on a 450 not fighting so much horsepower. They do lose horsepower but it's pretty good.
You starting in first gear?
Yeah, for sure. Which I was pumped that Justin and me were able to kind of…he was able to pull the holeshot and I was kind of 2nd both motos. I was pumped to see our bike doing that.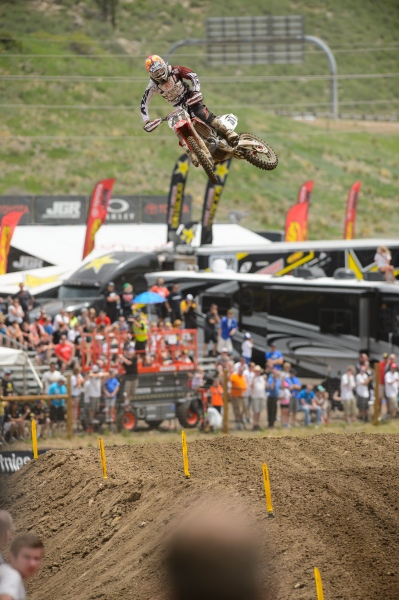 Canard's clearly into the top five group in the outdoors.
Supercross season didn't end very well for you. At one point you were looking to try to get maybe fourth in the points. Two DNFs at the end. But still you made 16 of 17 races and sixth in points, right?
I think that it was good. The fact that it did end instead of ending early was a big thing I really wanted to accomplish this year. I think that relay helped me. It helps the team as far as moving into next year. It's good to have that under your belt. I was really hoping to get a win before the year was up and obviously didn't want the bad one that I did have, but I think it was good, all in all. I can't get too disappointed. It's a really hard thing to miss a year of racing. And more so now because 2011. I think this is really…if I keep my perspective right we had a good year.
One of the things that I speculated about was maybe this is your first time on a 450 doing all the races, maybe the week to week – and it's not like you don't train or anything, don't get me wrong but – the week to week grind maybe got to you at some point, where it's a lot of work. It's an adaption for anybody.
I think the thing that really got me was sort of emotional. I was dealing with a lot more than people would think as far as overcoming your injuries emotionally. Each time that you line up it's difficult. You have memories from where you were when things happened and everything like that. It was a traumatic feel. I think it was there in the first round that I thought it'll just kind of pass by but it just kind of continued and that wore on me more than anything I think. And then when you're not doing as well that makes it a little more difficult. I think that was kind of the thing that really stuck out to me- If there was anything that was weighing on me.
It was weird; you podiumed that weekend and one of the first things you said to me after the race was, "This was the weekend that my crash was." It didn't even occur to me. Of course I'm not the one that got landed on. This is something that's very much in your mind.
Yeah. It especially was in Supercross. Everything is the same. When you go to an outdoor race you know the track and the surroundings are different, but when you're in the stadium it's all really similar each weekend. It's really similar to how it finished. I think that was really difficult. I think it will be to a certain extent always. But I am kind of starting to have a lot more peace about it.
Are you back in Oklahoma?
Yeah.
Are you like everybody else I spoke to where you're happy to get out of So Cal and get home?
Yeah. Well, I never really left. I was in California for, like, a week. So I didn't have to be singing the blues at all.
What about your thoughts on the 250 MX class?
Honestly I haven't watched a single moto. I know I was really pumped for Osborne this weekend. That really pumped me up. It's cool. I know it's going to be exciting. I think Kenny and Tomac should be the guys that will kind of set the tone for the whole class.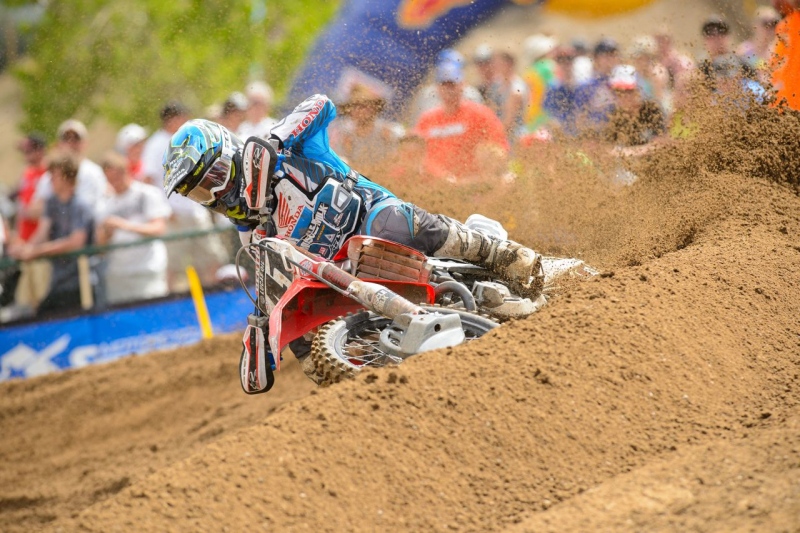 Despite it not seeming like it, Canard's got a career total of 7 motos in the 450MX class.
I think so too, going forward anyway. So Muddy Creek, have you been there?
Yeah, I think last time I was there was in '06 maybe.
For a regional or something?
No, I just went there and raced I think. Kawasaki used to have a race of champions or something like that. And I went up and did that. So that was the last time I was there.
What do you think of the track? It's got good dirt.
Yeah. The dirt kind of reminds me of Loretta's. It's a cool place. I think it'll be good. I think Barnett doing the track will be a good thing.
Your buddy Jimmy Albertson, another wrist surgery. That saddens me.
It does. I think Jimmy's mental state is fine. Obviously he's bummed but I think that he's done really well as far where he's at with his mental state and where he's at physically and getting everything prepared as far as when he can ride again.
I can't let you go without talking about Tim Ferry. So how's that going? What's he helping you with? Every time I try to find him at the races he's with you. It's getting me upset because he's watching video with you, he's walking the track with you, he's in the Honda truck with you…
It's good. I'm so pumped on Timmy beign around. He's an awesome guy. He helps to show me different things and has been there and done that. His experience is a really big part of that.
What's the number one thing he's helped you with now? It's been two or three years now he's been working with you.
I don't know. I think mentally the guy is really good about telling me to keep things straight as far as everything with life is concerned. It's really just kind of a psychologist at times really.
That's really scary when he's a psychologist by the way.
I know. I know you probably love that.