Moser digs deep into the JGR team
Moser digs deep into the JGR team
Shortcomings #3 Vol. 2
Muddy Creek had a good inaugural race in my humble opinion watching from my couch while doing 6 ounce curls with an ice cold beer. Anyone notice all the tip overs though? Lots of riders just fell over, must be the soil or the ruts. It was a new track but more or less the same results for the JGR team who is struggling this season. With Matthes staying back an extra day to check out the JGR team setup it seemed fitting to "feature" both Grant and Brayton this week as they have both had plenty of Shortcomings thus far in the outdoors
#10 Justin Brayton – JGR Yamaha
Brayton has always struggled more outdoors, I thought he had some decent finishes last year on the Factory Honda but when I looked up his results he's only finished on the podium twice EVER (thanks RacerX vault). Last year he started off really slow outdoors and I remember JT$ referencing how he could see Brayton struggling with the transition from Supercross to Outdoors, not carrying momentum, or sweeping corners, squaring off corners.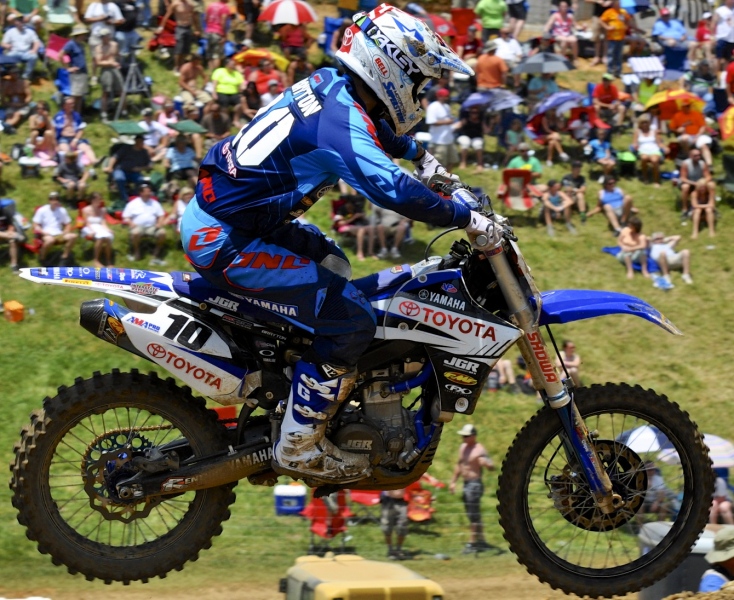 I don't think the JET is catching on and honestly I expect better from Weege. Photo by Stephen Kane
I know Brayton is gnarly I witnessed him break a leg last year at San Diego Supercross only to gear up and race the main event. So apparently his leg wasn't actually broken but Erik Kehoe said it was and when Brayton was strapped to the backboard on the back of the Asterisk mule it didn't look good. That's gnarly, so I don't think his drive and determination is really in question here. Everyone says Brayton does everything right, training, diet, he's putting in the work, why isn't this translating to results outdoors? Is there that much of a fundamental difference between Supercross and outdoors? Generally if a rider is better at Supercross it's really just a lack of fitness that's hindering their outdoor riding, but I don't think that's the case with Brayton.
Who better to ask about how to improve Braytons results outdoors than his creepy superfan Weege. Weege has a proven track record of "helping" riders with their outdoor results look at Jason Anderson with Weege's help he was basically benched for a few rounds to get his act together. This is the type of help that the riders have come to expect from Weege. So I asked him what are "you guys" doing to improve Braytons results outdoors? And Weege responded "We'll have to come up with something". When I asked what that something might be he had no response so they are obviously at a loss on what to do. (Editors note: Weege came through at the 11th hour with some insight)
Weege: "I'm genuinely shocked that The Jet hasn't killed it this year, because I've been watching him closely and he looks good. Like, looks really, really good. On and off the track, might I add. I'm not one to want to pry, so I've taken to more covert operations, often looking through an open window at his house, or following him around town to see how things are going. And he looks really good then, too, (really, really good) be it putting gas in his Toyota Tundra or simply curling up with a good book.
Also, he's darned fast in the local mountain bike races we have here in North Carolina, but sadly he goes so fast that I can never get much of a look at him during those. I would take that as a sign that he's in very good shape. I mean, he sure looks like he's in good shape. Great shape, even. That's the way it looks. I've been watching closely. If you need photos or video let me know I have taken plenty and even got some of the photos printed out."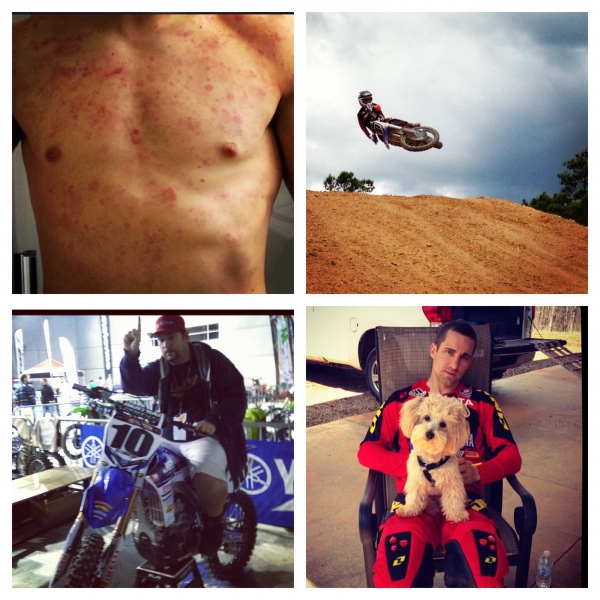 Topless photo for Weege, that roost at Vegas looks like it hurt, documentation that Brayton is putting in the work, standard picture of a dude stroking his dog, Matthes straddles the #10 machine in Paris.
#33 Josh Grant- JGR Yamaha
I'm admittedly not a huge Josh Grant fan, I like his style on the bike but not so much off the bike. He comes across as a Bro, flat bill, tattoos, flashy cars, and attitude it's a lifestyle really. I don't judge a book by its cover per say but if the flat bill fits. Maybe I have the wrong perception of Grant, obviously I don't know the guy so I tracked down someone that does know him to get their take on Grant. Kyle Cowling has been in the video game (like shooting videos not literally video games) for a while now and you have no doubt seen some of his stuff unless you live under a rock. As Matthes would say Cowling is into the blade of grass shot he definitely has a vision and there is a rhyme and reason for everything in the video he's telling a story.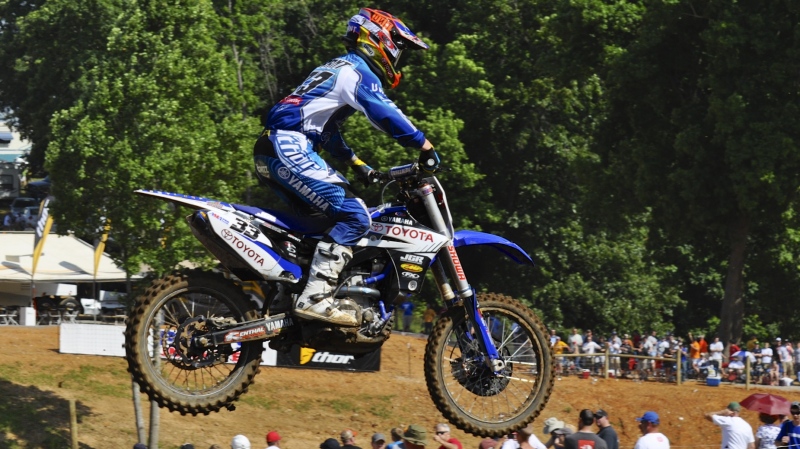 Style is one thing Grant has never had to worry about. Photo by Stephen Kane
The "After Hours" video Cowling did with Shorty is badass I recommend watching it with a box of tissues nearby http://vimeo.com/27790947 Cowling just spent a week at the Short Family Farm and I can't wait to see what he comes up with after all the footage he shot.
Here is the video Cowling did with Grant called "The Fighter" http://vimeo.com/57570699
Moser: I wanted to ask a couple questions about Grant you worked with him so I figured you know a bit about him. I don't know anything really can't say I'm a fan of his but maybe I have the wrong impression, what's your opinion of him?
Cowling: Well, quite frankly I'd always been a fan of his purely based off of his riding style. He has that effortless flow, elbows up, and just overall perfect form. JG and I are the same age, the first time I met him we were both racing 80's. He was riding for Honda of Houston at the time. Met him while practicing at Perris through Dano. I was slow and he was fast, so was I already like "whoa". He was super polite and said hello and we chatted super quick. Don't remember what about, but just remember him being very polite and sincere, almost too mature for his age.
He has no lack of style that's for sure.
First time I really worked with him was in 2011 for a Unit Clothing video I shot and edited. Met him, his wife, and Wyatt. Once again, very polite, humble, and easy-going. Shot for two days at his house, track, gym. I remember having small talk about racing and a few riders. One of which he doesn't get along with, but didn't shit talk or say a single bad thing. Just that that's how racing goes and he's just got to improve… He'll get there. After we finished shooting, he told me anytime I wanted to film, let him know because he loves to film, which is very rare to find among moto riders, especially at his caliber.
Fast-forward to 2012… The Fighter video was something I wanted to do for quite a few months with JG. Pitched the idea to him and how I wanted to show Wyatt, etc. He was into it. The biggest thing I took away from that shoot was simply who JG truly is. We spent about a week total on that project, and it was humbling to see him interact as a father, a husband, and around fans. Straight up, I'm saying this as an objectives observer, he's the most polite, sincere, humble, and easy-going guy in the sport. People think he has this bad boy attitude and complains, etc. Those people don't truly know him. At lunch one day, multiple people came out to him (fans) that kept bringing up last season of Inside The Moto. He took time to chat with them, ask them about their lives, sign autographs, etc. Wasn't a dick, but also wasn't ego tripping.
He appreciates it and is thankful. It's not my place to go into any details, but him and Ashley told me the entire story with his mom. Far more than Inside The Moto. It was heavy, dude. Something that I could see JG getting emotional over it. That's something that still is hurting him and still trying to cope with. I remember him telling me his parents fought so much that at age 14 he picked up and left. Said he basically raised himself from that point on. He's a good, good guy that people judge based on an image. Probably one of the best guys in the sport but people don't give him the time of day I feel.
Well this is exactly what I was interested in because I had an idea of who I thought Grant was but I've never met him and it's not really fair to judge someone on their image.
(Laughs) JG has always been straight-forward in interviews, and I think that is also part of why people don't dig him. But, the things he shared with me, he's been lied to and deceived so much that he cannot tolerate liars, so he'll call it as he sees it, you know? The stuff they shared about him supporting friends that were homeless, etc. He's got a good heart, he's just been screwed bad by a lot of important people in his life (family and business).
So you think Grant can get back to where he was in speed and race finishes, get back on the box?
I truly do, yes. But it's all about building. He wants to build off this year and show what he can do next year. He knows he has it in him, it's just a matter of putting the pieces of the puzzle together. He moved out of CA back to Florida with his family so they could get out of CA and away from the BS. He's on the right track. Muddy Creek he had a terrible start and worked up to seventh at the finish. Moto two he had a top five star and then bike issues. He'll get there, it just takes time.
Thanks for all the insider info Mr. Cowling, anything you want to add?
Just don't judge a book by its cover. I peep the message boards every now and again, and when I see people talking negative on JG, it pisses me off because their alleged "facts" are so off based and they truly have no idea who JG is. If people knew his whole story, people would be blown away.
Well said, thanks again now get back to work on that Shorty video edit.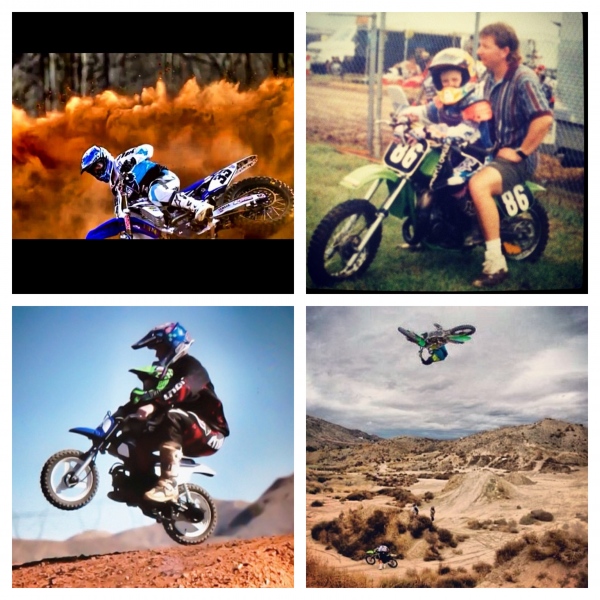 There is no arguing that's just a sick roost photo, where it all began with Grants dad wearing work boots, Grant can get it flat that's for sure, little Grant catching some air.
With a free JGR lunch still residing in his belly I tracked down Matthes to get his take on the JGR team in this Short interview.
Moser: You had the pleasure of visiting the JGR compound, what was your overall impression, I don't think anyone walks away not being impressed with the facility?
Matthes: Yeah it was nuts, their MX Shop is down the road from the NASCAR shop and I'm not sure what you're talking about in terms of shops but they're both really impressive. The MX shop is no joke either with a chassis dyno getting put in (motor dyno over in the car shop) and everything you would need to run a serious race team.
Does Coy really have a private bathroom or were you just joking with that picture?
No he really does. It's an unmarked door with a special lock that only he has. No one has seen the inside of it as of yet. We think he could keep his X Box in there or perhaps some sort of Island of Dr Moreau half-man half-lizard thing but the regular bathrooms are impressive. Showers and nice tile in there, it was a classy bathroom.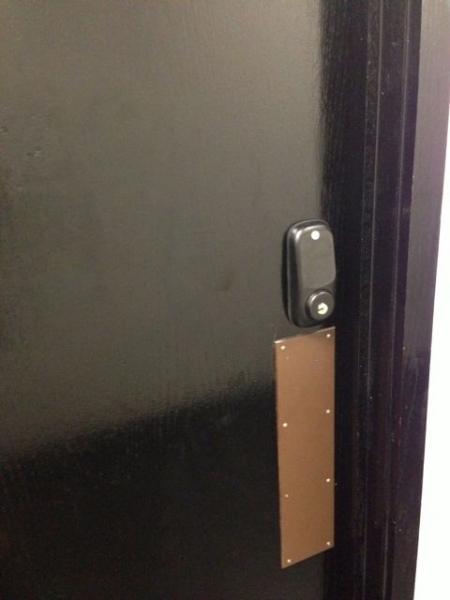 Coy's super secret private bathroom, entry via electronic lock only.
You're quick to bust Coy's balls about playing XBox all day, eating from a silver spoon and DaDa money but he seems really involved with the team, how much "work" does he actually do.
This is up for debate, he was on the phone for most of the morning we got there. Then he took Weege and I for lunch and after that gave me a two-hour tour of the NASCAR shop. Once we got back from that he opened up a package on his desk and his buddy had given him a backpack fold-up 40 caliber gun so he was running around with that. Jury is still out.
You've been around a long time, you know a lot of people and worked for Factory Yamaha so you've seen it all. Team Honda is pretty much considered the best racing effort with the biggest budget and most resources. Where would you rank the JGR Team among the factories in terms of pit presence, race shop, resources? Their semi truck is one of the nicest setups in the pits in my opinion.
They're right there. The car shop has anything and everything you could possibly want in a dirt bike race team. Any machine, you name it. And they have three, four maybe more of them. Coy told me that when they need a CNC part made or something welded then the guys get on it right away for him. He said that if it's a "911-type situation" he stands over the guys desk until he gets it done
What is the overall attitude of the team what's the vibe they are putting out? Are they still pumped and motivated to be racing or are they frustrated and depressed, drowning their sorrows in fat ass jack and cokes?
The Fresno references don't go over well over there but it's pretty low right now. Lots of jokes and black humor about how they suck. When touring the shop with Coy just about everyone said hi (he IS Joe's kid after all) and asked how the team did and he said "We sucked" to each and every one of them. I've been there on a team though (one time at factory KTM we had five riders finish Southwick and NOT score one point) and all you can do is work hard and better days have to lay ahead. Because after all, it can't get any worse.
There's no doubt the guys are bummer though, there's a lot of money and time being spent there and lately, there hasn't been much to crow about. Although Grant was the fastest rider in both sessions this past weekend. It's the small things bro.
I think the JGR Team is fully capable of winning a championship someday they have all the pieces to the puzzle it's just a matter of finding the right rider and putting the pieces of the puzzle together, but what does the King of moto media think?
Yes. Absolutely they can win a title. There's no doubt in my mind. They've tried to hire a lot of racers but no one wants to get on the Yamaha YZ450F- that's the fact, right or wrong. James Stewart failed ride there did a lot of damage to them in my opinion and they just have to wait it out, every OEM gets to the top and down to the bottom at some point. But they have the resources, OEM backing and most importantly, the people, to win and win big.
Who has the hardest job at JGR and who has the easiest job?
Well I'm biased but the mechanic's have the hardest job there. They always do in my opinion. They work the most hours and the hardest and travel the most. The easiest job is Coy Gibbs but that's easy. He's the owner!
What has been the smartest thing JGR has done and what has been the silliest? For example making a shock although interesting seemed like a bit of a reach.
Shock was fine, it was just a copy of a KYB as they were upset with KYB and didn't want to run anything from them. So they just handed off a stock shock and said "Copy this" and I don't think for the JRI company who did it, it was a big deal.
Smartest thing was just being smart about going racing. They're not some hillbillies who don't know what they're doing and hiring morons. They haven't had much staff turnover at all which tells you they treat their employees well, they have the equipment to do a lot and the people to help them out and they've shown they're not scared to do stuff (the shock, the tank/shroud that's stock on the 2014 YZ450F's, the homemade triple clamps) so that's the smartest- they appear to be doing the right things. At least in my opinion.
The silliest things, in my opinion, have been the rider signings. Josh Hansen? Cody Cooper (great guy but couldn't ride supercross and we all knew that so why didn't they?), getting Grant back? But again, the bike color stops them from getting some top notch guys so maybe this isn't all their fault.
What happened to Grant second moto at Muddy Creek?
A motor problem of some sort I believe.
Is Josh Grant back? His speed has been a question mark recently something that has always been one of Grants advantages is his ability to go really really fast, but with this long comeback from injuries we haven't seen those flashes of speed. Has he turned the corner by setting the fastest time in practice at Muddy Creek?
No. But there's always the "What if…?"
Brayton has always struggled outdoors only landing on the overall podium twice, why do you think he has such a hard time with outdoors and what can he do to improve?
He's better than what he's been showing for sure but he's just better at supercross, that's what he grew up on racing and what he's best at. I'm not sure what's going on right now but he should be a 6-10 guy week to week in the nationals.
Did Weege drive you by Braytons house and show you the best angles to look through the windows?
Better yet, he showed me his secret hideaway where no one can see him.
What's the best finish you think we'll see from Grant and Brayton this summer?
Well Grant's got more talent than Brayton but can't seem to figure it out. But it's 24 motos and you have to figure the stars and moon will align at some point for Josh so I could see him on the podium at some point. Brayton- how about a sixth?
Thanks for reading. Please send any and all comments to jasonw@racerxill.com