The Canadian season is off and running…
The Canadian season is off and running…
By James Lissimore
With the AMA outdoor season a few rounds in and starting to find its groove, it was time for the series to the north, the Monster Energy Canadian Motocross Nationals to kick their season off as well, on the Vancouver Island racetrack out on the west coast of British Columbia – Nanaimo's Wasteland's MX Park.
All eyes were on the showdown between multi-time Canadian champ, Colton Facciotti, who was returning from an injury filled 2012, and former AMA National winner, Brett Metcalfe, who was making his Canadian debut for the Leading Edge Kawasaki team and also missed much of 2012 with injuries. The duo wouldn't dissapoint as Facciotti grabbed the early lead in both motos and checked out, while Metcalfe would battle with Bobby Kiniry for much of moto one before grabbing second and then found himself chasing Facciotti for much of moto two but would end up settling for another second and second overall on the day.
The MX2 class also looked to be shaping up as a Kawasaki vs KTM duo as Californian, Austin Politelli, was returning to the series after racing it in 2011, to do battle with the French Canadian, Kaven Benoit, who missed the first half of 2012 but came roaring back to take moto wins in 4 of the 5 races he competed in. The first moto was all Politelli though, as he checked out to take the win while Benoit found himself on the ground on the first lap. In moto two, the pair hooked up to put a big gap on the rest of the field and with Politelli cruising out front, it looked like a clean sweep on the day until a mistake led him to catch his leg on his footpeg, ripping his leg open. Luckily for Politelli, he had a big enough lead on third that he could limp it home in second to take the overall win while Benoit took the victory.
Full results at www.cmrcracing.com
You can check out my photo gallery from the race here: http://jkliss.photoshelter.com/gallery/1-Nanaimo/G00008aUS64b02Bw/C00005Sy_W4KZb1Q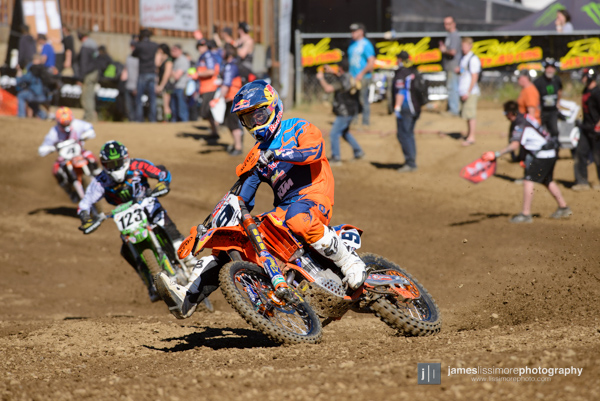 Colton Facciotti was impressive in his return to racing.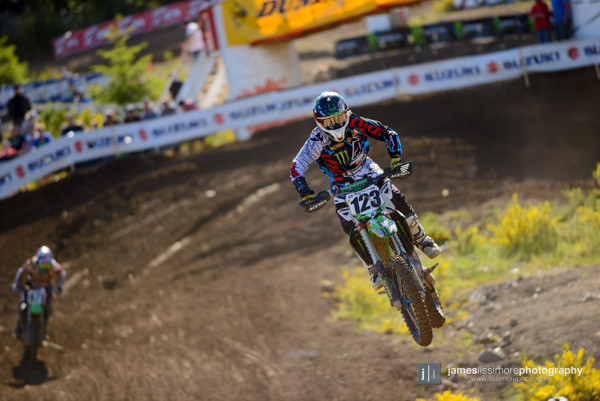 Metcalfe admitted that he struggled to hold Facciotti's pace in the second moto but was happy to get a
race under his belt.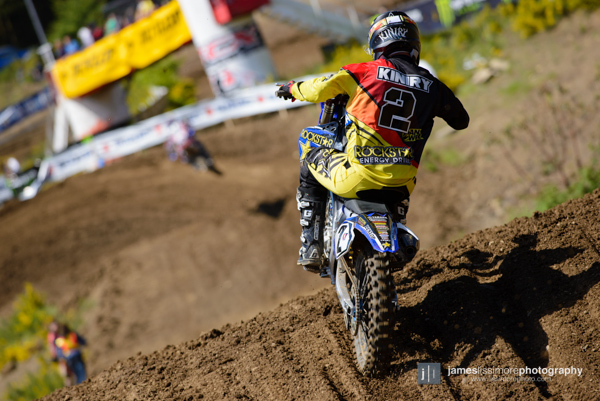 Bobby Kiniry is always a contender in Canada. He finished third in the first moto.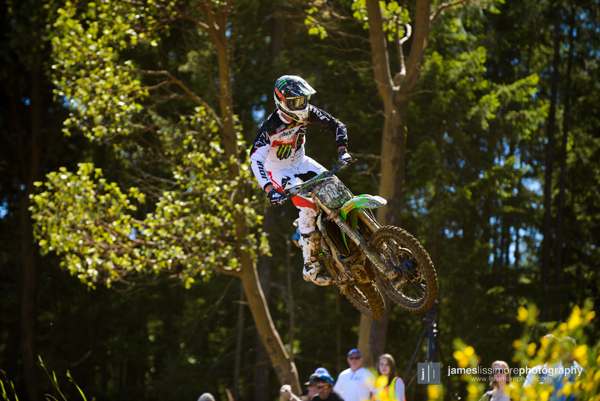 Even a cut up leg that required stitches couldn't derail Austin Politelli's return to Canada.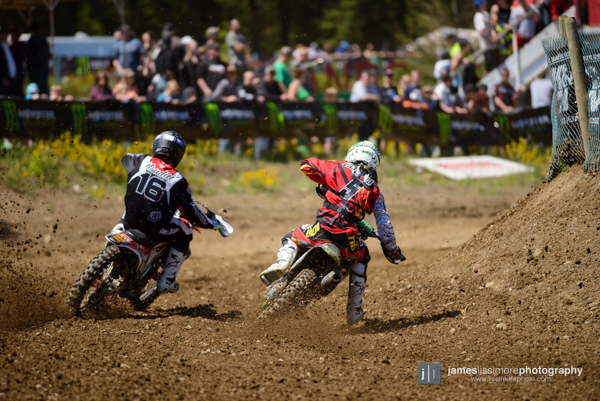 Tyler Villopoto(5) was trying to get around fellow Washington state rider, Brad Nauditt(16) for third in the first moto when he clipped Nauditt's tire and went down hard. He elected to sit out the second moto.