Some ugly and pleasant memories from some riders
Some ugly and pleasant memories from some riders
**Thanks to Blazier for digging up the photos**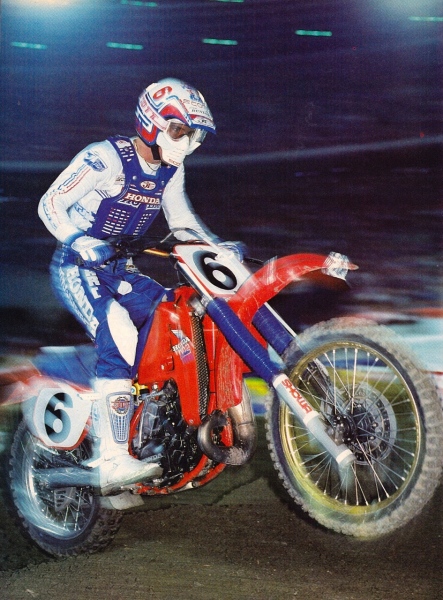 Lechien just loved all of the '85 Honda's.
Ron Lechien
BEST: "The best bikes I ever rode were the 1985 Honda's- all of them! I won the 125 nationals that year, I did well in supercross on the 250's and I even rode the 500 at the USGP. They were all so good, so bitching. The 500 was insane. I didn't like my '84 250 bike that much, the handling wasn't that great. but the '85, for me, at my career they were great. They were bigger stature and so that fit me better also. The 125 was fast, we had a few more ponies than those guys, no doubt about it."
WORST: "The worst one was probably my 1986 Kawasaki's. It was my first year there and it was the first year of production rule. They were set up for Wardy who was short and maybe they worked for him but the whole thing felt small and I didn't do very well that year."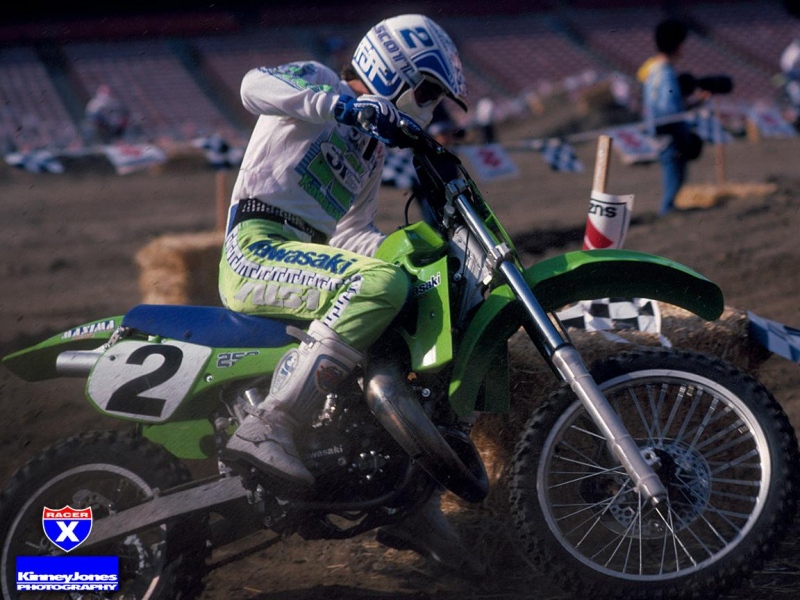 Ron Lechien went from his favorite bike ever to his worst, this Kawasaki, in one year.
Eric Geboers
BEST "That's funny because just 10 minutes ago I talked to Roger DeCoster about that. Actually it was a two-stroke, we were racing two-strokes of course, it was a two-stroke, a 500cc HRC. It doesn't have a particular year because it's a built from scratch bike. We had these big beach races with over 1,000 participantts. The start is 1,200 riders. 400,000 spectators. And the start is four miles straight on the sand. So, that bike is built with all the best HRC parts out of '86, '87, '88, '89. If you think about crank, gearbox, fuel tank, with a lower fuel tank with the pump, bolt, because we need 50 liters, quick filler from road racing. Below there was a fan, behind the radiator so if we got stuck if there was traffic we'd keep them going, all these kind of things. That's a bike I raced three years of those beach races with. I have it at my home. It's in the living room and that's the most high-tech machine that I've ever ridden."
WORST "But worst bike I raced, I never rode a bike I didn't like. To be honest, then I would not ride. But of course my first two years on the Maico, that's really 100% nostalgic. The bike you have to swing it like this (mimics side kicking a bike) in order not to have a kick back because the kick back drops you 30 feet back, or you have a broken leg. These bikes, they had lower technology."
Mike Larocco
BEST: "I'm probably going to have to go back to my 1994 Kawasaki 250 for my best bike. I fit well on it, it was probably the pinnacle of my career speed-wise. I loved my Honda's also but if I'm looking at results, then it's the Kawasaki. The motor was really strong, I could run a gear high easily and turning was good. I'm more of a thinker-rider now so I pay more attention now than I used to but I remember that nothing bothered me on that bike."
WORST: "My worst bike was my 1996 RM250. The scary thing were the exhaust valve would stick open and when you jumped onto a jump on/jump off it would just about kill you. I broke pivot bolts, the heads would pop off. Broken footpegs, I blew my knee out because of that. The forks and motor weren't that good but that was minor compared to the other struggles I had."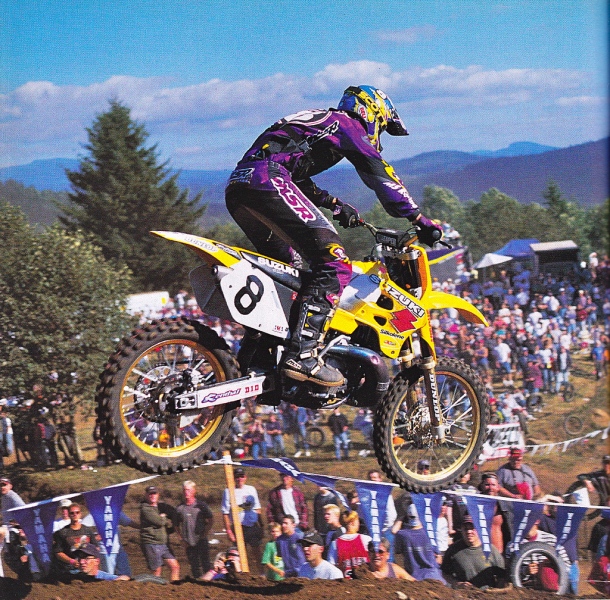 MIke hated this bike so much he skipped a race and tried to get out of his contract. It didn't work.
Roger Decoster
BEST: "My very best bike that I had was my and it's always relative to what the completion has but 1972 was for sure my best bike I had. It was an RM 500 and it also has to do with the fact that I was the fittest and at the top of my game. I knew I was going to catch anyone in front of me, I was confident. The number on the bike was RN72 and it was a great bike."
WORST: "I don't think I had a worst bike, in the beginning I rode junk bikes but when I was pro I always thought I had the worst bike. I didn't have to try and convince myself that it was good. I always went to the gate believing that my bike was good enough to win."
Casey Lytle
BEST: "My favorite bike was probably the 1999 Yamaha YOT 125. Dean Baker tuned, I always got good starts on it and as far as I can remember it never popped or hiccupped or anything. I felt like I was invincible on that thing."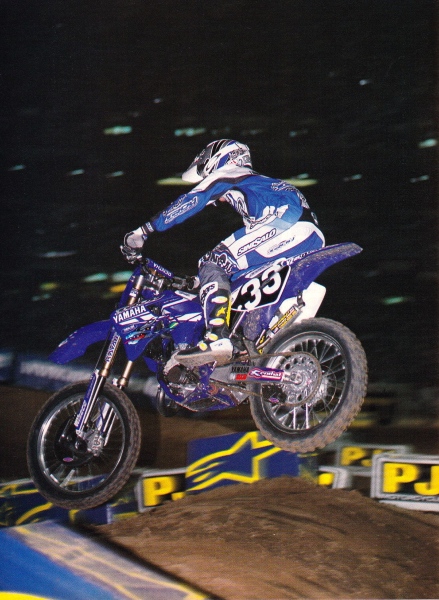 This was Lytle's favorite bike ever and he rode it pretty fast!
WORST: "My worst bike was the 2000 FMF Honda CR125. It handled really well but the motor struggled quite a bit. It didn't run as good as the Yamaha, not even close. The hot ticket before I got on the Honda was to put an old cylinder on and I rode them in '98 and they were good compared to the 2000 Honda but still not on the level of my Yamaha. In 2000 we couldn't run the old cylinder for whatever reason and that hurt us."
Johnny O'Mara
BEST: "My 1984 Honda HRC RC250 was as close to F1 racing for motocross as you can get"
WORST" "Without a doubt, the 1987 Suzuki RM250."
Tim Ferry
BEST: "The best bike was my 2008 Kawasaki KX450F. It was the perfect mix of power and handling. They screwed it up in '09 when they changed the frame but all around the '08 was really good. I felt comfortable on it all season. I didn't change a clicker on the suspension all season and you know me, that means it was ok. The 2007 bike was good but in '08 I ran a different linkage that I should have run in '07 but I was being hardheaded."
WORST: "The worst one was my 1996 RM 125, the '97 wasn't very good either. In '96 the bike was a turd. It was so slow, it couldn't get out of its own way. It handled ok because it was so slow, it never kicked or anything like that because it wasn't going fast."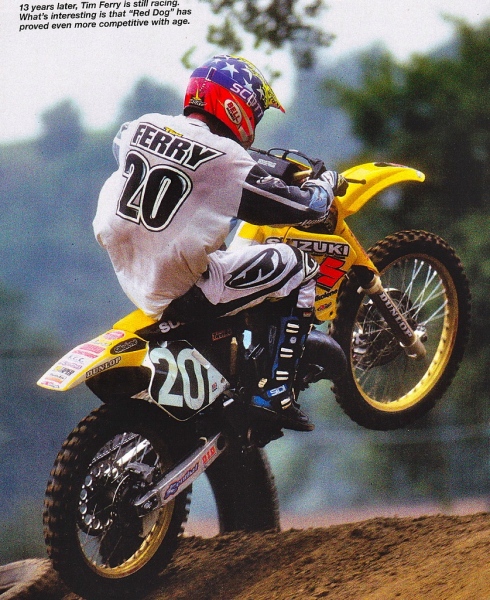 Timmy Ferry didn't like this bike very much.
Broc Glover
BEST: "I'd say that it was a 1981 OW YZ490 that I think was a 498cc. It was fun, it had so much power and the way the motor was designed it had a short stroke and a big bore. It accelerated like crazy and stepping off 125's onto that was kind of an exciting experience every time I threw my leg over it."
WORST: "Worst bike, I'd say it would be the first year that Yamaha had water-cooling on the 250. We tried to race them early on in supercross, I think it was probably 1981 or 1982 and the radiator was on the handlebars. Mike Bell was number 1 in supercross so it was the '81. Yeah, that thing weighed 230-something pounds and the weight was on the bars. The Suzuki was adding skid plates to make the limit which I believe was 198 or something like that. We were thirty pounds over the limit and up high! I believe at Pontiac, we took the water-cooling off and turned them into air cooling and had Titanium and carbon fiber stuff and got them down to 218-ish. They felt like a 125 now! They were so much lighter and such an improvement, it wasn't even funny. But the Suzuki was still under the weight limit without the skid plates. It was far from the best bike that year. I did manage to win the Trans-USA on that same bike, winning four out of the five races in that series. It was capable of getting around but wasn't very good."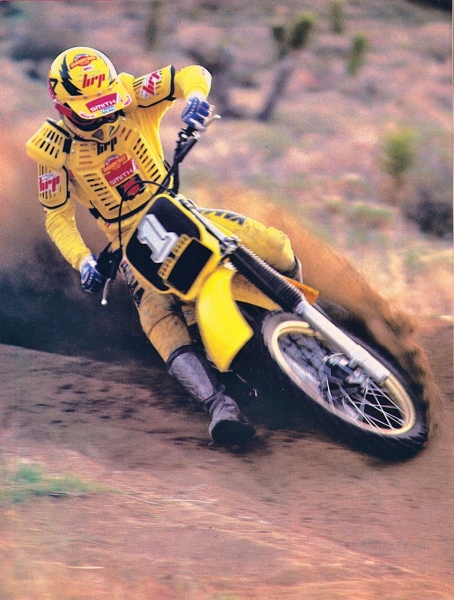 Hannah was NOT a fan of this bike.
Bob Hannah
WORST: "Well, Broc was right about that. The 1981 Yamaha YZ250 was terrible. It was terrible with or without the water-cooling on it. It was a heavy pig, thirty pounds overweight and they just quit developing the bike after I got hurt in 1979. I get hurt and they stop working on the bikes. Broc's 250 was too bad in 1980 and when the '81's showed up they were thirty pounds over and the Japanese don't know why. No one knows why! So I got to Hangtown for my first race back on that bike and Howerton beats me. Then the next week was the Massacre at Saddleback and we did manage to drop five pounds for that day with titanium. But it's a piece of shit and stayed a piece of shit the whole year. That's what Broc's talking about. In 1982 Yamaha paid me a bunch of money to ride a 125 but it was terrible. They promised they would do what they could and they did try but the bike wouldn't make 45- minute motos without mixing oil 20-1 because it would seize. They promised they would do what it took but it was a turd. And then I was having a discussion with a Japanese man who was vice-president of Yamaha USA and trying to explain it to him was ridiculous. He told me that myself and Glover were out of shape.
It's a little hard for me to prove to this guy behind the desk that we were in shape. The bikes were crap, we've been telling you that and it seems that you have a problem with Glover and I. So I said that you owe me 265K for that next year and it seemed like they were hurting for money so would you mind if I ripped it up? And they replied "You would do that?" and I said, yep and go get the contract.
So we tore that up and I was free. Right there they did it. Voided on the spot and I went to Honda. I would say the '81 bike was worse than the '82 but only by a bit."
BEST: "The best one was the 1983 factory Honda. The '85 bike was good but it was all based off the '83 model and trying to improve it. The '83 bike was so good. The 1982 bike was good bike, I rode it but I didn't have any say in it- it was Hansen's bike. But the 1983 bike, after we worked on it a bit, was kick ass. It took a little while to work on it but it was great and most of it was due to Roger Decoster. Whatever was wrong, he fixed. Plain and simple. We gave him feedback and he figures it out. When we needed a linkage at Honda, we got it the next day. Paul Turner stayed up all night and made us one. In '77 we needed a linkage at Yamaha and we're still waiting for it!"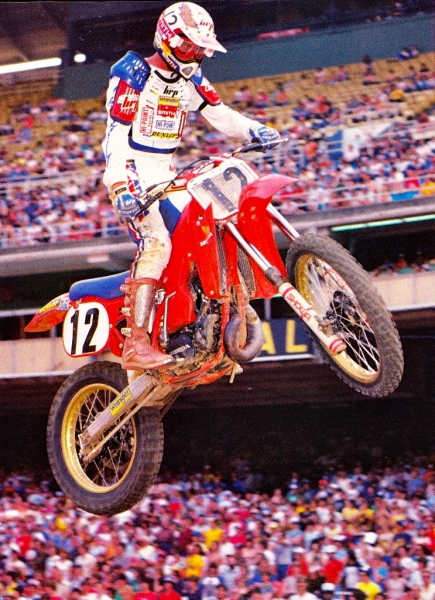 The Hurricane loved this 1983 Honda
Rich Taylor
BEST: "Best bike I ever rode '93 CR250 the works bike were so insane. I was testing for Honda and the motor revved so far and so smooth and it was easy to control. It was amazing, whatever gear you wanted to run you could. First gear or third gear starts, didn't matter. It was very smooth and easy to ride. Works linkage and with the factory suspension, acceleration bumps didn't matter. It had great traction and all of them were amazing bikes. The bike was the same for three years really and every year was awesome."
WORST: "Very worst bike, there was two of them really. One of the them was an RM 250 in 2001 or 2002 in an aluminum frame, it was a Honda copy frame that Suzuki was doing, it was a lead pipe. It would not turn, it just wanted to go straight. Did I mention it was slow, the frame was rigid, heavy and like a boat? You could feel every little rock out on the track. It was fully experimental and it sucked."
Mark Barnett
BEST: "The best race bike I ever had was my 1981 RM 125 works bike, the 250 was awesome also. They had the full floater on the rear and were super lightweight."
WORST: "The 1983 one was terrible, they decided to put the gas tank under the seat and it didn't work. We eventually scrapped it about halfway through the series. I don't know what the problem was, it didn't handle and was slow. We tested it in Japan and we told them it was no good over there. We were riding a production Honda for comparisons sake and it was better than the works Suzuki."
Jeff Ward
BEST: "The 1985 Kawasaki's were great, the 84 125 was right there also. The 250 was pretty amazing bike.it did everything well. Like our 500's, it had over-rev and didn't' do anything unpredictable. It's like where RV is out now, it just works. When you're in shape and you know what it's going to do then that's awesome."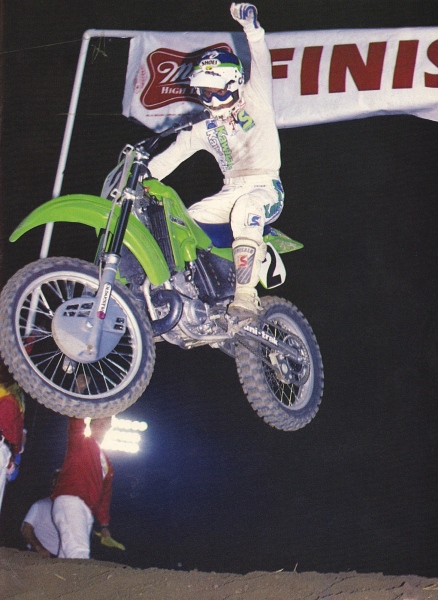 Wardy in '85 on his favorite bike ever.
WORST: "The worst bike was probably the 125 that had the rear number plate on the rear fender, 1982 or whatever. Our bikes were decent until that year and then the Uni-Trak came out and that helped also. Then the '82 came out…I think they went for the slowest, heaviest and ugliest bike ever because they accomplished. It broke, it was a dog and it didn't do anything right. That about covers it."
Kevin Windham
BEST: "I'd say that my favorite bike of all time was my Kawasaki KX65- I ripped on that! I always had good bikes, my YZ125's were awesome, the YZ250's were good and my Honda's were always pretty good. That 2009 year wasn't the greatest but they were all great. I don't think I ever rode equipment that I couldn't win on to be honest."
WORST: "The worst one was the 2009 CRF450, they got it working well after a bit but at the start, I didn't like it. They were cramped for a guy for my size. I think even people at Honda would agree that we had some chassis problems with that one. My Suzuki's were good, people think that might be it but they were good, I just wasn't."
Jimmy Button
BEST: "I never got to race it but Fro's 125 from 1991 was awesome. It had a swiss-cheese airbox and all this motor work done to it. It was absurd, it was so fast and handled so good. Everything was nailed down pretty solidly. They had one airbox that worked so good they couldn't duplicate it, it was weird. As far as racing, my bike at the end of 1999 outdoors was dialed in. It was pretty amazing, it handled great and ran great but was a tad heavy. Also when I was in Europe, I had a full HRC CR125 and it was unbelievable, handling was ok and from a motor standpoint it was crazy."
WORST: "The 1991 YZ125 was the worst bike I ever had. I was on DGY and it was a production bike, nothing like Emig's bike at all! It was just slow, that was the major problem. Trying to do the triples was really hard, I broke my footpegs off from coming up short!"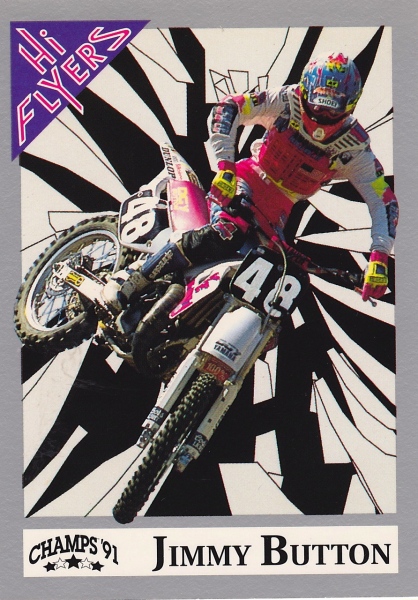 Jimmy's not feeling much like a champion right here.