The room is dark except for the light blasting from the HD TV screen. Motionless, fixated on the pixels dancing before your glazed-over eyes.

The room is dark except for the light blasting from the HD TV screen. Motionless, fixated on the pixels dancing before your glazed-over eyes.
By: Isaac Scoggin
Photos by: Simon Cudby
Sound blaring from speakers hidden amongst the corners of the room. Half-eaten jelly-filled donut rests easy on your "I will work out tomorrow" belly. A little too tight of boxers revealing your pride and joy(s) without even exposing them. Moto is indeed on. The door is slowly cracked, allowing nothing more than a small canister to glide across the tile floor. It meanders wherever the gaps in between tiles allow it before finding a resting place against the TV stand. You don't even blink because Dungey is pulling away from Villopoto, and you cannot believe that with one off weekend he found what he lacked prior. The canister bursts at it's seams, revealing the brightest light you have seen since first coming to after getting your wisdom teeth removed. The only sound is a constant ringing in your ears, and accompanying it is a pounding head that you are sure will give way to an upheaval of your jelly donut. Luckily, we cannot see either, nor will I describe what happens with sudden movement in your boxers. Pop, we will leave it at that!
What has happened? The simple answer is that you were hit by a flashbang grenade. First, the flash produced activates all the photoreceptor cells in your eyes, which makes vision impossible for close to 5 seconds, or until the eyes return to it's natural unstimulated state. Secondly, the loud sound of the blast causes you to temporary lose hearing, plus it disturbs the fluid in the ear, causing a temporary loss of balance. It is not meant to do much more than stun you long enough to be subdued. Whether you know it or not yet, this has happened to you. We have all been flashbanged as fans, just as any rookie has been when he is first introduced to Professional Motocross.
Hopefully, by this point you are coming back from the stun you just received and your senses have all returned to normal. There is a lot going on in the Motocross atmosphere as of the last month or two. We are in full swing in the Nationals and nothing captivates a true fan like the sound of 40 riders wide open around a track so rough our kidneys hurt just watching them. Bikes are set up better than round 1, and the riders have found the weaknesses in themselves. And trust me, every rider has found a weakness after Budds Creek. The summer is upon us and with the bright sun comes all the humidity a man could want. These weaknesses may have startled some riders, or maybe the pace itself did that, but only a few instances can really be pointed to as true flashbang moments.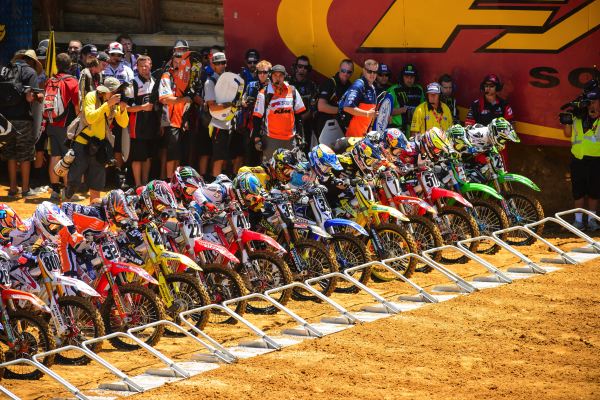 Coming back from an off-weekend brings renewed hope to all.
These particular moments that happened at Budds Creek this past weekend ran the spectrum from rookie surprise, to potential being glimpsed, to gaps in speed being made up, and finally, to legends of the sport falling further from grace then ever imagined. To begin, the rookie of Adam Cianciarulo knew he was being gunned for by the entire industry. Let's be honest, more people wanted him to fail to impress than those who wanted him to. For a rider that is completely understandable, after all you are working daily for progress and a new rookie with huge talent can knock you down a position with relative ease. Plus, his teammates have been struggling and wouldn't that be some motivation? A rookie coming in with hype and personality, a darling among the media without even a race under his belt! You know Adam left Budds with some serious motivation of his own, and I would bet anything his eyes have now recovered. Bloodshot, dilated pupils and all, he will be much better this weekend at the Wick. His moment of unbalanced, blindness has passed and I believe he will end next weekend around the 7th spot. Don't stamp it, but you can file it away somewhere behind Mookie Fever…in a spot where you can only recall it if I am right. The next flashbang he is involved with will be him flashing the crowd his milky white bare chest after a moto podium.
The next surprise was Adam's teammate finally putting in the effort it appears, to run up front. The potential of Durham has never been a real question, but you hear more stories about him "flashbanging" the camera by jumping triples naked (…maybe that was his brother) then you do of him getting on the box. Anyway, at "the Creek" Durham ran up front nearly the whole 2nd moto and he was smooth and precise. It is fun to watch Musquin and him wheel tap, hop over, or make jump combinations out of bumps and bumps over hills. Southwick will be a real test for his grit. Will he be able to back up his performance from last week or will it only be a flash in the pan? They always say showing the speed to run up front once guarantees you a ride for a few years. He has shown the speed, but he is only glimpsing the potential we all hope he fully realizes. As a fan there is nothing better then a new personality, different style on the bike, and new addition to the front five/six. It is early in the outdoor year, but it is safe to say Durham has our full attention heading into Southwick, and with just a peek he has us all wanting to see the whole thing.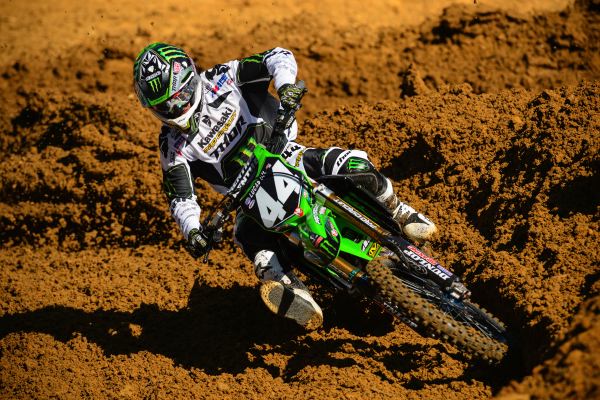 Durham has seen a lot of injury but always rides with heart, that could bring a W.
Another rider who has shown blitzing speed at times, but is normally surround by oddball wrecks, bad starts, and usually the under-poweredness of a 250f is Malcolm Stewart. It has long been known that a 450 would suit his stature and the theory has been proven correct. Well, as of Hangtown first moto it was correct, but as of the second moto at Budds Creek it has been proven undeniable. Now, the question is what will real confidence do for Malcolm? He has the drive to push forward and better his results week in and week out. We are seeing this now, and it appears that racing with, or in the class with, his brother is only making him hungrier. Troy Lee would be foolish to sign him to a deal and swiftly move him back down to a 250f for SX. But what do I know? Consistency has plagued Malcolm throughout his entire career; however, if he can hold it together for the rest of the season, and produce solid top 5ish results, he will find a nice paycheck in his mailbox on a solid team next year. Supercross may be where the sponsors want to see a return on their investments, but there is no denying the respect given to a rider who steps up outdoors. It shows maturity, strength, endurance, and most importantly, speed. The initial light from the canister has stung our eyes, left our head ringing, and caused us a little nausea. Now it is time for Malcolm to step up and show us what we should expect to see.
Something that always amazes me is how a weekend off from racing allows some riders to make marginal gains in speed. How is it even possible to find something so quickly? Especially when all of us watching so closely never knew it was barely under the surface at all. I am speaking of Dungey mainly, but Baggett fits into this category as well. We all know that Dungey has world-class speed, the same is known of Baggett, but to be losing by a significant amount of time one weekend and then win the next is tough to digest. Villopoto had passed Dungey early in most of the motos this year, and Baggett hasn't looked like a past champion since the first two motos. What happened? Did Dungey finally let loose and push to the edge? Was that the reason for his uncharacteristic crash in moto 1? Did Big James show Baggett who his Papa was down in Florida? Whatever the case may be it is nice to see some fight being brought back into the Championships. The only real question for the 450s is…can Dungey and his win on Villopoto's best track (close to it) finally penetrate Villopoto's unshakable confidence? As for the 250s, it is really a matter of is Roczen fit? We known Tomac will win a lot of second motos, and we know his teammate Osborne will eventually pull a win out. Well, we don't know that, but we wish it. Baggett seems to be spotty like he was in 2011, where one weekend he is himself and the next he is someone else. Musquin just seems like he isn't going to make a big mistake, but he isn't going to pull big points on these guys without them grenading themselves.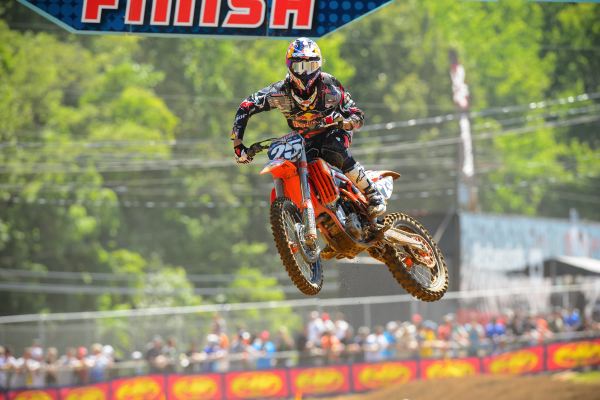 Marvin Musquin has really figured something out lately. His title hopes are very much alive.
The final and most violent of all the stun grenades that could have possibly hit us comes in the form of two legends: Chad Reed and James Stewart. If you had told me at Hangtown or anytime really, that these two would struggle this much I would have slapped you across the face, punched you in the stomach, and while you were bent over catching your breath…well, I would have pulled your undies over your head. Aggressive, I know! But we are talking about true men among lesser men. Last time we saw these two outdoors they were winning motos, leading the points and looking damn good doing it. They were Champions just doing what they do, which is winning. How were we to see this coming, and who did (sit down every Dungey and Villopoto fan, you did not)? Obviously, serious ailments are distracting them, and apparently James just wrecks a lot. I don't want to see either one of them go out like this. I hope they remedy their issues and partake in some moto glory. You can never discount Chad or James, but at what point do we go "what are they doing?" That time is not now; at least I don't want to think so. I would gladly pull a few pins from any grenades they have left lying around just to see them light it up a time or two.
So we have been stunned by a few rides and by a few riders. Our eyes are now readjusting and we are gaining back all senses we had lost for a few moments. The true beauty of it is that when you are blind physically you are possibly able to see more than before. And, when your world is spinning you find that it feels good to be stable yourself. Essentially, losing what we rely on so greatly gives us an acute few moments when they come streaming back to us. We are reacclimated to moto, and for a race or two we will slowly lose that insight we had gained. Never fear though, the next week off is only a few races away, and then we may get flashbanged once more. The true question will be who is pulling the pin next time?