Our own Moser breaks it all down
Our own Moser breaks it all down
Shortcomings #6 Vol 2
Photos: Terry Spezzano @Peiper419
Anyone else have a hard time hiding their boner after the 1st 450 moto this weekend? I found that even though it was 95 degrees outside that tying a sweatshirt around my waist while wearing swim trunks "it" really wasn't that noticeable. Great 1st moto for Shorty and great ride from the very very back in the 2nd moto, but this Short article isn't all about Short, lets look at some Shortcomings. Southwick is was the ultimate Shortcomings track, it will make any engine builder pucker and pray that his bike will hold on for the 30 min + 2 without succumbing to the heat. Mathematical formulas that could have gotten Apollo 13 back to earth are put to use to guestimate if the aftermarket tanks will carry enough fuel to go the distance. Lots of memorable races in the sand of Southwick it's a shame it's gone the way of the 2 strokes.
"If you want to be successful in anything you do you need to surround yourself with good people" this is a common phrase in the moto industry. This can most certainly carry over to the "journalist" industry I figured and this week I got some help from a good guy someone I've never actually met. (Editors note: for all you parents out there I have literally gotten up 5 times to put my 3 year old back to bed already and haven't even finished this introduction at this rate I'll never finish). Terry Spezzano @Peiper419 on twitter sent me some pictures last year from Unadilla of Shorty for some umm personal use and also some pictures for my Shortcomings article. He was kind and/or crazy enough to contact me again this year prior to Southwick to see if I wanted more pictures. You can never have to many pictures of Shorty so of course I said yes and I also told him he was going to be responsible for picking which riders I would feature in Shortcomings. "If your ever want to grow in anything you do you have to learn how to delegate" I think I read that on a fortune cookie once.
@Peiper419 unzipped his pants at Southwick and put his balls on his camera going balls out with all Shorts of pictures of different guys. This is his Short list of guys to potentially feature in Shortcomings.
450's
– Stewart 34-4 (Did his best impression of an ostrich….again)
– Canard 35-5 (Good to see Trey hit the deck hard a couple times now without breaking into a million pieces)
– Brayton 32-7 (Demonstrated what happens when putting your balls on the handlebars goes wrong)
– Lamay DNQ

250's
– Bogle 4-33 (The Southwick mechanical DNF gods choose Bogle this year)
– Martin 35-6 (The Southwick walk of shame also got Martin)
– Webb 7-34 (There were a lot of fall over and I can't get my bike started DNF's 5 years ago, and you can add Cooper to that list, some people may even say his bike got caught in the Southwicks webb.)
– Hahn 38-39 (The dreaded double deuce, you wouldn't wish the back to back mechanical DNF on anyone but Hahn did it with a smile and a goatee)
– Little Dowd DNQ
All good picks and potential features, gotta love Southwick. I left the ultimate decision up to @Peiper419 as he had done all the work, here were his thoughts:
"Ben Lamay had plane problems getting to the Wick and then went into the consolation race, was in the fifth and crashed trying to make the pass for the 4th and final transfer spot on the last lap. Ryan Dowd trying to make a main the same day his father is racing only to go down in the first corner of the consolation race, putting on a great charge to only come up Just Short of qualifying."
#716 Ryan Dowd (Junkyard Puppy) – Chaplin Kawasaki
It is a cool story to hear about a father and son both trying to qualify for the same national on the same day. The only thing that could be better is if it would have been in the same class. I remember an interview with John Dowd that I thought was only a couple years ago when he was talking about his son riding and how expensive it was to go racing. He didn't have any intentions of hitting the amateur circuit living out of a motorhome. I do find it interesting that very few maybe even none of the current retired professional riders really go balls out on their own children's amateur racing, the cost seems to always be mentioned during that conversation along with the risk/reward of becoming a professional and trying to make this a career.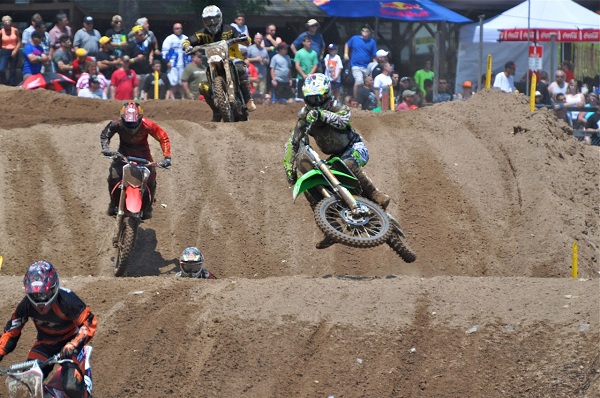 Like father like son except when it comes to scrubbing, I don't think his dad taught him how to scrub like that.
The Junkyard dog and puppy racing together got me to thinking about who was the fastest father son racing duo, here's this weeks impromptu pole results.
Matthes: Tim and Evan Ferry (Shocker)
Tits: Everts
Moser: Dare I say Donnie and Josh Hanson?
Swisscore: Kyle and Kenny Keylon
Tits: Big James and Bubba
Moser: Tom Hudson and Jacki Short
Moser: Frank and JT$ Thomas
Matthes: Frank has a Loretta Lynns championship and a top ten in a national
Tits: Jeanie and Ricky Carmichael
Weege: MICKEY EFFING KESSLAR AND DAKOTA (Weege even went with all caps for dramatic effect, Jersey pride)
@bobfromomaha: Toss up between Decoster/Dungey and Tony/Mike Alessi that have pulled so many holeshots together.
JT$: Gary and David Bailey probably or the Everts
@Roogs209: It pains me to say this but probably Donnie and Josh Hanson, or Mike and Christian Craig.
Both Harry and Stefan Everts have World titles and Mike and Christian Craig was a solid pick they were/are both fast and have style to boot. Anything regarding Hanson just makes me shake my head. The Junkyard Puppy wasn't far off the pace at Southwick and had the speed to qualify based on what @Peiper419 said. I think he's doing some more nationals well see if he has speed on the dirt as well or if he is just a sand specialist like his dad.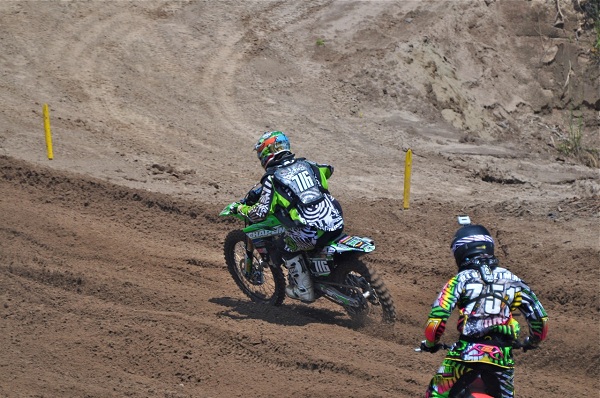 I say Dowd you say? Southwick!! They go together like orange juice and vodka.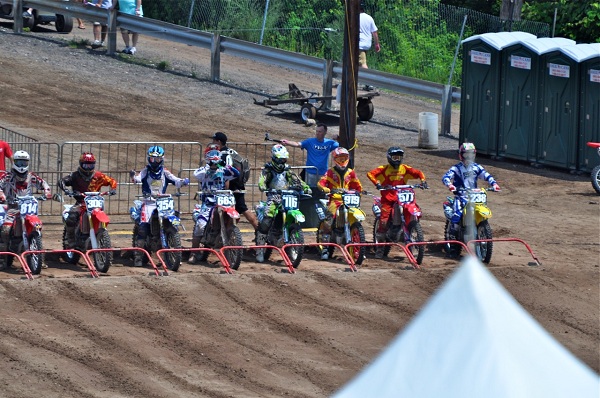 It all came down to this consolation start, or technically the corner at the end of this start where he ended up laying in the sand.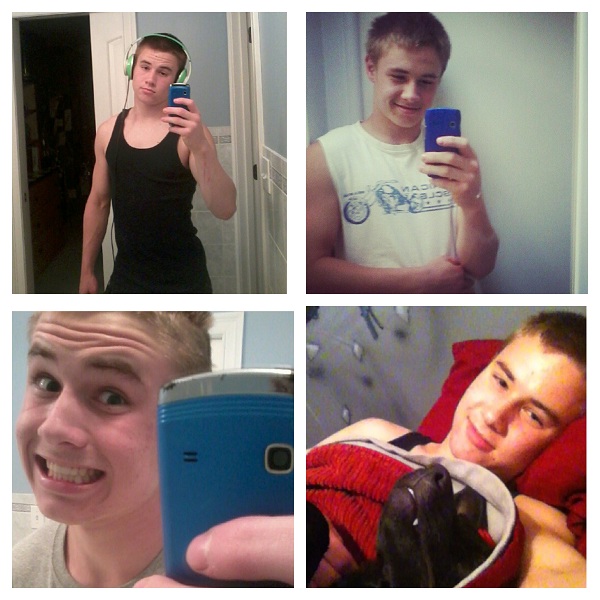 I can estimate the age gap between myself and a rider based on the number of selfies posted on Instagram, as you can see here I'm approximately 50 years older they the Junkyard Puppy. The mirror selfies are in a category all their own. He reminds me of Justin Beiber which reminds me of Ping liking Beiber.
#57 Ben Lamay – Rock River Yamaha
Lamay had a weekend he'd rather forget, maybe even a season he'd rather forget. He had some good rides in Supercross before getting hurt near the end of the season so now he's trying to come back from injury, which is always an uphill battle during the outdoors. Sounds like he's getting some of the best if not thee best support from Yamaha of the riders on the Rock River team which is cool he's ridden blue for several seasons now. It's nice to see Yamaha help take care of some of the "triples" the Kinirys and Lamays of the racing world.
On the PulpMX show this week Steve answered a question about the level of support Rock River provides which boils down to bike transportation and support at the track, no salaries and no expenses. Lamay made mention on twitter that after not qualifying at Southwick he would be eating PB&J this week to try and save money, it made me laugh but I'm not so sure he was joking. @Peiper419 recommended I check out what happened to Lamay on twitter so lets take a glimpse into 24 hours of Lamay on twitter.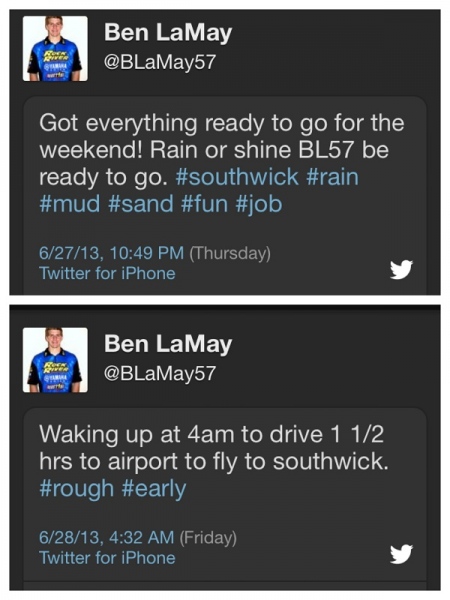 Standard pre travel tweets, 3rd person reference check, early morning flight check, hashtags check, please turn off all cellular devises put your chair back and tray table in the upright and locked position we are ready for takeoff.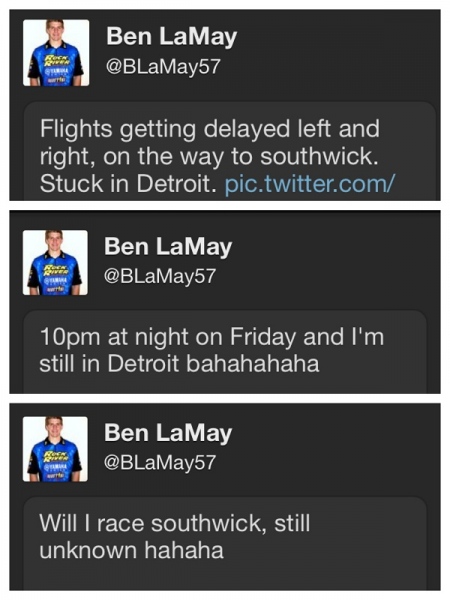 Flight delayed, again pretty standard tweet on a race weekend no worries. Still stuck in Detroit time to start worrying. Not sure if he will make it to Southwick full balls out panic mode.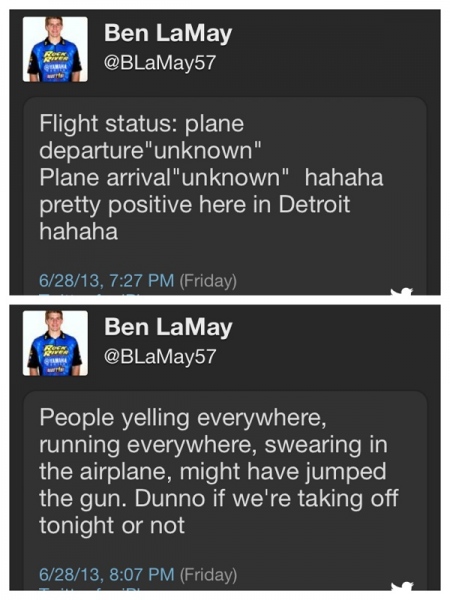 I challenge you to find something less pleasant than being stuck in an airport with an "unknown" departure and arrival time. Why do flight delays cause mass hysteria and cause people to be complete assholes it's almost an epidemic?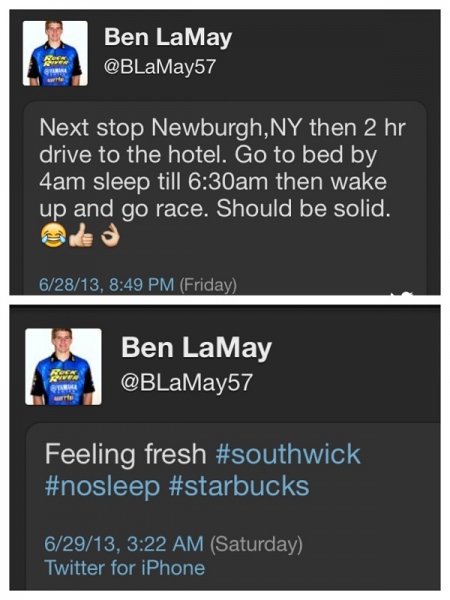 I read it's not the amount of sleep you get it's the quality of sleep no word on the quality of the 2 ½ hours of sleep Lamay got. Alright back to normal race day tweets and hashtags. The Starbucks will make up for at least 4 hours of the sleep he missed out on I'm speaking from experience.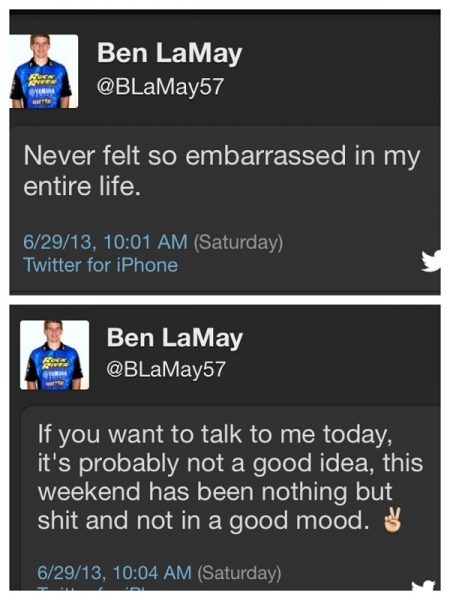 As far as upset and pissed off tweets go I think he did a great job of keeping it politically correct in an unimaginably frustrating situation.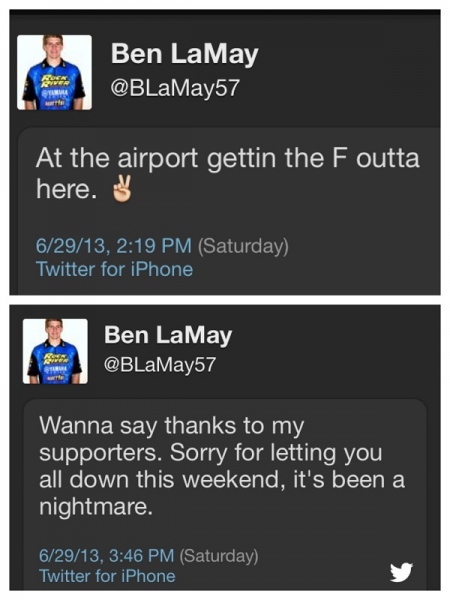 Now we've come full circle back to the standard travel home tweet and giving it up to his team.
Well it's safe to say Lamay had a weekend he would rather forget he almost came up Short of getting to Southwick only to come up Just Short of qualifying. I bet he rebounds this weekend mark my words, stamp it.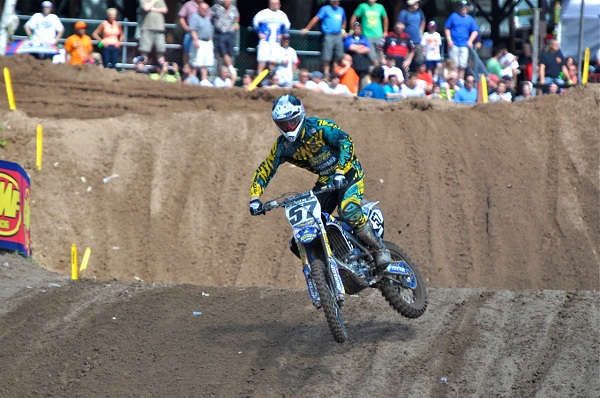 This is probably my favorite photo from @Peiper419, besides all the pictures of Shorty obviously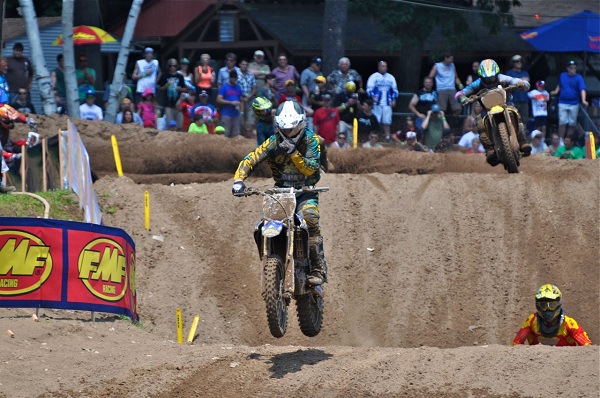 Clear vision in 3. 2. 1.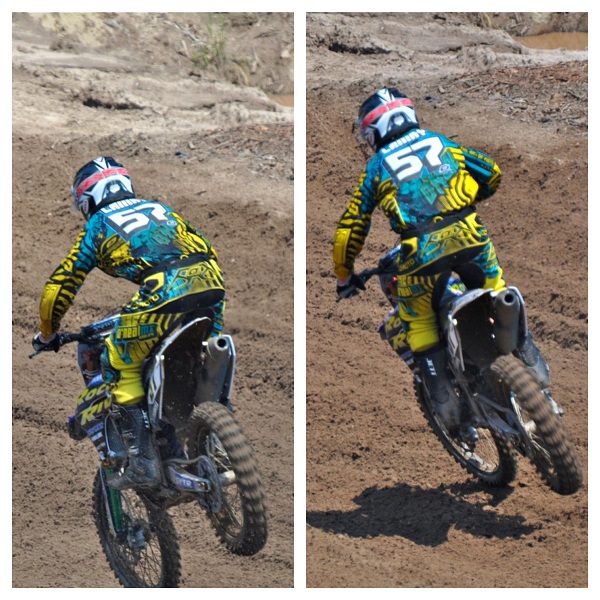 This corner appears to have caused Lamay some huckabuck issues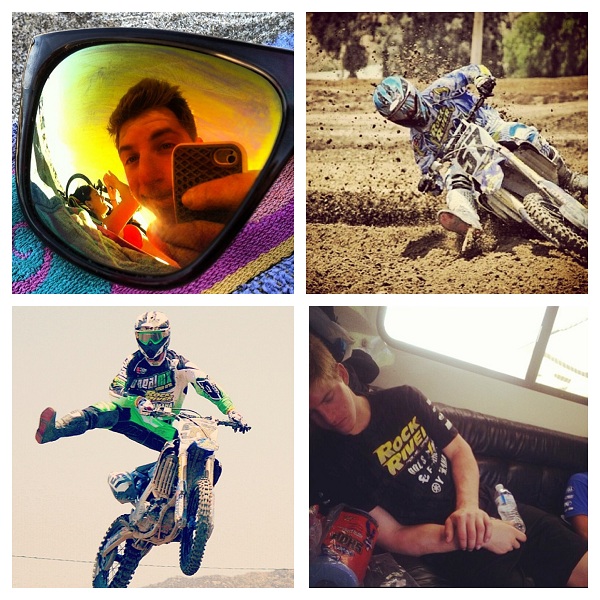 I plan on copying this sunglass reflection selfie picture
He's railing this rut
Taking a nap last weekend at Southwick can't imagine why he was tired
Perfect execution of a one footer here.
Thanks again to @Peiper419 for the pictures and thanks for reading, see you next week.
Moser
Please send any and all comments to jasonw@racerxill.com