It's Scog-Blog Time!
It's Scog-Blog Time!
A Season of Change
By Isaac Scoggins
Photos by Lissimore
The days of high flying tight tracks in cramped stadiums, cold weather, low speeds and a mostly controlled environment have come and gone. Replaced now by scenic layouts of loamy soil, a hot sun, break neck speeds, wide-open spaces, and the uncontrollable element of Mother Nature and her will. Raw talent is pushed ever so slightly to the wayside to make room for brute strength, conditioning, desire, and the ability to exit your own personal comfort zone. Anticipation of the 2013 Motocross season could be inhaled nationwide as the stacked field from the beginning of SX was now mostly rejuvenated and anxious to see where they would align themselves. From a fans point of view, the world was taking the perfect turn towards a beautiful utopia of competitive warfare that would soon ignite on the track. Thoughts, mental images of race long duals, multiple racing lines that allowed for perfect side by side action, and diversity that would litter the podium positions come checkered flag all played like an old projector before my eyes. Apparently, it was faulty equipment, because what I saw on Saturday was a war, and I hesitate to say this, nearly won. Everything has changed in just a few short weeks, even my mind had reset its expectations for the racers, yet what really changed? The more things change the more they stay the same, or so it seems at first sight. Looking deeper into the series as it has reached the slightly over halfway point, we can see exactly how the natural progression of the prepared and willing have propelled them to top step of the podium. Where does that leave everyone else at this point? Searching. They have a break and many could use a change.
It is said that change comes in waves and brings with it fear of the unknown. We all fear what we do not understand so it makes perfect sense; however, in the world of the Professional MXer there is no room for fear of progression, which is by no mistake…change. The irony of the situation of one rider can illustrate perfectly the complications that arise from progression. Ryan Dungey has been a model racer since he first turned Professional. He was fast and fit from the drop of the gate, and by soaking up all he could from those around him he progressed to the level of multi-time champion in a short time. He is a hard working, no bullshit, put in the time and it will come, type of guy. Obviously talented, but regarded more for being a Stanton replica rather than a Bayle reincarnation, so it is clear that he is a fan of progression. Yet, he exudes a fear of change in all things outside of himself. He never shows emotion because emotion can lead to drama, and that can lead to reoccurring problems with a rival. This is smart. No drama means you focus solely on yourself and don't have to keep a watchful eye over your shoulder during motos for an enemy to dive bomb you.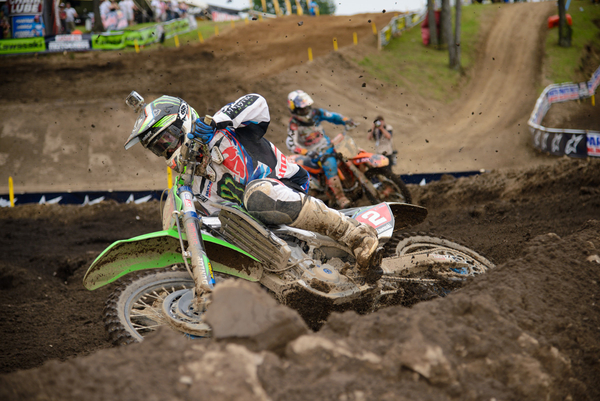 These two need each other and push each other out on the track.
On the opposing end, it leaves you vulnerable to continued smaller incidents because you are looked upon as a non-threat to retaliate. Should he be respected? Yes, but that doesn't mean he will receive it from every rider who sees an opportunity to improve their position. Dungey was not a fan of the change pushed upon him when DeCoster left Suzuki for KTM while he had another year on his contract. He never said a bad word towards the team, yet it was widely suspected and later confirmed that he had lost trust in them the moment DeCoster left. One change followed by another, he left for KTM. We can all agree it was a great move for him. He feels confident in Roger, confident in the team, the bike, and if he didn't we would see another change. His contract is up but we have not heard a word about other teams really getting a real shot at hiring him away. As we can all predict he will stay at KTM and why not? He has won a handful of SX races and plenty of MX races for them in a short time span. No change needed, as you don't change something that isn't broken.
Through the years of racing Dungey has become known for a certain race craft that requires extensive work during the off-season and week to produce wins on the weekend. He pushes toward the front without riding too hard-just knowing he will eventually get there. It has worked for many years. He does not ride the ragged edge, he does not wreck by his own mistake, he does not make an overly aggressive pass, and he does not do what Ryan Villopoto does. With that being said, he is changing this season right before our eyes. He went down at Red Bud pushing to the edge, matching Villopoto's aggression and speed. At Budds Creek he made a bid to dethrone the gnarliest racer this year, and he ate dirt. These are all terrific signs if you are a Dungey fan, because he is trying harder and harder to progress into a better, more aggressive, sprinting type of racer. Dungey may not be a fan of change, he may like to control all his environment, all the conditions he can; honestly, that is why he has become a champion, but even he knows change is inevitable. His mistakes have most likely cost him the outdoor title, but he is beginning to minimize his biggest weakness. And that is very dangerous for everyone else.
The prepared riders coming into the season benefited in the early rounds. Whether they had been out for SX and began preparation early for the outdoors or simply carried momentum from SX, riders such as: Villopoto, Barcia, Roczen, Webb, Baggett, and Durham. They started the year out better than expected, either with their results or with their speed. The impression they left leaving the early rounds indicated they were all on their way for a great summer, and obviously some still are. Even the front-runners of Roczen and Villopoto have been knocked down a peg or two, as other racers have found their grooves. Now it is necessary for them, as they have done, to progress even more. Change never stop for anyone, not even the points leaders.
Villopoto has found the edge again and created himself a nice cushion in points by upping the speed. Barcia has been unlucky. He normal good starts have not been there for the last several rounds, and if he gets a start he will be able to jump into the pace once again. Roczen appears very "Zen" about the races this year. He was accused of not being fit enough to win the second motos, now he has won two second motos in a row, seems like progression. Webb began the year like a veteran with solid first motos followed by weird second moto instances. He has not run up front in several races and seems to have stalled a little on his progression. Maybe he has his sights set too much on beating AC rather than doing as well as he can, maybe not though.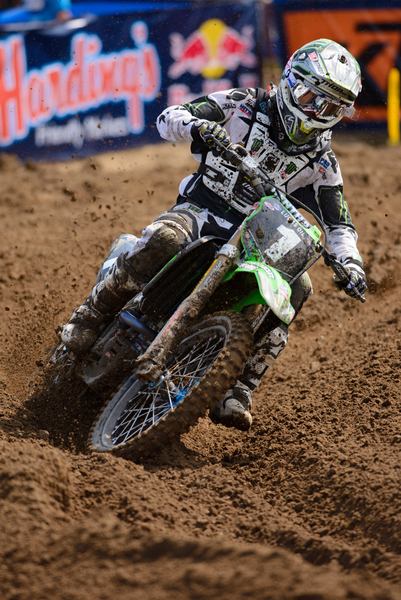 What's eating Blake Baggett?
Baggett has been up, once or twice, and down, the majority of the races. He is most likely lacking confidence in himself and his wrist because we all know his speed is on par with anyone outdoors. His race craft may need to change as does his mindset, but he has time to figure it out. The championship is too far-gone for Baggett, but if he can finish the year strong he can regain his pride and be ready for 2014. Durham has shown very raw speed with a silky smooth style. He can't seem to put it together to secure himself top ten finishes for two consecutive weeks though. Something has to change; his starts, his early sprint speed, his endurance, his passing ability, just something to stabilize his results near the front.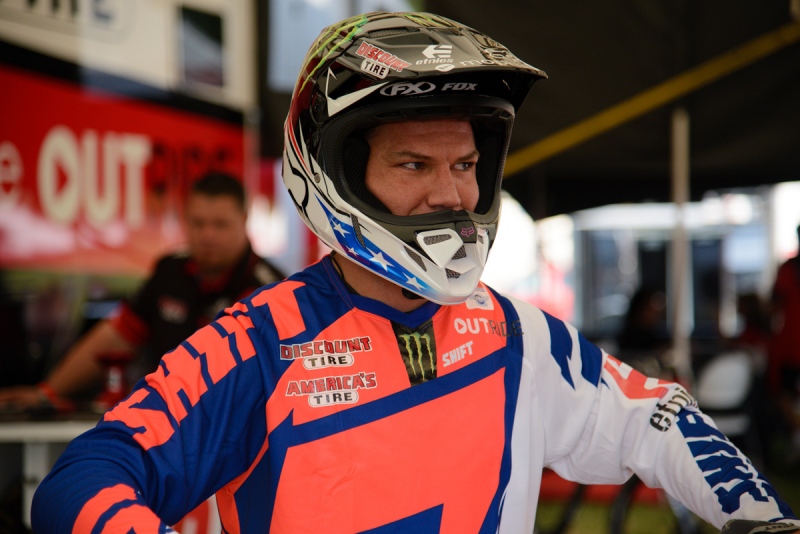 Change is never easy for a professional athlete. Can Reed change his current results?
Change gets a very bad rap in this world. I mean no one even likes to carry change around in his or her pocket because it jingles and jangles. We like money but as soon as you get change it just ruins it, and it doesn't make sense. I give a dollar and I buy something that gives me two quarters back. Now I have doubled the number of objects with value but the value itself is half. If we are happy we hate change and if we are in a bad place…we love it. Change happens whether we like it or not, but we, the fans, can prolong it in our lives. For the career of a Professional Motocrosser it is paramount that change is implemented into their programs on a seasonal basis. Everything changes and this MX series is no exception to that rule; however, the end result is looking to be much the same as when it started. Maybe the champion is the rider who can progress and change without disrupting any other part of their program? Maybe fans should learn to embrace change as they did when MC lost his throne to RC, or when RC switched to Honda, or when…never mind, bad examples. See, even us fans hate change, and when we think we want it and it happens, we often wish it hadn't. Progression is constant, but change feels sudden and disturbing. Dungey is changing because of Villopoto, and Villopoto had to progress to beat Dungey. The cycle continues with a similar result, but that was merely the first big wave of change. There are many more to come, so don't fear it, embrace it.