Lots of people had great Redbud's, these guys were not those guys
Lots of people had great Redbud's, these guys were not those guys
Shortcomings #7 Vol 2
Photos: Lissimore
RedBUDDDDDDD. I've only ever attended Washougal my local outdoor national, but someday I hope to take in the sights of a couple more. RedBUDDDDDDD would be on my Short list, the stories and pictures of the drunken debauchery are the GOAT on the outdoors circuit. I've never been arrested but RedBUDDDDD would give me the best opportunity to check that off my bucket list. Colorado is another national on my Short list, you only hear good things about that track and the scenery, and as much as I love Washougal the viewing is not superb you have to walk a fair amount to see the entire track and it's impossible not to miss some of the racing action. I hear you can see the entire track in Colorado they also have lots of brewery's in the Rocky Mountains, it sounds like a magical place. Let's take a look at some riders that had some Shortcomings at RedBUDDDDDD.
#317 Justin Hill – Pro Circuit Kawasaki
Seeing as the Hills and I are both from the Pacific Northwest I should have lots of interesting insight and stories about growing up with them, emphasis on should. When I was cutting my teeth in the highly competitive 125 Novice class Josh was racing 80's and I'd usually only see him a couple times a year at some of the bigger local amateur races. The Hill family was always super nice and just loved riding and racing. The first time I really met them or spent any time with them was at Washougal at a Donnie Hanson motocross school. Hill was basically used as an example of how to ride and the correct form for different corners etc. Josh Hanson would help out as well and was just a clean cut kid at the time, pre tattoos.
After all the drills for the day everyone could ride the track, it was dry, dusty, hard packed and it wasn't long before I was done for the day. Josh Hill just kept pounding out lap after lap his dad standing on the track with a stop watch cheering him on. I got undressed washed up, ate dinner, did a little bike work for the next day. They were still just pounding out lap after lap after lap, I had never seen someone put in so many laps at a race pace. I talked to Mrs. Hill while watching the countless laps take place she told us about how they initially started working with Donnie Hansen when they went down to Lorrettas for the first time, he was having a riding school a couple days before the race and so they signed up for more track time.
While talking with her and watching Josh punish the track on his YZ80, Justin Hill who was probably only 2 or 3 years old would walk down the hill we stood on and climb to the top of the chain link fence just hanging there laughing. Mrs. Hill would walk down take him off the fence carry him back up and then Justin would repeat the process. Justin probably climbed that fence as many times as Josh spun laps. Mrs. Hill said that they heard RV was jumping the double in the tree section but they hadn't gotten Josh to try it but he would need to do it if he wanted to keep up with RV. She also talked about how Alessi would come over and have lunch with the Hills at some of the amateur races and he would eat just a ton where Josh was always a heavy kid so he would have to try and eat smaller portions while looking longingly at Alessi while he was just mowing down in their camp. A glimpse into the life of amateur racing. Josh didn't stop riding until it was too dark to ride and he had been the only one on the track for hours, his brake caliber was glowing. Ever wonder how those kids go so fast, practice, practice and more practice.
The next time I saw Justin Hill he was riding a Cobra and trying to qualify for Lorrettas. There is a lot of technique that goes into getting a pee wee rider to Loretta's or through any race and it involves having several people on the track to help pick them up and get them going after they fall. Josh, and both his parents were spread out around the track because there was no question that Justin was going to crash the kid had no fear. I don't recall where he finished but I just remember watching the spectacle that is 50cc racing and laughing, the strategy of several people on the track to help get him back up and running was solid.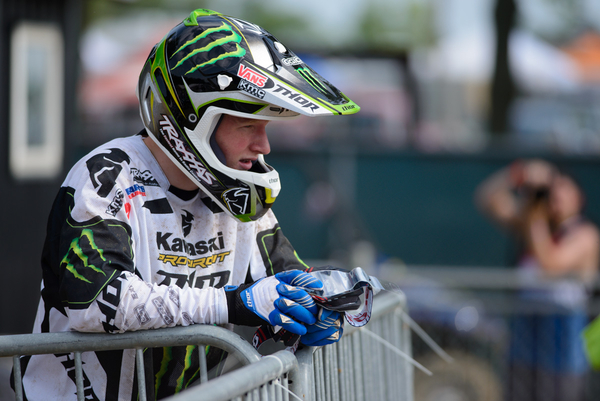 I wonder if Justin is thinking about the verbal abuse he's potentially going to receive from Mitch in the middle of a race.
Surely I know someone with some more interesting information about Justin right? I asked a friend Konrad that I grew up with, used to race pro and has at one point or another met or hung out with everyone (he's that guy) He even kicked it with Andrew Short at an arenacross once (I was so jealous) and it's no surprise Short still remembers him. This seemed like a sure thing I would get some interesting info and fun facts for sure. Konrad said no worries he "knows a guy" that has all shorts of information on Justin. Long story short he didn't come through with his "guy" I guess you could say I had some shortcomings of my own. We forged ahead as I was determined to get something out of nothing.
Moser: Can you get me some intriguing facts or a short story about Justin Hill
Konrad: No problem I know a guy who has been with Justin since day one.
***24 HOURS LATER***
Where's my facts or something?
I'm just waiting for a response from my guy.
***24 HOURS LATER****
Bro I need something, anything?
I'M TRYING, no response from my guy, let me try someone else.
I can't wait any longer my editor is a real ball breaker always threatening my balls with a handlebar. So have you ever meet Justin?
No never. I actually thought he was done racing years ago. Then he just magically showed up on a pro-circuit bike.
Why did you think he was done racing why would you think that?
I hadn't heard of him for awhile so I just assumed he quit.
When I say Justin Hill what comes to mind?
He was a great amateur racer in the Pacific Northwest, rode Yamahas.
How well do you know Josh Hill he's a sponsored Fox rider and you're a Fox rep so I assume your buddies.
I don't know him that great, we have only talked a couple of times.
So you don't send each other Christmas cards? I thought that was how this rep thing worked.
No that's overrated. I have never sent out a Christmas card. Hills have had their Grandpa behind them the all the way.
Hills grandpa wears badass hats. Fox should sell those hats he wears you could make salesman of the year with that idea.
Yeah and leather gloves. Hills Grandpa was there all the way through amateurs.
He still goes to all the races and still wears those awesome hats. Did you know their dad is a badass on a bmx bike?
I didn't, is he legit?
Maybe you should be interviewing me about Justin Hill, I seem to know more about him. Yes their dad is legit on a bmx bike.
How do you remember that? I don't really remember much of my racing career, I was too busy chasing girls.
Did you ever race Josh Hill?
No. Well maybe in 2005 at Washougal, I rode the 250F class. Other than that no because I stopped racing in 2008. Almost a decade ago!
I forgot you raced the 250F class, that was a death wish if you're not on a factory bike and always a gear high going up the uphill.
Remember on four strokes the RPM's are on the bottom and mid-perfect for my style.
You know everyone and you're an industry guy now buddies with all the Fox athletes. You rode with Roczen just a couple weeks ago and Carey Hart. Who is Fox trying to sign for next year?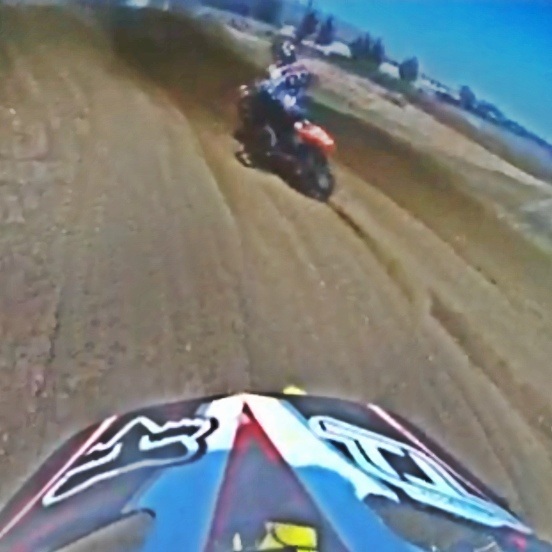 Blurry GoPro of Krad getting passed around the outside by his buddy Roczen
We don't get to hear who they sign until the day before they send out the press release.
Who would you sign if you got to choose?
Probably Metcalf and try to get him back on a factory bike.
That's a solid choice. Have you seen the new Fly gear it's sick, I didn't think you could make Shorty look any better but they did.
Everywhere I look I only see FOX heads.
Alright lets rap this up. All you know about Justin Hill is he rode Yamaha and you thought he quit. You probably had a ton of stories about Justin but don't remember much from your racing days because you were chasing girls. Is that pretty much it?
Yup
Justins bike blew up at RedBUDDDDD has your bike ever blown up mid moto, that you can remember?
Once
Well please explain if you can remember.
2002 Devol PRO race
What were you riding?
250cc Kawasaki 2 stroke
Did I completely lock up?
Yes
Did you crash? Roll to a stop? Try to use some verbs, a verb means descriptive words.
Off the triple jump face, rolled to a stop.
The bike locked up off the face of a jump and you rolled to a stop? Maybe you are not remembering this correctly.
The bike cut out half way up take off, I wasn't sure what happened, landed and rolled about ten feet then she locked up, putting her into a wicked slide.
Nice use of the work wicked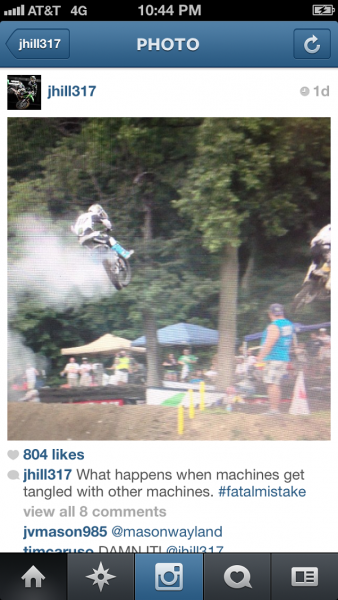 James Bond smoke screen has got nothing on Justin Hills.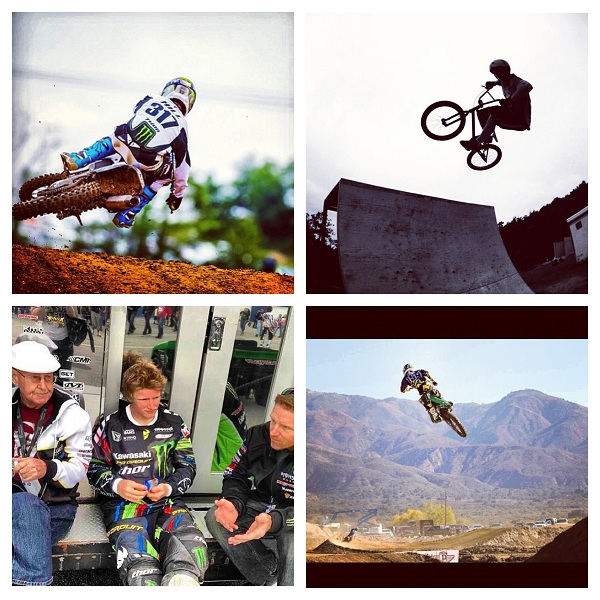 Little scrub action
Little bmx action, did you know Hills dad was a badass on a bmx bike now you do.
Three generations of Hills, grandpa Hill has the best hat style I've ever seen.
Airing out a jump at Pala, that just a sick picture
#1 Ryan Dungey – RedBull KTM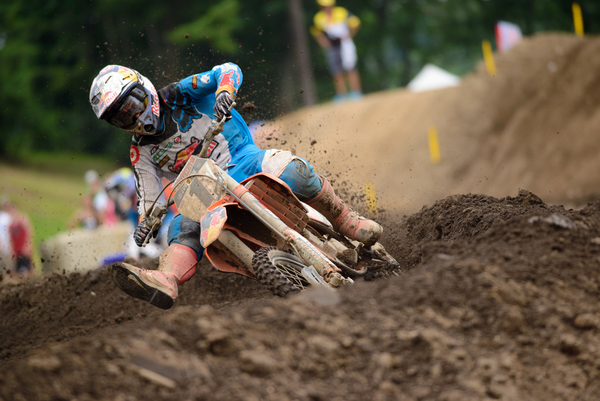 Tits grab some Kleenex before staring at this picture
I got in touch with @TonyBlazier to break down Dungeys shortcomings on the weekend.
Moser: How are you coping after Dungeys DNF last weekend, it appeared pretty touch and go there for a while on twitter, a lot of people were worried about you?
Blazier: I have to admit, I was a bit beside myself for a bit. At one point, someone even accused me of allowing Sinjin access to my Twitter account due to all the "colorful" expletives making their way into my feed. It was a major blow for Team Dungenator and I took it hard.
So how did this infatuation or obsession with Dungey start? Choosing Dungey as "your" guy is an intriguing choice.
Well, I actually loved Dungey's story: a kid basically plucked out of obscurity into the big leagues by The Man. It is the exact opposite of the Bubba's, RC's and Alessi's of the world (who I have never been fans of). I love an underdog story in any sport, plus Ryan is just a really nice kid who projects a possitive image I respect and would want my kids to emulate. I'm not down with guys like J-Law and Hanny, and Ryan's battles with Lawrence only reinforced my love of the Dunge.
Over the years Dungey has had plenty of Shortcomings which one hurt the most or cut the deepest? Lets make that a two part question which loss and which DNF were the hardest to swallow?
The most painful to watch had to be '08, when that idiot J-law was making Dungey his bitch. It was pretty obvious Ryan had the speed to beat Jason, but to his credit, J-Law got in Dungey's head and Ryan let it screw up his racing. I think he really learned a lot from that year and he has turned that weakness into a huge strength. Now, I think Ryan is one of the most mentally tough guys out there. If I had to list one race as the most bitter to swallow, it has to be this last weekend. I think Dungey was in perfect position to make a run at the title this year, and that "electrical failure" really torpedoed his chances. Now the pressure is off RV and that probably spells doom for the rest of the series.
I would have thought that running out of gas in Texas a couple years ago was the biggest heart break, it cost him the championship in my opinion and although mechanical DNF's are going to happen to every rider running out of gas is inexcusable it's something within the teams control.
That year was tough no doubt, but I have to admit my love for Chad Reed superseded my Dungey infatuation, so I had bigger fish to fry at that point. My boy Reed was in the middle of the dream comeback season, so my allegiance was with him. After the Chadapult took Reedy out of contention, I switched my considerable weight behind the Dungey express, but to no avail.
To counter that question which one of the wins or championships are you most proud of?
I'd have to say that 2010 450 SX title. I was so pumped for Ryan to come out and nail that title as a rookie. That was a sweet year indeed.
Your moto history knowledge is second to none so BD (before Dungey) who were some of your favorite riders I know you were a fan of the beast from the East.
My first hero was Rick Johnson, I didn't really get into moto until I was in my teens and he was the absolute height of cool when I really started taking interest. After RJ, it was Bradshaw. I loved his style on and off the bike and he was so damn fun to watch ride. In the MC and RC years, I was pretty miserable, as I just rooted for anyone else but them. Like I said, I love an underdog and hated the same guy always winning. After The Beast, my next moto Bromance was definitely Chad Reed. I loved Reedy from his first year at YOT and have been a huge fan ever since. That crash at Dallas last year was like a kick in the man jewels and it has been a long painful slog ever since.
Be honest with yourself what do you think Dungey's strengths and weaknesses are?
Strengths: His drive and determination- He seems to be self-motivated and does not seem to need a trainer or nanny to keep him on track. He surrounds himself with excellent people- I think he learned this from RC and he takes it very seriously. His willingness to follow Roger to KTM is proof how much he took this to heart.
Fitness- Both the Ryan's are incredibly fit and I think Dungey wears guys down more often than he blows by them with raw speed.
Speed- As much as everyone busts on Dungey (myself included) for needing to pick it up at times, there is no doubt the dude can haul the mail. He may not have the crazy balls speed of a JS7 or RV for one lap, but he has the rest of the guys covered.
Weaknesses: Comfort Zone- I think Dungey is a lot like Chad Reed and Kevin Windham,in that he does not like to hang it out. He knows his limit and is not willing to push past that point. This can be a good thing, as he tends to crash very rarely and has been far more consistent than RV over his career. Thedown side, is of course, his inability to match RV's pace at times. It is the old tortoise and the hair thing (although Dunge is a very fast tortoise).
Aggressiveness- More accurately, the lack thereof. This kind of dovetails with my last point. I think RD lacks some of that crazy speed and aggressiveness needed on the first few laps. While guys like Stewart, MC, and RV all could come out of the first turn in 10th and be in first by the end of the second lap, Dungey takes too long to make his passes. He seems too risk averse and is just not willing to stick it in there and damn the consequences. In the long run this may work in his favor, but at times it is a weakness.
Won't talk to Matthes- I hate that RC has poisoned the waters there and Dunge will not do interviews with PulpMX. I would love to hear him on the weekly post race podcasts and on the Pulp Show, but it just won't happen. I think RC still wants to shoot Matthes in the face and has passed that love onto the Dunge.
We're both PulpMX fans and technically employees even if neither of us are not the "favorite" employee. With that being said Steve doesn't get the Dungey interview. The Decoster interviews and insight are great but where are you getting your Dungey fix and insider info from?
I consider myself a connoisseur of all things moto and read all the sites from time to time. Also he does to the DMXS show from time to time which is cool. Honestly, Dungey is pretty vanilla in his interviews, so there is never a lot of info to be had.
Here's the million dollar question, can Dungey beat RV for a championship? Will he pull it off one of these seasons, injuries and mechanicals aside, straight up will it happen?
I think the Dunge can beat RV for sure. He has less raw speed, but the title is a marathon not a sprint. RV has shown he is more than willing to hang it out regularly and sometimes that has bit him. He may need a little help to do it, but yes, Dungey can win.
One last question. Who's the bigger Dungey fan, Tit's or you? Do you keep a box of tissues nearby at all times in case you cream yourself?
No contest, it's me. Tits is ten times more interested in free product and iPhone cases that anything moto. While I admire his taste in riders, and penchant for creepy Tweets, his devotion is only skin deep.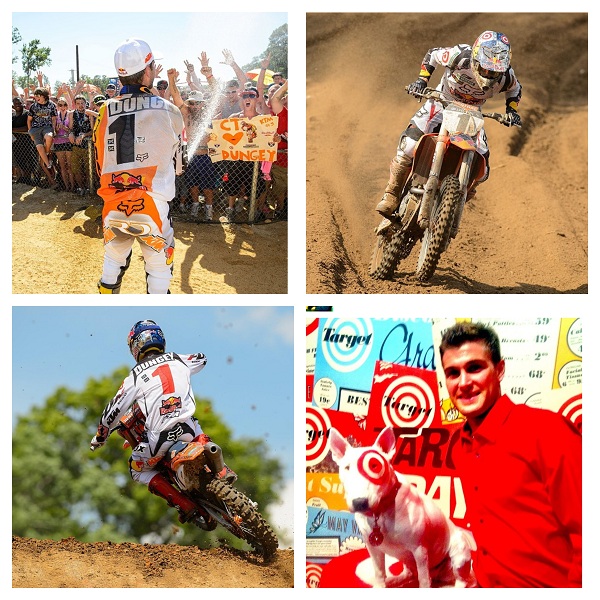 This is my favorite Dungey photo EVER can you guess why?
The white number plates with the number one look weird now that I'm used to the red backgrounds.
Target has a dog with the Target, awesome I bet his name is Target
Thanks for reading, see you next week.
Moser
Please send any and all comments to jasonw@racerxill.com